BACON APPLE CIDER BISCUITS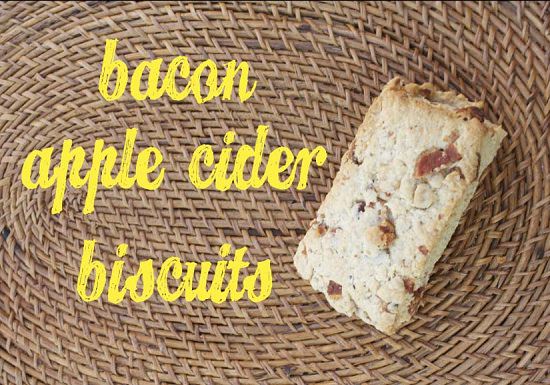 The other day I was in in a baking mood, so I searched my pantry to see what I had to work with. It was one of those moments when I had the oddest ingredients and thought they couldn't possibly make anything tasty. Boy was I wrong! I found this yummy recipe, which I'm sure you'll enjoy! At first I was a little intimidated by the thought of bacon and apple cider together in one, but I'm never afraid to try new things! I decided to share it with you in case you decide to try something new as well! It was delicious!
Ingredients
2 cups all-purpose flour
2 teaspoons baking powder
2 teaspoons brown sugar 
1/2 teaspoon salt
1/4 teaspoon baking soda
1/4 teaspoon apple pie spice
8 tablespoons cold butter, cubed, divided
5 bacon strips, cooked and crumbled
3/4 cup apple cider or juice
1/8 teaspoon ground cinnamon
Directions
In a large bowl, combine the first six ingredients. Cut in 7 tablespoons butter until mixture resembles coarse crumbs. Add bacon. Stir in cider just until combined.
Turn onto a lightly floured surface; knead 8-10 times. Roll into a 10-in. x 6-in. rectangle. Melt remaining butter; brush over dough. Sprinkle with cinnamon.
Cut into eight rectangles. Place 1 in. apart on an ungreased baking sheet. Bake at 450° for 12-15 minutes or until golden brown. Serve warm.
It feels nice to share another recipe with you. I've been on a DIY high lately, just too many things I want to do! I'm glad I shifted gears a little today! Hope you enjoy! Do you have any fun plans for the weekend?!