The other day I had a few things I needed from Target. A few things like milk, cream, and other SMALL items. Well, six bagfuls later I was going home a happy girl! Does that ever happen to you? I swear, every time I walk into Target doors, I spend WAY more than I ever intended…they have SO many cute things right now!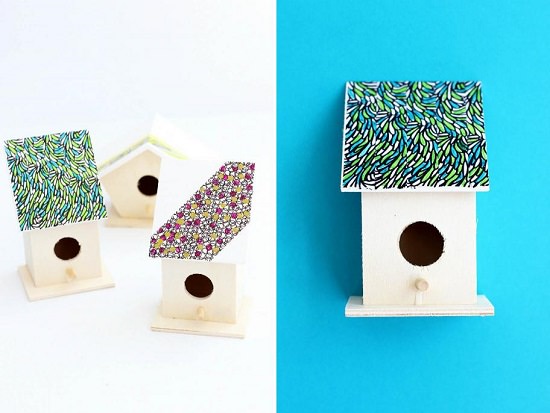 I managed to save some money by shopping in the dollar bins. I found some adorable mini birdhouses to put in our flower beds and garden outside! I loved the bright colors but wanted to do something that would make them a little more unique and my own. I took my handy-dandy Washi Tape and decided to make a fun pattern on the roofs of the birdhouses. It gave them a little bit of a funky edge, and they stand out even more! Who knew Washi tape could be so versatile…it's the new duck tape, but for women!
This project takes literally seconds and costs next to nothing! Looking for a fun way to jazz up your garden or flower beds? You know what to do, go to Target (hopefully you will have more self-control than I did!) to grab a few of these adorable mini birdhouses and do something fun! It doesn't even have to be Washi tape, you can hand paint a fun design if you want! Do whatever your creative mind tells you to do!
What do you think?  Cute or not so cute?! I would love to hear your thoughts!