It's an easy DIY that requires minimal supplies and takes no time at all. You can make DIY mapped frame as personal as you would like! Are you ready for some fun?
What you need
A map – We found a used map at a book store while in Ireland, it has a lot of the cities we stayed in or passed through!
A frame
Some Mod Podge
Paint Brush
Scissors
Picture
What to do
Disassemble your picture frame so you can retrieve the mat board. Layout your map on a flat surface and place the mat board on top. Trace the outline with a pencil (dark enough so you can see). Take your scissors and carefully cut out the outline. Once you have your piece, take your mod podge and put a nice layer on top of your mat board. With as much precision as possible, carefully lay your map onto the mat board. Take another layer of your mod podge and gently put another coat on top. Allow it to dry completely. Once the mat board is dry, place back into your frame. Place your picture securely behind the mat board and return the back onto the frame! That's it! Now hang it somewhere so you can be reminded of your special trip!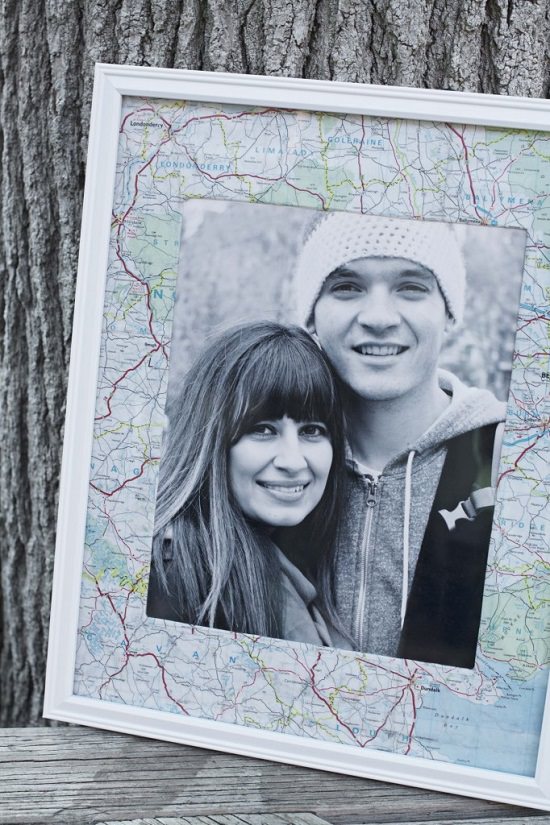 The thing is, you can use this for just about anything: your honeymoon destination, the city your baby was born (or adapted from), your favorite place you've visited and so much more! It would make a great gift and serve as an excellent memory for years to come!
Hope you enjoyed this DIY! Is this something that interests you at all? What place would you highlight on your DIY picture frame?