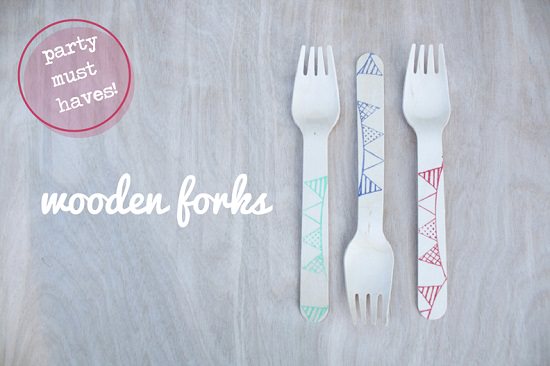 I recently received some fantastic wooden cutlery (mainly forks) from the amazing Sucre Shop on Etsy! They have so many lovely items to choose from, it made it impossible to decide! I finally chose some cute forks with playful banners in three assorted colors: green, purple and red. I thought these would be perfect for our camping themed 1/2 birthday party next month! They sort of resemble camping sporks – they were perfect!
I love the idea of eco friendly party supplies! The natural wood look is great for any occasion and their designs are fabulous: from chevron, trellises, stars, polka dots to mustaches! I will definately be returning for more fun birthday items in the future!
I can't wait to serve these fun "sporks" to our guests! I'm sure they will love them as much as I do! It will add a lot of personality to the party decor! This has become a definite party must have in my books! I don't think I can ever serve normal silverware again!!
What kind of party supplies do you have to have? How do you feel about eco friendly cutlery?