Looking for a creative paperweight idea? These DIY glass paperweights are simply adorable! You can even personalize them by using photos of your loved once.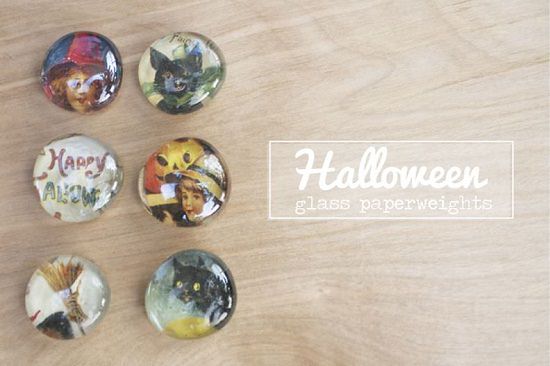 Want to create some really simple DIY glass paperweights? This is something you'll love in the home! They are great on their own atop some coffee table books or even grouped together in a fun bowl. They are always a fun element – no matter how big or small!
Required Materials
Glass chips
Printed photos (in small round shape depending on the size of glass chips)
Scissors
Pencil
Mod Podge or glue
Paintbrush
Take your pencil and trace your glass chip over the area of the print you want cut out. Cut out your circles. Turn the chips so the flat surface is facing upward. Put a good coat of glue on the bottom and place your cut out image onto the glued surface.
You want the main image to go down first – this will be magnified when you flip your chip over. Put another layer of glue over the backside of the image and let dry completely before flipping the glass chip over. Repeat with the remaining chips.
This is a really simple process! It's a great little craft you could do if you have a lot of photos that you just love to display but don't know what to do with. You could even use your favorite fabric if you want. Just leave extra time for the fabric to dry! You can also use these paperweights as magnets, brooches or anything your imagination can come up with! They are truly versatile!
Hope you enjoyed this little weekend project! What do you think of this festive DIY?