Add a vintage touch to your home decor with this vintage-inspired Halloween banner. What's more, is that the vintage banner will be ready in just 10 minutes!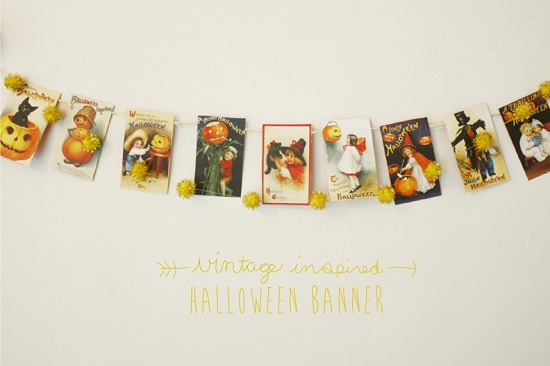 Even if you have a busy schedule, you'll manage to make this little craft in just 10 minutes! All the materials required will be available at the craft store.
You'll love the little touch of fun this banner adds to the home decor. It's not too over the top spooky, but just enough to have some fun with this little holiday!
What you need:
Scrapbook paper (any design or color combo)
Pom Poms (any color or size)
Twine
Thin string (or thread)
Sewing needle
Scissors
Tape
What to do:
Cut your scrap paper into rectangles. Once they are all cut out, tape the twine to the back of the paper. For the pom-pom banner, pull the thread through the needle. String the thread through the little pom poms, one at a time. Do this until all the pom poms have been threaded onto the string. Hang both the banners together or separate for a fun look! It's two banners in one, and they both take no time at all!!!
Hope you are having a great week so far! How are you decorating this year?