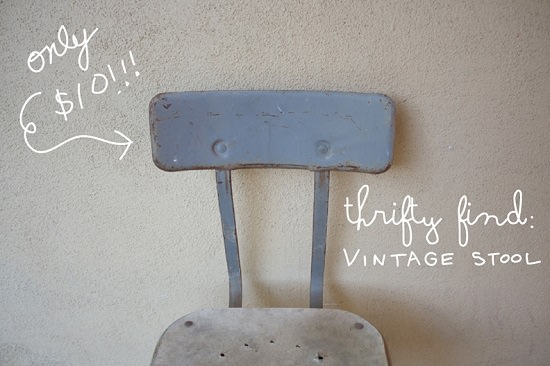 Last weekend we went to our local antique peddlers fair here in town. It's something we've been doing for the past three years. The first year we had a booth of our own, selling all our lovely thrifty pieces. I miss those days, but I am so happy we can still partake in these little traditions!
We managed to score a lot of pieces to bring home this year. Mostly for the final touches on our bedroom makeover, but some to also fix up and use elsewhere as decor! One of them was this awesome vintage stool we managed to bargain for only $10. We mostly want to leave the stool in it's rusty condition, but plan on recovering the seat. I will be sure to share the after pictures when we're all done!
I love the character of this chair. The grey paint has slowly been chipped away over the years and replaced with patches of rust. It gives it that unique look you just won't find anywhere else. I was planning on using it in our kitchen, but now that we have it in our room I'm kind of liking it there now. Hm?
I will share more of our finds with you throughout the next few weeks! There are lots of pieces to share, so stick around if this is your kind of thing!