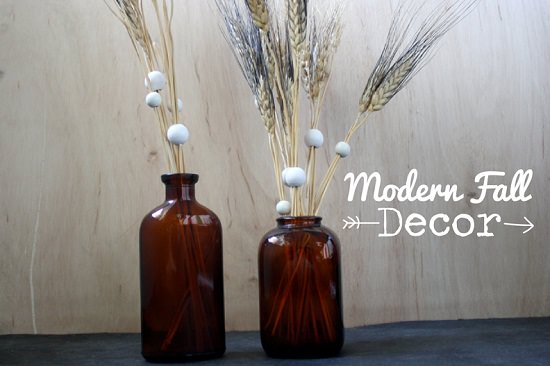 I have been trying to find some unique ways to dress up the house this fall. I was SUPER inspired by Create Like Crazy for this DIY. They made a gorgeous wheat and color beaded center piece. I so badly wanted to make my own version of this DIY and so I did!
I loved the colorful arrangement of the original centerpiece, but my home is already so colorful. I decided to tone it down a bit and found some fun white wooden beads instead. I chose to make smaller clusters of wheat to make up my centerpiece. In each cluster, I used only one medium or large bead. I think this changed the look slightly from the original. I placed about 3-4 clusters together in our thrifty amber vases and now have them out on display!
I love how cheap and easy this DIY was. It's perfect for me, since we are always on a budget and I don't have tons of money to spend on all my little crafts – though I wish I did. You should try this modern take on an old favorite decor piece for your home!
What do you think of the original center piece idea? Isn't it cute?! I loved it! Hope you try this out – it was a lot of fun!