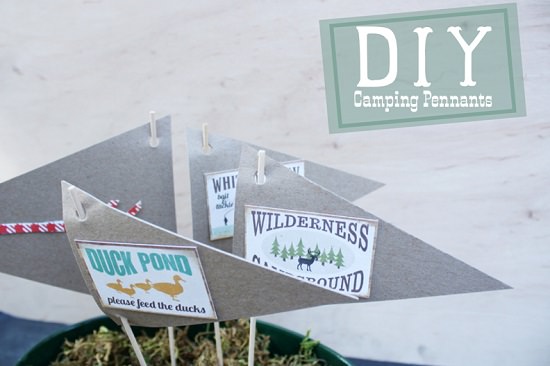 This week I am slowly getting ready for our little ones half birthday. We are so excited to throw them this little celebration – anything to make them feel loved and cared for. Our adoption has been a journey of ups and downs. And in the middle of it all are our two little ones. The most innocent of them all. I want so badly for them to feel like normal kids. Have those fun memories with family and friends. That is my hope for this weekends party!
I am working at getting some of the party decor out of the way. I might have taken on too much, but I am so excited to throw my first little party for our kids. I created these fun camping pennants using pre-cut cardboard triangles, originally intended to make a banner. I decided to turn them into fun pennants by adding some wooden sticks and some fun camping theme pictures made from some scrap paper I found at the craft store. I simply taped the images to the pennants, since I would like to reuse these as banners in the future!
To get them to stand up, I put a floral foam brick in a tin container and covered it with some rustic moss. I am going to use these as fun elements on the tables. I got all these supplies for super cheap. Most of them I found at the dollar store and the dollar section of Target. It's amazing how easy it is to throw a party without breaking the bank. You just have to keep your eyes peeled for the deals!
Have you ever thrown a half birthday before? Do you think it's silly or kind of fun?