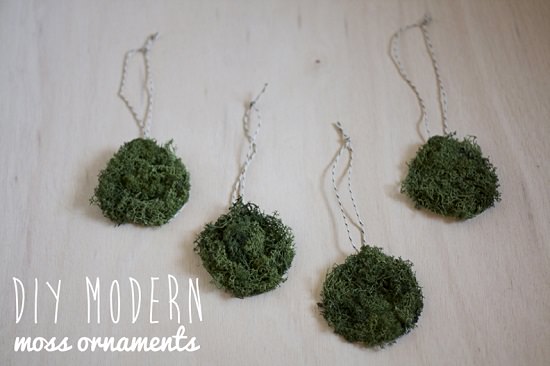 We are officially gearing up for Christmas, my favorite holiday by far! So, I say let the festivities begin! I wanted to share a little DIY I whipped up the other day. My vintage buffet was in need of something to dress it up for the Christmas holidays, so I put together these fun modern moss ornaments.
You will need thick card stock, a hot glue gun, green moss, a hole puncher and twine. First, cut out whatever shape you would like your ornament to be on the thick card stock. I chose a simple circle. I hole punched the top of each circle using my hole puncher. I simply removed small pieces of moss at a time and hot glued them to the circle. The moss is pretty pliable, so I shaped it to fit my circles as best I could. If you find you have a few stray pieces of moss, just trim the edges! I then took my twine and cut the length I wanted my ornaments to hang (various lengths) and tied them!
I decided to hang them on every other knob on our buffet. I am loving natural and simple elements of nature worked into our Christmas decor this year! These moss ornaments are so beautiful just as they are. You can have a lot of fun with them as well if you are looking for something a bit more festive by adding other fun little touches to them if you want!
I hope you had a great Thanksgiving! Are you excited about Christmas coming up next month like I am?!