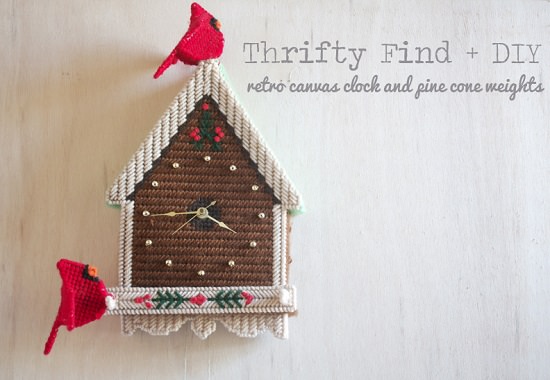 The other day I popped by our favorite antique store and I came across a fabulous new piece for our daughters room. I couldn't resist – it was just too cute!
I love this retro canvas clock. It's a little Christmas-y, but I think it works year round! The little birds go great with the banner I just made for her room – it kind of pulls the two together.
I love how this piece was created by the grandmother of the antique store owner. She was a sweet lady who was nearly blind and made this in one of her braille classes. I thought the history was interesting. Most vintage pieces have stories, we just never know what they are.
I decided to add the little pine cone weights to make the clock look a little more woodsy. I wanted to add a personal touch and I'm glad I did! I simply looped a piece of twine in the plastic canvas and hot glued the pine cones to either end.
This is definitely a unique touch to her room. I always wanted my home to have a very personal touch and unique feel. I am always looking for things we can add to our home I know will be special to us and one of a kind. I often get compliments on the little vintage touches in our home and I am so happy to now share that with our little ones!
What do you think of this clock? Would you dare to bring home something like this?