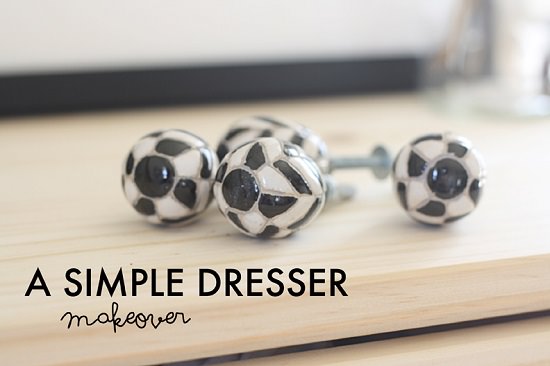 I LOVE LOVE LOVE Ikea! Get the idea? They have an amazing selection of products for any home style. Their prices are reasonable, it's rare I ever leave empty handed!
They are getting more and more clever with their furniture pieces! Take for example, their dressers. I've recently discovered their new "DIY" dresser, if you will,  where you buy it as a blank canvas. It's brilliant really, you can do with it what you want – paint, decoupage, stencil or tape! I mean, it's already so hard trying to find that "perfect" piece as it is! This helps on so many levels!
I decided to purchase this dresser! I looked painfully for months, but could never find the right one. It was SO cheap compared to other dressers out there. I kind of like the exposed wood grain. It looks sharp against our white walls. And if I get sick of it, I can paint it down the road!
I had to do something to the dresser, so I simply replaced the wooden knobs with new ones. I headed over to Anthropoligie (my favorite place to find great knobs) and splurged a little. I bought some black and white ones with a geometric pattern. I think they really make the dresser come to life. It definitely has a clean and modern feel, which suits our industrial/vintage bedroom! What kind of things are you loving from Ikea lately?