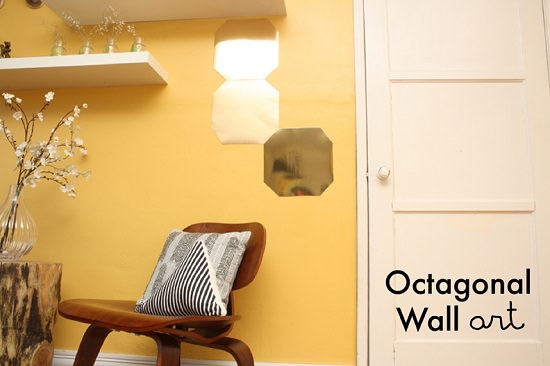 I am in love with this scrapbook paper! I found this amazing gold in glossy and matte. The glossy is almost reflective, like a mirror. It creates this fun glow in the room while looking classy and modern! I decided to make a funky octagonal design for the living room. I've been dying to hang something up over our new Eames-inspired chair. This seems to do the trick!
You will need 3-4 pieces of scrapbook paper in gold. Try to find different textures to add variation. I grabbed a few nice matte with a slight texture to it and shiny gloss. I simply cut the corners of each piece of paper to create a giant octagon shape. I taped the pieces together to create the design I wanted. I decided 3 octagons for my wall since space wasn't too big. I think this could also look great with 5 or more! You can choose to do your design differently, whatever works for you! Simply use tape to place your art on your wall!
My design doesn't have any particular reason as to why it looks the way it does. I just wanted something different, modern and fun! This space is slowly starting to come together! I also did another version of this project for our room, which I will share with you later this week or early next! So stay tuned!
What do you think about this octagonal wall art? Would you do something like this for your home?