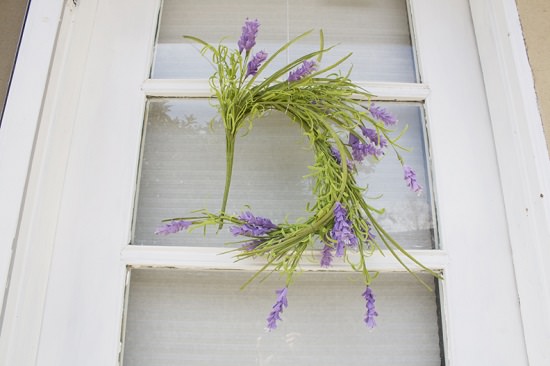 Spring is here, it's in the air! The weather is beautiful and I find myself opening windows more often and playing outside with the kids! I felt it was time for a simple door makeover for the upcoming holidays, so I created an easy monogram spring wreath that can stay up for a while!
I visited my local craft store and grabbed a couple sprigs of these beautiful purple flowers and stems. They were nice and pliable, which made this project a lot easier! You just need TWO supplies (depending on your letter): flowers and green twisty ties!
Take your first sprig of flowers and begin to shape your letter of choice. Mine was very simple – the letter "D". You can improvise quite easily with any letter! Once you see your letter take form, take your second sprig and continue the flow to complete the monogram letter. Attach the two flowers together using your twisty ties. You can also begin to shape the monogram a little better by adding more twisty ties to control some of the flowers and stems from popping out too much. I kind of like the free flow of the flowers bouncing out of place. Although, I made sure you could tell it was in fact the letter "D".
I am happy with how it turned out. It's the perfect combo between simple and sweet! What do you think of this spring wreath?