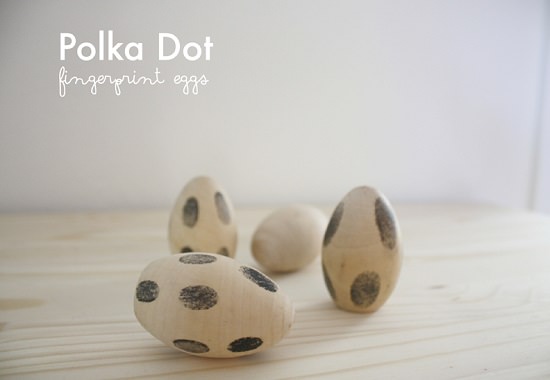 This year is our first Easter with our babies! I love them to pieces and am so thankful for this time we have to share in the upcoming holidays! I decided to create some Easter eggs that were both modern and kid-friendly. This is such an easy DIY, I'm sure you could do the same with or without little ones!
I've been pinning some ideas for Easter and decided to go with a clean polka dotted look. I simply got an ink pad and used our fingers to create the little dots. I love how some of the dots are dark, while others are faded a bit. It gives the dots some depth and character. This is a great project to do with kids and you can keep them for years to come. A little keepsake if you will!
I love how they go perfectly with some other black accented items in my home. I simply used some new wooden eggs, like these ones. This time I decided to give them a clean, but fun design! I paired some dotted and plain eggs to add more variation!
This might be a little messy with little ones, but with you guiding them it should be fun! The ink washes right off with soap, so you don't have to worry about having stained little fingers! What do you think about these polka dotted fingerprint eggs?