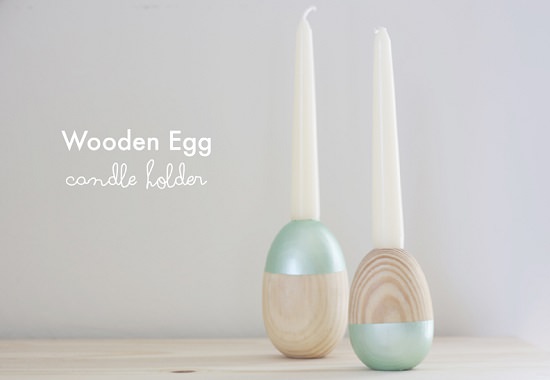 I am really excited about this DIY! I don't know why, but I was giddy when I finally finished it. I guess it just came together a lot smoother than I was expecting, so there was some relief! I think these are great for Easter and spring. I'm kind of thinking about keeping them up longer…hmm?
I went out and bought a few more wooden eggs. This time in a medium and large size, unlike my polka dot fingerprint Easter eggs. I have been dying to use this beautiful paintin mint, so I finally had a chance to try it out. I decided to give the eggs a dipped look and keep some of the wood exposed. I just love the multi-textured look! I taped off the egg and painted a few coats until I had the color just right. I let it dry completely before taking the tape off. I then got my husband to do the drilling, since he has a steady hand compared to me! He used a 3/4 inch spade bit, which fit the width of my candle just right. He drilled about an inch down.
The candles fit nice and snug, which is what I wanted! It's better to fit a little tight then not tight enough. Otherwise you might have a tilting candle and it can look a little crooked to the eye. I am loving this modern take on Easter/spring  decor! I am rather enjoying the look of these fun wooden egg candle holders in our home. I may make a few more, but perhaps some other fun and modern colors!
What do you think about these fabulous egg candle holders?