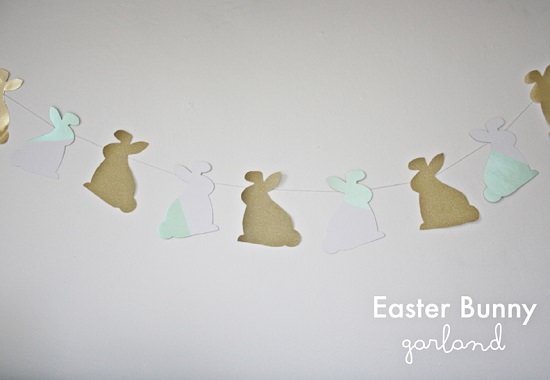 Happy weekend friends! I decided to end this week with a super cute and simple Easter bunny garland. My little girl helped me with it a little and I found her quite helpful! So this could be a great DIY to do with kids!
I found a package of some really basic white paper Easter bunny cutouts at Michael's. I decided to grab an assortment of gold scrapbook paper and use the bunny cutouts as a tracing guide. I then cut out my bunnies out of the gold glitter and glossy paper. I also decided to give the white bunnies a dip in some mint paint. I like the funky and modern feel it adds to the garland. I also enjoy the pairing of these two colors, it's very elegant and sweet. Once all my bunnies were cut out and the paint had dried, I simply taped the bunnies to some twine and hung them on the wall! I am very happy with how it turned out.
I later decided to add some of my pink and gold crepe paper flowers to a couple of the bunny tails, which ended up looking very cute! I only wish I had snapped a few photos of it! If you follow my Instagram, be sure to keep a look out and let me know what you think of this addition!
This is a very fast DIY and one I hope you enjoy! What kind of projects are you working on for Easter?