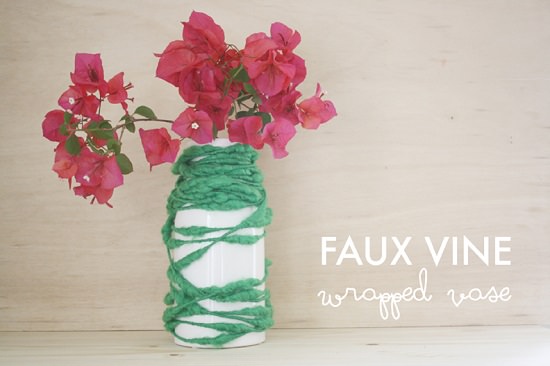 A while back I stumbled upon some really neat wired yarn in the discount section. I wasn't too sure what you could really use it for, but it was a lot of fun to look at and I decided to get it anyway! I actually got it in two different colors: a vibrant pink and brilliant green! I played with it for a while and finally decided on using it as faux vine, since it shapes and forms perfectly to anything you set your mind to!
I think it adds a playful texture to a rather boring white vase. Not to mention, when I grow tired of it I can easily unwrap the wired yarn and use it for something else down the road. It's really a simple solution to add that pop of color or texture to a room or space.
I decided to cut a few branches from our bougainvillea, the pop of colors side by side really help this vase stand out in a bare room. You can really use this wired yarn for anything. It was so easy to wrap around my ceramic white vase. I thought wrapping the wired yarn randomly would give it more of an authentic and rustic feel.
I love finding unique and simple solutions for sprucing up a space. Not to mention, any excuse to get a good deal on craft supplies!