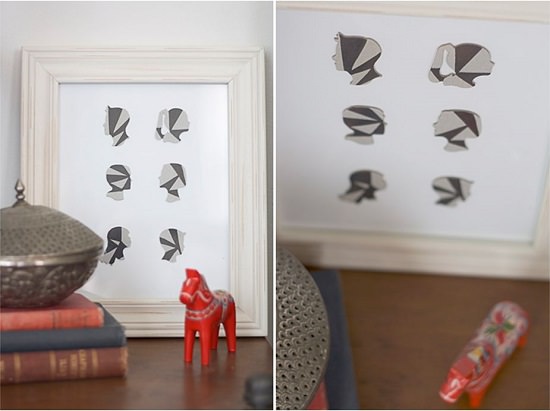 So, I found these intriguing mini silhouettes at the craft store a while ago. I have this habit of getting things for no particular reason, which can be a little impulsive – do I have a problem? I mostly stare at my ongoing collection of craft supplies, until one day I can finally use them for something fun! It's a bad habit, but it always results in quirky art for my home!
I put together a modern piece for my bedside table. I simply collected a few silhouettes and used a sharpie to create a fun abstract design. It has a very geometric feel! Once I was done my designs, I placed some scotch tape on the back of each one and placed them on a clean, white backdrop. I placed it in a frame I had kicking around and just like that, done!
I'm playing around with the placement of my new art. I thought having the art leaning on the wall with layers of other elements might be fun. I've mixed different textures, colors and layers. I like the idea of something neutral, to keep a clean and crisp look. The different metals from my "D" and the cast iron camel lock play off each other nicely.
I also like it paired with some pops of color. The red dala horse really stands out and goes nicely with my geometric art. Black and white is always a fantastic contrast and can go with practically any surrounding colors, which I like to work with!
Which placement do you prefer?!