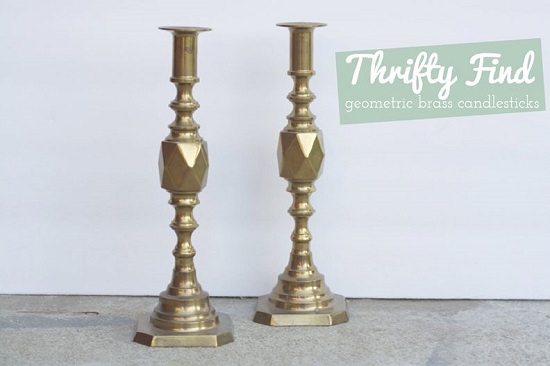 On our way home from Canada, we stopped at a cute little shop in Utah: The Little Brick House! It's a coffee house/luncheon/antique shop, it's heavenly! While we waited for our lunch to make it's way to our hungry bellies, we walked around and looked at all the pretties displayed throughout the shop. I came across these fabulous geometric brass candlesticks and had to have them!
I love the design and I love the brass look, so I knew these would look great as part of our home decor. I am in the process of repurposing them, so I will have to update you on that down the road! For now, I might just enjoy them just as they are.
I am so inspired by Emily Henderson's lovely blog. She always has fantastic ideas and great taste! I kind of got hooked on brass because of her. So now, when I see something I think will go with the look of our vintage/modern abode I make sure to get them! Not too much though, it has to be a subtle touch.
It was the perfect day with my family and the perfect place to stop, stretch our legs, grab some lunch and do some thrifting! If you are ever in Cedar City, Utah you should definitely stop in for a bite and do a little shopping too!