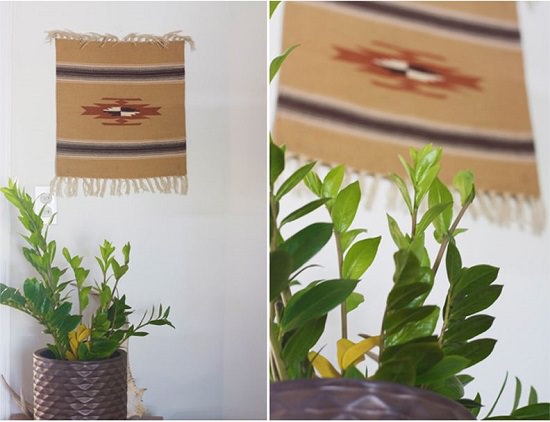 A while back,  we spotted this fabulous southwestern piece at a yard sale! The design was fabulous and too perfect for our home! For a while, it's been kind of a table rug for under our computer….what a waste, right? This needed to be repurposed in a bad way! It was just too pretty!
I decided to use it as a piece of art for our walls. The color is nice and neutral, which is a great change with all the bright and bold prints we have on the opposite wall in our living room! I think it's much more appreciated up there on display!
Just last weekend, I happened to find another woven southwestern rug with the same color and designs. Looks like I might have to find some more space on the wall! I am loving this splash of design in our living room. It still goes with everything, since it is very geometric indeed!
Sometimes, you just have to repurpose a thing or two to make it new in a sense. Have you ever had to do anything like that before?