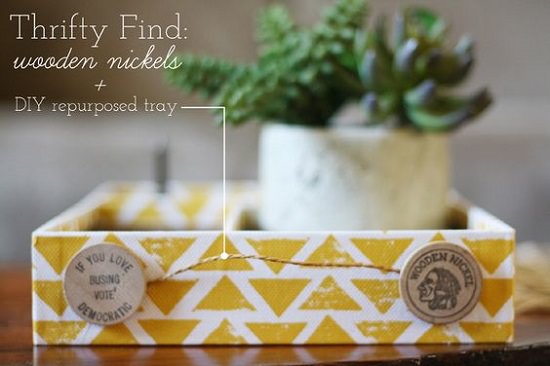 A long time ago, my husband found these fabulous wooden nickels at an antique store in Eureka, CA. For the longest time, we've just had them tucked away in a jar. My recent trip to Target sparked an interesting idea for a little project for back home!
I found this fabulous desk drawer organizer! I was immediately attracted to the color and design. I had to take it home with me! I thought it would be a shame to hide it in a drawer, so I decided to repurpose it as a tray for our coffee table. It's perfect for storing our remote controls, coasters and displaying other fun little things! It was just missing something and I needed to put my twist on it somehow.
Using my wooden nickels, I decided to hot glue them with some twine onto my new and repurposed coffee table tray. In a sense, they would act as handles. They are quirky, unique and I love them!
Now we have a great new piece for our coffee table that keeps things organized and tidy. Plus, I can show off those thrifty wooden nickels finally!