Dining Wall Makeover and Buffet Revamp: Before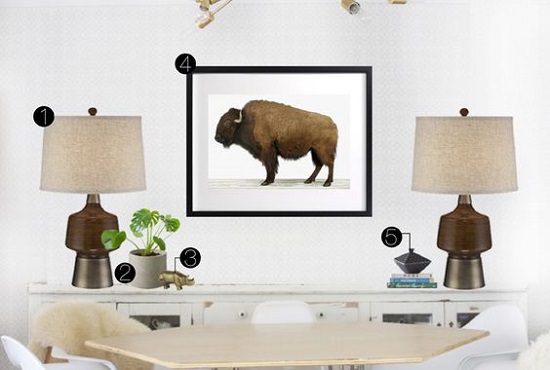 I am SO beyond excited, last Friday I had the most exciting news! Better Homes and Gardens voted Hello Lidy as one of the top ten decorating blogs for the 2014 blogger awards! You guys – that's HUGE for us!! Thank you all for your support and love over these past few years! Without any of you, this wouldn't be possible! I mean it! Be sure to check out the other nine amazing bloggers also awarded this year! And if you're a new visitor here, I am SO thrilled you ventured this way! Welcome!
While we are on the topic of decorating, I've been really wanting to give our dining room wall a simple makeover and revamp our boring buffet. Two years ago, we created aDIY Sunburst Mirror. For a while it was great for the space, but our style has changed a bit and I'm looking for something new and fresh to hang on the wall!
Our buffet is very large and it stretches along the entire wall, which is also a little hard to work with. Everything looks so bare and spaced out. We are actually considering selling it and replacing it with a smaller mid century styled dining buffet. It's going to be hard to pack and take with us when we move! It's really quite sad, it's such a beautiful piece.
I'm thinking a fun visual piece for the wall. I am loving this print right now! Perhaps something similiar for our wall? I was hoping for it to be pretty big and also something within our budget. I have an easy solution up my sleeve that I will share with you soon, but here is what I am thinking!