Discover these amazing DIY Terrace Decoration Ideas to create a beautiful outdoor space in no time. Read on to know more!
Do you have a terrace that needs a facelift? Look no further because we have curated some easy and creative DIY Terrace Decoration Ideas below.
Here are some apartment balcony privacy ideas
---
DIY Terrace Decoration Ideas
1. Vertical Terrace Garden
All you need is lots of plants to uplift the look of your terrace with the beauty of nature. Use macrame plant hangers for an added look.
2. Seating Area with Lights

Here's another one of the best small terrace decoration ideas that require plants, a table, and lights to create a relaxing vibe. It's also an excellent Christmas decoration idea for the terrace.
3. Birdhouse

A birdhouse can be a cute addition to your terrace and a safe haven for birds. Make it using this guide.
4. Ladder as a Decoration Prop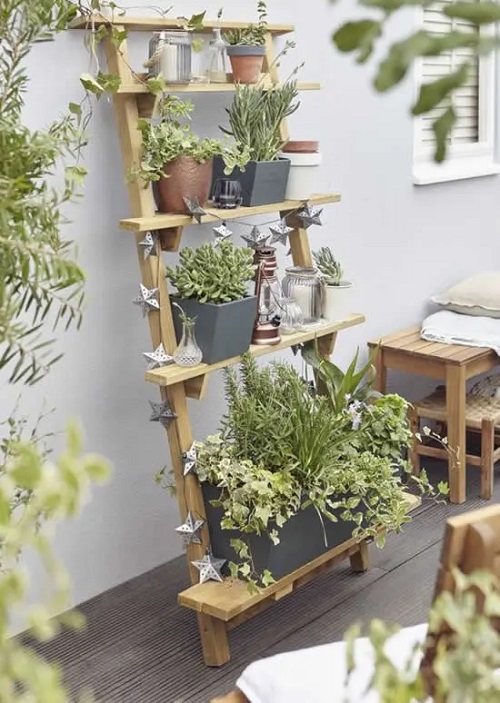 If you want a low-cost terrace decor option, a ladder is for you. Adorn it with plants, a vintage lantern, and a star garland.
5. Open Terrace Décor

An open terrace provides a lot of room for creativity. Use your imagination to utilize the space in the best possible way. You can use plants and furniture to decorate the space. It's one of the best open terrace decoration ideas.
6. Pergola Décor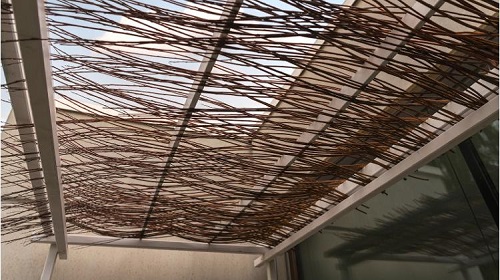 A pergola stands out in this list of DIY terrace decoration ideas. It changes the look of the space and also acts as a sturdy support for climbing plants. You can further decorate the area by adding a seating space. Click here to know more.
7. Hammock To Relax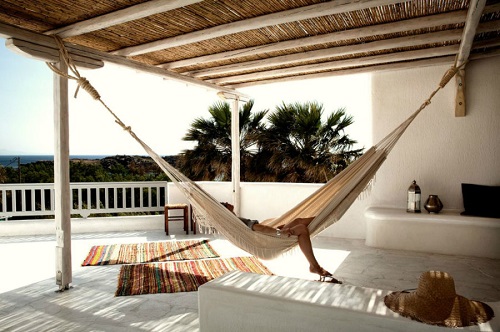 Adorn your terrace with a hammock for beachy vibes. Either create a handmade one on your own or use a store-bought one to relax and chill in.
8. Living Room Style Décor

Do you have a spacious terrace? Then deck it up with couches, a coffee table, planters, chairs, and ottomans. You can always customize it as you like.
9. Lots of Flower Pots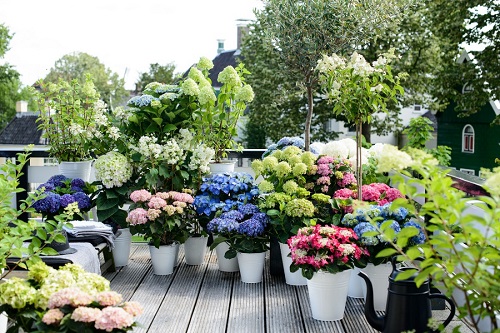 Embellish your terrace with lots of flowering plants to uplift the charm without requiring many things to put in place. It's one of the great DIY terrace decoration ideas.
10. Light Décor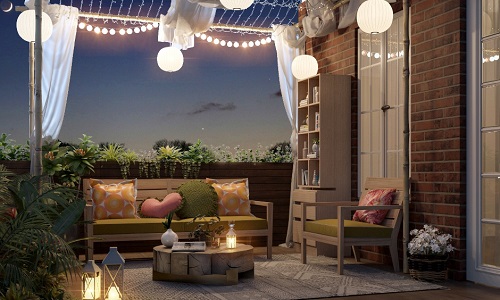 String lights are the easiest and cheapest option to elevate the terrace appearance. This decoration idea makes a considerable change without demanding a lot of space.
11. Bohemian Decor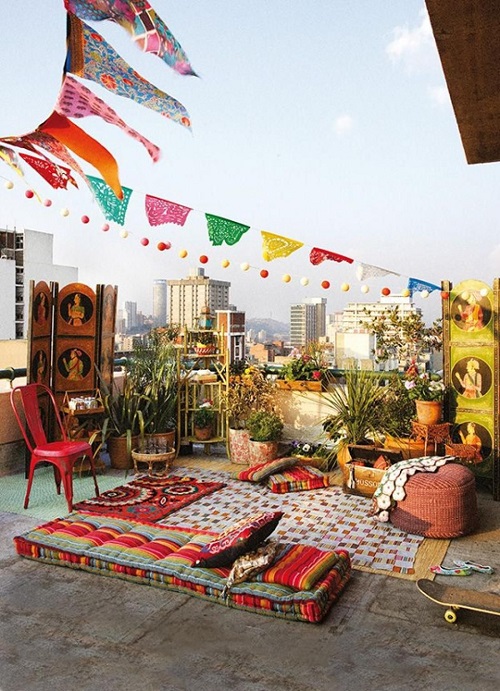 Use colorful rugs, greenery, ottomans, cane plant stands, and antique privacy screens to give your regular terrace a chic bohemian look.
12. Upcycle Car Tires

Car tires are a highly understated piece of décor. You can use them to make planters, tables, or even an ottoman. Place these items anywhere on your terrace for a unique look.
13. Vintage Décor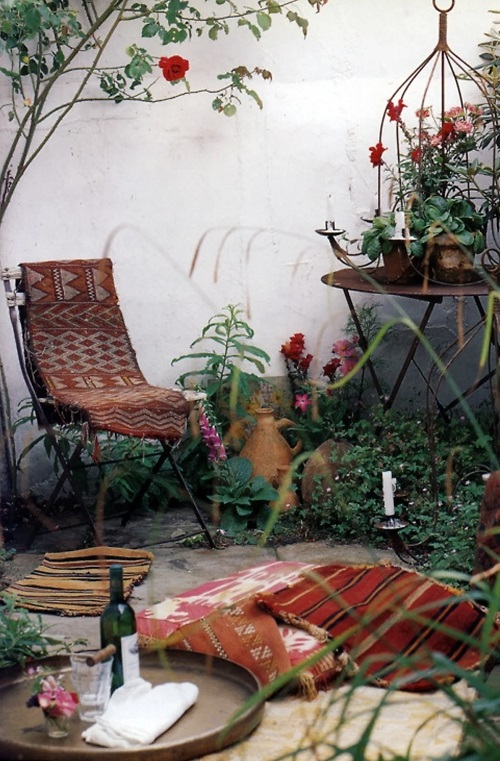 If you have antique items sitting up in your store rooms, eating dust, you have a bulk of décor items for your terrace. Place old-style furniture, chairs, tables, and other showpieces on the terrace for a unique old-school look.
14. Open Dining Setting for Terrace

Restaurants predominantly use the open dining décor idea. But you can also recreate it for your home terrace.
15. Floor Revamp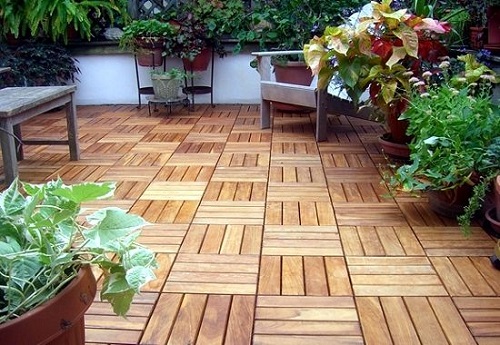 Updating the terrace floor with wooden planks makes a significant impact on the overall look.
16. Rope Rug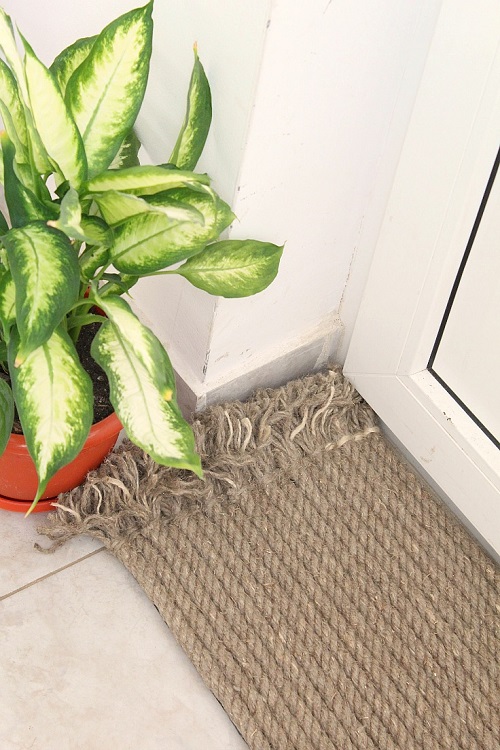 Prevent the inside of your house from getting dirty by keeping a rug at the entrance of your terrace. Not only does this have functional value, but it will also add on as a part of your terrace décor when you customize it with your preferred colors and sizes.
17. Artificial Grass

If you have a black thumb but still want to include greenery in your terrace, artificial grass is for you. All you need is a roll of fake grass, some glue, tape, scissors, and this guide.
18. Personalized Terrace Wall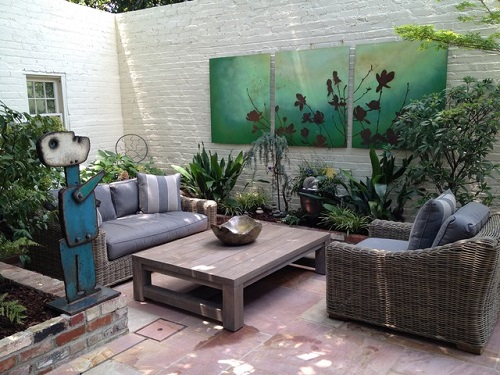 Decorate the terrace wall with your favorite paintings, posters, or frames. This will prove to be an instant eye-catcher.
19. Make a Fountain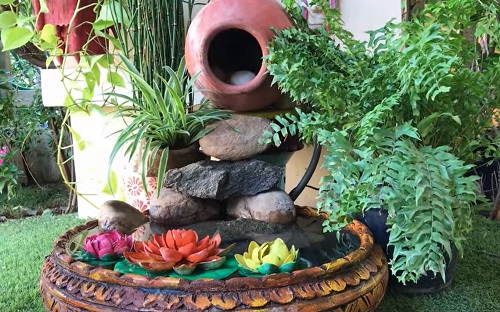 Make a fountain and install it in the center of your terrace to hear the soothing sound of trickling water. Watch this video tutorial for more info.
20. Wind Chime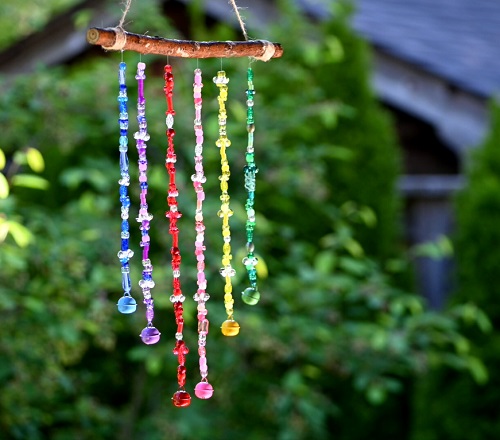 Wind chimes make a stunning display specimen. Hang them across your terrace for an appealing look. It's one of the eye-catching DIY terrace decoration ideas. Read the details here.
Here are some DIY wind chime ideas for the garden