Discover alluring Dining Room Table Centerpiece Ideas and elevate your mealtime experience with a captivating ambiance!
Uplift your dining experience with showstopping table centerpieces that fascinate and inspire. These stunning ideas elevate your meals, spark conversation, and create unforgettable moments around the table. Let's find out some of the amazing Dining Room Table Centerpiece Ideas below.
Find out the best wrapped potted plant centerpiece ideas here
---
Dining Room Table Centerpiece Ideas
1. Use Lighted Candles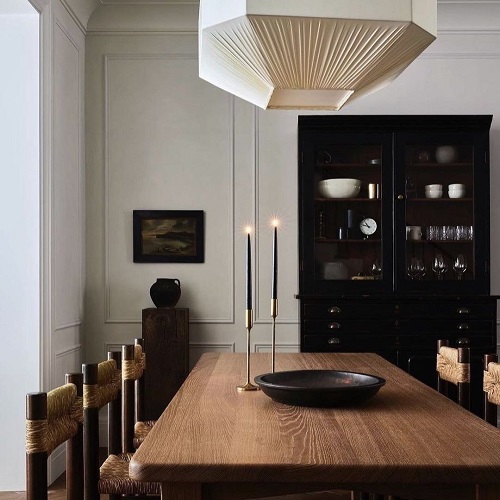 Add some warmth and sophistication to your dining room by using illuminated candles as centerpieces.
2. Display a Simple Bowl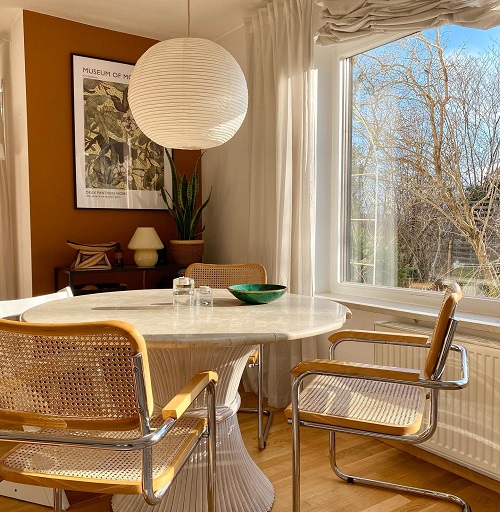 Those who love minimal decor can use an empty porcelain bowl as the dining room table centerpiece.
3. Floral Arrangement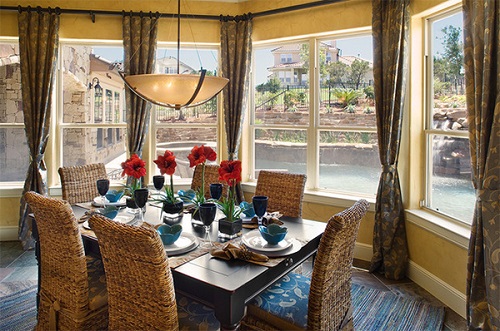 Create an enchanting display in the dining room with lots of attention-grabbing flowers.
4. Decorate a Tray With Mini Trinkets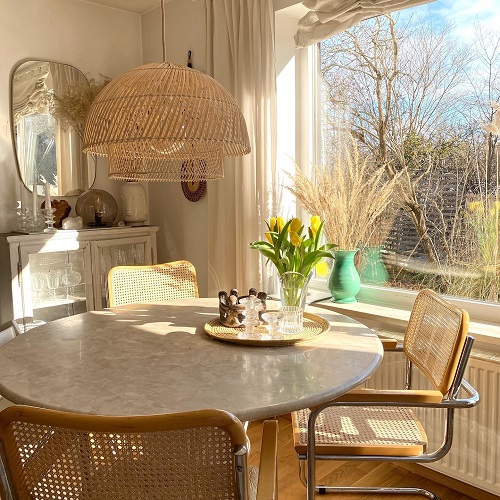 Let your dining table showcase your creativity and imagination. Arrange a medley of cherished little trinkets in an elegant tray to create a captivating and stylish centerpiece.
5. Leaves and Candles
Beautify your dining table with leaves and lighted candles to enhance the visual appeal. It's one of the best dining room table centerpiece ideas.
6. A Bowl and Vase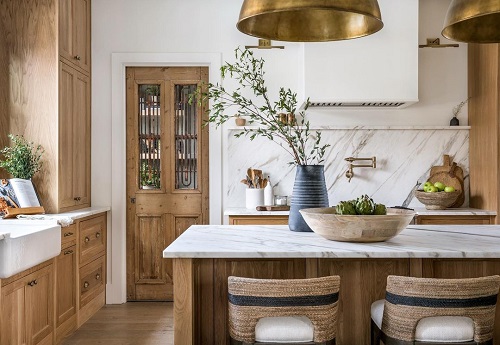 Struggling to choose between a vase and a bowl for your dining table's focal point? Combine them! Just maintain minimalistic floral and bowl elements to avoid cluttering your dining area.
7. Pink and White Table Setting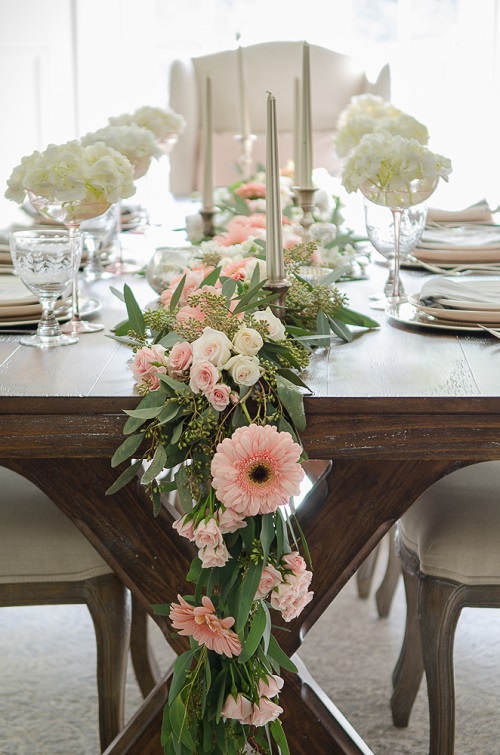 This whimsical pink and white table setting is perfect for a special Valentine's Day gathering or any upcoming party or shower.
8. Introduce Wooden Stenciled Chargers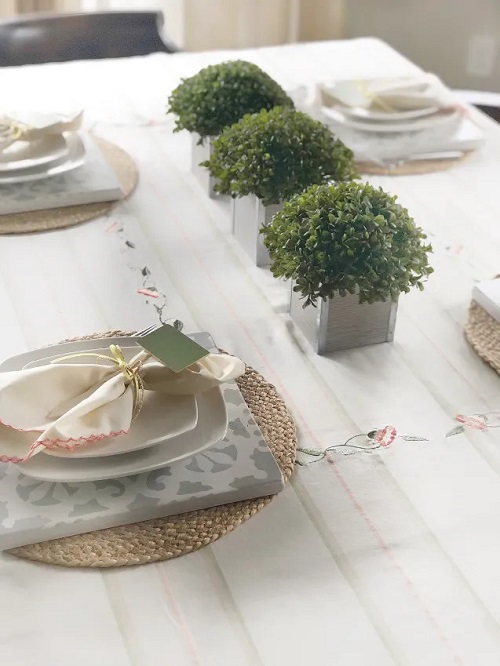 Add some character and drama to your spring tablescape with wooden stenciled chargers. They are easy to make and affordable too.
9. Simple Spring Tablescape with Colorful Blooms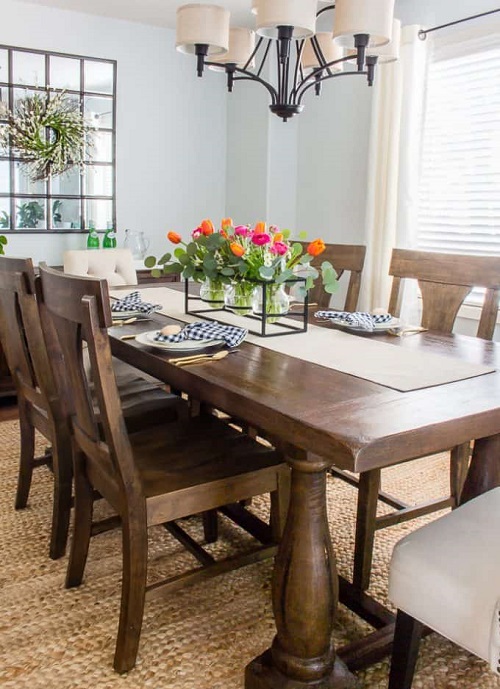 Bring spring to your table with a colorful combination of blooms and some fun bunny napkins. Read the details here.
10. DIY Rustic Farmhouse Centerpiece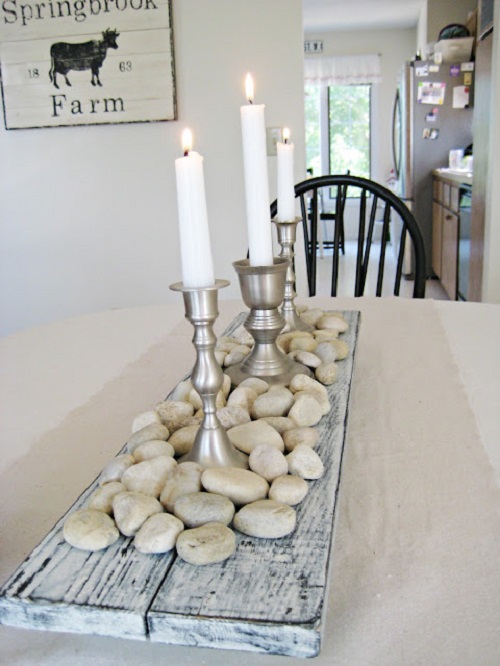 Featuring stones and candles on the old barn board, this rustic farmhouse dining table centerpiece is a sight to behold.
11. DIY Planter Box Centerpiece
Here's the step-by-step tutorial to build an eye-catching planter box centerpiece for the dining table. Either adorn it with faux plants, flowers, or scented candles.
12. Countryside Farmhouse Table Centerpiece Cubby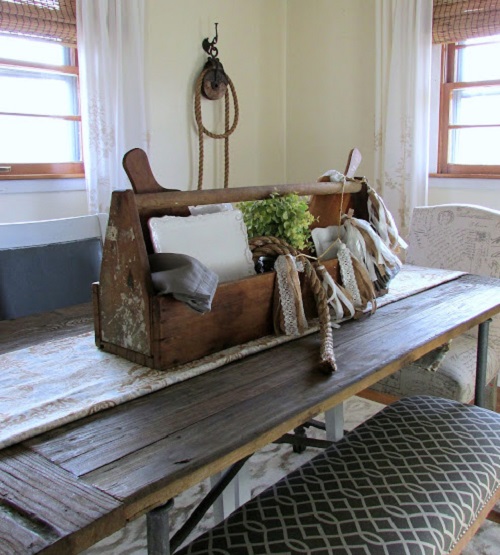 To copy this centerpiece idea, grab an antique barn wood toolbox, white dishes, greenery, and cutting boards.
13. Spring Magnolia Centerpiece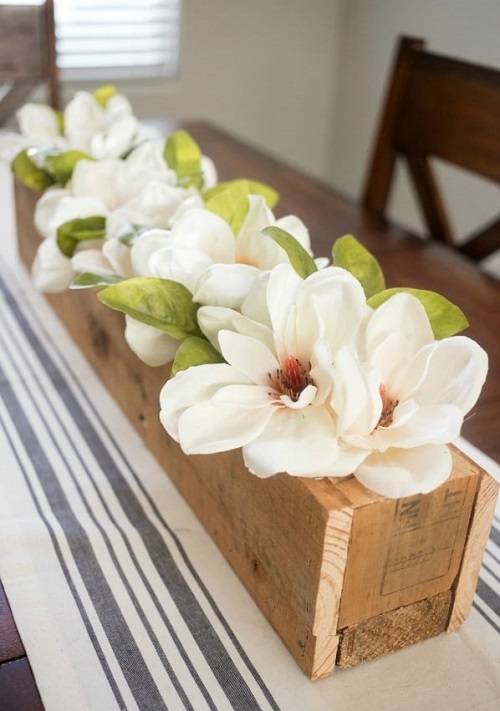 Brighten up your dining room decor with this lovely and easy-to-create spring magnolia centerpiece. Read more here.
14. Opt For Branches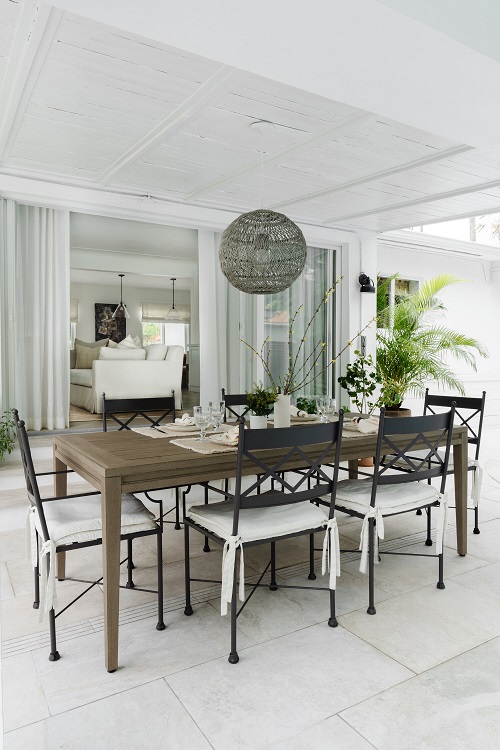 Take a vase, fill it with large sprigs of trees, and your inexpensive dining table centerpiece is ready to flaunt.
15. A Bowl of Fruit!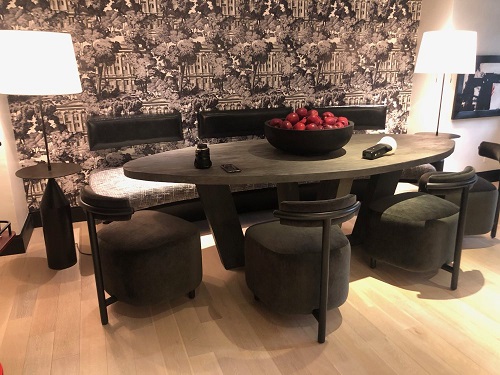 A fruit bowl is all you need to amplify the look and feel of your bland table. It's one of the cheapest dining room table centerpiece ideas.
16. Add Sculptural Pieces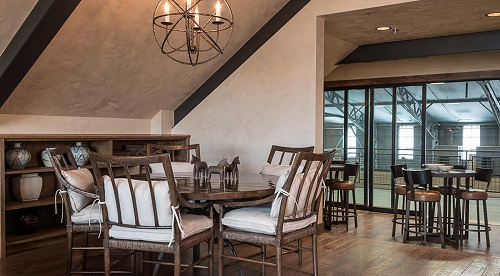 Transform your dining area with eye-catching sculptures as centerpieces, infusing artistic flair and personality into your space.
17. Lots of Vases!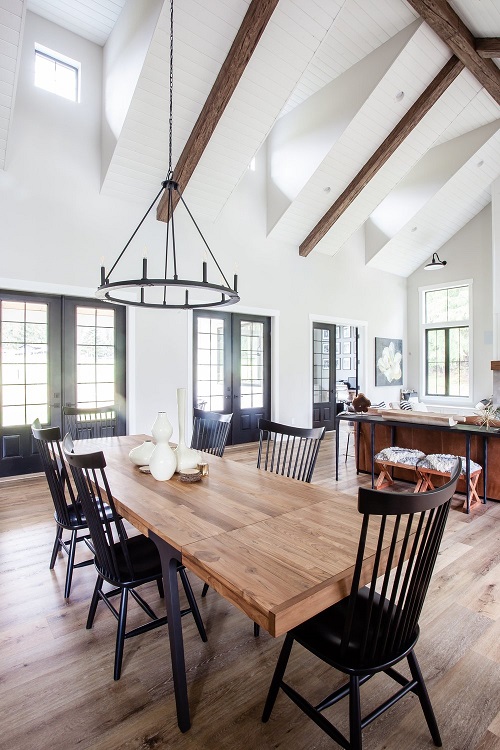 If you have different-sized flower vases, place them together on the dining table for a unique display.
18. Add An Oversized Vase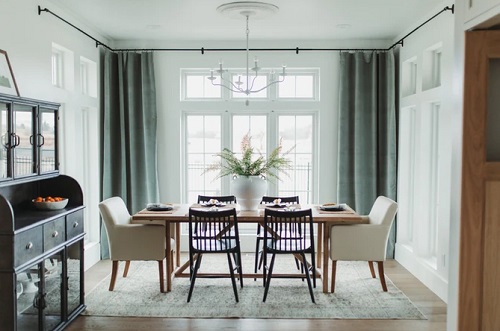 Do you have a large dining table? Use an oversized potted vase as a peculiar centerpiece that will surely attract lots of eyeballs.
19. Pampas Grass and Books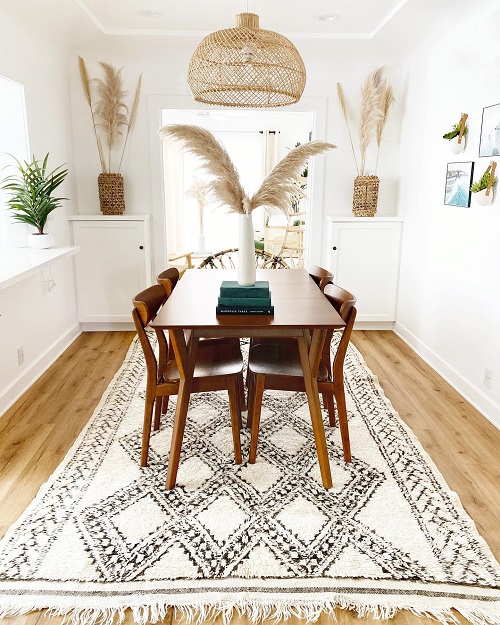 Embellish your monotonous dining table with a vase filled with pampas grass and a few books.
20. Go With Geometric Lanterns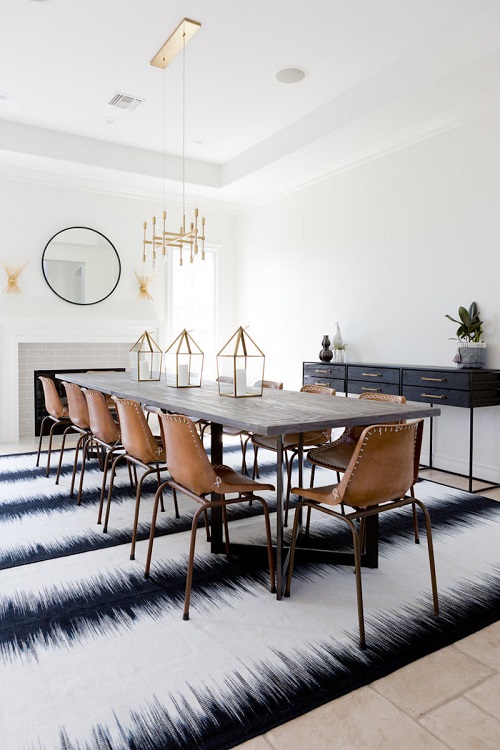 These three glass-and-brass geometric lanterns go pretty well with every dining room decor. It's one of the most amazing dining room table centerpiece ideas.
21. Faux Crocodile Skull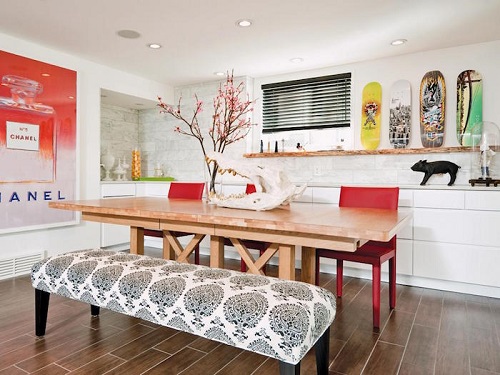 Make your dining table stand out with a faux crocodile skull centerpiece. It's ideal for everyday and party decoration.
22. Use Cactus Planters!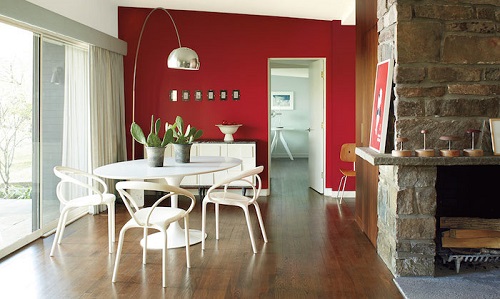 Bring greenery to your dining room by adorning the table with a pair of cactus planters. Gardeners will love this centerpiece idea.
23. Decorate with Flashy Palm Fronds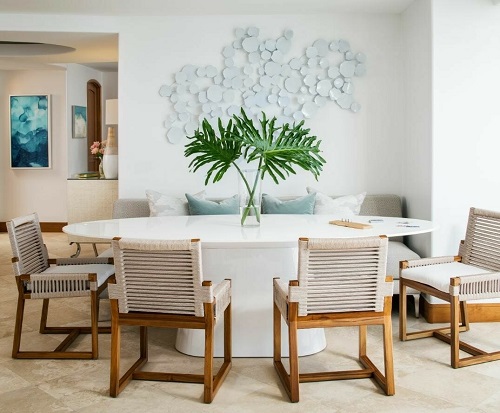 A vase filled with gorgeous palm fronds is a perfect centerpiece for a coastal-inspired dining room table.
24. Create a Display of Fluffy Plumes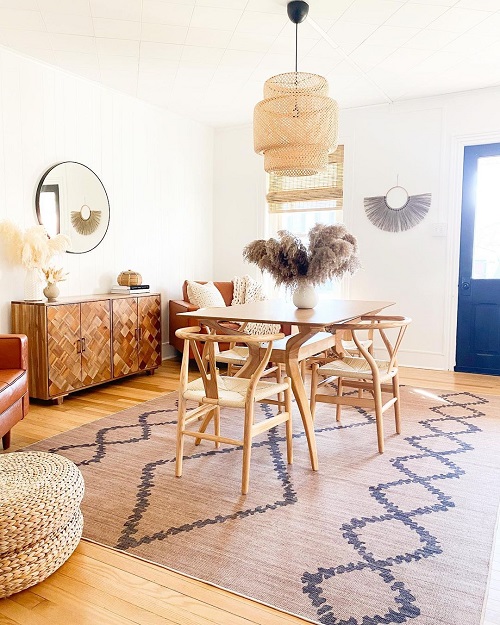 Instead of using fresh or dried blossoms in vases, you can use fluffy feathers to create a fantastic display.
25. Decorate With Assorted Glassware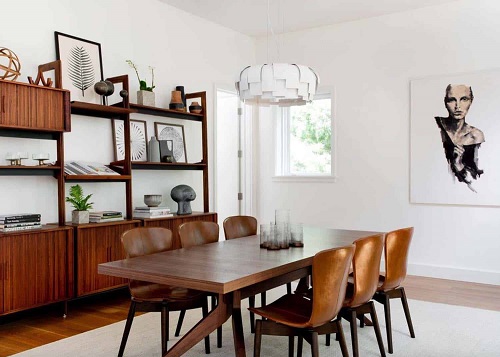 If you have glassware of different sizes, place them in the center of the dining table for some pizzazz and timeless charm.
26. A Faux Pumpkin Centerpiece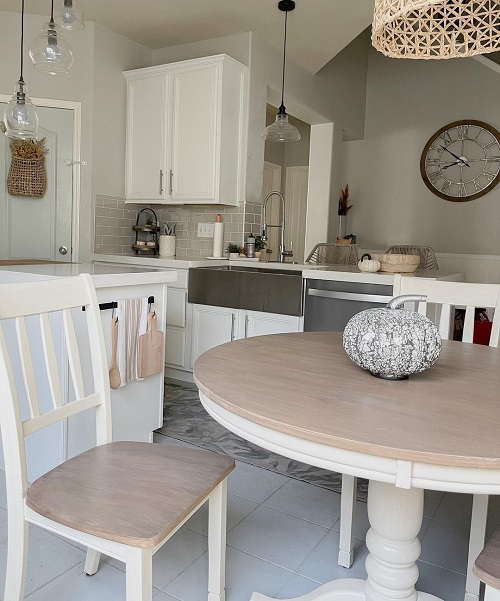 You only need a faux pumpkin or a real one to amp up the personality of a boring dining room table.
27. Candelabra And Antlers for Rustic Sophistication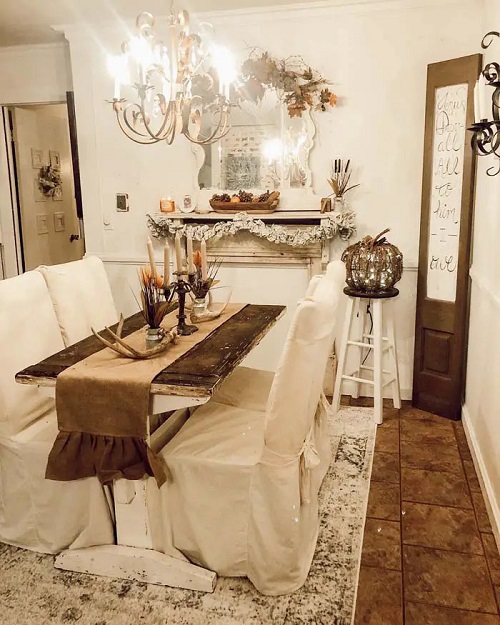 Place candelabra and antlers on the dining table and give your space the look of a mountain cabin.
28. Try a Mid-Air Centerpiece
If you have a pendant light above the dining table, use it as a unique centerpiece. Adorn the light fixture with twigs, greenery, and pampas grass for added appeal.
29. Minimalist Moss Centerpiece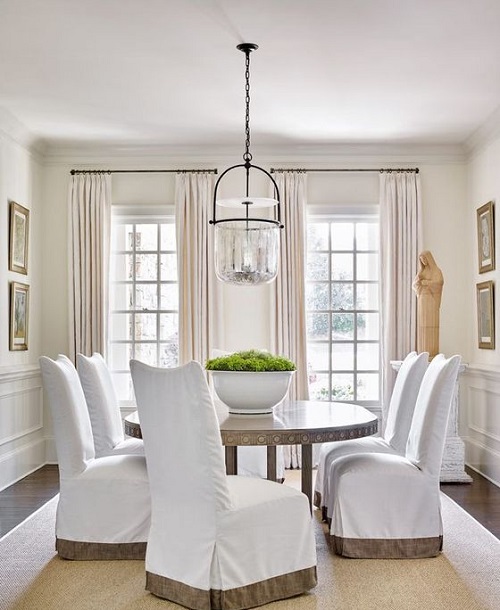 Consider using a cement bowl with faux moss as a table decor to create a stunning focal point. It's one of the great dining room table centerpiece ideas.
30. Pretty Decorative Wooden Bowls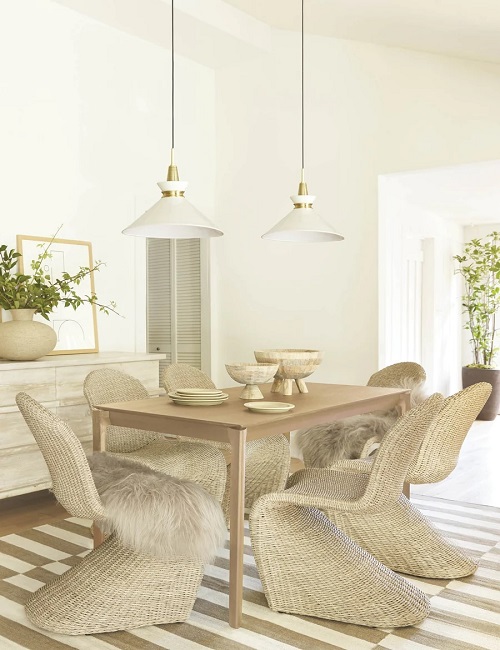 Combining natural wood textures, organic shapes, and modern design elements, these bowls are the perfect balance of function and art.
31. Eye-Catching Sculptural Vase Centerpiece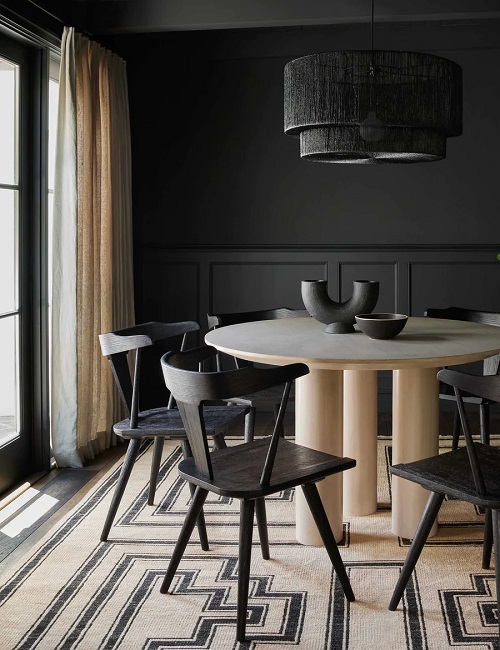 This half-circle table sculpture vase makes a modern statement with its tubular form and matte black glaze. Boasting natural terracotta textures, it's a stunning addition to dining and coffee tables.
Check out the metallic shell candleholder centerpiece here