From simple to extravagant, these Balloon Centerpiece Ideas will add charm and cheer to every celebration!
Get ready to elevate your table decor with these eye-catching Balloon Centerpiece Ideas. They can easily add a pop of color, charm, and character to any occasion.
Check out the awesome balloon garland ideas here
---
Balloon Centerpiece Ideas
1. DIY Ice Cream Cone Balloons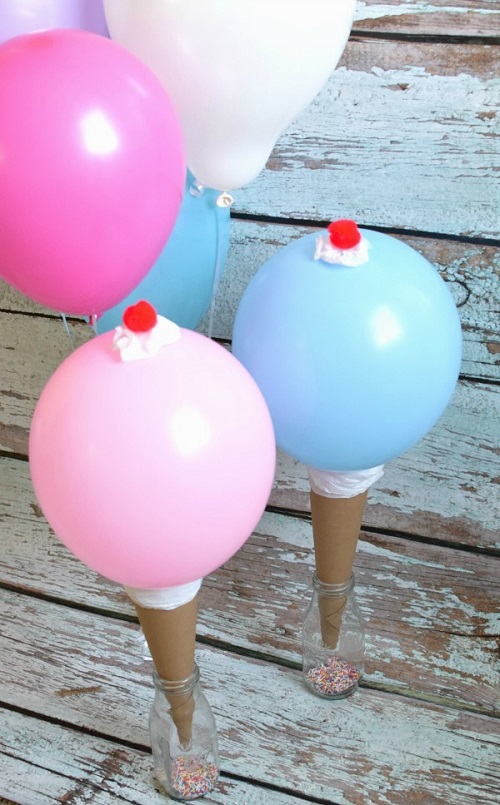 These super easy balloon decoratives are the perfect addition to an ice cream-themed birthday party. Get the details about this project here.
Find out the eye-grabbing ice cream cone planters here
2. DIY Glitter Bottle Balloon Table Centerpiece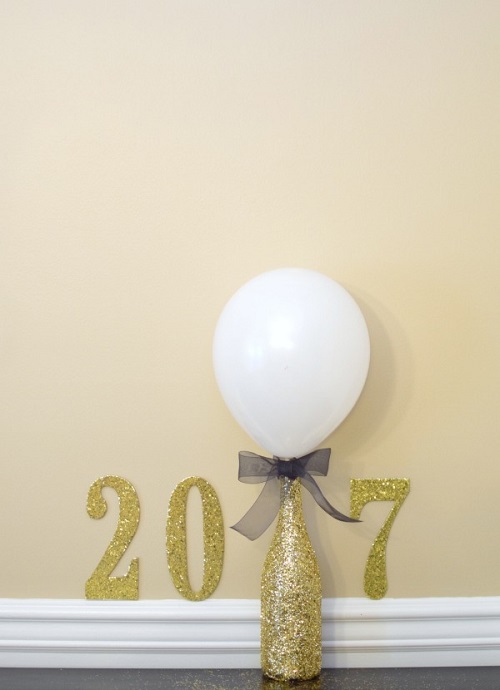 This fun and simple DIY decor idea make the perfect centerpiece or backdrop for your stylish soiree. The instructions are available in this article.
3. Picnic Table Balloon Centerpiece Ideas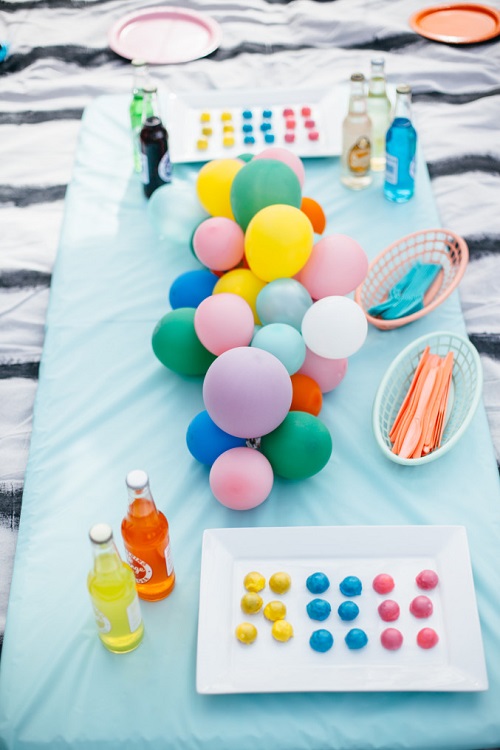 Are you tired of the same old picnic table setup? Spice up your outdoor events with this show-stopping balloon centerpiece that will instantly attract everyone's attention.
4. Hot Air Balloon Centerpiece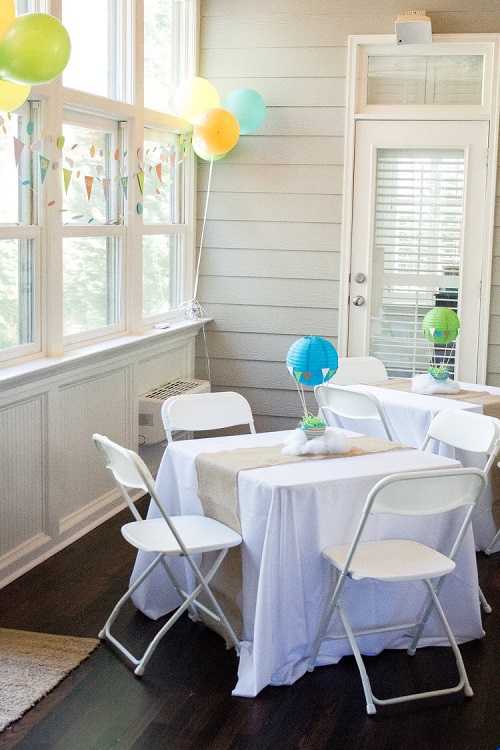 Quick and cheap – these hot air balloon centerpieces cost less than $5 each. The best part is that you only need 10 minutes for this project.
5. Eye-Catching Balloon Centerpiece Idea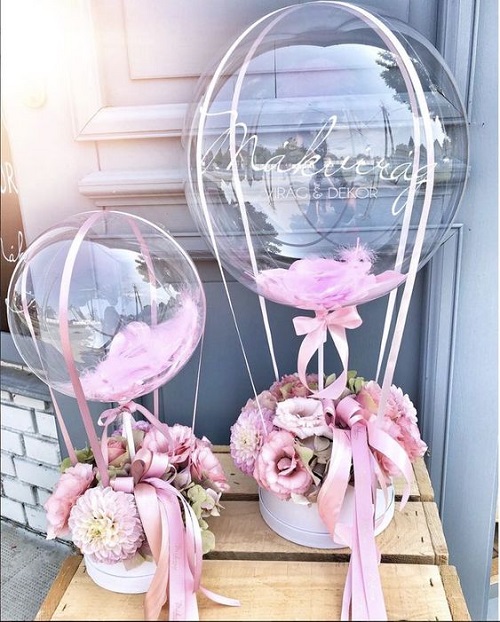 This article shows how a pinch of creativity turns classic latex balloons into eye-catching masterpieces. These are great to amp up the look and feel of parties, events, and special celebrations.
6. No Helium Balloon Centerpiece Idea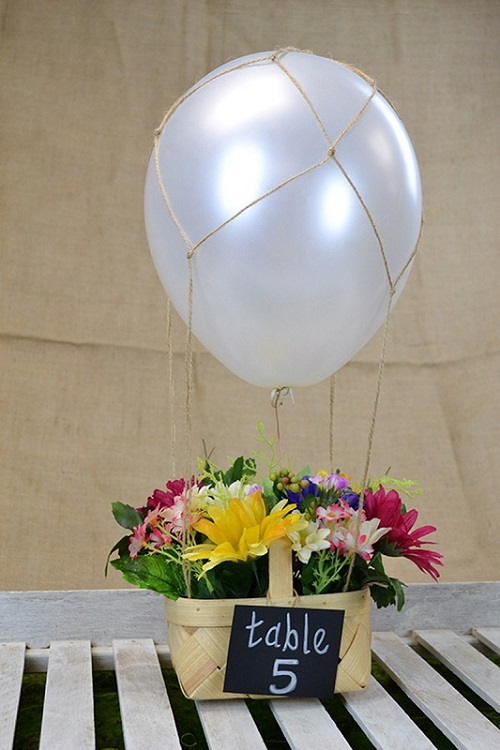 Adorned with flowers, this hot air balloon centerpiece is a fun way to add color and quirkiness to wedding decor. It's one of the best balloon centerpiece ideas. Get all the instructions and a list of supplies in this tutorial.
7. DIY Balloon Centerpiece with Vinyl Letters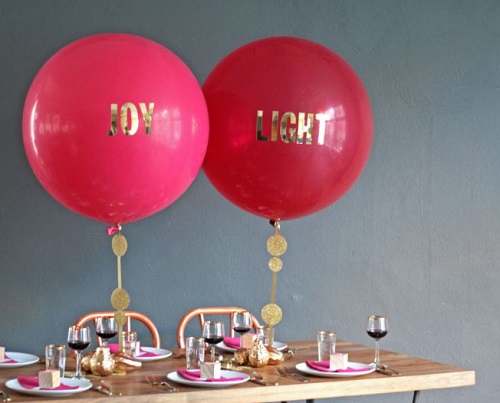 Featuring phrases made up of vinyl letters, this chic balloons centerpiece will surely draw everyone's attention. Check out this idea for more info.
8. Balloon Stick Centerpiece for Graduation Party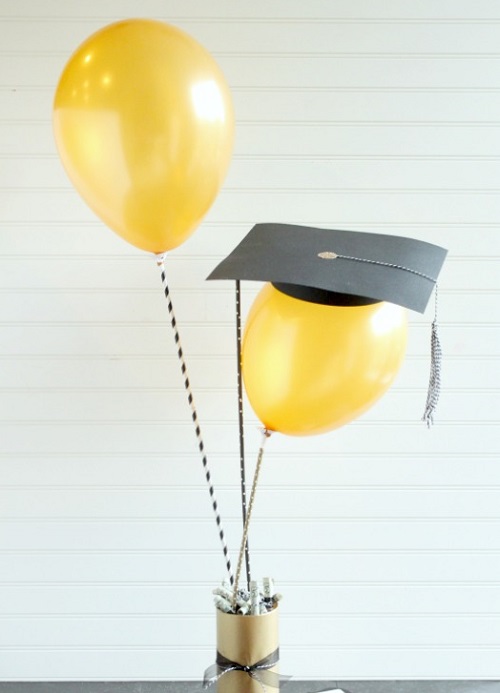 Looking for eye-grabbing centerpieces for your kid's graduation party? Consider making this amazing balloon setup. It also makes an excellent gift for your little scholar.
9. Jumbo Balloon Tulle Centerpiece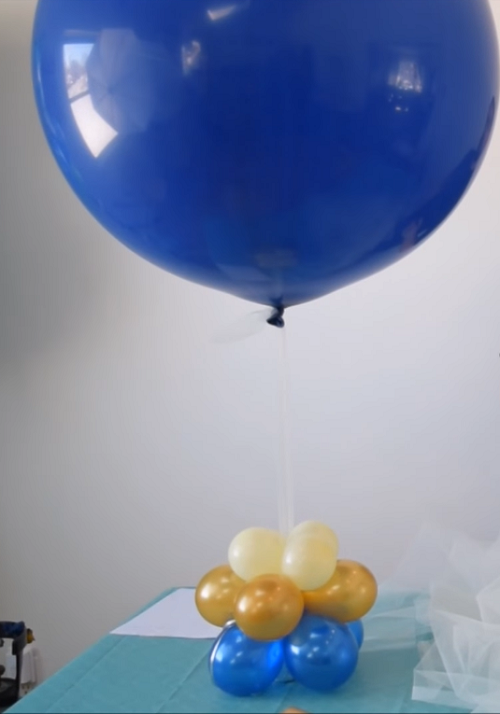 Learn how to make a jumbo balloon centerpiece covered with tulle in this video tutorial. It's great for engagement parties, weddings, communions, candy land-themed parties, and more.
10. DIY Small Balloon Bouquet Centerpiece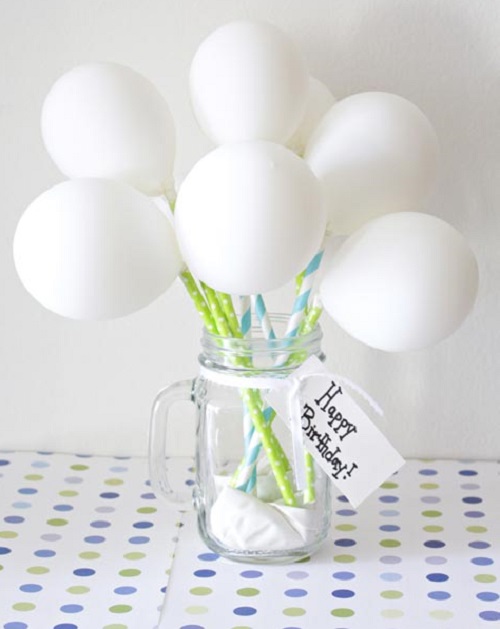 This mini balloon bouquet is a fun and creative way to add some festive decoration to any occasion in your house. You can customize this centerpiece with different colors, shapes, and textures.
11. Mickey Mouse Balloon Centerpiece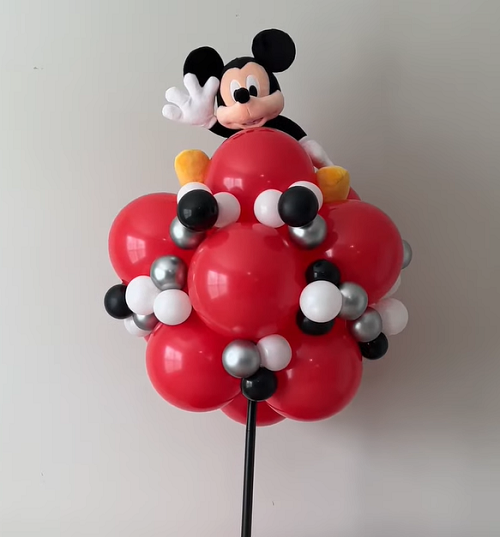 Grab a balloon stand, Mickey Mouse toy, glue gun, balloons, hand balloon pump, and glue dots for this project.
Read the best Mickey Mouse Decorations here
12. Dreamy Balloon Table Centerpiece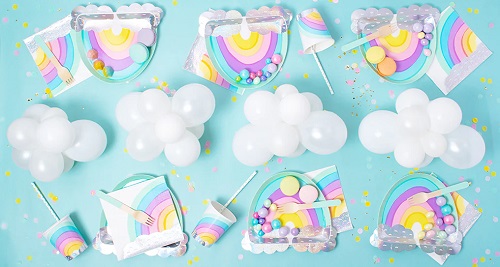 Easy to craft and affordable, these dreamy balloon clouds are fantastic table centerpieces for a rainbow and clouds-themed party. They make great parting gifts for little guests as well.
13. Simple Balloon Centerpiece Idea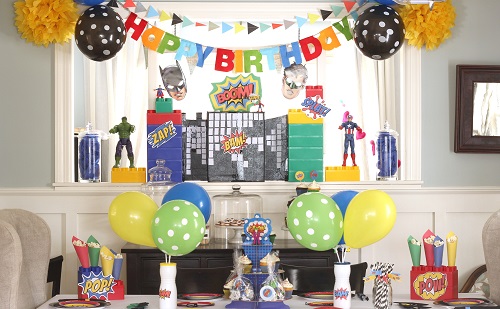 This DIY balloon centerpiece is an inexpensive and easy way to make your kiddo's birthday party memorable. Read the details here.
14. Adorable Mini Balloon Flower Centerpieces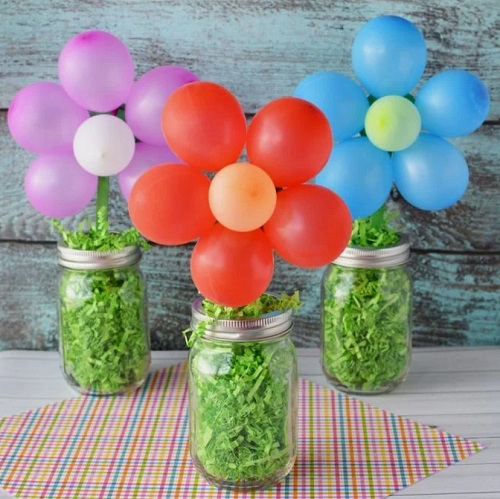 Make a big statement with these mini flower-shaped balloon centerpieces. These delightful arrangements pack a punch of charm and elegance, ensuring your event is remembered for its attention to detail.
15. Rainbow Balloon Topiary Centerpieces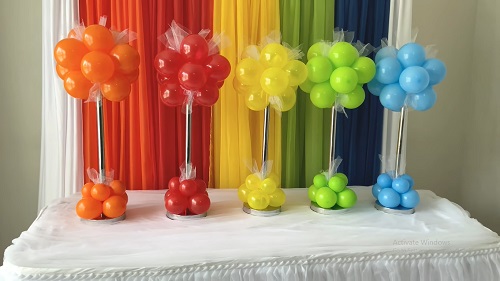 Add a splash of color to your special occasion with these balloon topiary centerpieces. Watch this step-by-step video tutorial for more info.
16. DIY Number Balloon Table Centrepiece Bouquet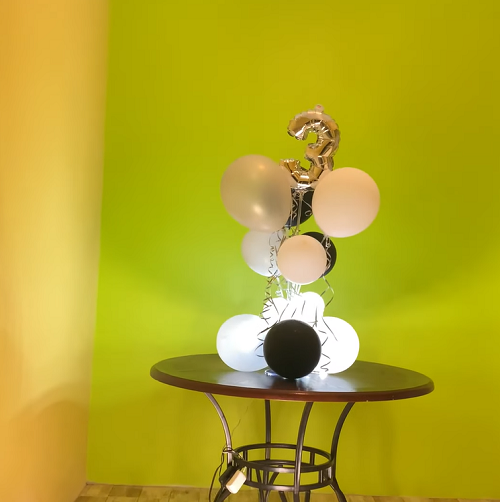 Here're the steps to create a cheap balloon table centerpiece with LED lights for a birthday party, anniversary, or wedding table.
17. Balloon & Fronds Tropical Party Centerpiece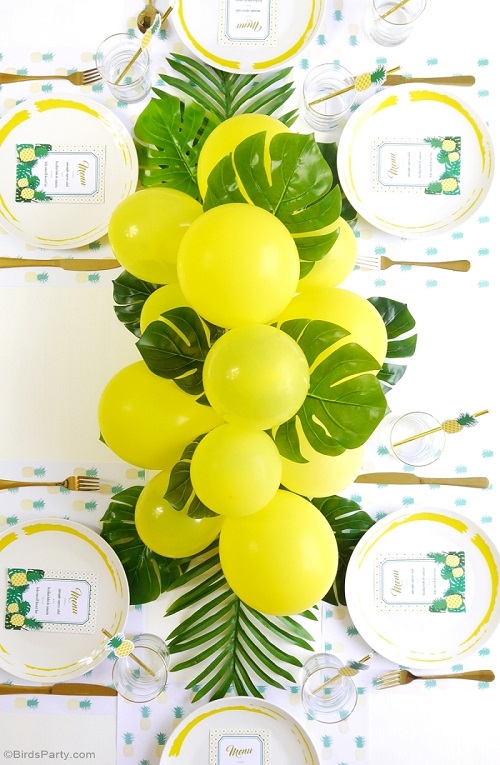 Fill your celebration with tropical vibes by introducing this visually appealing balloon and fronds party centerpiece. Learn more about this project in this article.
18. DIY Halloween Mini Balloon Pumpkins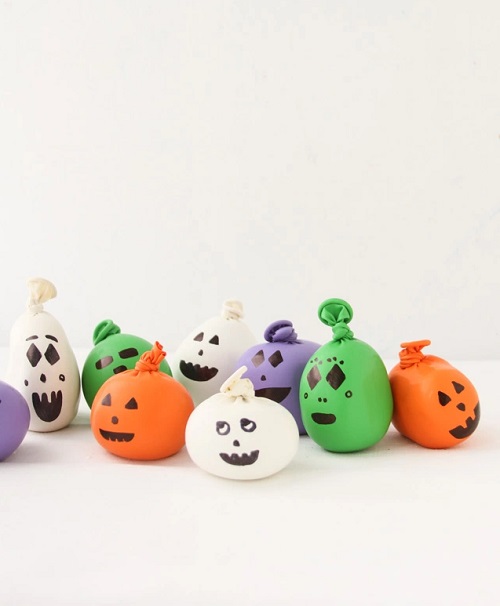 Complete your Halloween home decor by using mini balloon pumpkins as table centerpieces. They can also be used as Halloween hacky sacks and festive stress balls. The DIY is here.
19. Balloon Ghosts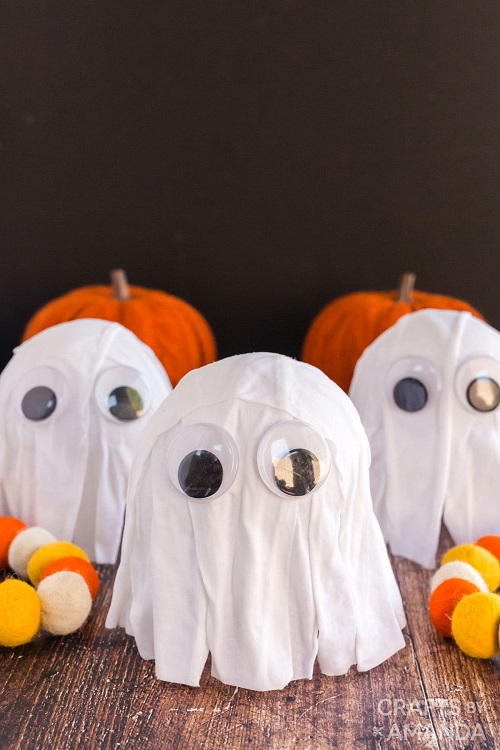 There are many fun ways to use these little balloon ghosts. Use them as party favors or light them up at the table. You can even hang them from a tree for a more spooky look.
Here are the spooky Halloween ghost lawn decorations
20. Mylar Balloon Centerpiece DIY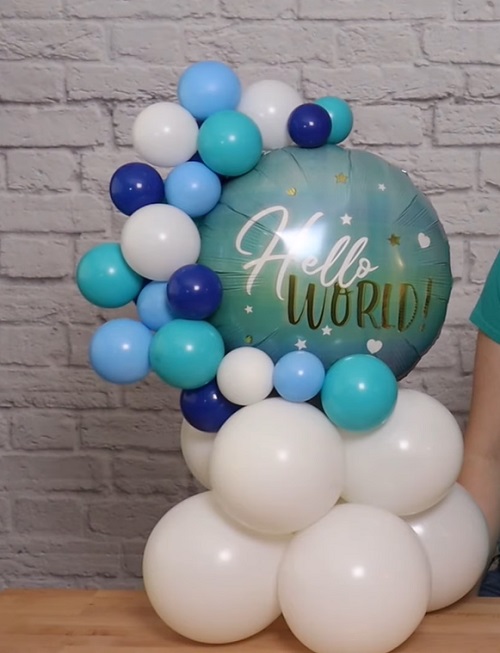 Take inspiration from this helpful tutorial and turn a standard 18-inch Mylar balloon into a captivating display piece. It's one of the most amazing balloon centerpiece ideas.
21. DIY Dollar Tree Balloon Centerpiece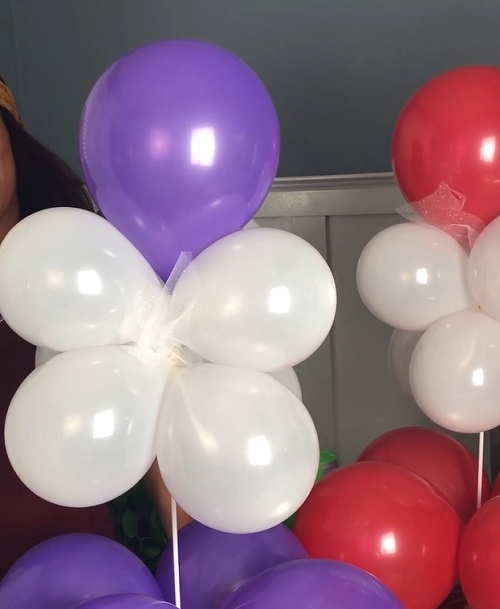 Made from dollar tree items, this balloon centerpiece will make your party pop. It's ideal for baby showers, birthdays, or any family gathering. Here's a quick DIY.
22. Balloon Easter Egg Centerpiece DIY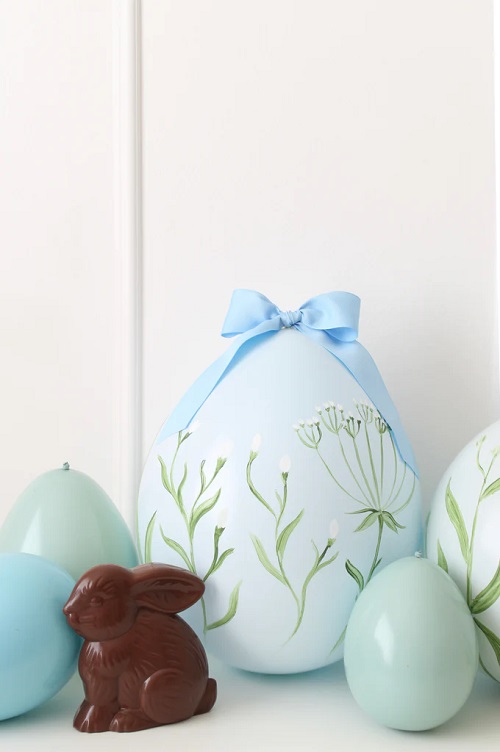 Who said Easter decorations have to be egg-centric? This year, think outside the box and use balloons to create an Easter centerpiece. Learn more here.
23. Thanksgiving Balloon Centerpiece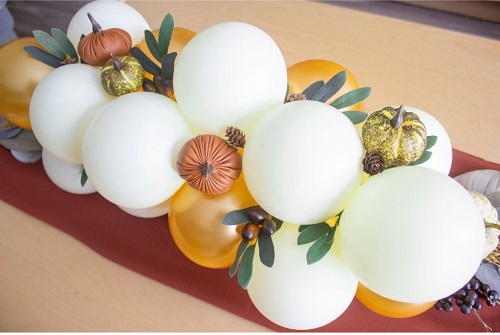 Feeling stuck and not sure what to do for Thanksgiving décor this year? With just a few simple supplies, you can create a beautiful and unique centerpiece for the Thanksgiving dinner table.
24. DIY Teddy Bear Balloons Centerpiece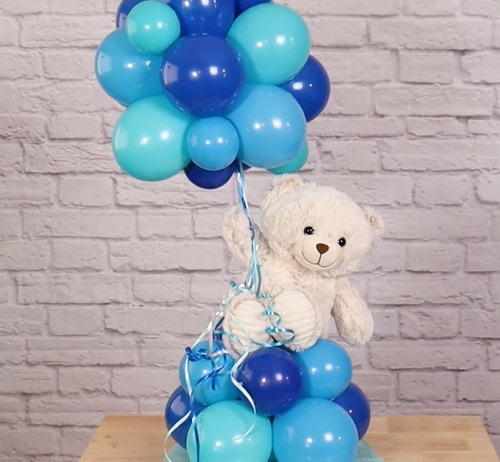 A lovely teddy bear taking flight on balloons makes a cute decoration for baby showers and birthdays. Follow this video and make one for yourself.
25. Minimalistic Balloon Centerpieces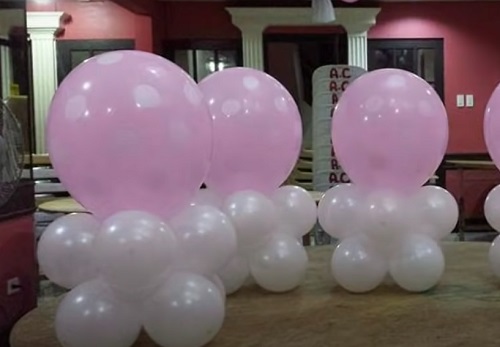 Who says you need to be a professional decorator to create eye-catching centerpieces? This easy DIY balloon arrangement is perfect for beginners and requires minimal supplies.
---
Important Points to Remember
Before trying these balloon centerpiece ideas, keep the following points in mind:
Theme and colors: Choose balloons that match the theme or color scheme of the event or occasion. This will help create a cohesive and visually appealing centerpiece.
Size and shape: Consider the size and shape of the balloons you want to use. They come in various sizes and shapes, such as round, oval, or even custom shapes. Select balloons that fit well with your desired centerpiece design.
Height and arrangement: Determine the desired height and arrangement of the centerpiece. Balloons can be arranged in clusters, columns, arches, or even suspended from the ceiling. Experiment with different arrangements to find the most visually appealing option.
Balloon weights and anchors: Use balloon weights or anchors to keep the centerpiece stable and secure. This is especially important for larger or outdoor installations to prevent the balloons from floating away or getting blown by the wind.
Accessories and embellishments: Consider adding accessories or embellishments to spice up the centerpiece. This can include ribbons, tulle, flowers, or LED lights.
Safety precautions: Keep the centerpiece away from heat sources, and be cautious of sharp objects that could potentially pop the balloons.
Consider the venue and space: Take into account the size and layout of the venue where the centerpiece will be displayed. Ensure that the balloon centerpiece doesn't obstruct views or create any safety hazards.
Budget considerations: Keep your budget in mind when planning the balloon centerpiece. Balloons are an affordable option, but certain designs or customization may incur additional costs. Plan accordingly to stay within your budget.
Incorporate personalization: Add a personal touch to your balloon centerpiece by adding names, initials, or event-related messages. Personalized balloons or custom-printed balloons can make the centerpiece more meaningful and memorable.
---
Balloon Centerpiece Ideas: FAQs
1. How High Should Balloon Centerpieces Be?
The height of balloon centerpieces can vary depending on the occasion and venue. Generally, it's recommended to choose a height that strikes a balance between visual appeal and practicality. The centerpieces should be tall enough to create a pleasing display but not so tall that obstructs guests' view. It's important to consider the overall aesthetics and desired atmosphere of the event when determining the appropriate height for balloon centerpieces. For larger venues or spaces with high ceilings, taller centerpieces can be used to create a more magnificent effect, while smaller heights may be preferred for more intimate gatherings.
2. How to Make a Balloon Centerpiece?
To make a balloon centerpiece, start by selecting a theme or color scheme. Inflate a large helium balloon as the focal point and secure it to a weight or base. Attach smaller balloons of various sizes and colors to the base using ribbons. Create height and dimension by incorporating different balloon sizes and shapes. Consider adding decorative elements like tassels or paper flowers for extra flair. Arrange the balloons in a visually appealing way, ensuring they are securely fastened. Finally, place the centerpiece in the desired location and enjoy the view.
Read the best DIY balloon weights ideas here