Keep your princess's favorite doll collection organized and accessible with these best Barbie Storage Ideas!
Is your living space overwhelmed by your little one's expanding Barbie collection? Fear not! We've got you covered with these creative Barbie Storage Ideas.
Check out the Nerf gun storage ideas here
---
Barbie Storage Ideas
1. DIY Barbie Holder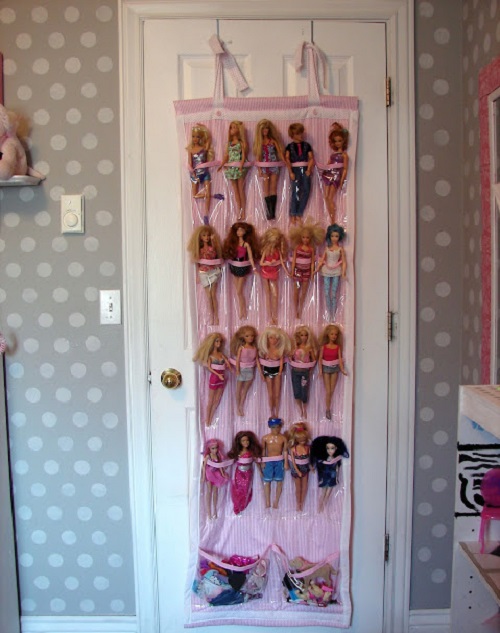 For less-spacious households, choose an over-the-door doll holder to manage your little one's ever-growing Barbie collection. It lets you manage dolls' accessories as well. You can find the specifics of this project here.
2. Use Woven Baskets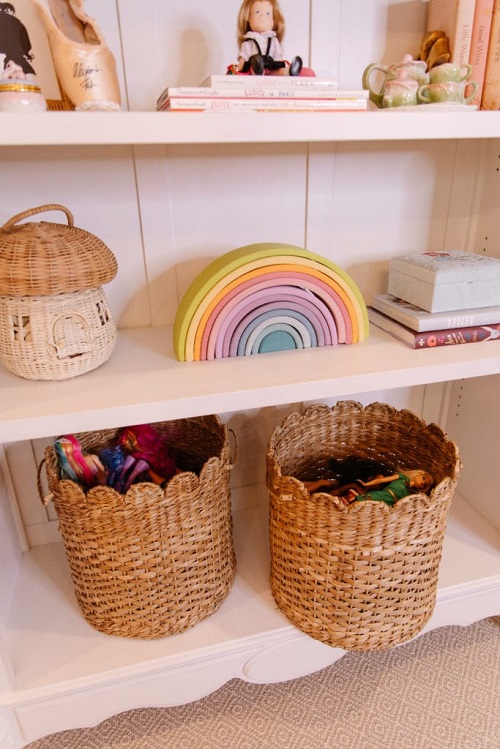 Grab some woven baskets and say goodbye to the unorganized, messy piles of Barbie dolls and their accessories. Additionally, their rustic aesthetic adds a touch of charm to any room decor.
3. Go With Magazine Files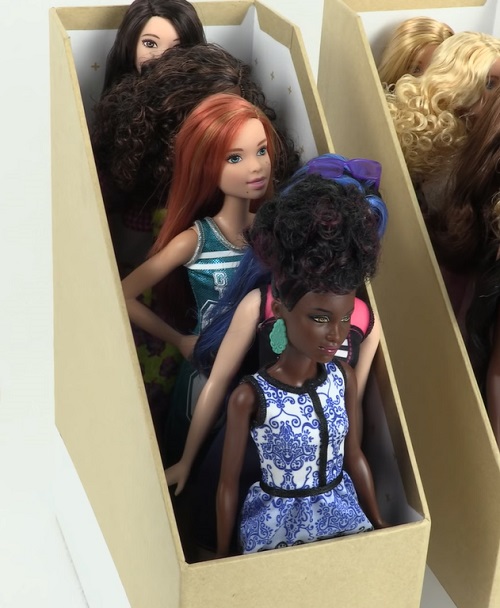 Magazine files are all you need to corral dolls and other toys. Make one using this video tutorial. It's one of the most budget-friendly Barbie doll storage ideas.
4. Try Plastic Storage Bin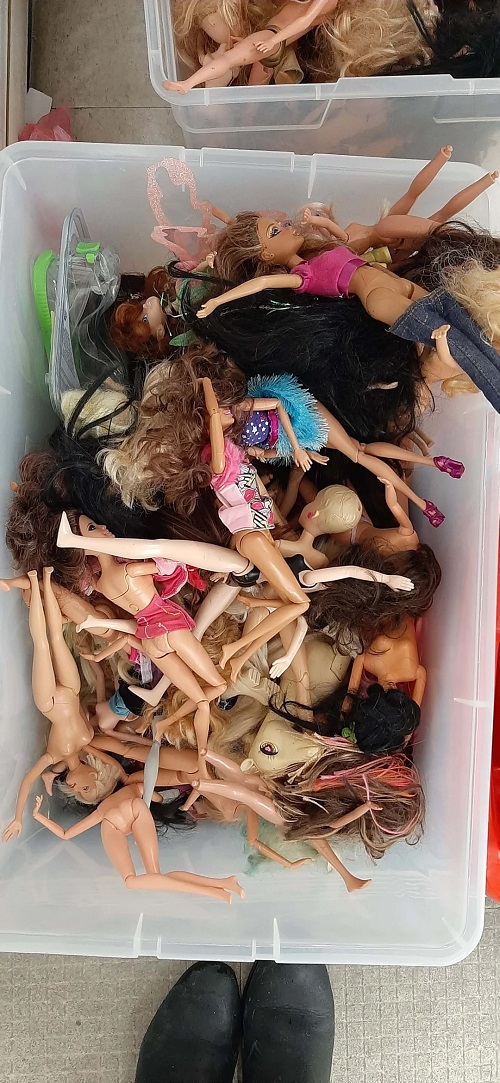 A readily available plastic storage bin is an efficient storage solution for Barbie dolls. These transparent bins help you quickly spot and pick out dolls, making playtime convenient and cleanup a breeze.
5. DIY Barbie Doll Organizer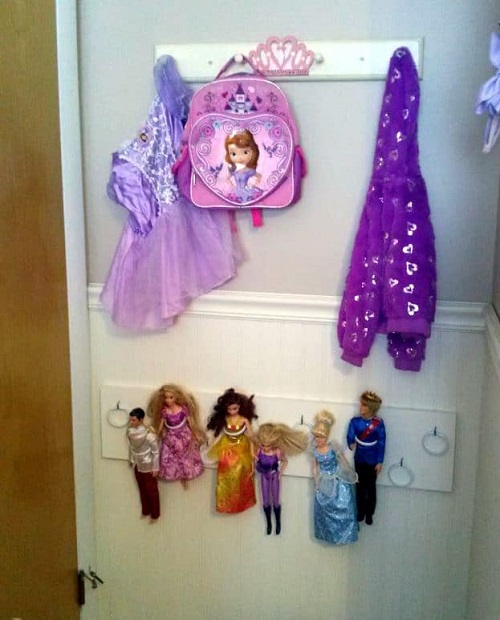 Create this cheap and practical Barbie doll organizer using plastic shower hooks, a wooden board, and a few supplies. This unique solution can be customized to suit any size collection.
6. $10 DIY Barbie Storage Idea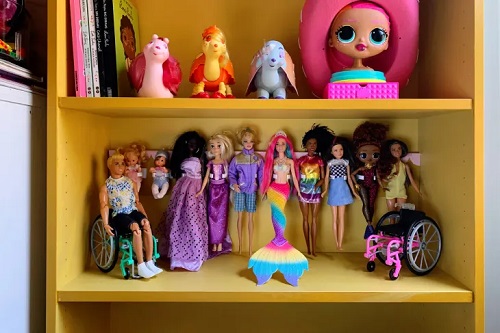 Clever and easy to make, this Barbie storage solution can be put together with just $10, a few supplies, and a little patience. Go through this step-by-step tutorial for more info.
7. Hanging Dolls Holder
Make this hanging doll holder to keep your Barbies neat and organized. This storage solution not only frees up valuable shelf space but also creates a fun display of your child's favorite dolls. Hop to this detailed article for the tutorial.
8. Try a Rolling Utility Cart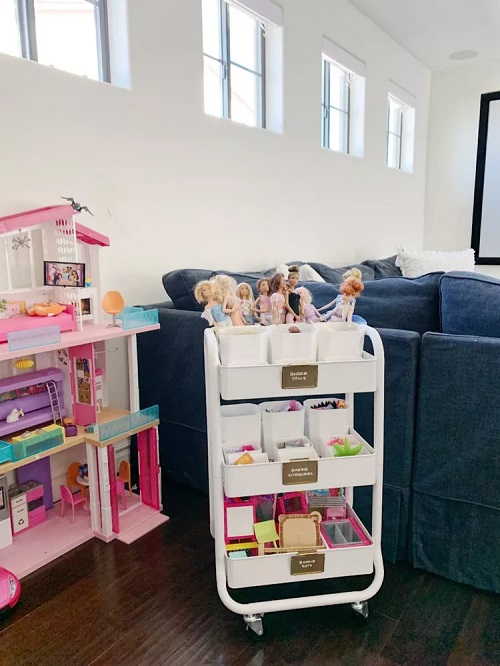 Equipped with white bins, this movable utility cart is one of the best Barbie storage ideas so far. It's beneficial for smaller homes without a dedicated playroom.
9. Sauce Cans Barbie Storage Idea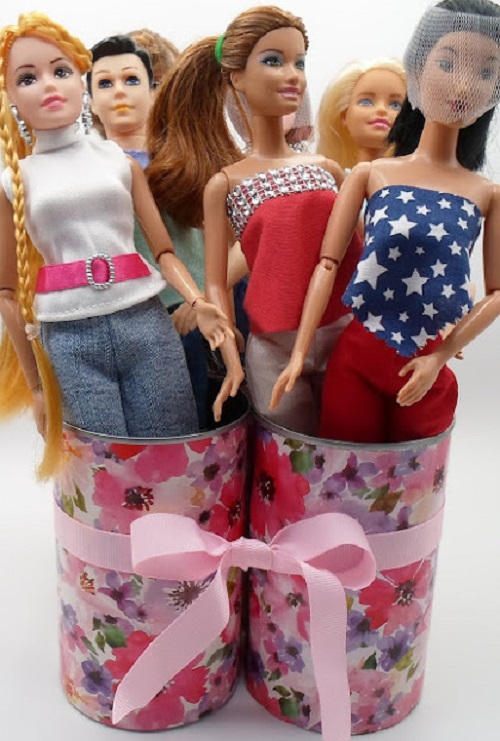 Craft this inexpensive setup out of cans to solve your dolls' storage woes. This ingenious idea helps in doll organization and promotes recycling, teaching your little one a valuable lesson in sustainability. If you want to make one, here's the tutorial.
10. Barbie Doll Storage Box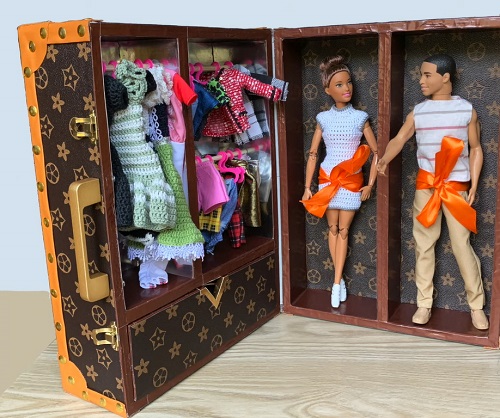 For a more luxurious approach to doll storage, consider making this Louis Vuitton trunk-inspired storage box. This chic container is a stylish home for Barbies and their tiny accessories.
---
Barbie Storage Ideas: Important Points to Remember
While using over-the-door custom doll holders, ensure that they are securely attached to avoid any accidental falls or injuries.
Always choose woven baskets that are sturdy and have no sharp edges to prevent potential injuries from rough handling.
If you're using magazine files as storage, ensure they won't easily topple over, especially if placed at heights accessible to children.
Make sure that plastic storage bins are not overloaded or stacked too high.
When making the Barbie clipboard storage solution, be cautious while handling tools and materials to prevent injuries.
If you're planning to store Barbie in sauce cans, make them clean and free from sharp edges.
Build the Barbie doll storage box from safe and sturdy materials so that it won't pose any hazards to young kids.
---
Frequently Asked Questions (FAQs)
1. How to Store Barbie Dolls Long Term?
Storing Barbie dolls for the long term requires careful handling to prevent damage. Begin by cleaning each doll gently with a mild detergent. Let them dry before dressing them in fabric free of stains and color transfers. Place each doll in a breathable fabric bag to protect them from dust. Ideally, store them horizontally in storage boxes with white tissue paper to cushion and separate them. Keep the boxes in a cool, dry, and dark place to avoid heat, moisture, and light exposure. Regularly check and rotate dolls to maintain their condition.
2. Is Barbie Still Popular?
Yes, Barbie continues to be a popular and iconic toy worldwide. Since her debut in 1959, Barbie has maintained a significant presence in the toy industry, captivating the imaginations of children and collectors alike. Despite evolving cultural and societal changes, Barbie has adapted to stay relevant. Mattel, the company behind Barbie, continuously introduces new doll lines, diverse body types, ethnicities, and careers to reflect a broader range of representation and inclusivity.
Here are the best-hidden gun storage ideas