Add opulence to your cooking area with these hand-picked Black and Gold Kitchen Ideas. Get inspiration for cabinets, countertops, and more!
Turn your kitchen into a captivating focal point of your home with these inspiring Black and Gold Kitchen Ideas. These design choices are sure to leave an impression, making your kitchen not just functional but a true conversation starter.
Here are the Best Blue Kitchen Cabinet Ideas 
---
Black and Gold Kitchen Ideas
1. Matte Black Cabinets with Gold Hardware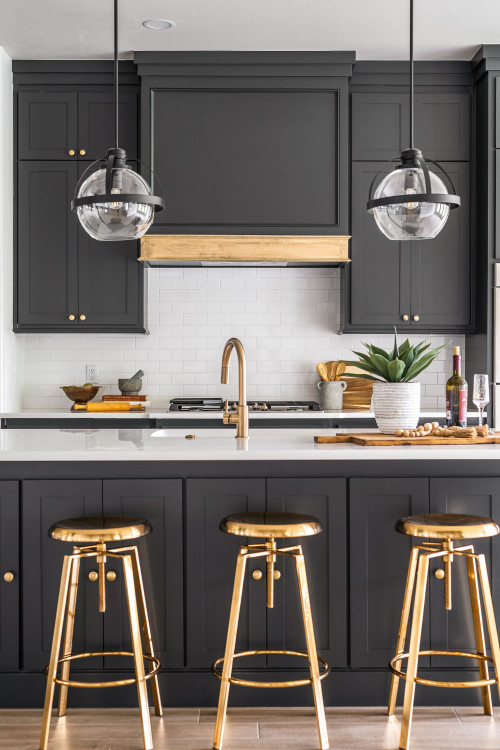 Upgrade your kitchen cabinets to a chic matte black finish and complement them with gold hardware. The matte black surface is easier to keep clean, and the gold-painted handles add a hint of luxury.
2. Black Sink with Gold Faucet
A matte black sink combined with a gold faucet elevates the kitchen's overall look and feel. This contrasting duo not only draws attention but also adds an element of glamour to your washing area. It's an ideal choice for homeowners looking to make a bold statement.
3. Black Granite Countertops with Gold Veins
Choose black granite countertops with gold veining to make your living space stand out. This combination creates a visually stunning centerpiece for the cooking area. Granite is also durable and heat-resistant, making it a practical choice for a busy cooking environment.
4. Black and Gold Backsplash Tiles
Elevate the visual appeal of your cooking area by updating the backsplash with black and gold geometric tiles. The backsplash not only protects your walls from splashes but also becomes a key visual element in your kitchen.
5. Gold Light Fixtures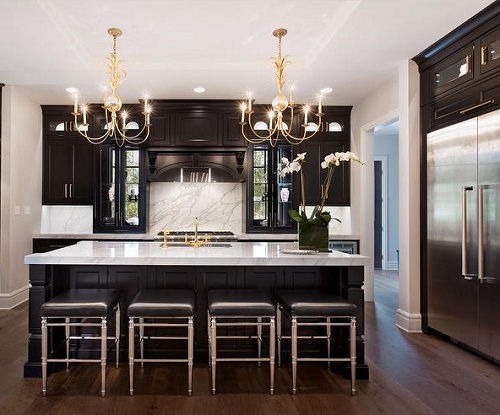 Consider gold-painted pendant lights or chandeliers to bring warm lighting to your black kitchen. These attractive fixtures are what you need to enhance the kitchen ambiance without overwhelming the space.
6. Black Dining Chairs with Gold Frames
Pair your dining table with black chairs having gold frames to create a captivating focal point. This setup complements a kitchen designed around black and gold hues. It offers both a cohesive look and a comfortable dining experience.
7. Black and Gold Wall Art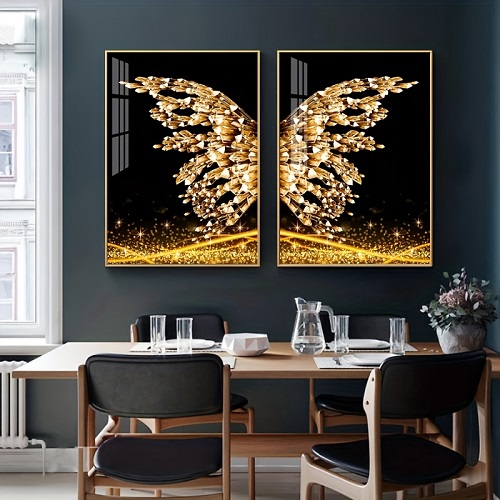 Art is a great way to inject personality into your space. That's why adorn your kitchen walls with artwork featuring black and gold themes. This conversation starter enhances the overall aesthetic value of any kitchen.
8. Black Marble Countertops with Gold Flecks
Swap your bland kitchen countertops with black marble featuring gold flecks. This striking color combination makes your kitchen not just visually appealing but also a pleasure to work in. Additionally, marble is easy to clean and adds value to your home.
9. Black and Gold Bar Stools
If you have a breakfast bar, invest in bar stools with black upholstery and gold legs. These stools provide a comfortable seating option for quick meals while maintaining the black and gold theme of the kitchen.
10. Black Hood with Gold Trim
Opt for a black range hood with a gold trim to give your cooking area a dramatic focus. This pairs beautifully with a white backsplash and other gold fixtures in the kitchen. Beyond aesthetics, a good range hood effectively removes smoke and odors.
11. Black Wine Rack with Gold Accents
Add a black wine rack with gold holders or dividers to your kitchen. This practical storage solution also doubles as a decorative piece that enhances the room's color scheme.
12. Black and Gold Geometric Floor Tiles
Give your kitchen floor a chic makeover with black and gold geometric tiles. This setup creates visual interest and coordinates well with other black and gold elements. Beyond their stunning look, these tiles are durable and easy to clean.
13. Black Pantry Door with Gold Handles
A black pantry door outfitted with gold handles is a clever way to maintain the black and gold theme throughout the kitchen. The door's black color provides a striking contrast to lighter elements, giving the pantry a standout appearance.
14. Gold Kitchen Island With Black Worktop
A gold kitchen island with a black work surface makes a grand statement in any culinary space. This stunning combination is more than just a visual delight; it's a functional masterpiece. Besides the look, this kitchen island offers additional storage.
15. Black Cabinets and Gold Pots
Using gold-painted pots in a kitchen with black cabinets provides a striking visual contrast that enhances the room's aesthetic. The golden hue with the black cabinetry adds warmth and opulence to the space.
Here are the Above Kitchen Cabinets Decorating Ideas