Take your garden aesthetic to the next level with these amazing Bougainvillea Trellis Ideas. Read on to learn more!
Bougainvilleas, with vibrant, cascading blooms, are a stunning addition to any garden or outdoor space, but they need the right support to flourish. This collection of Bougainvillea Trellis Ideas offers numerous options to display these stunning plants.
Check Out the Best Mandevilla Trellis Ideas here
---
Bougainvillea Trellis Ideas
1. Classic Wooden Arbor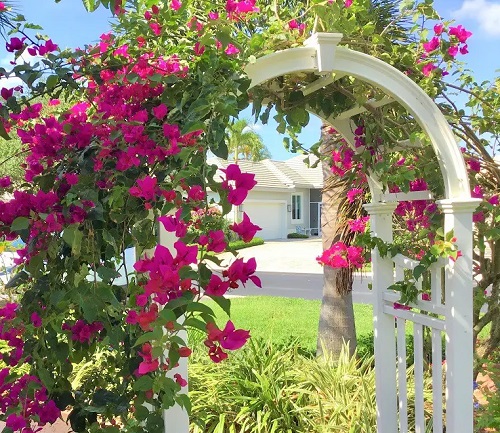 A white wooden arbor adorned with bougainvillea vines is the best way to create a picturesque garden entrance. You can enhance this timeless setup by adding small lanterns or other vining plants. Among the bougainvillea trellis ideas, this one stands out.
2. Metal Archway Bougainvillea Trellis

Want an outdoor trellis that doubles up as an eye-grabbing decor piece? Your quest ends here. Use the metal archway to display beautiful bougainvillea vines. This gives your space a sleek and contemporary look.
3. Wall-Mounted Wooden Trellis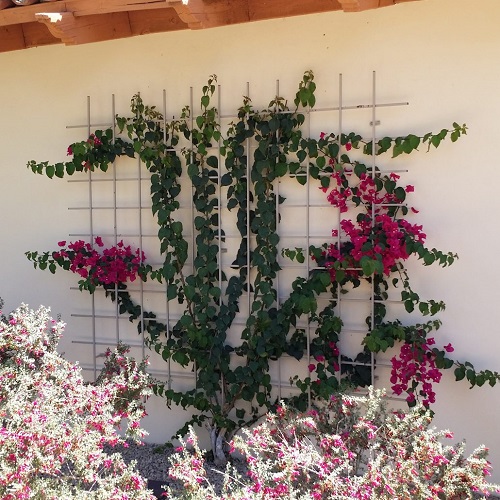 Looking for a bougainvillea trellis for urban settings where garden areas are at a premium? Simply take some wooden sticks, create a square structure, and attach it to the outdoor wall. It's the best way to transform bare walls into vibrant displays.
4. Pergola Turned Bougainvillea Trellis

Do you have a pergola in your garden? If yes, then instead of purchasing or DIYing trellises, use its posts to showcase your bougainvillea vines. Over time, the vines create a natural curtain around the pergola, giving a cozy, private feel to the space.
5. Bamboo Trellis
Bamboo canes are all you need to create a thrifty trellis for your bougainvillea plants. This idea is an eco-friendly and visually pleasing option among the bougainvillea trellis ideas.
6. Copper Pipe Trellis
A copper pipe trellis is a sturdy and visually appealing option for supporting flowering bougainvillea vines. Its classic metallic look makes this trellis a brilliant addition to traditional and modern gardens.
7. Bougainvillea on Obelisk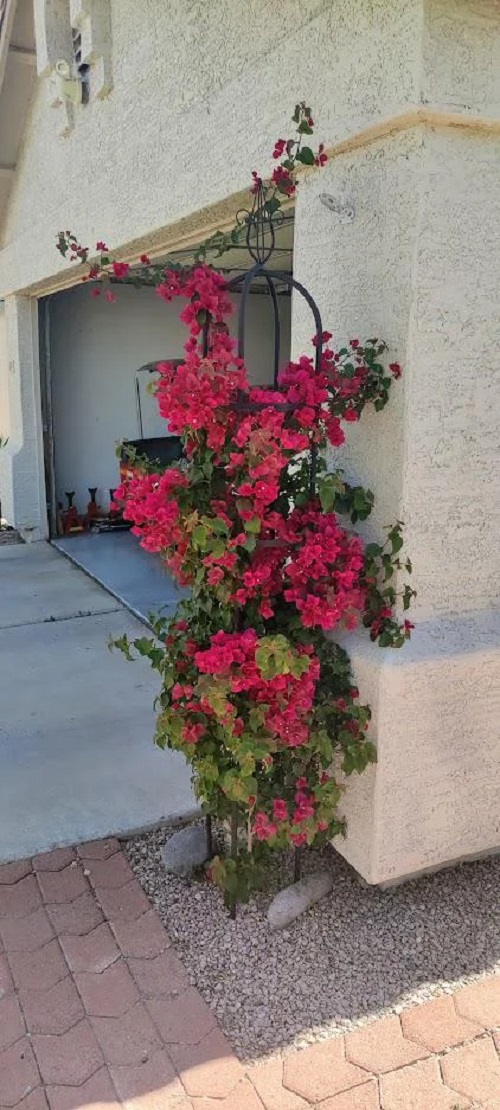 Rather than discarding your old garden obelisk, give this metal structure a new life by using it as a bougainvillea trellis. This trellis is ideal for smaller gardens or as a centerpiece in larger landscapes.
8. Wrought Iron Fence Bougainvillea Trellis

Don't have a trellis for your bougainvillea? Transform a simple wrought iron fence into one. The strength and durability of wrought iron make it an ideal choice among gardeners for supporting the vigorous growth of bougainvillea vines.
9. Balcony Railing Trellis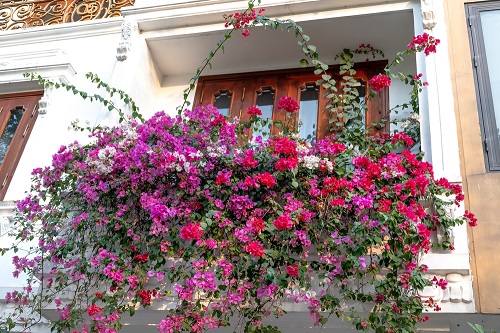 The balcony railing trellis is a brilliant way to enjoy the beauty of bougainvillea blooms without a traditional garden. This idea is ideal for those individuals who have compact homes but still want to do gardening activities.
10. Gazebo Bougainvillea Trellis

Want to create a picturesque setting in your garden or yard? Train bougainvillea vines over a gazebo and that's it. This not only offers shade but also gives a show-stopping centerpiece to the outdoor space.
11. Square Wooden Trellis
You only need wooden sticks and zip ties to create this affordable square-shaped bougainvillea trellis. Consider this affordable option if you want a modern aesthetic in your garden.
Check Out Best DIY Dragon Fruit Trellis Ideas Ideas Here