Never lose your favorite accessories again with these easy-to-make and ingenious DIY Earring Holder Ideas!
Earrings are a fun and versatile accessory, but without proper storage, they quickly become a tangled mess. If you're facing such an issue, check out these DIY Earring Holder Ideas to keep your jewelry organized and accessible.
Here are the best DIY metal earrings ideas
---
DIY Earring Holder Ideas
1. DIY Stud Earrings Holder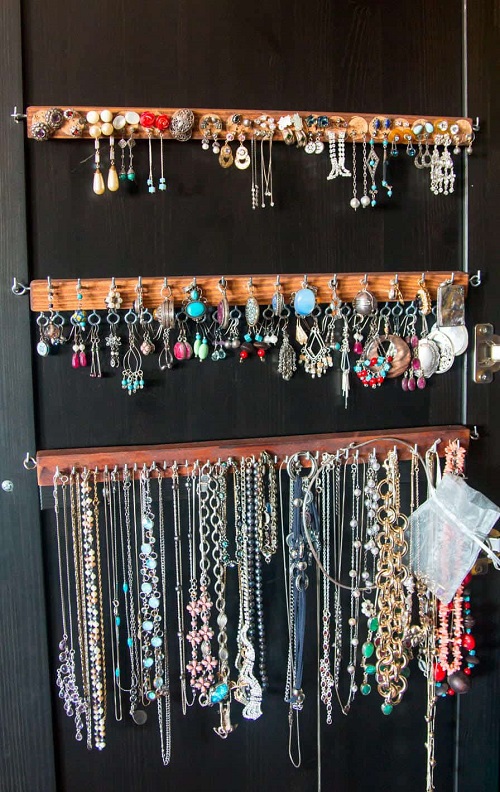 Using scraps of wood and wine corks, you can make this stud earring holder quite easily. It's a beginner-friendly project.
2. Earring Display/Storage Box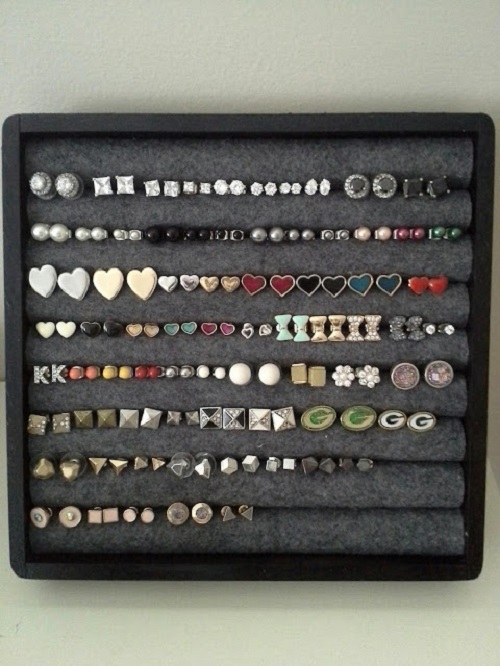 Made from a cigar box, spray paint, wooden dowels, and felt, this earring display/storage box completes in an hour.
3. DIY Cork Earring and Jewelry Holder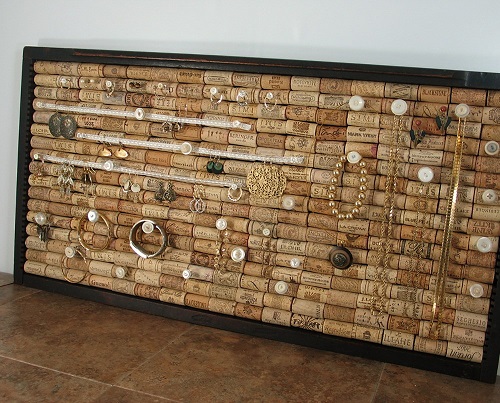 Showcase your earrings, necklaces, and rings in style on this cork ornament holder. The instructions are here.
4. Grater Earring Holder DIY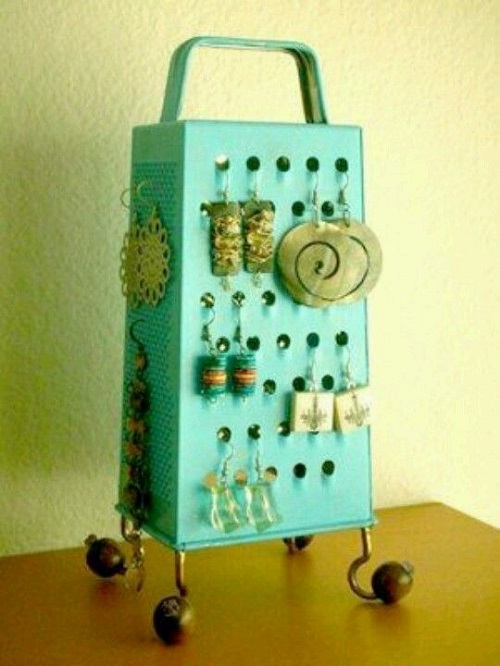 This DIYer uses a grater to create a frugal holder for her earrings. Click here for the detailed tutorial.
5. DIY Earring Holder from Sewing Machine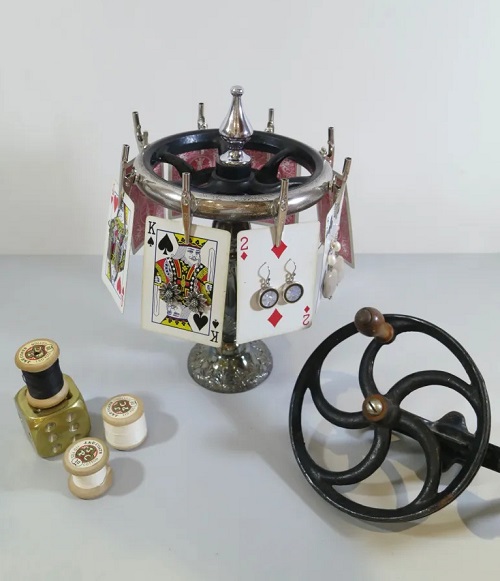 Learn how to turn the hand wheel of a sewing machine into an earring carousel in this step-by-step tutorial. It's one of the awesome DIY earring holder ideas.
6. DIY Stud Earring Rack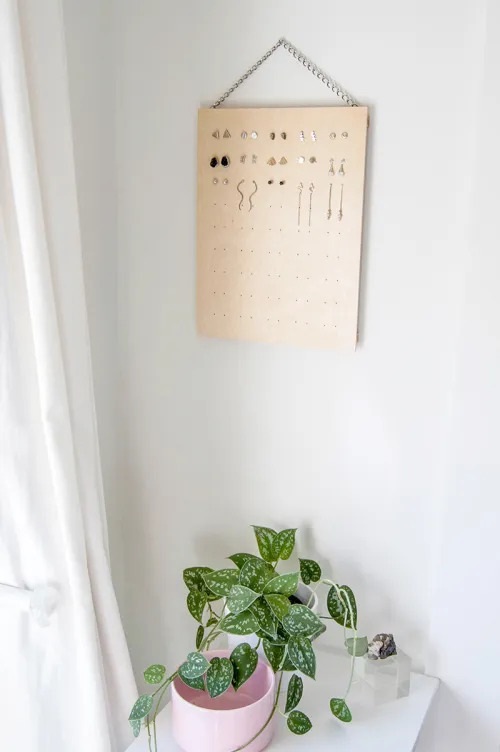 This DIY earring rack not only keeps your studs organized but also adds a stylish touch to your room decor.
7. Brass Earring Pyramid DIY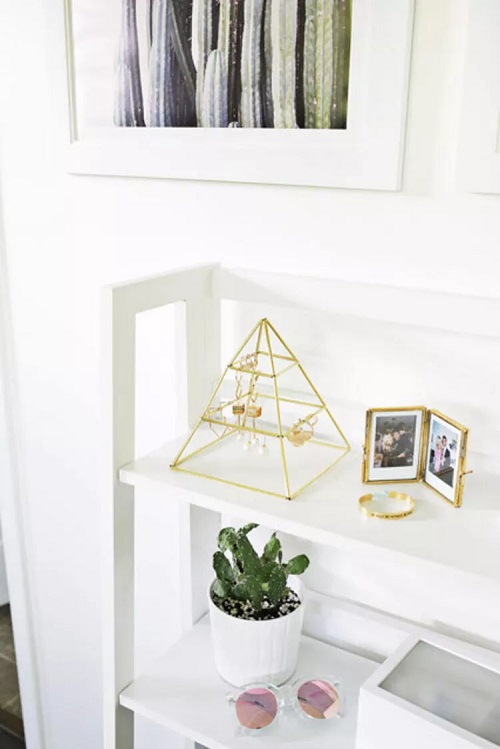 Impress your family and friends by making this one-of-a-kind pyramid-shaped earring holder. Get the instructions here.
8. Upcycled Birchboxes Into Earring Organizer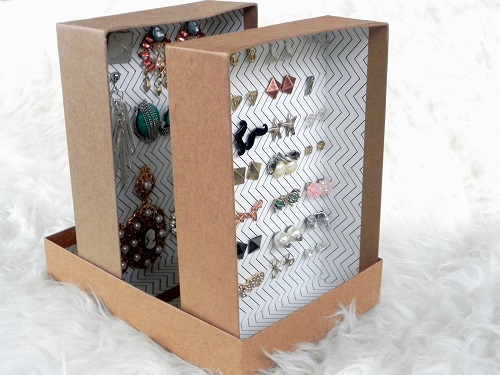 Grab two birch boxes, make holes in them using a pushpin, and your earring organizer is ready.
9. DIY Earrings Holder
This DIY earring holder is easy to make with a plastic frame and plastic canvas. The best part is that it only costs a few bucks.
10. DIY Ring & Earring Jewelry Organizer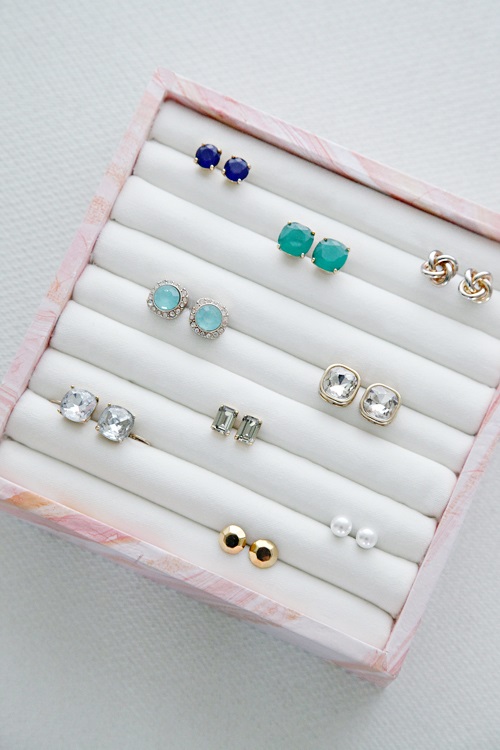 Grab an unfinished wooden box, dowels, felt, gift wrap, and fabric to make this display-worthy jewelry organizer. It's great for gifting purposes as well.
11. Trash Bin Earrings Holder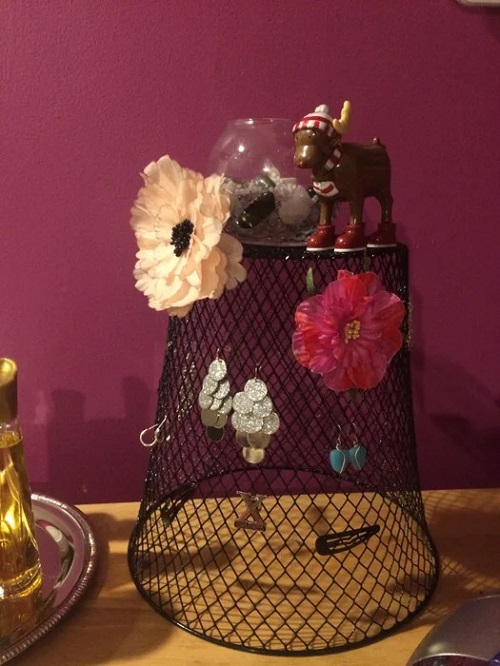 Simply put a trash can upside down and use it to manage your earrings collection. Read the details here.
12. Wire Earrings Holder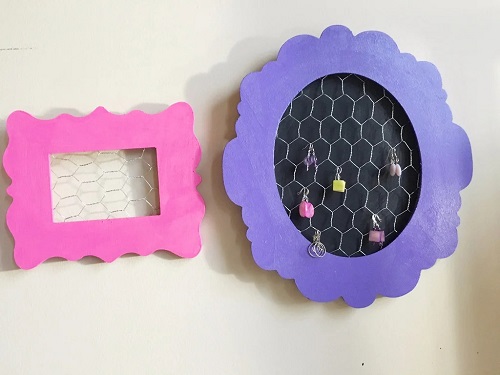 No more searching for lost earrings in the morning. This wired earring holder makes getting ready a breeze. It's one of the cheapest DIY earring holder ideas.
13. DIY Cactus Earring Holder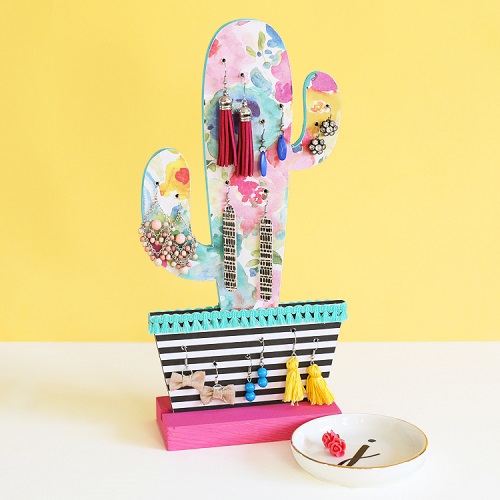 This cactus-shaped jewelry holder is a great way to display your collection of stylish earrings.
14. Acrylic Earring Holder DIY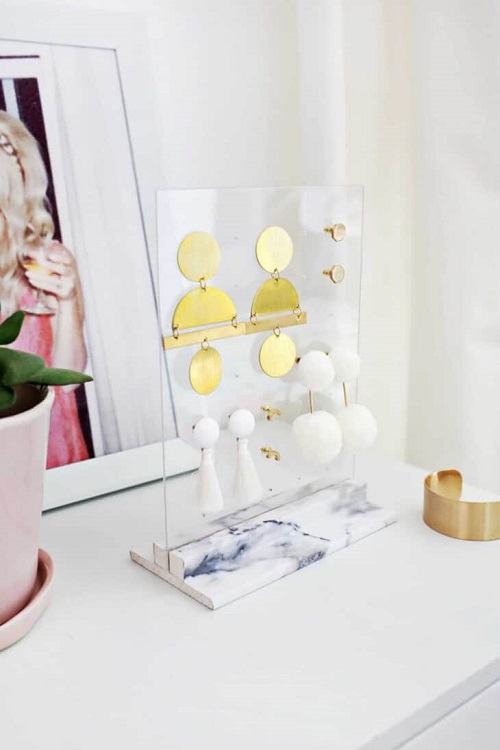 An acrylic earring holder is a budget-friendly alternative to pricey jewelry organizers. The details are here.
15. DIY Earring Storage Stand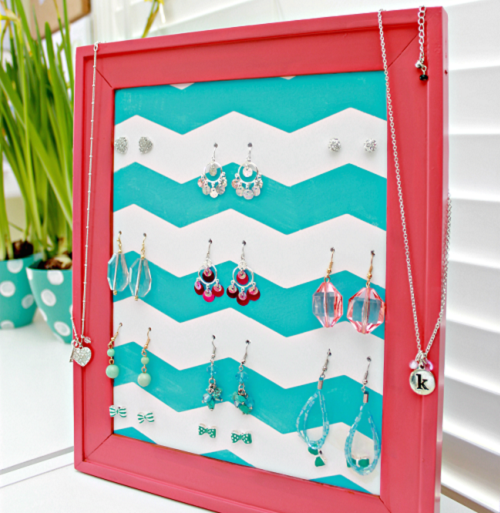 Here is how to make an earring storage stand using Elmer's foam board and an old picture frame.
16. Wooden Stud Earring Holders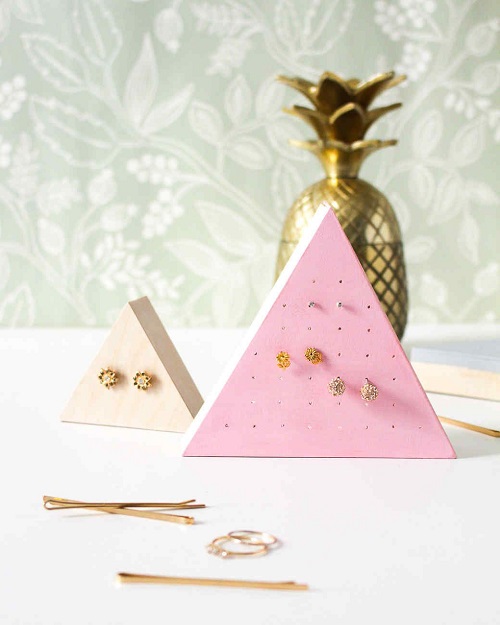 Keep your collected pairs within easy reach with this mini triangle-shaped jewelry organizer. It's a pretty addition to a vanity table.
17. Lace Picture Frame Earring Holder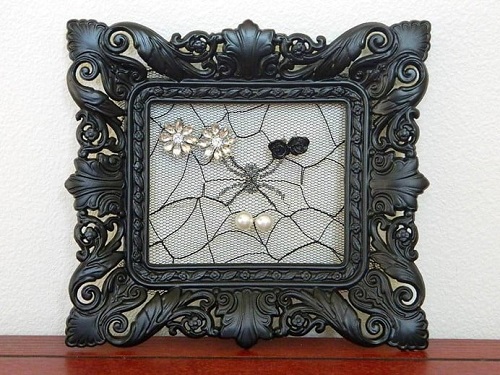 Make your jewelry collection stand out with this lovely lace picture fame earring holder. Learn more about this project here.
18. Candle Holder Turned Earring Holder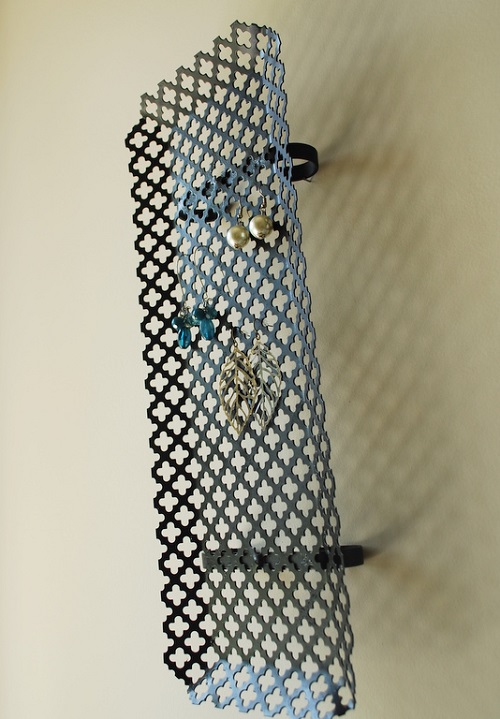 Find out how to turn a quatrefoil candler holder into a vintage earring holder with a few modifications. It's one of the great DIY earring holder ideas.
19. Wooden Sticks Earrings Holder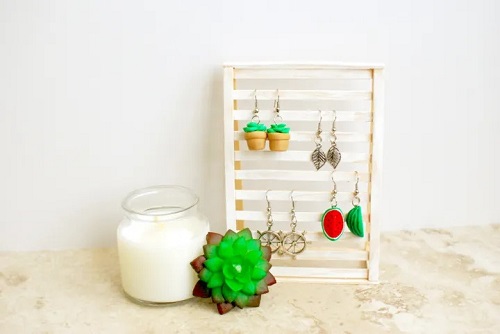 If you have a small collection of earrings, consider making this jewelry holder stand.
20. DIY Embroidery Hoop Earring Holder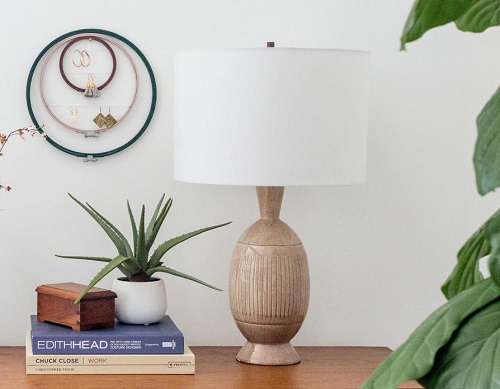 This multi-colored, different-sized embroidery hoop earring holder is easy to make with a few craft supplies.
21. DIY Color Splatter Earring Holder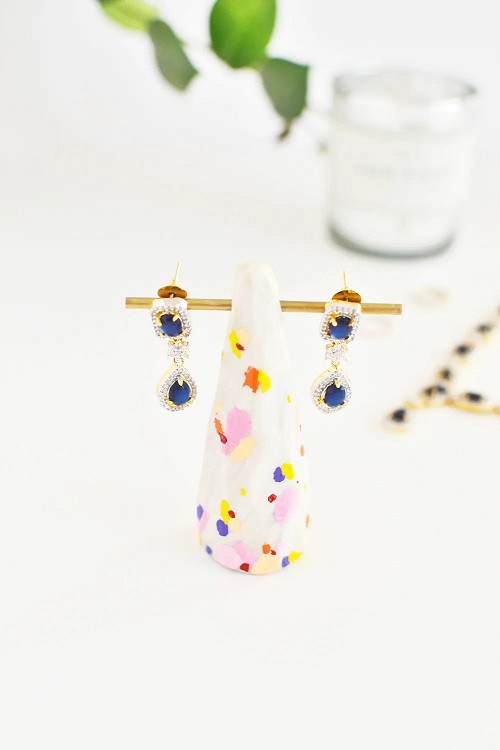 Add a pop of color and character to your monotonous bedroom with this attractive ornament holder.
22. Pyramid Earring Holder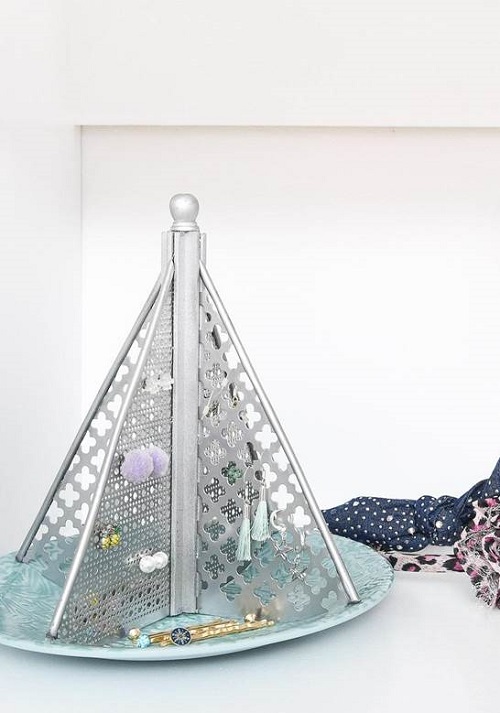 Put your creativity hat on and craft this chic and peculiar pyramid-shaped earring holder. The supplies and the complete tutorial are listed here.
23. DIY Earring Holder Plan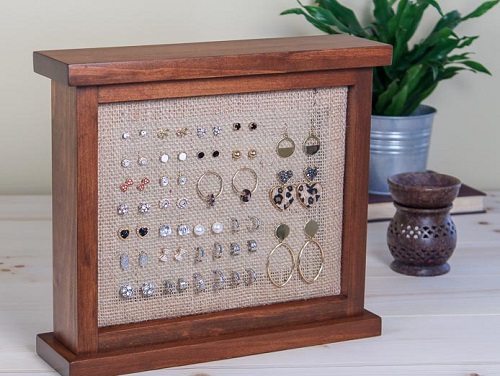 This wood picture frame-style stand is an attractive way to organize studs, hoops, and more. Take inspiration from this article.
24. Shadow Box Earring Organizer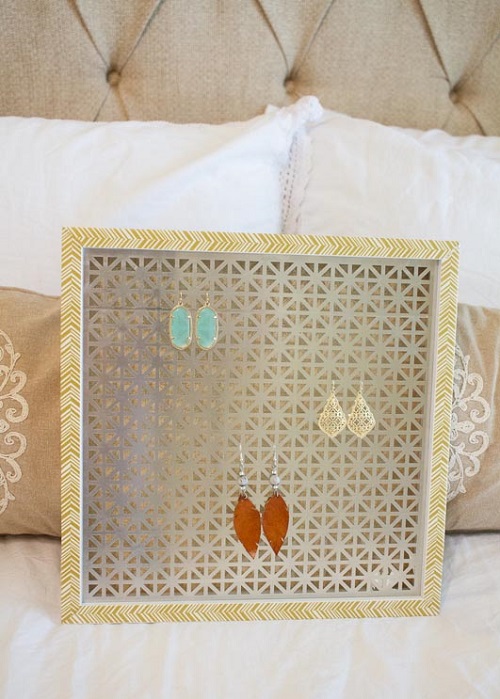 Looking for a unique and functional way to display your earrings? This shadow box earring holder is the perfect solution.
25. DIY Velvet Earring Holder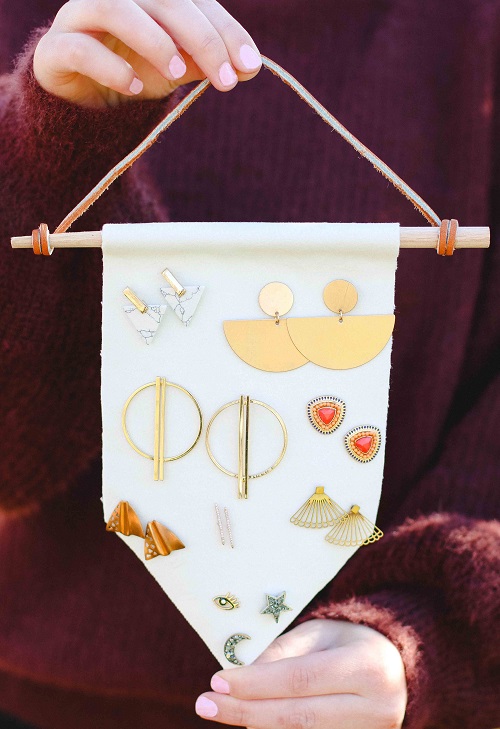 With a few simple steps, you'll have a stylish and functional velvet earring holder. You don't have to be a crafting expert to complete this project.
26. Shabby Chic Dangly Earring Display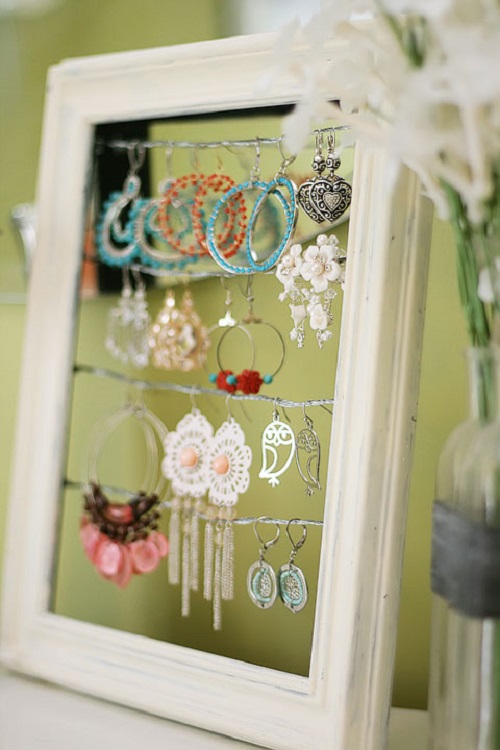 This shabby chic earring stand, made from a picture frame, is a great way to hang and display all your dangling earrings.
27. Cardboard Box Turned Earring Holder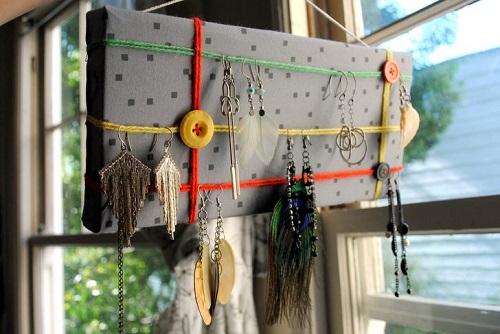 Recycle an old cardboard box to craft a thrifty earring holder. Hop to this article for more info. It's one of the frugal DIY earring holder ideas.
28. DIY Wall Earring Holder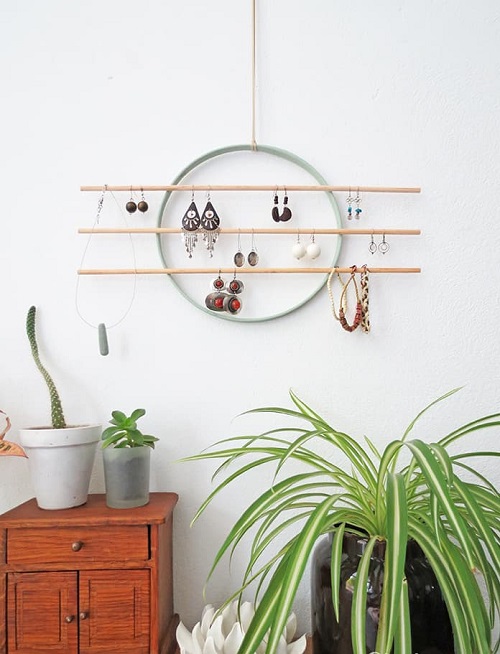 Show off your DIYing skills by making this super simple wall-hanging earring organizer. The detailed tutorial is here.
29. DIY Modern Earring Holder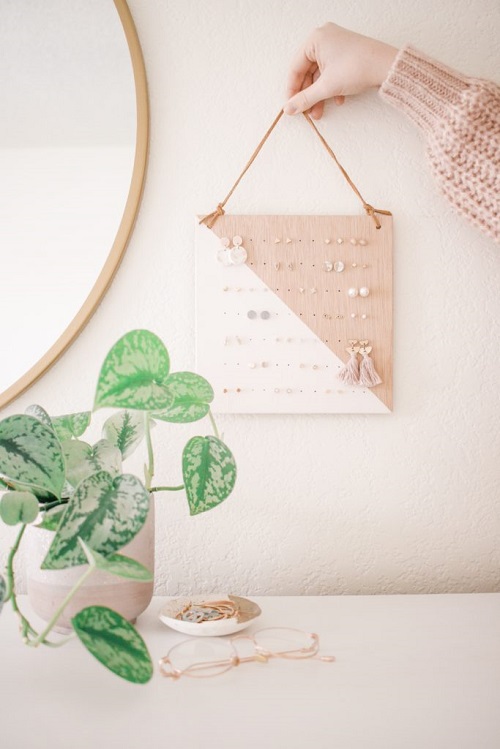 From hoops to studs, this DIY modern earring holder has space for all your favorite pairs.
30. Popsicle Stick Earring Holder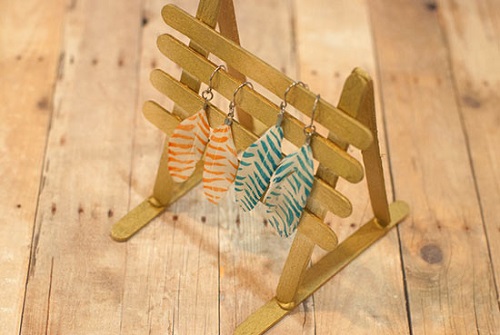 Need a place to store your dangle earrings? Try this popsicle sticks craft project. It's one of the best DIY earring holder ideas.
Read the cute DIY cactus earrings ideas here