Breathe a new life into your indoor garden and porch with these eye-catching free Crochet Plant Hanger Patterns!
Are you a plant lover looking for a unique and trendy way to display your leafy friends? Look no further than these Crochet Plant Hanger Patterns. They are a fun and easy way to add a touch of bohemian style to your space while keeping your plants off the ground. Whether you're an experienced crocheter or a beginner looking for a new project, read this article till the end.
Check out the unique air plant holders here
---
Crochet Plant Hanger Patterns
1. Free Crochet Plant Hanger Pattern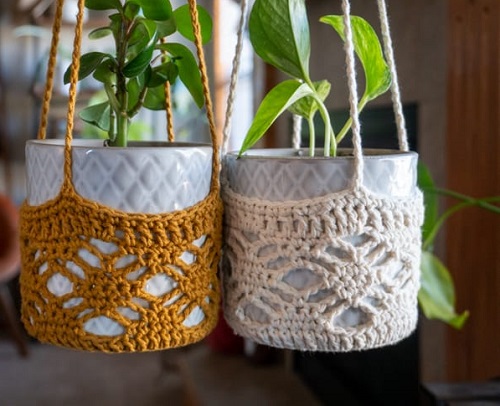 This super chic crochet plant hanger uses very little yarn and comes in two sizes. Hop to this article for the detailed tutorial.
2. Macrame Cord Straps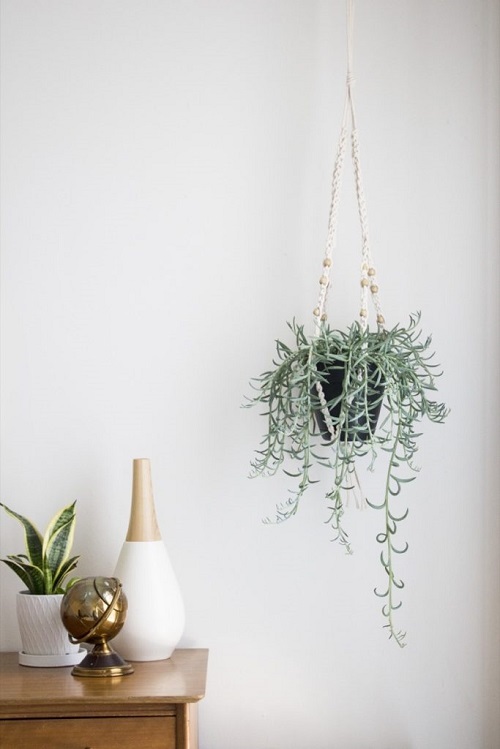 Gather wood beads, a planter, scissors, tape, a macrame cord, and a crochet hook to complete this project.
3. Crochet Planter Hanger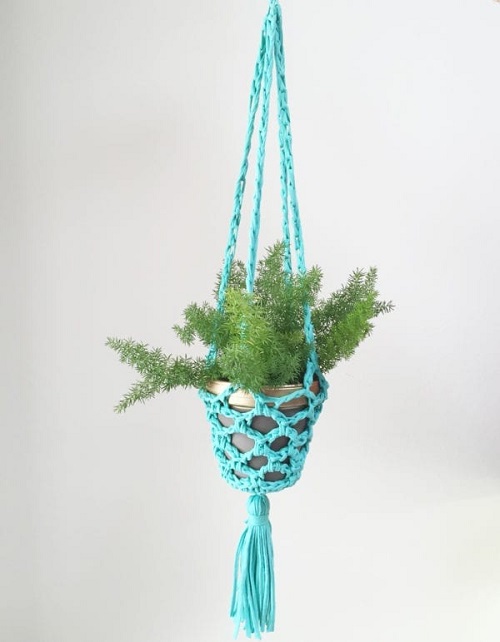 Eye-catching and easy to crochet, this planter hanger is best for showcasing your plant babies. It's one of the best crochet plant hanger patterns DIY.
4. Keychain Crochet Hanger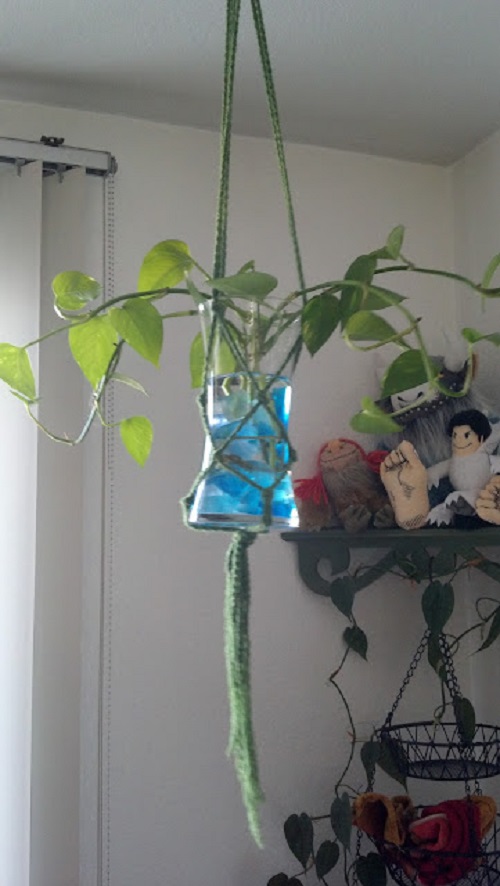 Use your crocheting skills to DIY this peculiar keychain hanger for your plant. Follow the directions here.
5. Crochet Planter Sack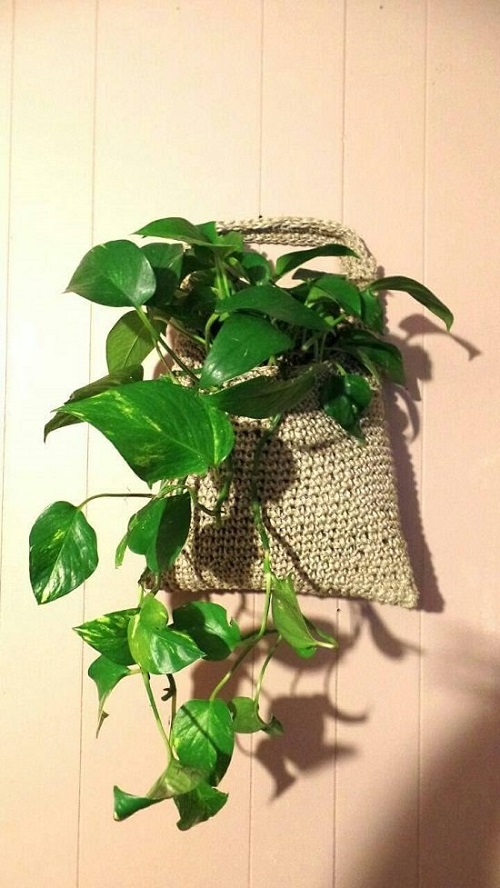 Spruce up the look of your indoor pot by crocheting this planter sack. Get detailed instructions here.
6. Free Crochet Hanging Basket Pattern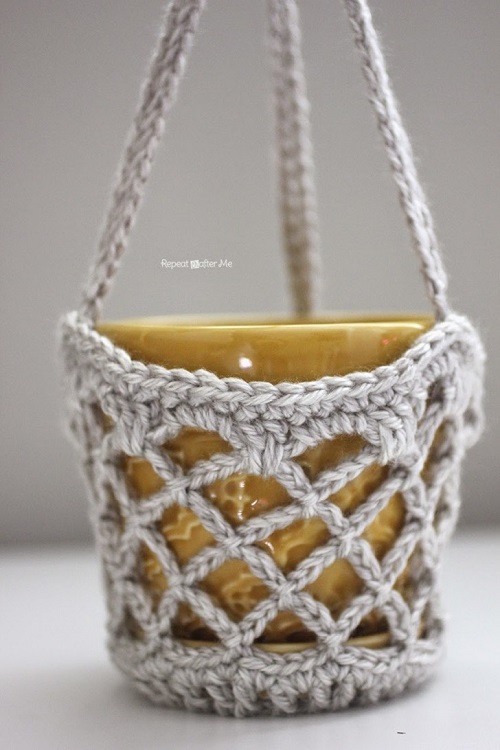 Show off your crocheting skills by making this hanging basket in a couple of hours. Here's the free pattern.
7. DIY Crochet Plant Hanger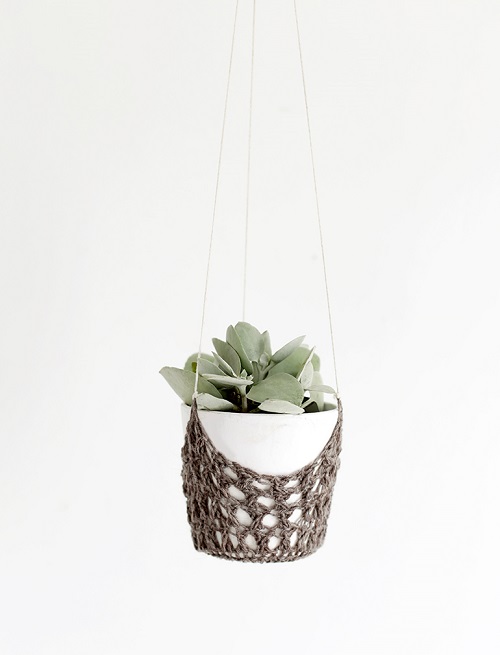 You only need a 6mm hook, yarn, cotton cord or rope, and crocheting skills to complete this amazing project.
8. Lovely Crochet Plant Hanger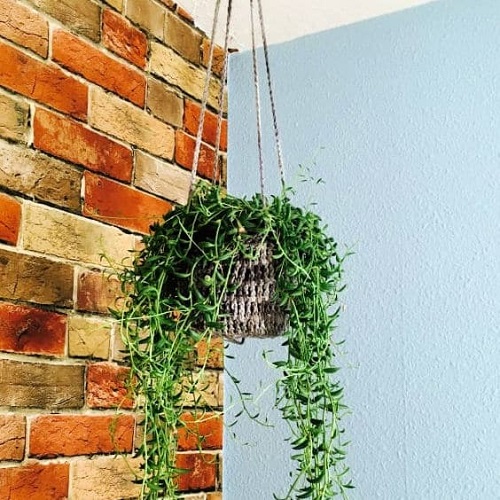 Use this free pattern to make your own crochet plant hanger and accent your home with a fun boho accessory.
9. Easy Crochet Jute Plant Hanger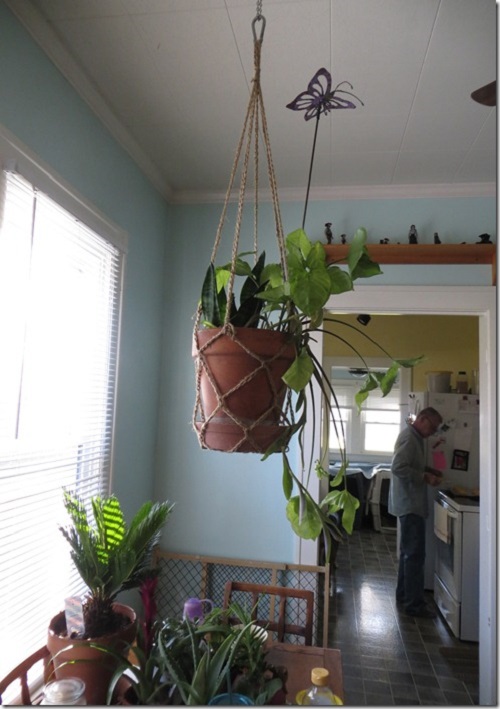 Make your bland terracotta pot aesthetically appealing by crocheting this jute plant hanger. Get the details here.
10. Houseplant Clipping Plant Hanger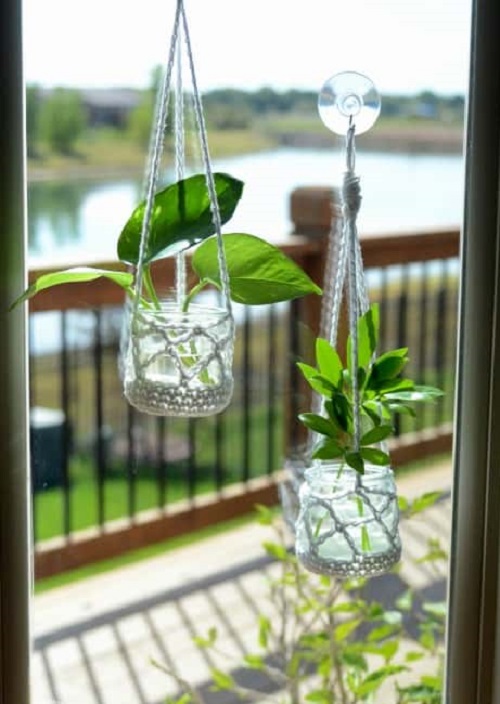 Here's the step-by-step tutorial to create a planter hanger that supports houseplant clippings.
11. Boho Plant Hanger Crochet Pattern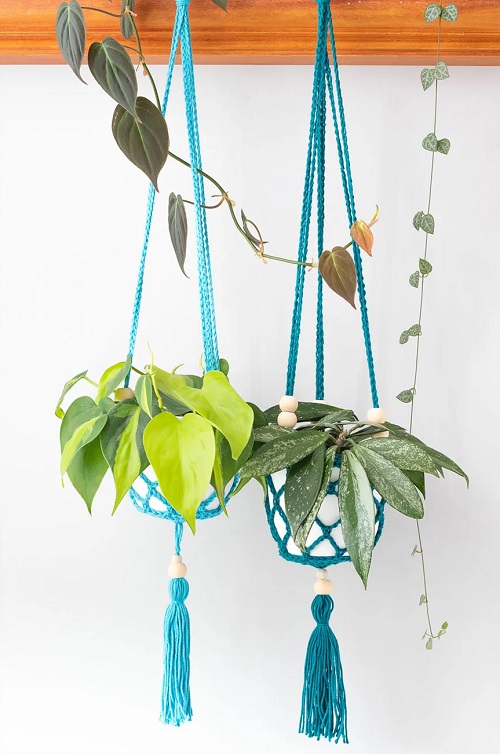 Add simple, bohemian flair to your home with this free boho plant hanger crochet pattern. This easy hanging planter is crocheted with worsted weight cotton yarn and fits 4-5 inch pots.
12. Eryn Plant Hanger Free Crochet Pattern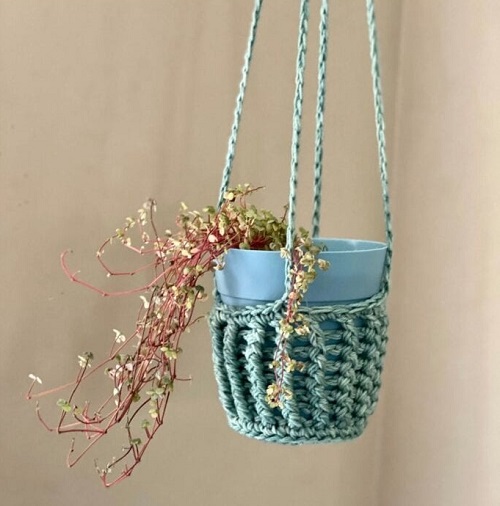 The eryn plant hanger has a gorgeous ribbed texture that really helps stretch and fit differently-shaped pots.
13. Mini Crochet Hanging Planter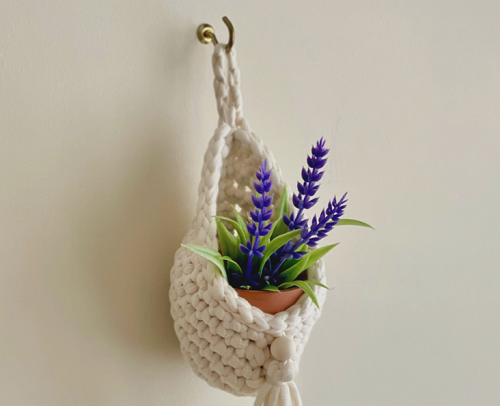 Make this crochet plant hanger for yourself using big twist textile yarn, yarn needle, crochet hooks, and other supplies.
14. Macrochet Mini Planter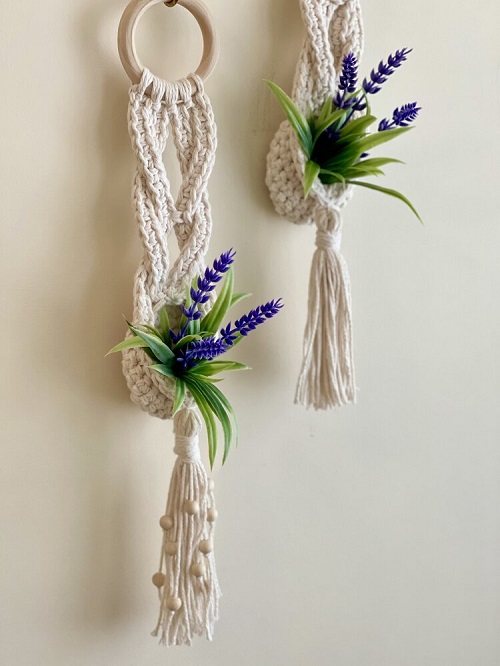 Brighten up your boho dorm room, office cubicle, or even a boho camper with this macrochet mini planter. It's a combination of macrame and crochet, hence the name.
15. Crochet Air Plant Holder Wall Hanger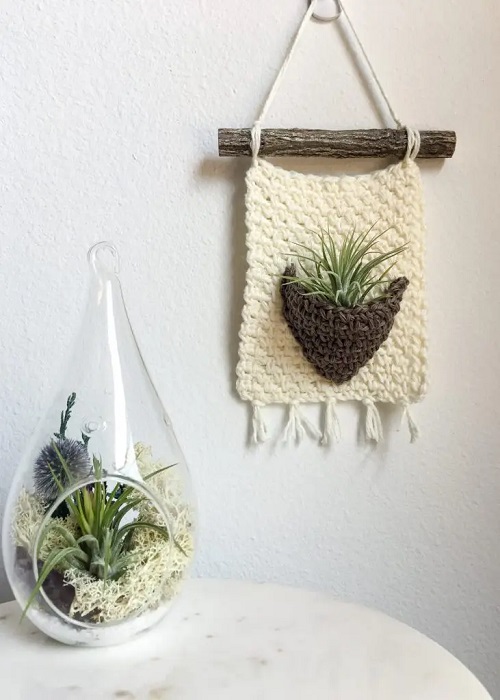 Display your favorite air plant in style with this plant wall hanger. Moss stitch is used in this crochet project to create a woven look.
16. T-Shirt Yarn DIY Crochet Plant Hanger
This plant holder pattern uses very basic crochet stitches and is customizable as well. It's one of the excellent crochet plant hanger patterns DIY.
17. Macrame Inspired Plant Hanger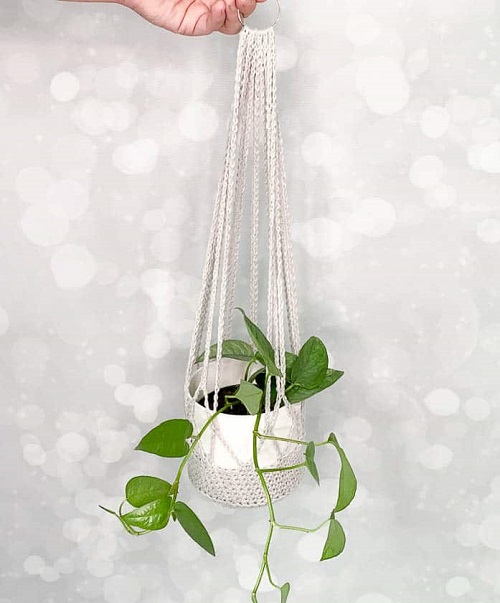 Crochet a simple plant hanger with cotton yarn and this free pattern. This macrame-inspired plant hanger is flexible and fits pots up to 5″ in diameter at the base.
18. Crochet Plant Hanger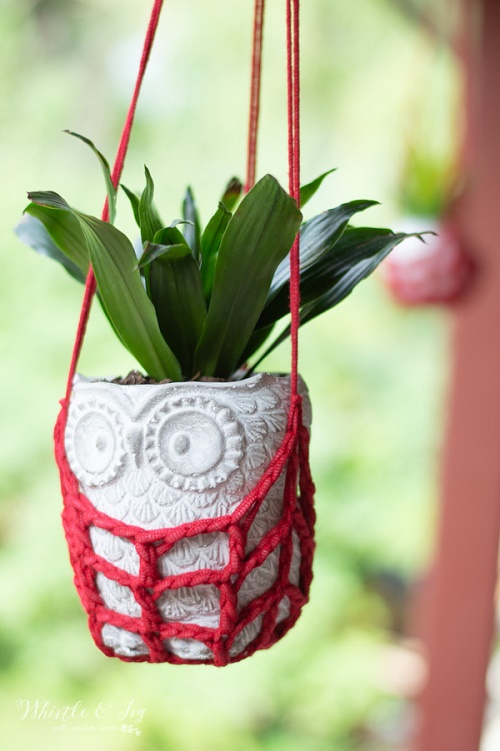 Head on to this step-by-step tutorial for crocheting this plant hanger that you can suspend on any wall.
19. Super Quick Crochet Plant Hanger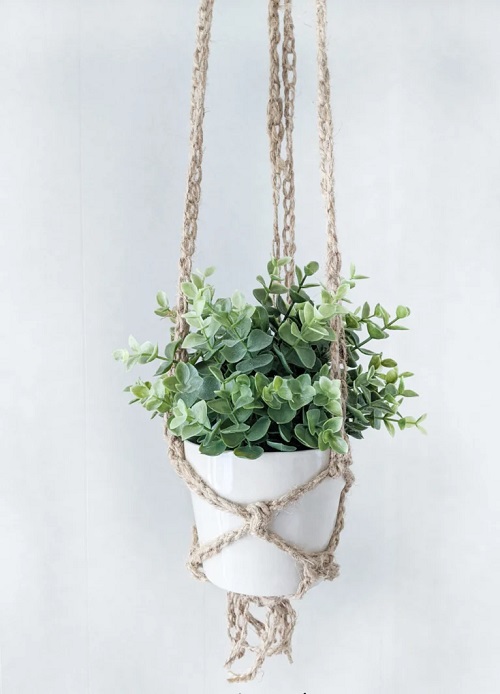 This crochet plant hanger is sure to be a hit this summer. The best part, you can complete this project in under 30 minutes.
20. Crochet Air Plant Jellyfish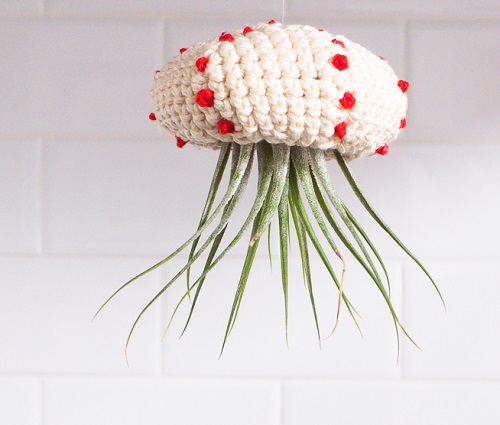 In this article, the crocheter opted for cotton yarns to achieve a neater appearance, but jute or kitchen twine is also viable option.
21. Easy Crochet Plant Hanger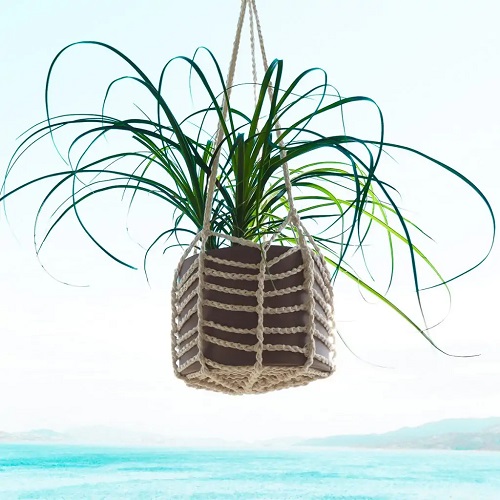 To crochet this easy plant hanger, you're not going to need a lot of time, yarn, or extra materials. Just a planter, a crochet hook & less than one skein of yarn.
22. Spring Plant Hanger
Grab a crochet hook, yarn, and a yarn needle to complete this multi-colored plant hanger. Get the free pattern here.
23. Picot Mesh Design Crochet Plant Hanger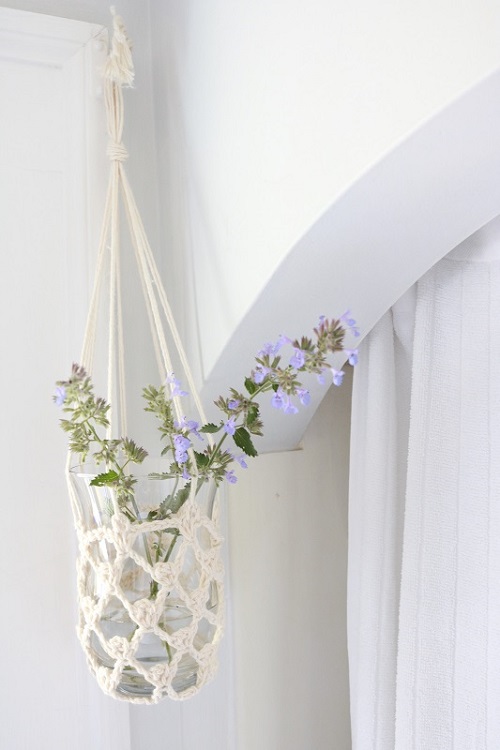 This crochet plant hanger features a delicate picot mesh pattern. Although this project needs stitching in rounds rather than in a straight line.
24. Colorful Itsy Bitsy Tiered Air Plant Holder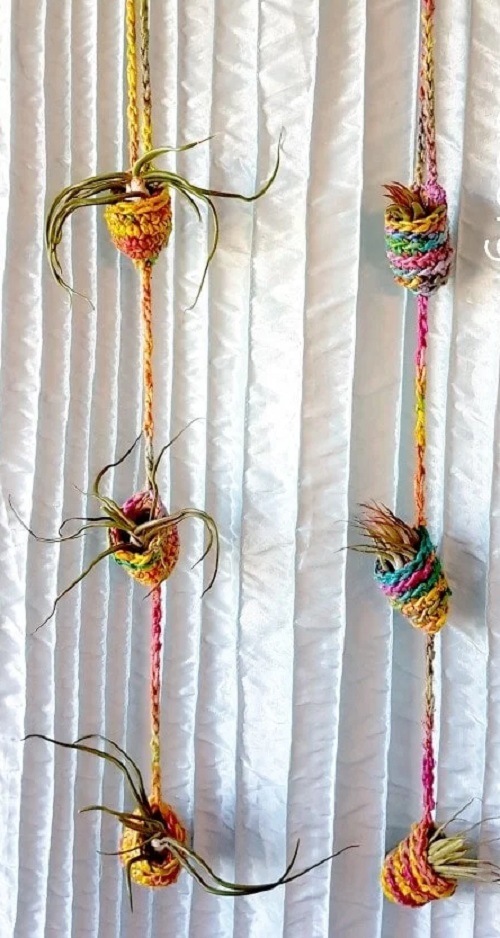 This vibrant and multi-tiered plant hanger is a fun way to add a touch of greenery indoors. The pattern is here.
25. Quick and Easy Crochet Plant Hanger Pattern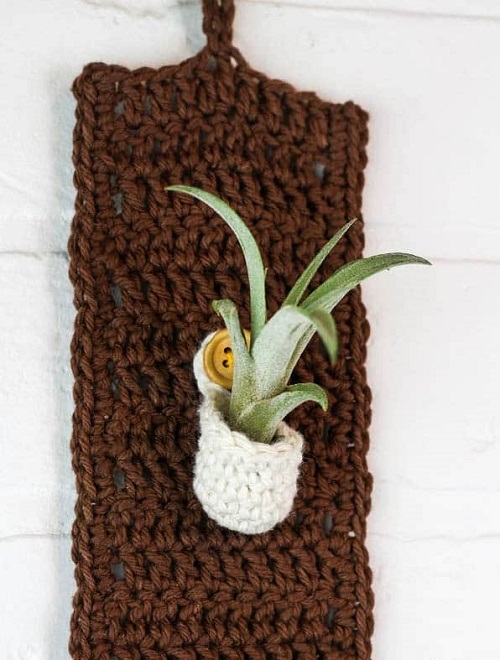 If you like a modern but natural look, look no further than this crochet plant hanger pattern. Besides air plants, you can also use cut flowers or faux succulents.
26. Hanging Teardrop Basket (Free Crochet Pattern)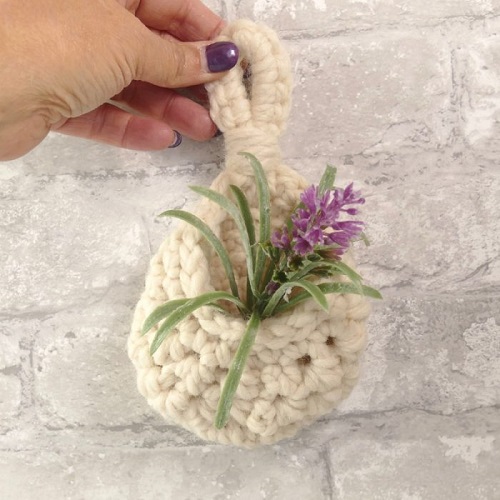 This tiny hanging teardrop pouch is truly stunning. The crafter utilized Lion Brand Wool-Ease Thick and Quick yarn for weaving, although any bulky yarn can be used.
27. Crochet Succulent Stacker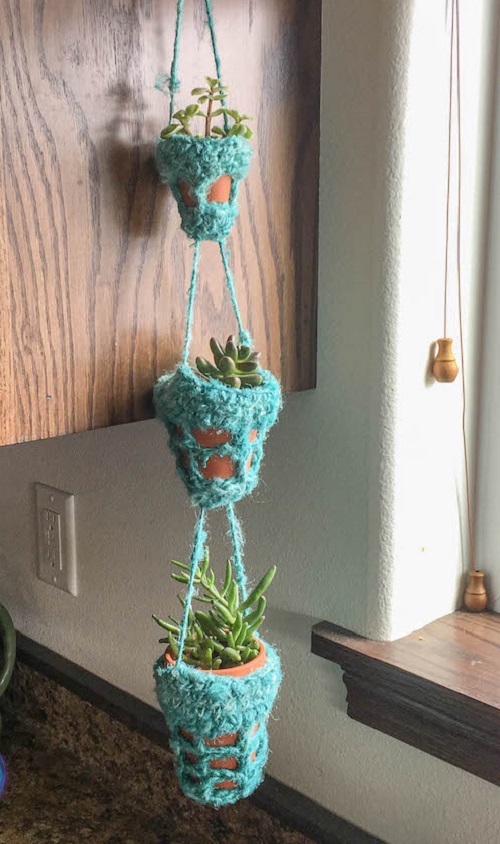 Houseplants are hot right now, and so is crocheting. Combine these two to make a tiered crochet succulent hanger for your little plant friends.
28. Crochet Rings Plant Hanger Pattern
Minimalistic yet decorative, this hanger is made of crochet rings attached together through single crochet stitches.
29. Crochet Plant Pot Cover Free Pattern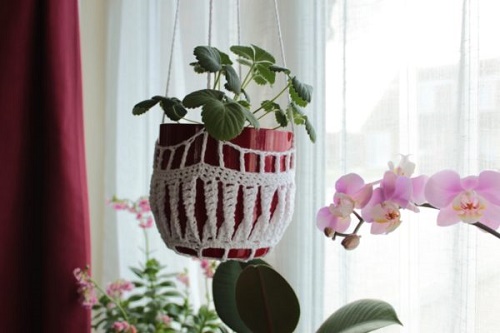 Take your home decor to another level by displaying your plants in this beautiful boho-style pot cover. It's a beginner-friendly pattern that would make a lovely gift too. Go through this article for more info.
30. Crocheted Trailing Plant Hanger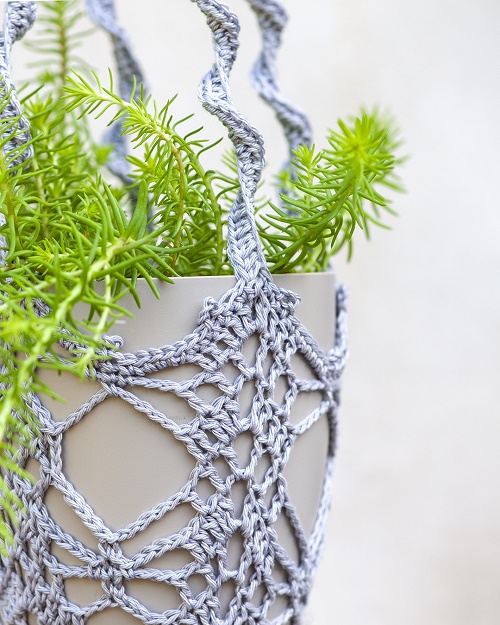 Crafted using crochet skills, this lacy trailing plant holder offers an aesthetically pleasing twist to your potted plants. Get detailed instructions and a list of supplies in this helpful article.
31. Mini Air Plant Hanger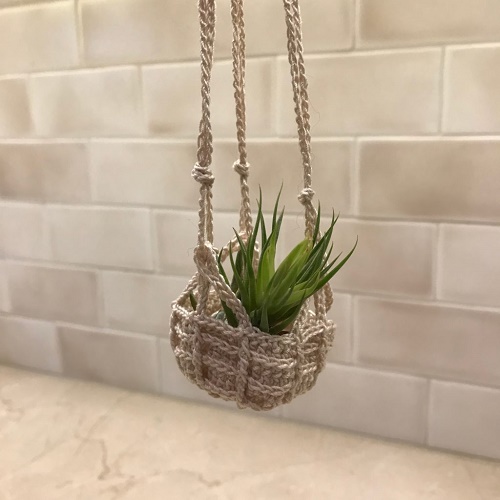 Are you a crochet enthusiast looking for a fun new project? Either way, this mini air plant hanger crochet pattern has got you covered. It's a fantastic way to combine crochet skills with your love for greenery.
32. Chevron Crochet Plant Hanger Pattern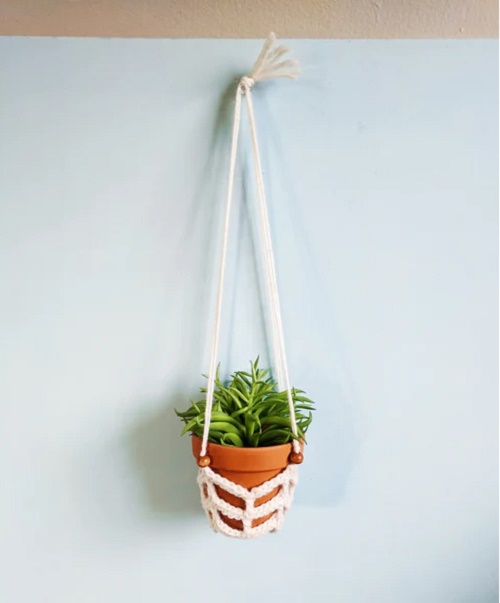 Gather worsted yarn, wooden beads, a hook, a yarn needle, and a terracotta pot to complete this amazing crochet project.
33. Free Boho Plant Hanger Crochet Pattern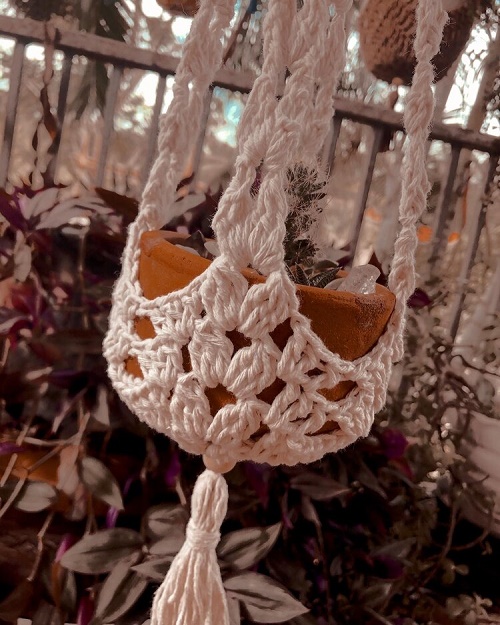 Make your home décor scream boho chic with this crochet plant hanger. It lets you showcase your favorite plants in a way that's stylish, unique, and speaks to your personal style.
34. Succulent Plant Holder DIY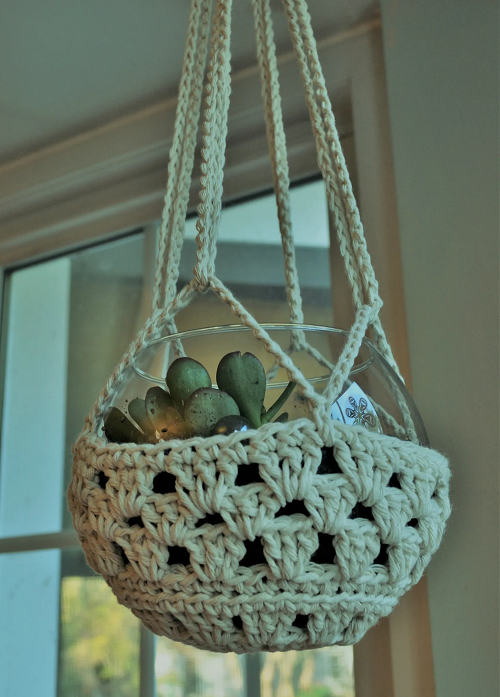 This small succulent hanger makes a great hostess gift or would look adorable in a bathroom window. Make one using this easy-to-follow article.
35. Four of Diamonds Plant Hanger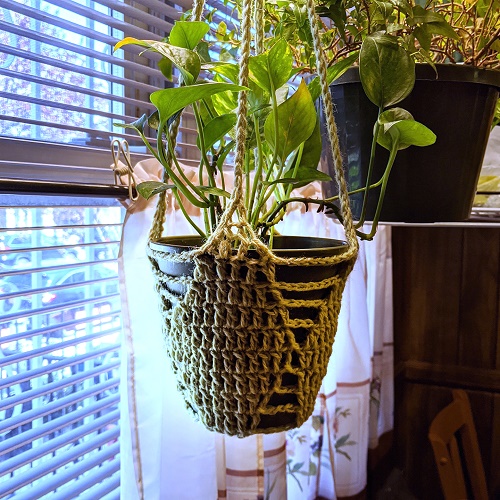 This plant hanger is a frugal way to dress up a cheap plastic planter from the dollar store. Any non-stretchy medium-weight yarn is fine for this crochet project. Read the details here.
36. Triplet Crochet Plant Hanger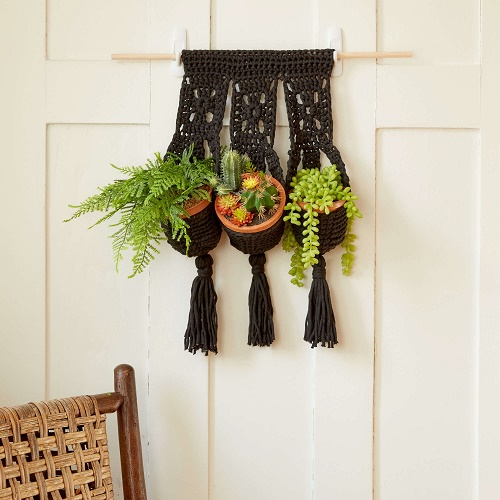 With this triplet crochet plant hanger, you'll have the perfect accessory to showcase your blooming plants. This super easy crochet pattern is made using single crochet and a couple of supplies.
37. Sloth Plant Hanger Pattern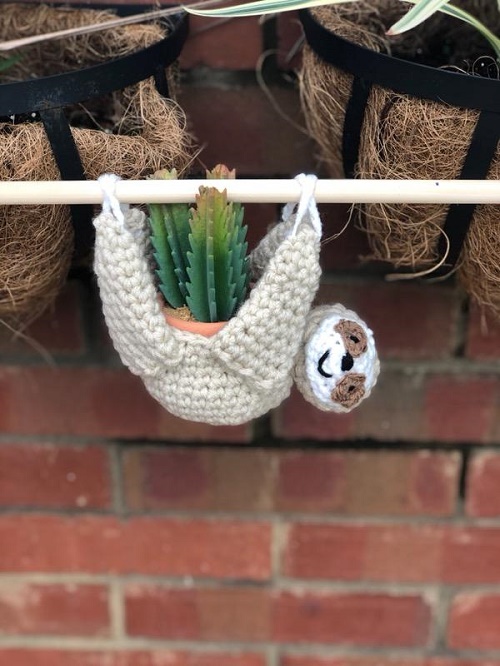 Bored of traditional plant holders? It's time to give this free sloth plant hanger pattern a try. This innovative design is not only functional but also adds an aesthetically pleasing element to any space. The free crochet pattern is here.
38. Faux Macrame Crochet Wall Hanging Planter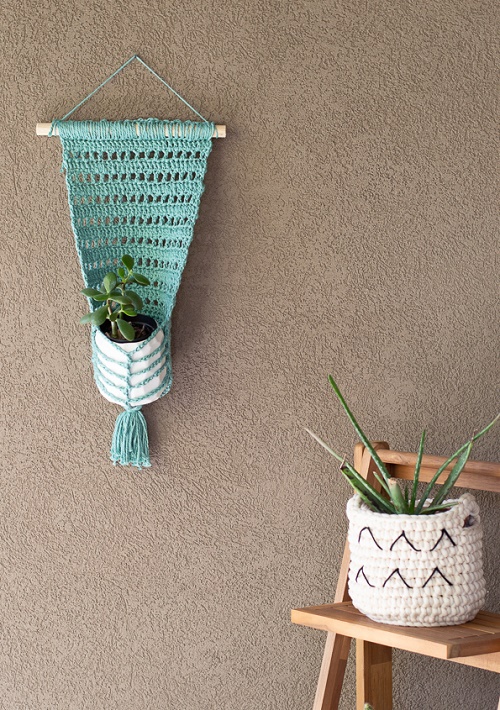 Bring a modern hippie boho vibe to your space with this crochet wall-hanging plant hanger. It fits a cute 4″ pot and hangs beautifully inside or outside. This pot hanger gives the look and feel of macrame but uses crochet stitching techniques.
39. Crochet Sweet Stripes Hanging Basket Pattern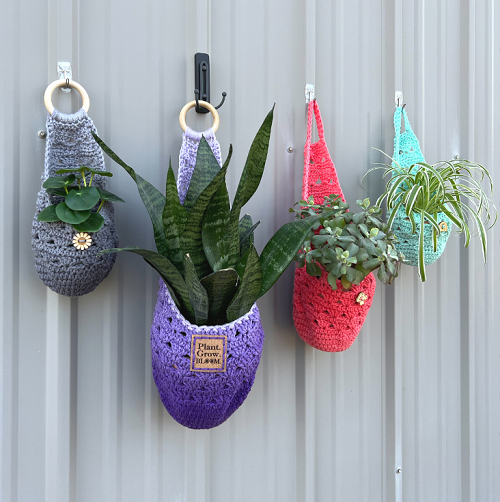 Learn how to recreate these eye-grabbing hanging baskets to display your lovely plants and succulents in this tutorial. You can use them to store towels, toiletries, fruits, vegetables, and craft supplies.
40. Easy Hanging Plant Basket Pattern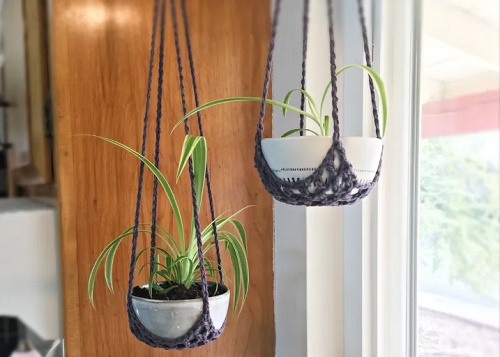 If you want to recreate these hanging plant baskets, go through this helpful article. It's a cheap and easy way to amp up the look and feel of your living space.
Read the best orchid planter ideas here