Add character and tropical vibes to your home decor with these stunning Types of Dieffenbachia Varieties and pictures!
The Dieffenbachia plant, known as the "dumb cane," has long been a favorite among gardeners for its dramatic, variegated foliage. Amongst the numerous varieties of Dieffenbachia, each has unique visual characteristics that add to its appeal. Read on to learn some of the best and rare Dieffenbachia Varieties below!
Read the Best Rhaphidophora Types here
---
Dieffenbachia Varieties
1. Dieffenbachia maculata 'Tropical tiki'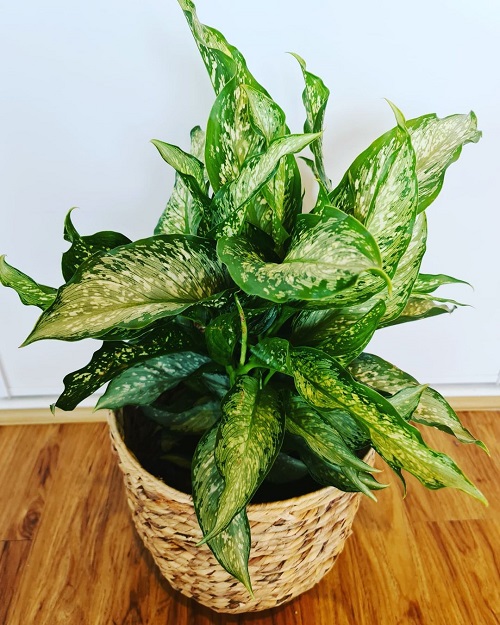 This tropical houseplant with shrub-like growth features glossy, variegated foliage. Grow this plant indoors for an added tropical charm. It admires filtered bright light and consistently moist soil.
2. Dieffenbachia Rebecca
Dieffenbachia Rebecca is a compact variety known for its striking variegation with green edges. Water this plant when the top soil feels dry to the touch. Keep this foliar beauty far away from direct sunlight.
3. Dieffenbachia daguensis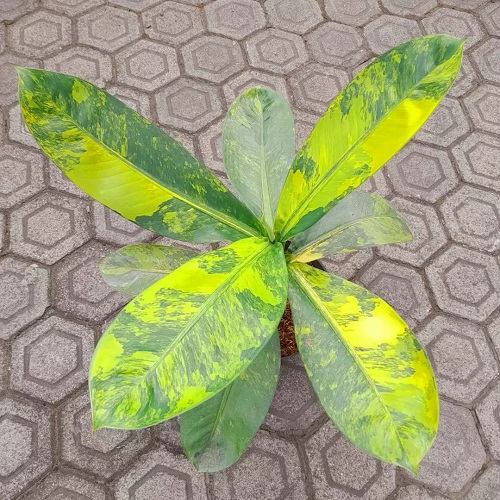 The dark-green elongated leaves of this plant with irregular yellow-hued splotches are a sight to behold. It is native from Colombia to Ecuador.
4. Dieffenbachia 'Triumph'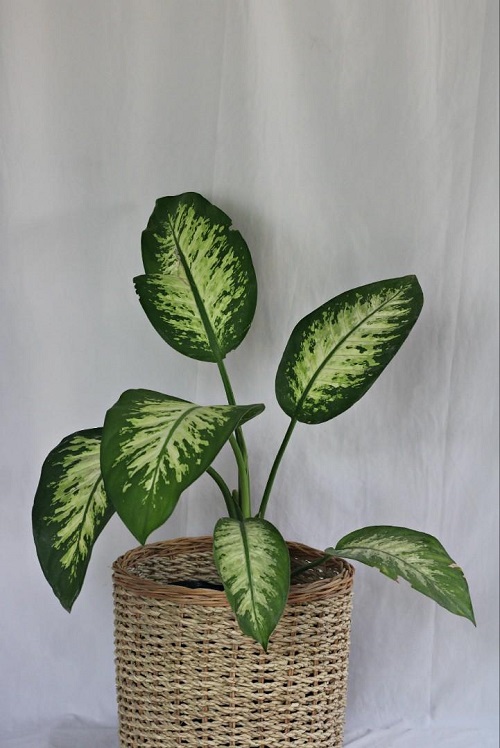 Dieffenbachia 'Triumph' is a tropical ornamental plant with eye-catching green foliage and white veins in the center. This plant thrives in bright, indirect light. It's one of the best types of Dieffenbachia varieties.
5. Dieffenbachia Amoena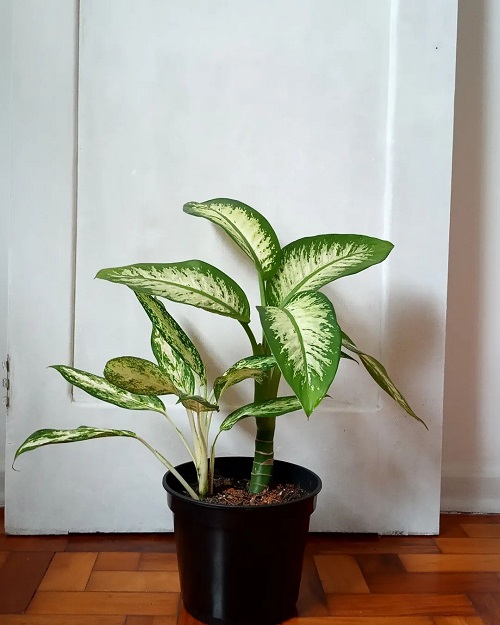 Can grow up to 6 feet tall, this Dieffenbachia variety displays large, oblong eye-catching green foliage with creamy-yellow markings. It admires indirect light and high humidity to maintain its lush foliage.
6. Dieffenbachia 'Panther'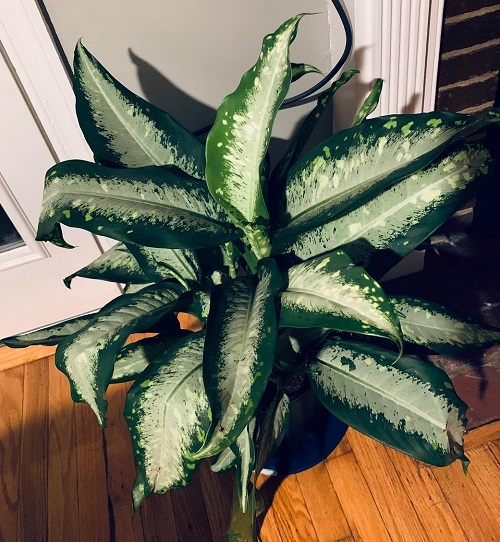 Make your living space stand out by introducing this captivating plant featuring dark green speckled foliage with white-silver streaks. It can grow up to 10-16 inches and loves indirect light.
7. Dieffenbachia Aurora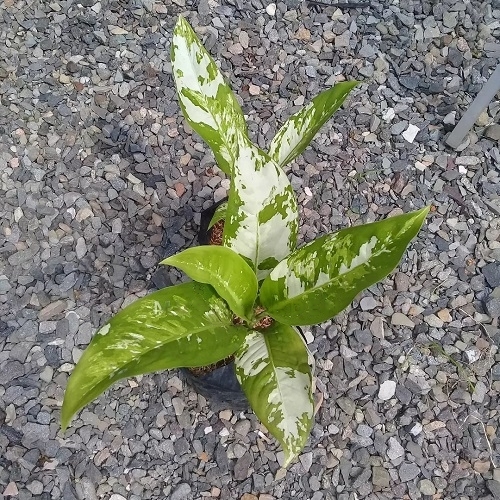 Adored by gardeners for its enchanting appearance, this variety boasts green leaves with lime-yellow variegation. This toxic plant likes bright, indirect light for lush growth.
8. Dieffenbachia 'Tropic Rain'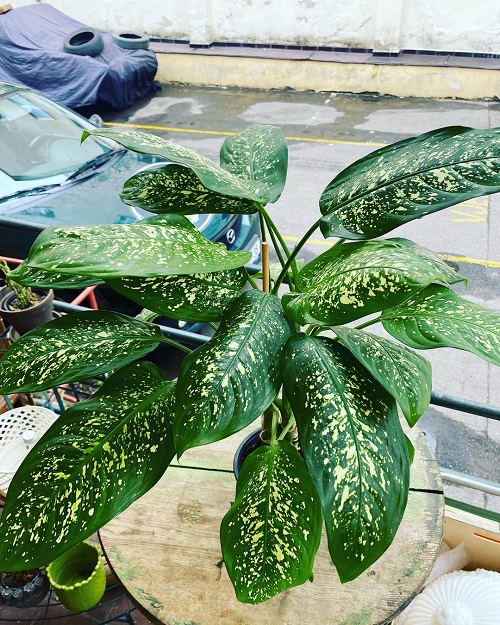 This botanical specimen showcases green foliage with white splashes, resembling the appearance of raindrops. Give this plant partial or dappled shade for lush, vibrant leaves. It can grow up to 4 to 8 feet tall.
9. Dieffenbachia 'White Etna'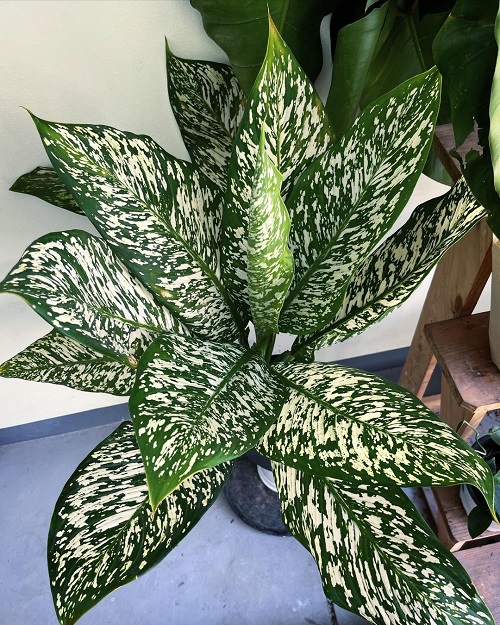 'White Etna' bears large, large, paddle-shaped leafage with an elegant mix of green and white variegation. This easy-to-grow plant is an excellent focal point for a bland living area.
10. Dieffenbachia 'Puerto Rico Variegated'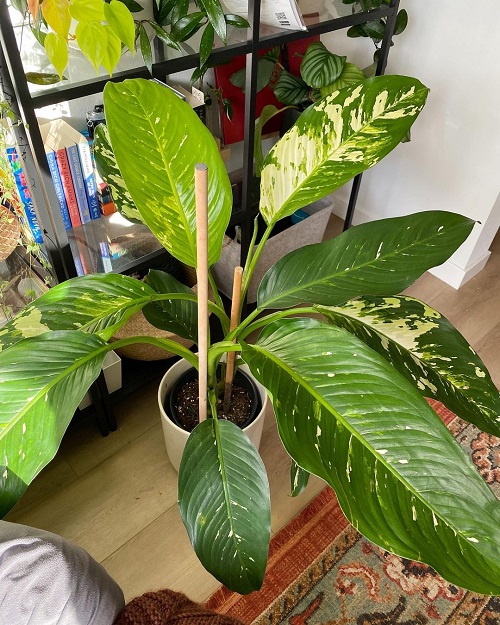 With its lance-like greenish foliage with green edges and yellow tinge, 'Puerto Rico Variegated' stands out. It thrives in full sun and diffused light.
11. Dieffenbachia 'Star bright'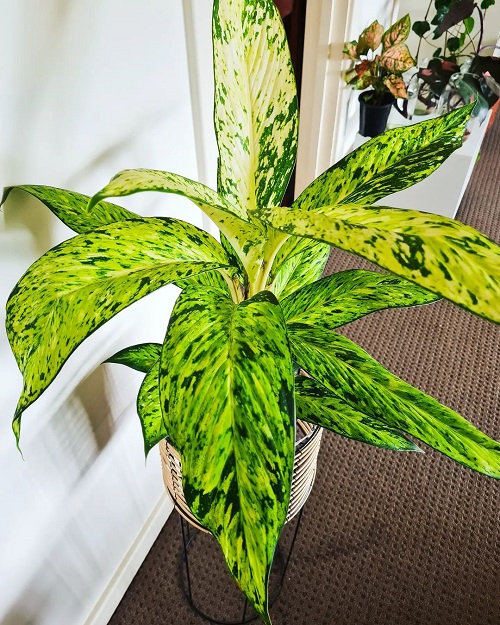 Grown for its attractive foliar, this Dieffenbachia variety offers golden-green leafage mottled in a dark green hue. Keep this plant where it receives ample filtered bright light to maintain its delightful foliage.
12. Dieffenbachia 'Sparkle'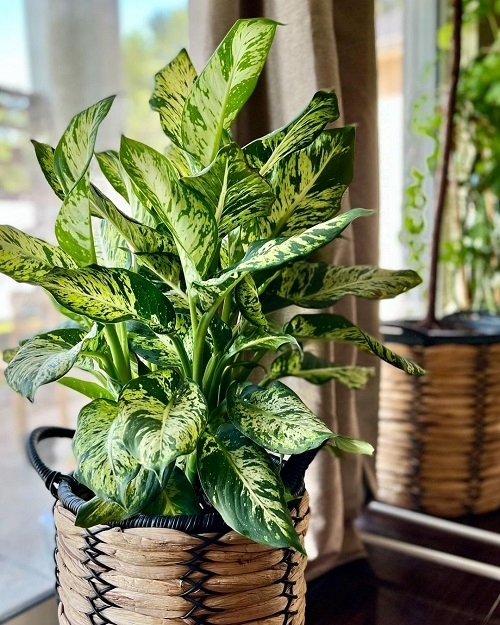 Amp up the wow factor of your residence by growing this eye-grabbing variety. It boasts light green leafage with random deep green splotches and irregular blotches of white.
13. Dieffenbachia 'Tropic Marianne'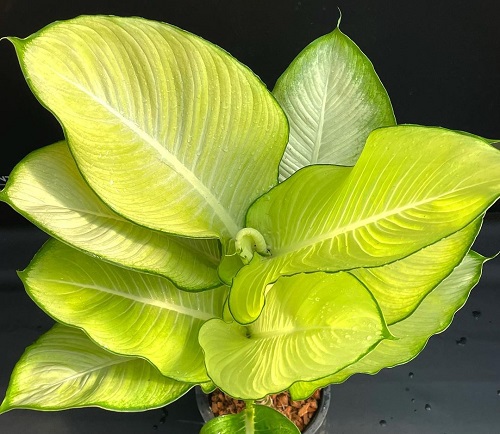 This beautiful shade-loving plant showcases oblong lime green leaves with deep green edges. The showy leaves of 'Tropic Marianne' make it a stunning addition to any indoor space.
14. Dieffenbachia 'Sarah'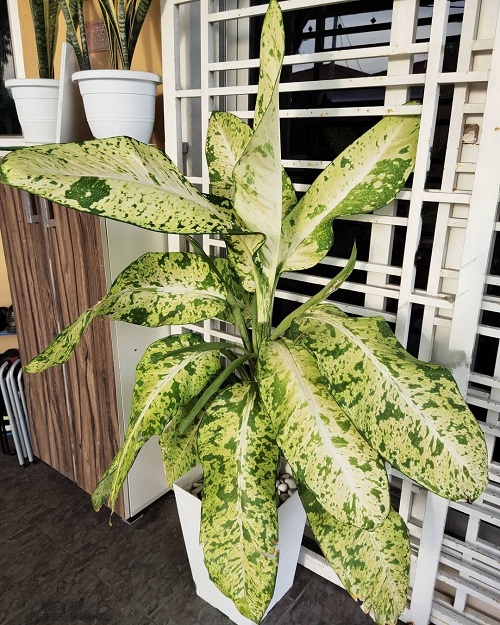 A perfect focal point for a home or office space, this tall botanical wonder displays elegant leafage with green and cream variegation. Ensure the soil is well-draining and avoid overwatering this plant.
15. Dieffenbachia 'Tropic Snow'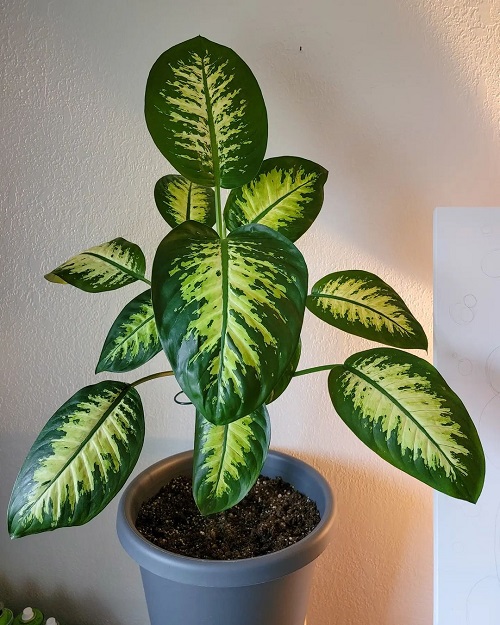 With ovate foliage, mottled with yellow or white shades is one of the most attractive Dieffenbachia varieties on this list. Avoid overwatering this striking ornamental houseplant.
16. Dieffenbachia 'Mary'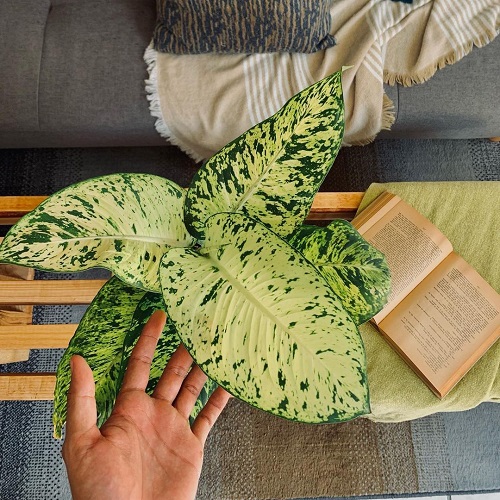 Dieffenbachia 'Mary' is a faster-growing variegated variety that sports green foliage mottled with creamy-white shade. This tropical plant loves a well-drained potting mix.
17. Dieffenbachia 'Honeydew'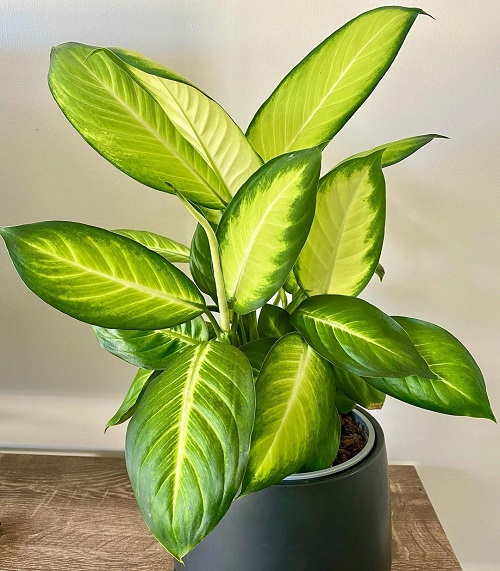 Highlighted by the striking golden-yellow leafage with green edges, this showy houseplant is best to brighten up any dull corner.
18. Dieffenbachia 'Delilah'
'Delilah' produces pointy foliage with green edges and greenish-white variegation. It's a drought-tolerant plant and admires part sun, part shade.
19. Dieffenbachia 'Carina'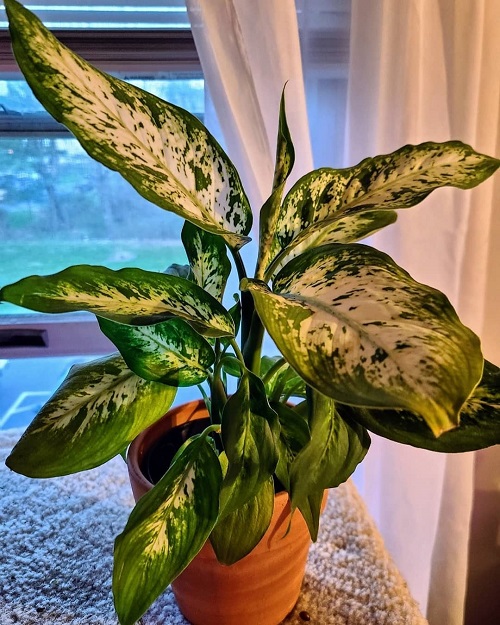 This variety impresses with its large, lush leaves boasting an appealing combination of dark and light tones. 'Carina' can grow up to 15-20 inches.
20. Dieffenbachia 'Compacta'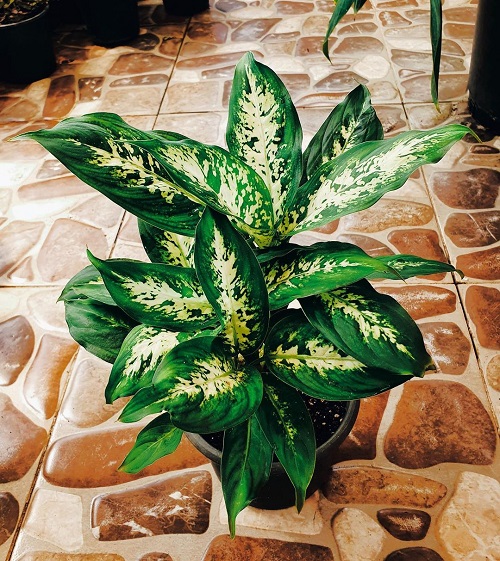 As the name suggests, 'Compacta' is a compact Dieffenbachia variety. It displays light green leaves with a cream-yellow variegation. It's perfect to showcase on a tabletop or fireplace mantel.
21. Dieffenbachia 'Camouflage'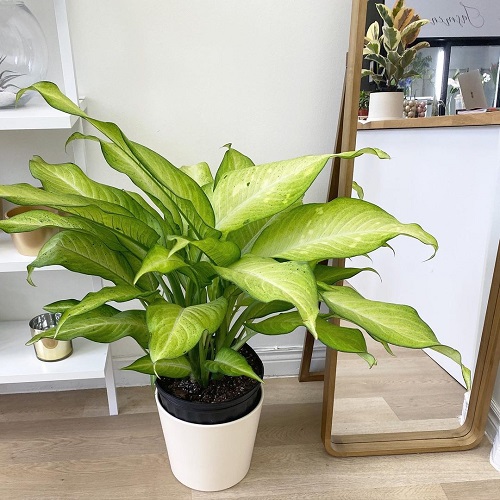 With random green spots on pale jade leafage, this plant is a conversation starter. It loves dappled sunlight or partial shade to thrive.
22. Dieffenbachia 'Camille'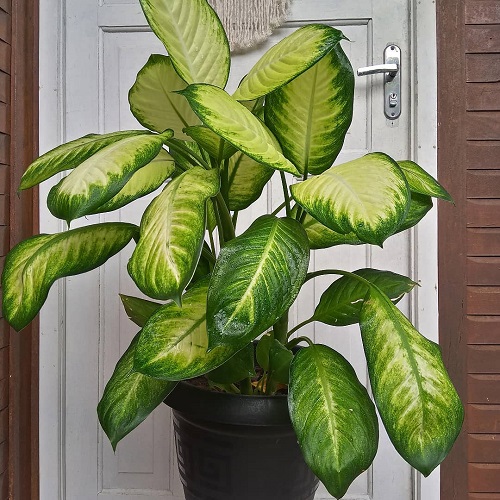 One of the most popular Dieffenbachia varieties, 'Camille', showcases broad leafage with an attractive mix of dark green edges and cream variegation in the center. It admires full to partial shade and well-drained potting medium.
23. Dieffenbachia Amy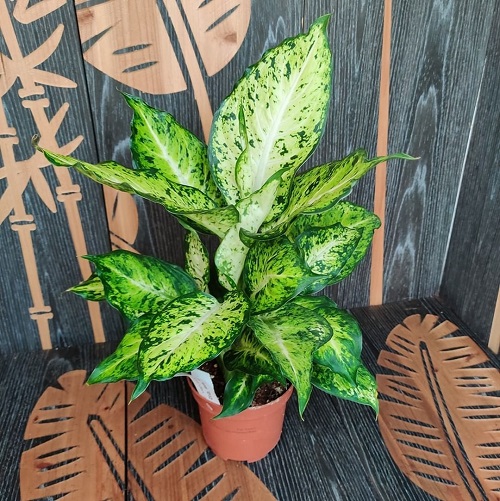 'Amy' is a focal point-worthy plant with its white, yellow, and green patterned leaves. This forgiving plant must be kept away from furious kids and pets because of its toxicity.
24. Dieffenbachia Aurantiaca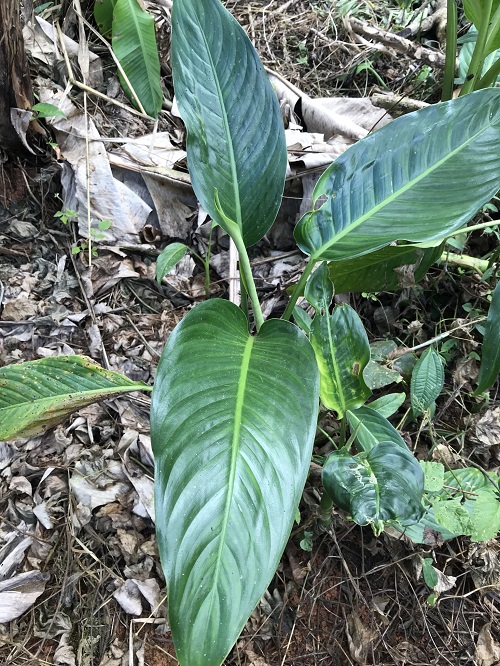 Belongs to the family Araceae, this variety features green leaves with pale green midrib. This plant is native from Costa Rica to W. Panama. It thrives primarily in the wet tropical biome.
25. Dieffenbachia Bausei
An excellent interiorscape plant, this variegated variety creates a stunning tropical look. Native to Brazil, it prefers semi-shade and occasional misting to flourish.
26. Dieffenbachia Exotica Alba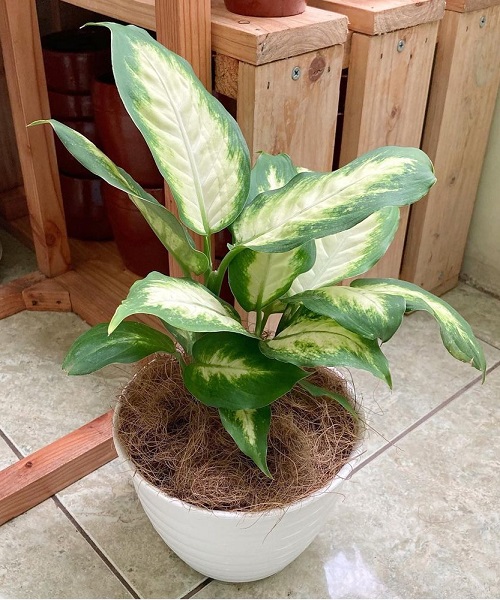 'Exotica Alba' displays large, elliptical leaves with a white center and green margin, adding an exotic touch to its overall look. It's a compact variety with beautiful foliage.
27. Dieffenbachia 'Exotica'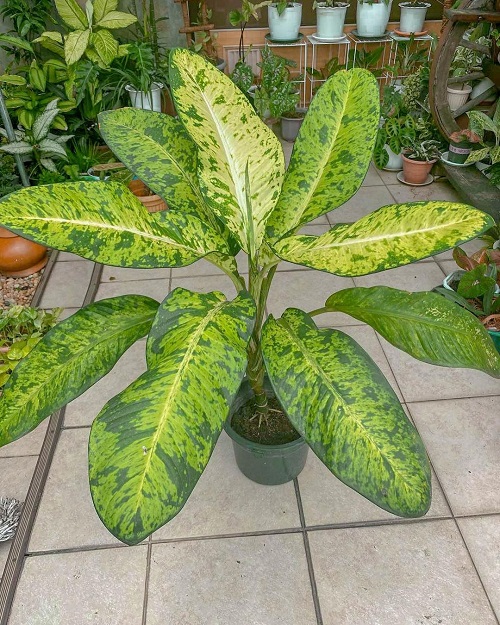 This ornamental variety exhibits eye-catching variegated leaves, making it an excellent addition to an indoor garden. It requires semi-shade and well-drained potting soil.
28. Dieffenbachia Sterling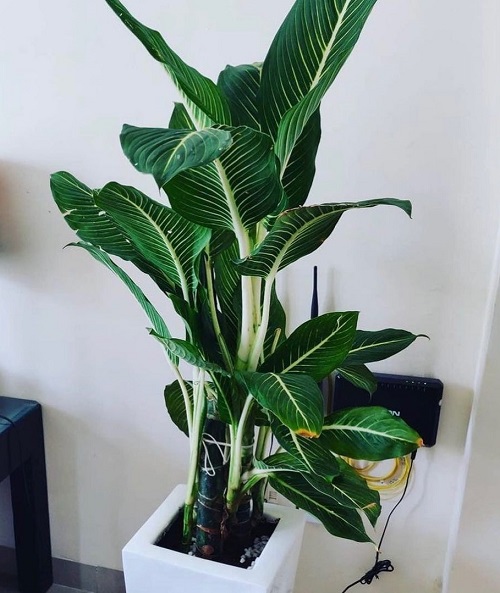 Named for its striking white midrib and veins on gorgeous green foliage, 'Sterling' adds a touch of elegance and uniqueness to any space. It's a drought-tolerant and slow-growing houseplant.
29. Dieffenbachia White Flame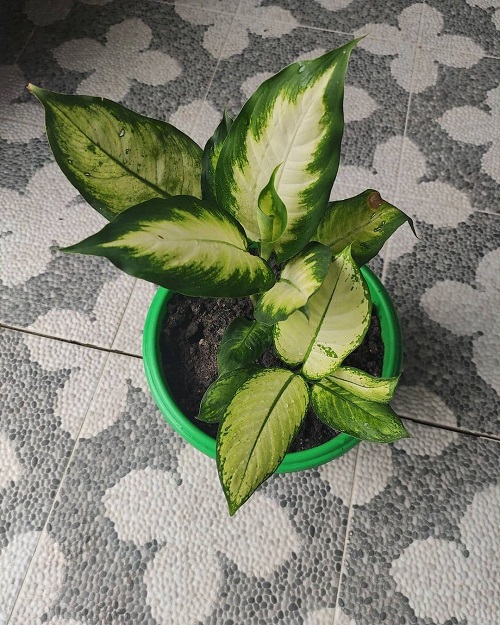 'White Flame' boasts leaves in cream and green variegation, resembling flames. It prefers well-drained soil and consistently moist soil to keep its fiery appearance captivating.
30. Dieffenbachia Imperialis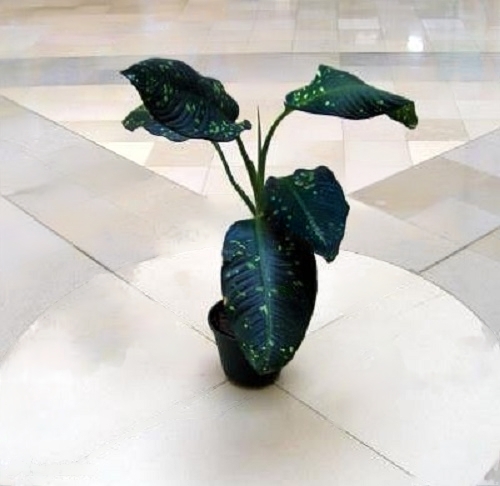 This humidity-tolerant perennial plant offers green foliage with white speckles. Keep this plant where it gets lots of partial or dappled sunlight.
31. Dieffenbachia Reflector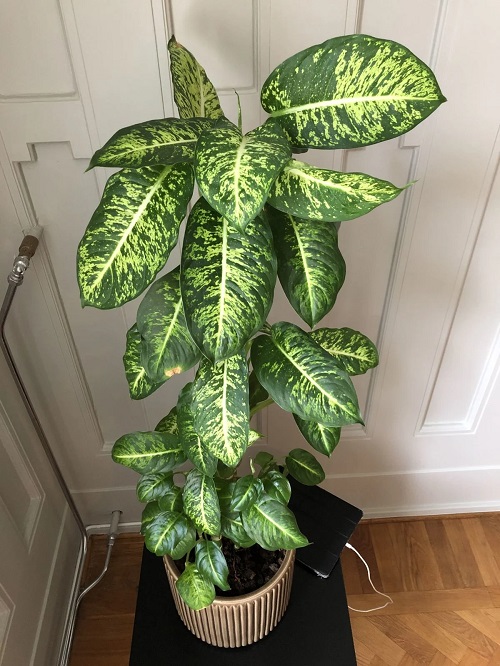 A popular houseplant, this species needs medium-to-bright sunlight and soil with good drainage and moisture retention abilities.
32. Dieffenbachia Mosaic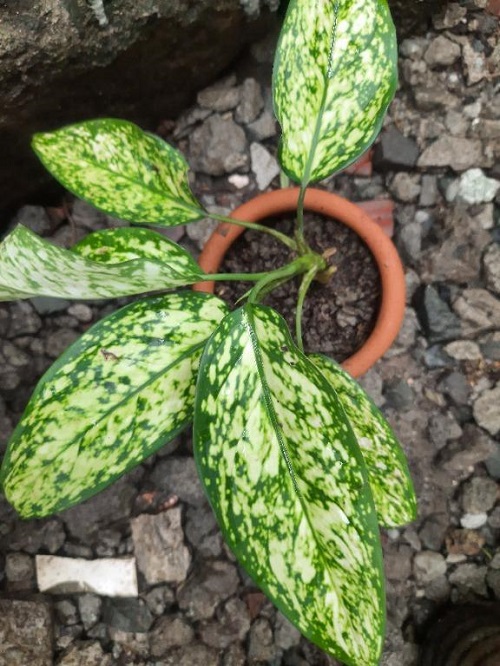 This eye-grabbing variegated Dieffenbachia variety is popular for its unique mosaic-like patterns on leaves. Water this plant only when the top soil is dry to the touch.
Check Out The Best Indoor Cascading Plants here