Decluttering doesn't have to be expensive. Reuse, recycle, and reorganize with these DIY Cardboard Box Storage Ideas!
Cardboard boxes are more than just packing material. In fact, with a bit of imagination and effort, they can be turned into effective and stylish storage solutions. Keep reading to find out some fabulous DIY Cardboard Box Storage Ideas that you can try at home today!
Read the Best Homemade DIY Cardboard Crafts here
---
DIY Cardboard Box Storage Ideas
1. Fabric Covered Storage Box DIY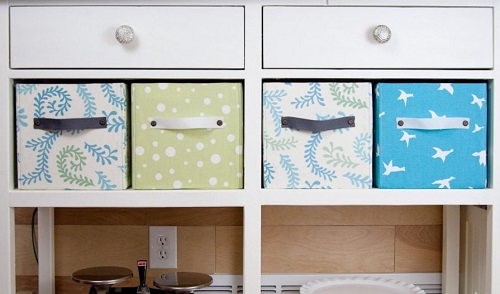 Turn boring cardboard boxes into beautiful fabric storage boxes/bins with this easy tutorial. They are the best means to stash toys, photos, CDs, sports cards, wines, baseball cards, and clothes. It's an easy, fun project that not only provides a practical storage solution but also adds a decorative element to any room.
2. DIY Diaper Caddy Basket With Compartment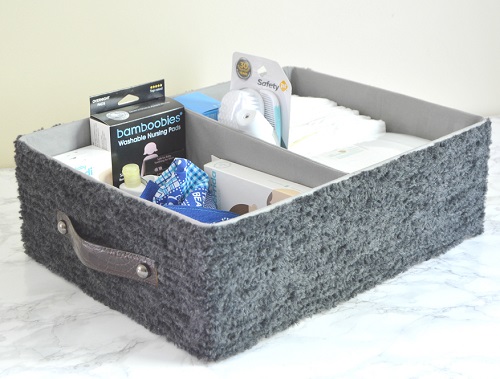 Looking for an inexpensive and creative solution to organize your baby's essentials? Consider turning a cardboard box into a diaper caddy basket. This DIY project is best for diapers, baby wipes, creams, and more.
3. DIY Snacks Caddy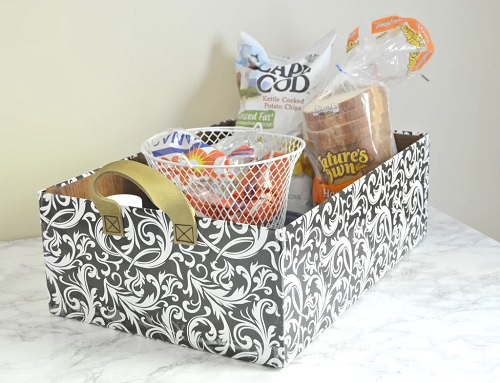 All you need is a spare cardboard box and some creativity to make a customized holder for all your favorite snacks. Whether you're watching a movie or hosting a party, this caddy is perfect for keeping all your snacks organized and within reach. Get the instructions here.
4. Cardboard Box Drawer Organizers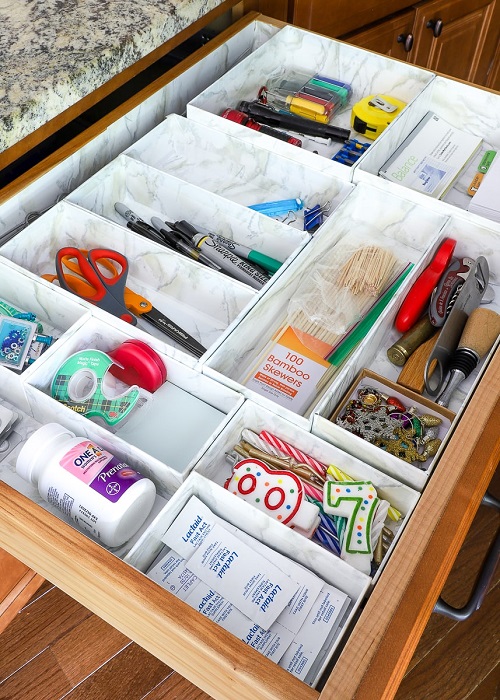 Say goodbye to a cluttered drawer with cardboard box organizers. This DIY project involves turning boxes into custom-made drawer compartments. It's an effective way to neatly arrange office supplies, kitchen utensils, socks, and undergarments in the drawer.
5. Cardboard Ornament Storage Box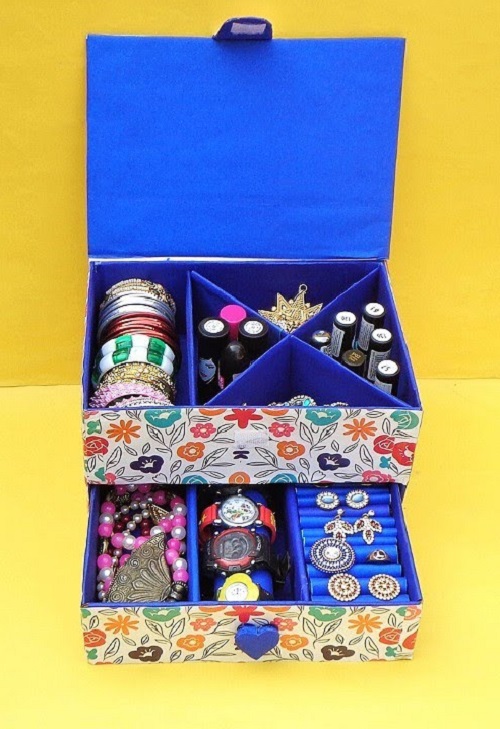 Turn an unused cardboard box into a beautiful and functional jewelry storage box to accommodate rings, necklaces, and bracelets. Decorate the box exterior with paint or fabric for a personalized touch. This custom-made jewelry box not only keeps your precious pieces organized but also adds charm to your dressing table.
6. DIY Weathered Wood Pantry Crates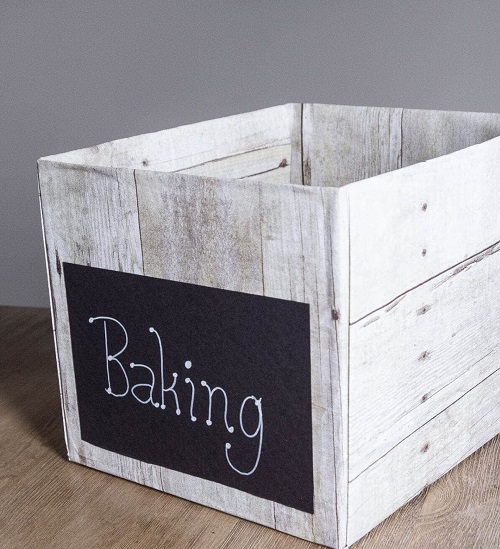 Transform your cardboard boxes into rustic and functional pantry crates with this idea. It provides ample storage for kitchen essentials and also adds a vintage touch to the pantry.
7. DIY Decoupage Hexagon Cardboard Trays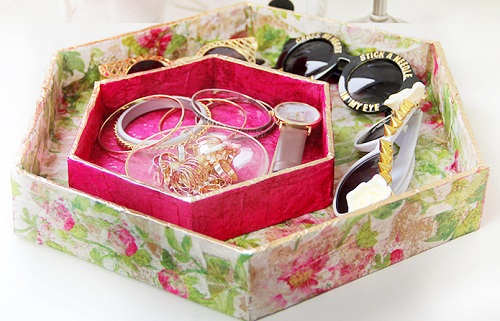 Breathe new life into your old cardboard boxes by turning them into chic hexagon trays. Perfect for your desk or dresser, these trays keep your ornaments, sunglasses, and watches organized. Read the details in this article.
8. Diaper Storage Box DIY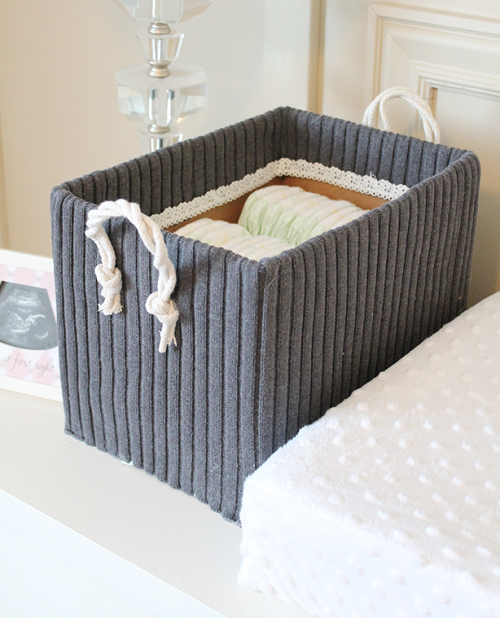 You only need an old sweater and a cardboard box to solve all your diaper storage woes. It's a practical, inexpensive, and creative way to keep those necessary baby items at hand.
9. Hanging Cardboard File Storage Box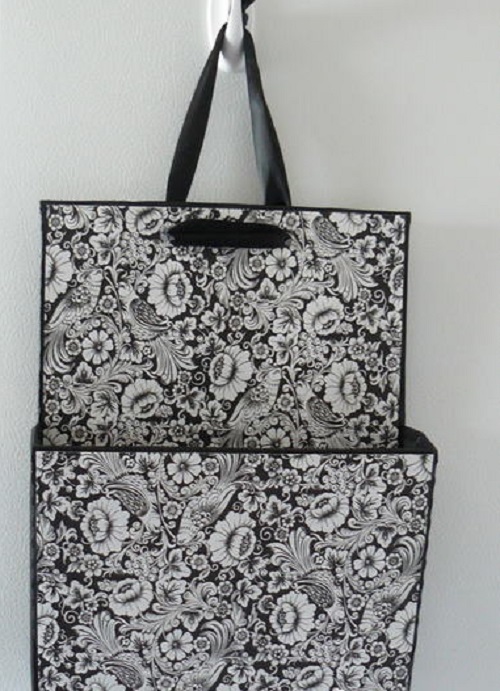 Repurposed from cardboard, this hanging file box is a perfect solution for organizing your workspace or study area. It's not just functional but also a fun and creative project you can complete in no time.
10. DIY Belted Storage Totes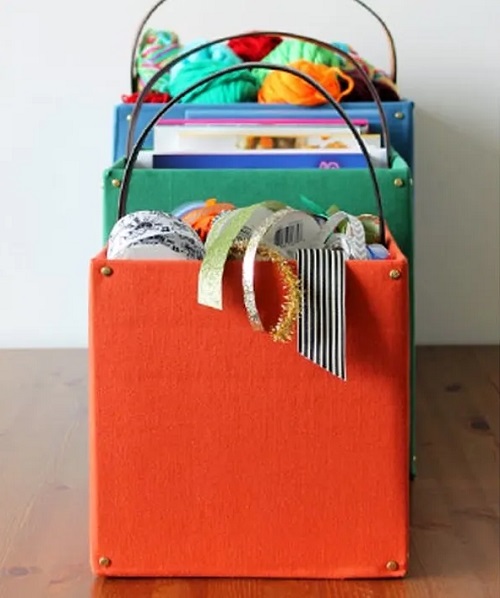 By adding a simple belt and fabric to a cardboard box, you can instantly transform it into a stylish and functional storage solution. Hop to this article for the list of supplies and detailed instructions.
11. Cardboard Shelf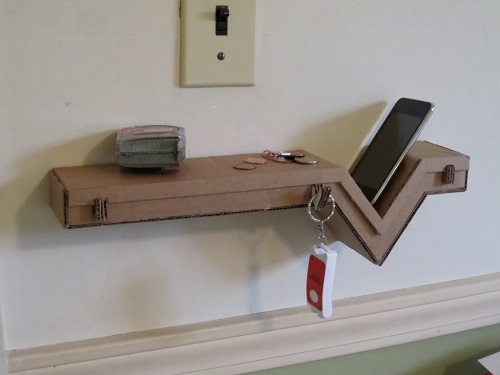 Craft this easy shelf out of a cardboard box to corral your cell phone, keyrings, and little knick-knacks. Check out this instructable for more info.
12. DIY Scrapbook Paper Organizer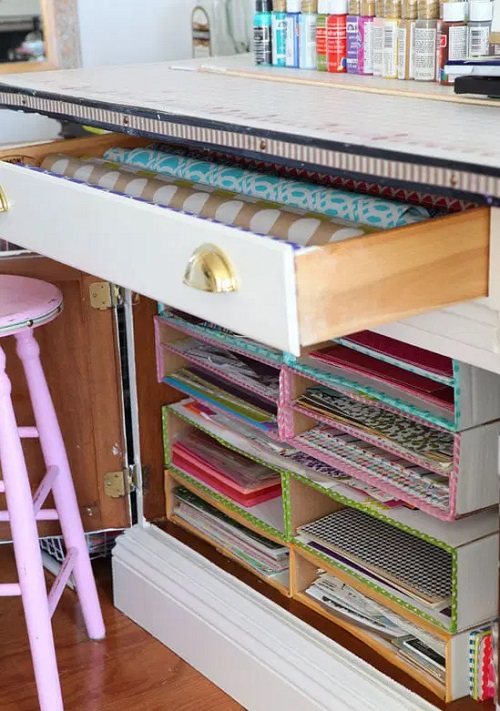 Learn how to turn old cardboard boxes into scrapbooks and decorative papers organizer in this helpful article. It's one of the best DIY cardboard box storage ideas.
13. DIY Triangle Organizer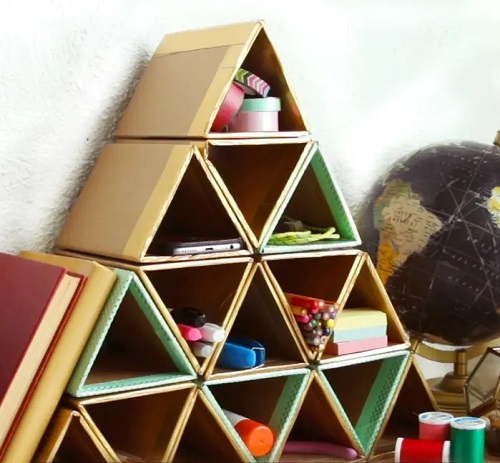 Store and organizer all your desk supplies with this triangle-shaped organizer. This DIY project is a fun way to showcase your creativity while repurposing old boxes.
14. Antique Chest Out of Cardboard Box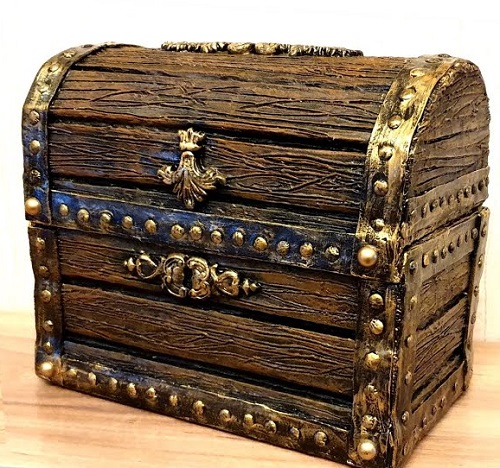 Looking to add a stylish accent piece to your storage solutions? Try creating this antique-looking chest. It's easy to make, affordable and gives timeless appeal. Watch this video tutorial for more info.
15. Cardboard Box Shoes Storage Rack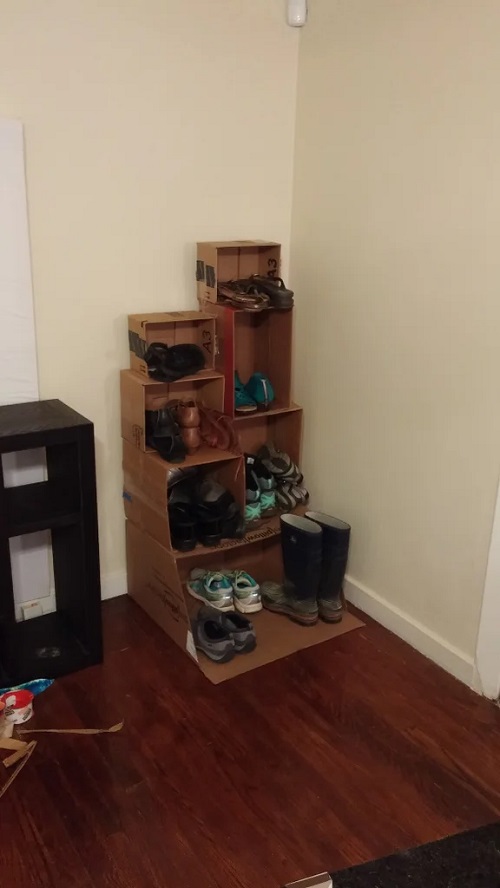 Are your shoes cluttering up your entryway or closet? Say goodbye to shoe chaos with this frugal shoe storage rack. This simple and affordable solution lets you neatly organize and display your footwear. Just grab a few sturdy cardboard boxes, follow these easy instructions, and enjoy a tidier space.
16. Seed Organizer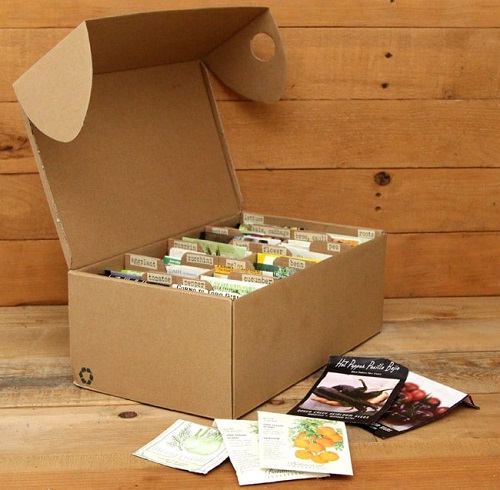 If you're an avid gardener, consider turning a cardboard box into an eco-friendly seed organizer. This simple project lets you store and easily access seeds when you're ready to plant. The DIY is here.
17. Industrial Rolling Crate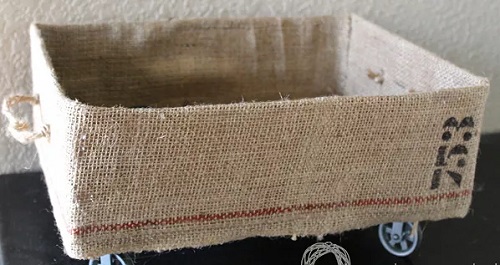 Perfect for holding keys, sunglasses, and wallets, this rolling crate with industrial charm is an eye-catching display piece as well. Get the necessary instructions in this Hometalk tutorial.
18. Upcycled Cardboard Box Drawer Storage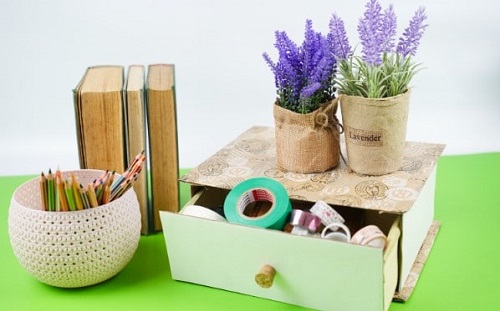 Declutter your study and office desk with this inexpensive yet chic cardboard box drawer. It's an excellent storage solution for storing little knick-knacks, crafting supplies, and stationery supplies.
19. DIY Terracotta Cardboard Wall Shelf
A terracotta-looking wall shelf made from a cardboard box is a nice way to add a decorative element to any area. Plus, it also lets you display small planters, collectibles, or a few books without consuming mantel or table space.
20. Washi Tape Organizer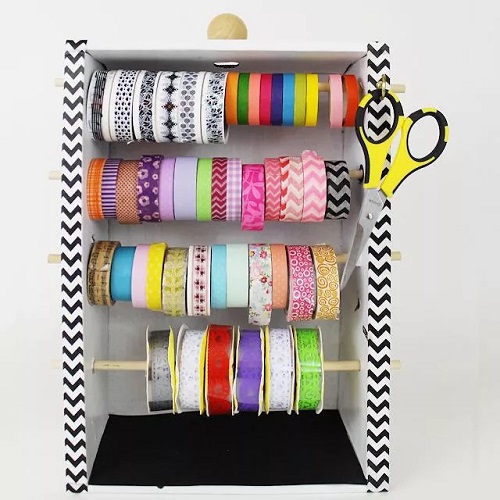 Don't know how to organize your huge pile of wash tape rolls? This article is for you. All you need is a cardboard box, decorative papers, and a few other supplies.
21. DIY Mail Organizer
If you're tired of mail piling up on your countertops, this cardboard box mail organizer is the perfect solution. Create one for yourself using this step-by-step guide. It's great for gifting purposes as well.
22. Faux Metal Desk Organizer
Find out how to make a faux metal desk organizer in this tutorial. It's great for keeping pens, paperclips, and other office supplies in order. Read this article for more info.
Here are the Best Homemade Cardboard Cat House Ideas