Dreaming of a perfect outdoor space for dining? Explore these DIY Outdoor Kitchen Ideas for a unique and personalized experience!
Turn your backyard, porch, or patio into a culinary paradise with these best DIY Outdoor Kitchen Ideas. Whether you're a grilling enthusiast or a pizza oven fanatic, this article has ideas that will help you create a functional and aesthetically pleasing outdoor kitchen.
Check out the Blue Kitchen Cabinet Ideas here
---
DIY Outdoor Kitchen Ideas
1. DIY Modern Outdoor Kitchen And Bar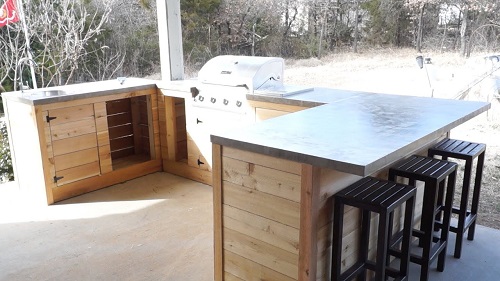 In this video, the DIYers construct a modern outdoor kitchen with a grill, sink, storage, and seating. It's not a step-by-step tutorial, but it should give you basic knowledge so that you can build one on your own.
2. Simple Outdoor Kitchen DIY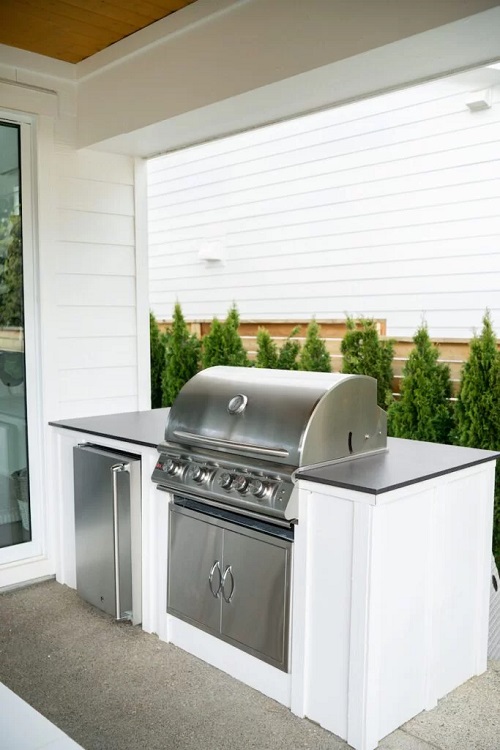 Follow this tutorial to make your own small outdoor kitchen with cedar boards, metal studs, a countertop, and a few supplies. This concept is perfect for those who enjoy outdoor cooking but have limited backyard or porch space.
3. Outdoor Kitchen with Stone Veneer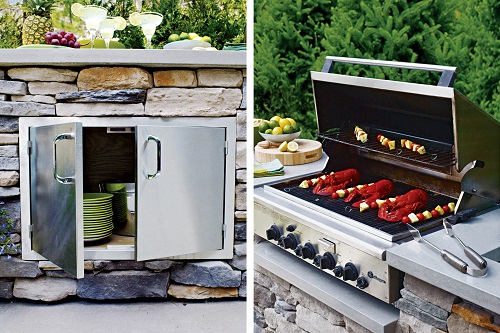 Transform your backyard into a rustic culinary haven with this outdoor kitchen featuring stone veneer. This idea costs $800, so it's not the cheapest option, but if you want such a setup, check out this project.
4. Outdoor Kitchen With Grill and Sink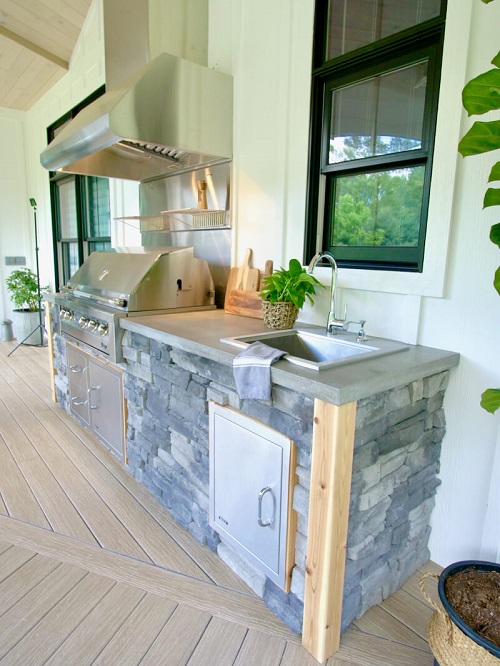 Another small porch kitchen features stone veneers, a concrete countertop, a sink, a drop-in grill, and a stainless steel sink. Hop to this detailed article for the list of supplies and instructions.
5. DIY Fantastic Outdoor Deck Kitchen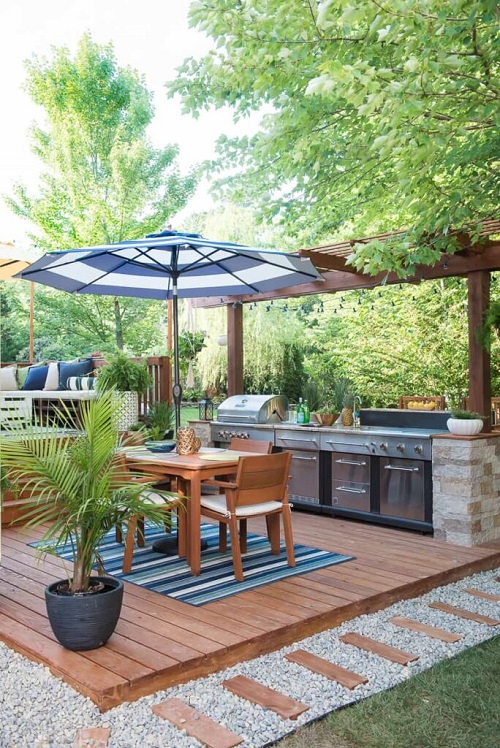 Take your outdoor cooking experience to a whole new level by turning your ground-level deck into a chic kitchen. This setup also has a pergola, a small seating area, and a small bar for added visual appeal. Read the details here.
6. Outdoor Kitchen With Propane Grill, Pellet Smoker, and Concrete Counters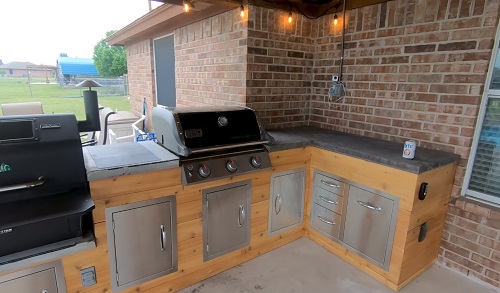 Design a fantastic outdoor kitchen featuring a propane grill, pellet smoker, and concrete counters using this video tutorial. It's the perfect setup to experience outdoor cooking under the sky.
7. Large Outdoor Wood Stove With Seating Area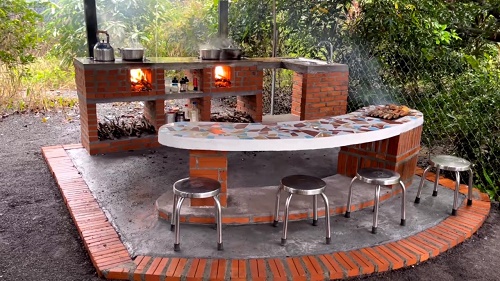 Learn how to make a large wood stove using bricks and concrete in this video tutorial. It's the best way to turn any outdoor space into a cooking station. Besides the stove, this setup has a seating area and kitchen island.
8. DIY Outdoor Kitchen on a Budget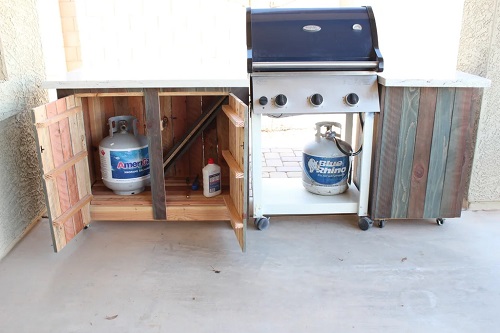 Compact and budget-friendly, this outdoor kitchen is a must-have for every cooking enthusiast. Follow the instructable and build this cooking setup inexpensively.
9. DIY Backyard Kitchen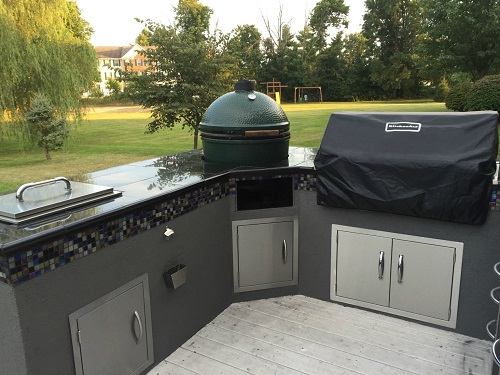 There's no better way to bask in the warm summer evenings and host get-togethers than this outdoor kitchen. This backyard cooking station is made from wood, cement board, and black granite tiles. Go through this article for more info.
10. Outdoor Kitchen With Concrete Countertops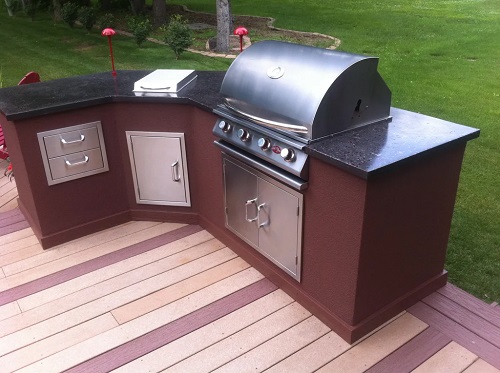 An outdoor kitchen with concrete countertops is a robust and aesthetically pleasing design option for those who love to cook and entertain outside. Concrete countertops are not only weather-resistant, but they also provide a contemporary, industrial look. Additionally, this project features steel studs, hard panels, and synthetic stucco.
11. Outdoor Kitchen With Pergola Top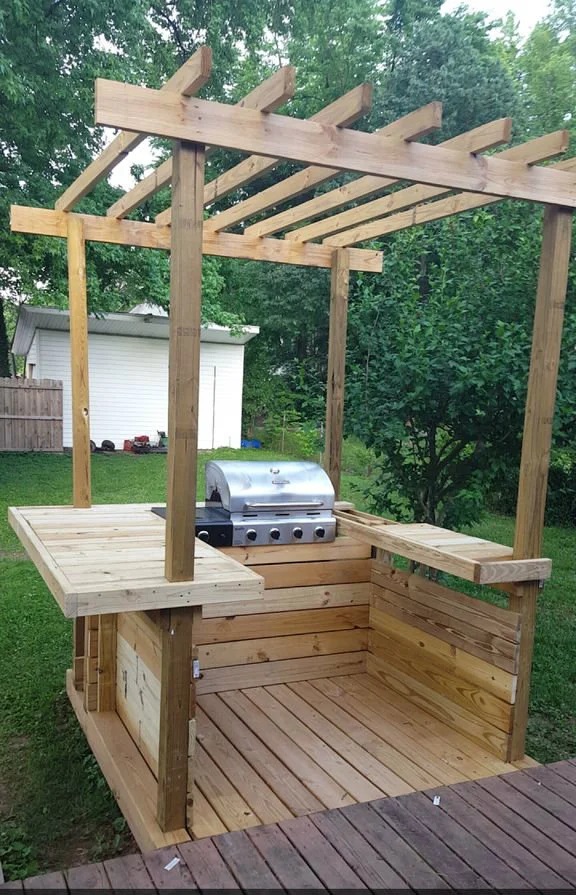 Highlighted with a pergola top, this super compact outdoor kitchen only has a grill and countertop for cooking preparation. Get the details here.
12. Mobile Outdoor Kitchen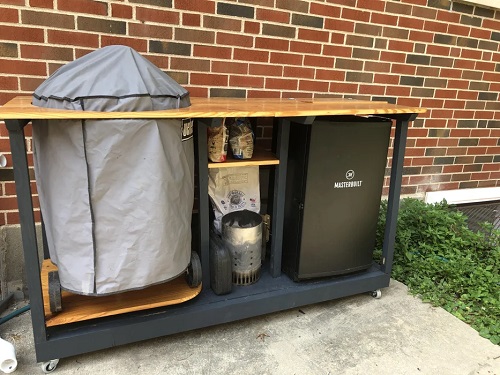 Equipped with wheels, this portable outdoor kitchen houses a charcoal grill, electric smoker, and all the grilling/smoking accessories. Learn more about this simple project in this article.
13. DIY Outdoor Kitchen with a Straight Counter and a Side Grill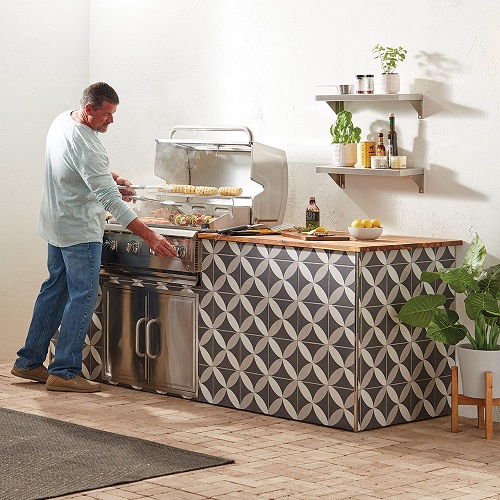 To copy this fantastic outdoor kitchen with a straight counter and a side grill, read on this article. It lets you enjoy meals outdoors in the vicinity of nature.
14. Outdoor Kitchen with Concrete Countertop
When the weather turns nice, create your own summer kitchen using this guide. This outdoor kitchen design features a working sink, an all-weather countertop, a counter with seating and storage for glasses.
15. Patio Turned Outside Kitchenette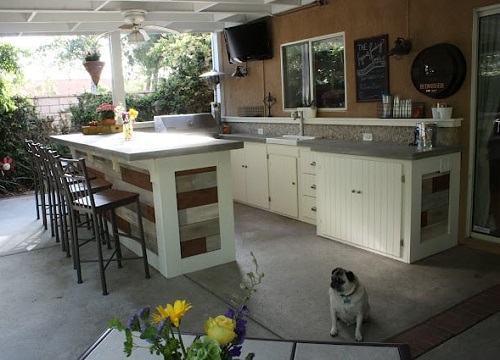 Read this article to find out how an ordinary patio can be transformed into a fun outside kitchenette with DIYing skills. It's undoubtedly one of the most amazing DIY outdoor kitchen ideas.
16. Large Outdoor Kitchen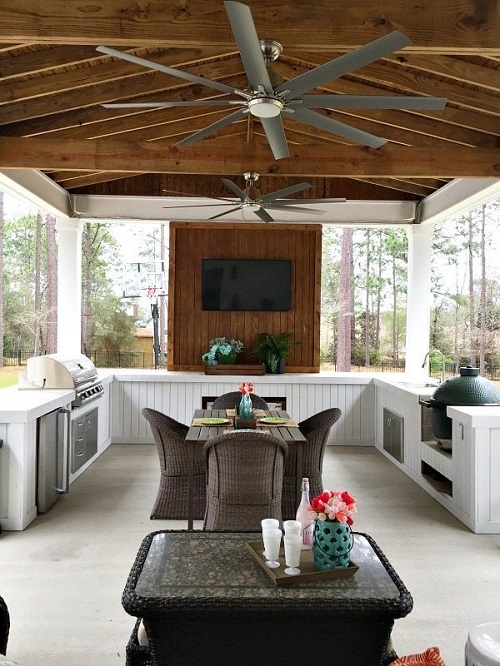 In this article, the DIYer changes the patio into a luxe kitchen with spacious countertops. It also features a coffee table, chairs, a dining table, and a Tv for entertainment.
17. DIY Concrete And Corrugated Steel Outdoor Kitchen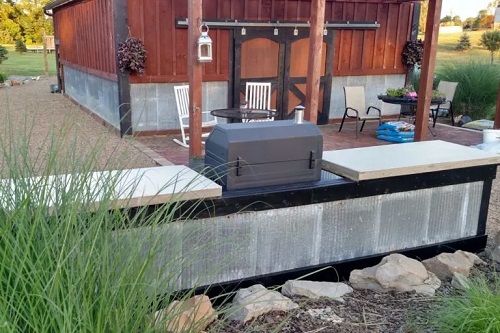 Create a unique outdoor kitchen with a touch of industrial charm using concrete and corrugated steel. It has a sturdy concrete countertop with a grill, complemented by sleek corrugated panels.
18. Outdoor Kitchen With Wood And Flat Stone Veneer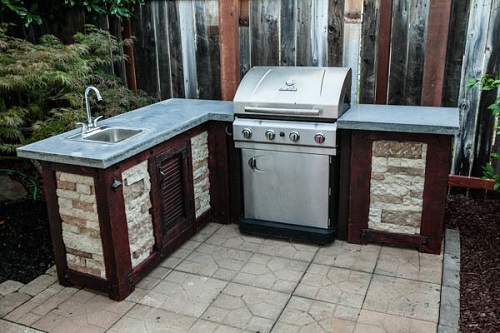 Create an attractive outdoor kitchen with the rustic appeal of wood, durability of concrete top, and the elegance of stone veneer. Combine a sturdy wooden frame with flat stone veneer to achieve this look.
19. Blocks Outdoor Kitchen DIY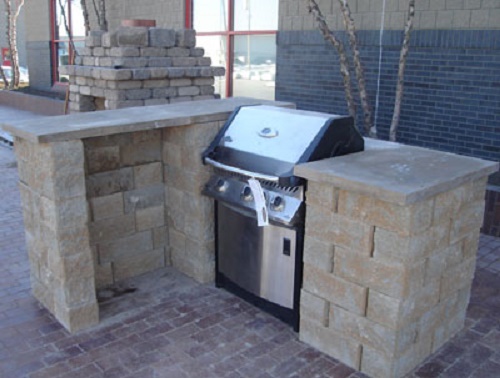 This small and durable kitchen is built from corner blocks, york blocks, Dublin blocks, masonry adhesive, and a countertop. Read the details about this super simple project here.
20. Modular Outdoor Kitchen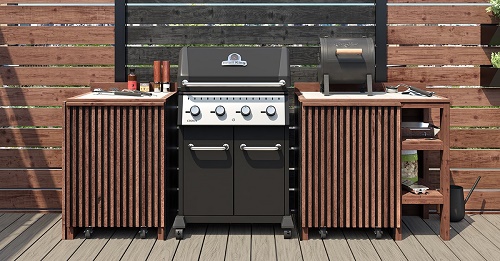 This modular backyard kitchen has 2 rolling cabinets with optional shelving and a ceramic tile countertop. It's built to last and has a trendy modern look.
Read the Impressive DIY Kitchen Sign Ideas here