Check out the best Edging Around Trees Ideas and take your monotonous garden aesthetics to the next level!
Landscaping doesn't have to be expensive. This article has some cost-effective Edging Around Trees Ideas that are perfect for gardeners with a tight budget. Read on to learn more about these amazing tree borders.
Check Out the Stunning Foxtail Fern Landscaping Ideas here
---
Edging Around Trees Ideas
1. Stone Edging
Place natural stones in a circle around the desired tree, shrub, or plant to create a cost-effective edging. This border idea is beginner-friendly, low maintenance, and easy to implement.
2. Brick Border
You only need a few regular or concrete bricks to create a simple tree edging like the one shown in the image. Simply lay regular or concrete bricks around the tree, flat or standing on their sides, and that's it.
3. Paver Edging
Do you have some concrete pavers at your disposal? If yes, then place concrete pavers in a circle around the tree to create sturdy and durable edging. Before installing the pavers, don't forget to dig holes.
4. Metal Edging
Looking for a sleek and contemporary border for your favorite trees? Go with either steel or iron edging. It's a durable, long-lasting solution with minimal maintenance requirements.
5. Wooden Box
Wooden box tree edging is a popular landscaping feature that adds a rustic and natural look to the landscape. This box also prevents lawn grass and weeds from creeping into the tree's space.
6. White Precast Brick Edging Idea
White precast brick edging is a stylish landscaping choice for creating clean, crisp lines around trees and garden beds. The white color offers a striking contrast against green lawns and colorful flowerbeds.
7. River Rock Ring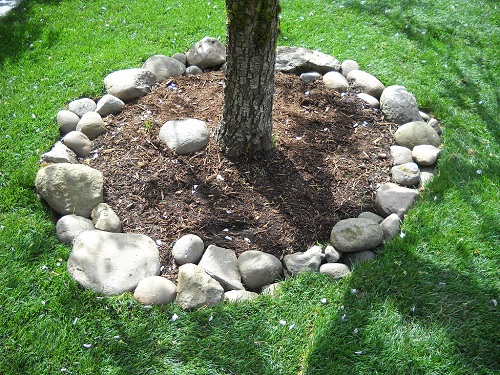 Make your garden or yard stand out by arranging river rocks around the trees as borders. This affordable and easy-to-make border is an excellent option in this list of edging-around-trees ideas.
8. Cobblestone Tree Edging
Cobblestone tree edging is a timeless landscaping feature that adds a touch of rustic charm and an old-world feel to any garden. Simply place cobblestones, small, rounded stones, around the base of a tree to create a border.
9. Concrete Tree Edging
Pour a concrete ring around the tree to create a functional and visually appealing border. Besides enhancing aesthetics, the concrete border helps in soil and moisture retention. It's a durable, long-lasting, and weather-resistant tree edging.
10. Terracotta Tiles Edging

Terracotta tiles as tree edging add a warm, earthy touch to the landscape while defining garden spaces. The natural color of terracotta complements rustic and contemporary garden styles.
11. Woven Willow Edging
Woven willow tree edging is a natural and visually appealing landscaping feature for cottage-style gardens. It's an excellent way to add a rustic charm and define tree areas in gardens and lawns.
12. Railroad Ties Tree Edging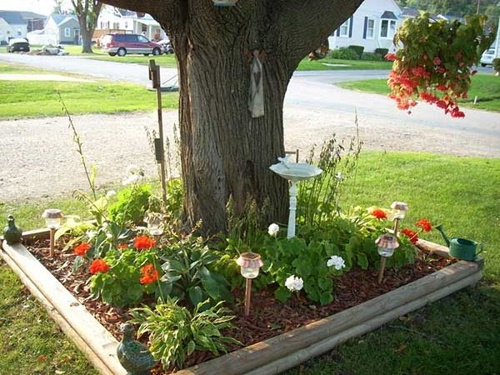 Are you looking to add a rugged, rustic aesthetic to the garden settings? Look no further and create edging around the trees with railroad ties. They can be arranged in various patterns to suit different design preferences.
13. Flower Tree Border

Plant a ring of low-growing flowering botanical specimens around the tree to create a peculiar border. Consider different flowering plants for a pop of color and distinctive floral charm.
14. Bamboo Edging
Bamboo sticks placed around the tree are what you need to give an exotic or tropical feel to any yard or landscape. This fantastic tree edging idea can go quite well with various garden styles.
Discover the Genius DIY Bamboo Projects here