Make your monotonous garden stand out in the neighborhood with these peculiar Flowers That Look Like Brains!
For those interested in unique and eye-catching flora, we have curated this list of Flowers That Look Like Brains for you to take inspiration from.
Here are Flowers That Look Like Fairies
---
Flowers That Look Like Brains
1. Crested Cockscomb
Botanical Name: Celosia argentea var. cristata
The rippling petals of the crested cockscomb flower closely resemble a human brain. This tropical flowering plant is a popular choice for ornamental gardens due to its quirky look. It blooms profusely in soil with good drainge and full sunlight exposure.
2. Pincushion Flower
Botanical Name: Scabiosa atropurpurea
Scabiosa atropurpureaor, or Pincushion Flower, with its intricate petal arrangement and tight buds, gives the impression of human brain matter. This blossom is a popular addition to floral arrangements and garden borders.
3. Globe Amaranth
Botanical Name: Gomphrena Globosa
Globe amaranth showcases long-lasting, vibrant, colorful flowers that imitate the appearance of human brains. This low-maintenance, drought-tolerant variety does best in full sunlight and well-drained potting mix.
4. Curry Plant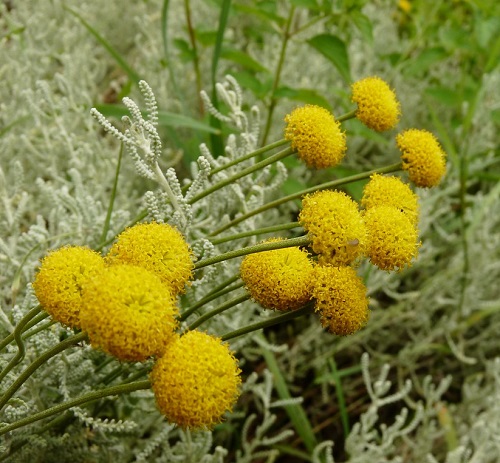 Botanical Name: Helichrysum Italicum
Popular for fragrant silvery leaves, the curry plant boasts yellow brain-like flower clusters. Besides providing aesthetic values, its blooms also offer medicinal properties, including anti-inflammatory and healing capabilities.
5. Mediterranean Strawflower
Botanical Name: Helichrysum Stoechas
Mediterranean strawflower displays grayish green foliage and peculiar yellow brain-shaped blooms in spring. Its unique blooms make this plant an interesting addition to ornamental gardens.
6. Dune Tansy
Botanical Name: Tanacetum Bipinnatum
Adorned with fern-like foliage and yellow, tiny brain-like flowers, dune tansy, is a sight to behold. It can tolerate harsh weather conditions but admires soil with proper drainage.
7. Partridge Feather
Botanical Name: Tanacetum densum subsp. Amani
Partridge feather attracts attention with silvery-gray foliage and tightly packed flower heads reminiscent of neural formations of brains. It performs best in sunny locations with well-drained soil.
Read this List of Flowers That Look Like Monkeys Faces