Flowers That Start With J brings charm to gardens and landscapes. Let's learn about these amazing flowers, each with unique features below!
Are you searching for unique flowers to diversify your garden or floral arrangements? Look no further. Check out this guide on Flowers That Start With the Letter J. These blooms are sure to inspire your next gardening project.
Check Out the Flowers That Start With A here
---
Flowers That Start With J
1. Jerusalem Artichoke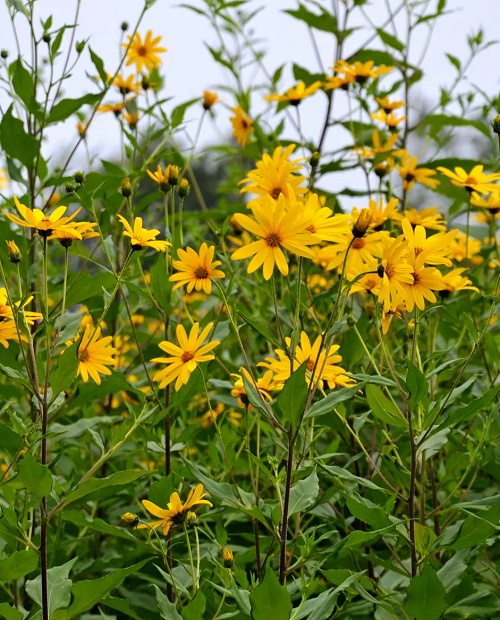 Botanical Name: Helianthus tuberosus
Jerusalem artichoke produces striking yellow blooms and edible tubers. It thrives in full sun and well-drained soil, thus a favorite among flowers that start with J.
2. Jerusalem Sage
Botanical Name: Phlomis fruticosa
Known for its attractive gray-green foliage and whorls of yellow flowers, Jerusalem sage is a drought-tolerant perennial. It's a low-maintenance plant that adds a Mediterranean touch to any garden.
3. Japanese Pittosporum
Botanical Name: Pittosporum tobira
Featuring fragrant white blossoms that mature into small orange fruits, this evergreen shrub is ideal for hedges and coastal gardens. Grow Japanese pittosporum to add drama and charm to your garden.
4. Jewel Orchid
Botanical Name: Ludisia discolor
This beautiful orchid features dark green leaves with contrasting silvery stripes. While its blooms are small and inconspicuous, the stunning foliage makes it a popular houseplant.
Read the Flowers That Start With B here
5. Jewelweed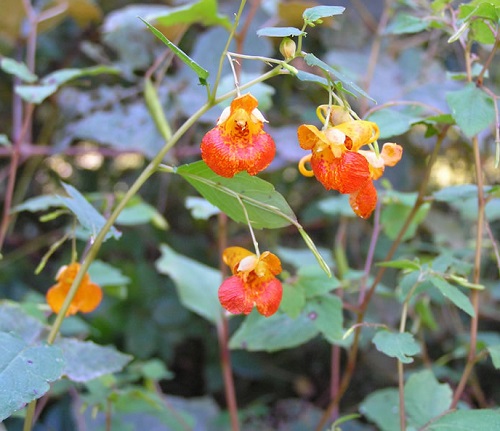 Botanical Name: Impatiens capensis
Also called Touch-Me-Not, jewelweed boasts vibrant orange or yellow trumpet-shaped blossoms. It's a native wildflower that thrives in moist, shaded areas.
6. Joe Pye Weed
Botanical Name: Eutrochium spp.
With clusters of fluffy pink or purple blooms, Joe pye weed is a favorite among pollinators. It's a robust, tall perennial that thrives in moist soil.
7. Johnny Jump Up
Botanical Name: Viola tricolor
These beautiful flowers that start with J feature purple, yellow, and white petals. The viola tricolor blooms profusely and self-seed easily, making them a charming addition to the garden.
8. Jonquil
Botanical Name: Narcissus jonquilla
Jonquil is a perennial bulbous herb that offers fragrant golden-yellow flowers. This drought-tolerant plant blooms in mid-spring. It's pest and disease-free because of its poisonous alkaloid content.
9. Jumpseed
Botanical Name: Persicaria virginiana
Jumpseed offers small white or pale pink blooms arranged in slender, upright spikes. It's well-suited for woodland gardens and naturalized areas.
Explore the List of Flowers That Start With C here
10. Jungle Geranium
Botanical Name: Ixora coccinea
Jungle geranium offers compact clusters of tubular flowers in shades of red or orange. This tropical shrub is common in hedges or as a potted specimen.
11. Jacobinia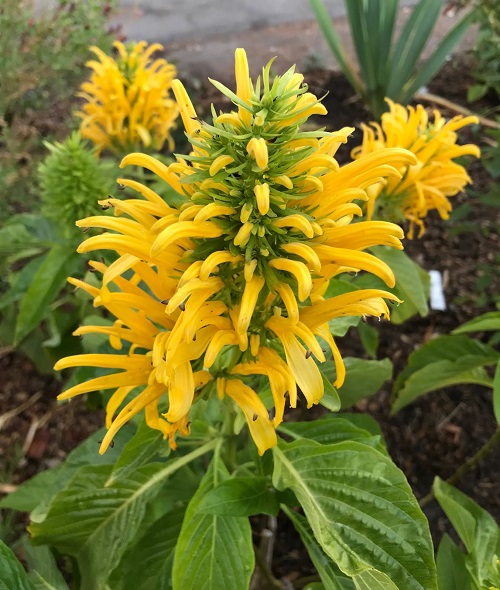 Botanical Name: Justicia carnea
Showcasing flower clusters in red, yellow, orange, apricot, or white, jacobinia is a perennial well-suited for shaded areas. Its dark green foliage and striking blooms make this plant an attractive addition to woodland gardens.
12. Jupiter's Beard
Botanical Name: Centranthus ruber
Adorned with clusters of tiny, star-shaped flowers in shades of pink, red, or white, Jupiter's beard is a drought-tolerant perennial. It's a favorite of butterflies and bees, thus a notable addition among the plants that start with J.
13. Japanese Toad Lily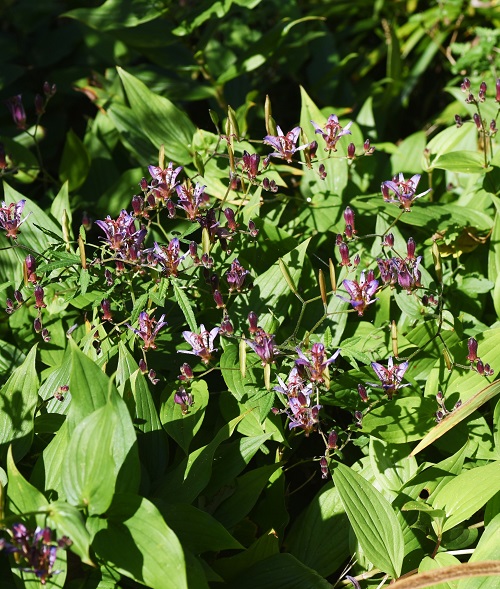 Botanical Name: Tricyrtis hirta
Renowned for its unique, orchid-like flowers, the Japanese Toad Lily blooms in late summer to early autumn. It prefers moist, well-drained potting medium and partial to full shade for prolific growth.
Discover the List of Flowers That Start With D here
14. Japanese Honeysuckle
Botanical Name: Lonicera japonica
Highlighted by fragrant, tubular white or yellow flowers, this fast-growing vine is a popular ground and trellis plant. However, it can be invasive in some regions.
15. Jacaranda
Botanical Name: Jacaranda mimosifolia
Gardeners admire jacaranda trees for their purple-blue blossoms, which create a stunning canopy when in full bloom. These trees thrive in warm, tropical climates.
16. Jack-in-the-Pulpit
Botanical Name: Arisaema triphyllum
This woodland plant is popular for its hooded spathe and spadix structure, resembling a clergyman's pulpit. It's a fascinating native wildflower for gardeners and plant enthusiasts.
17. Jacob's Ladder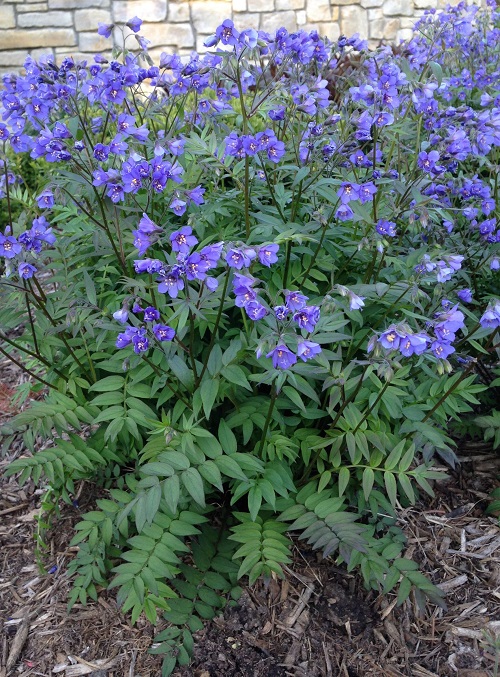 Botanical Name: Polemonium caeruleum
Jacob's ladder features delicate purple or blue blooms. Its oval leaflets are arranged on stems like the rungs of a ladder, hence the name. This striking perennial enjoys partial shade and moist, well-drained potting mix.
18. Jade Vine
Botanical Name: Strongylodon macrobotrys
The jade vine stands out with its mesmerizing turquoise-blue flowers. It's a rare tropical vine that requires a warm, humid environment to thrive.
Read the Best Flowers That Start With E here
19. Japanese Stewartia
Botanical Name: Stewartia pseudocamellia
Known for its stunning, camellia-like white flowers, this deciduous tree boasts spectacular autumn foliage. It's a versatile choice for creating a focal point in your garden.
20. Japanese Anemone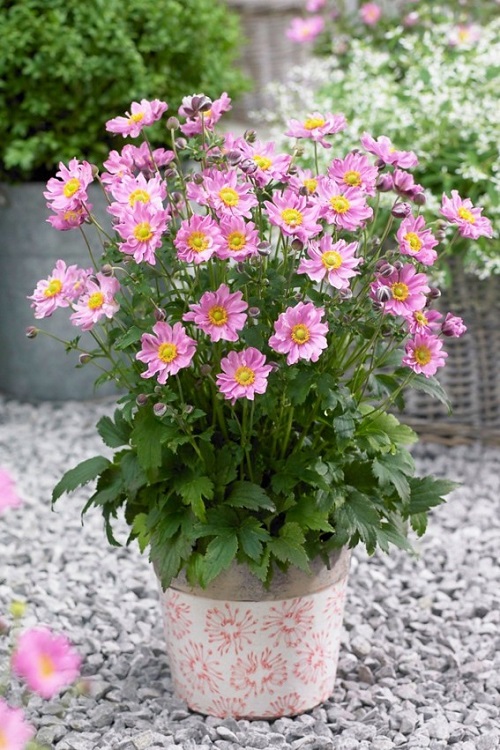 Botanical Name: Anemone hupehensis
Anemone hupehensis produces flowers in shades of pink or white. They bloom in late summer and early fall, providing late-season color.
21. Japanese Cobra Lily
Botanical Name: Arisaema sikokianum
This fascinating plant features a hooded spathe and a long, slender spadix resembling a cobra. Grow this plant to make your garden stand out in the neighborhood.
22. Japanese Pachysandra
Botanical Name:  Pachysandra terminalis
A popular ground cover, Japanese Pachysandra bears evergreen foliage and small, white, fragrant flowers. It's excellent for shady areas of your home.
Find Out the Flowers That Start With E here
23. Jerusalem Thorn
Botanical Name: Parkinsonia aculeata
Jerusalem thorn is a drought-tolerant shrub or small tree with yellow, fragrant blossoms. Its airy foliage and resistance to harsh conditions make it a favorite in arid landscapes.
24. Jasmine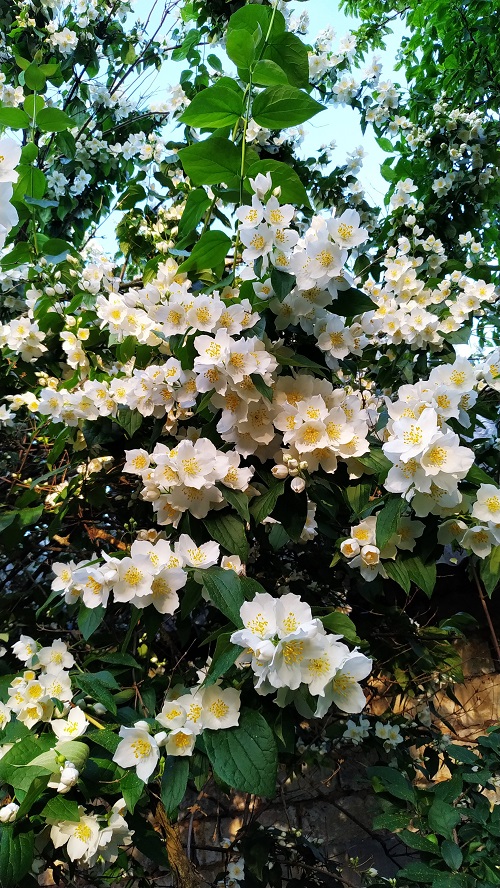 Botanical Name: Jasminum spp.
Jasmine is renowned for its fragrant white or yellow blossoms. It's a versatile vine or shrub that can be grown indoors and outdoors, depending on the species. Thus, an excellent botanical specimen in the list of flowers that start with J.
25. Japanese Iris
Botanical Name: Iris ensata
Japanese Iris offers striking, large flowers in various colors, including shades of purple, blue, and white. They thrive in moist, boggy soil.
26. Japanese Kerria
Botanical Name: Kerria japonica
With bright yellow, rose-like flowers, Japanese kerria adds a pop of color to spring gardens. It's a low-maintenance plant that's easy to grow in any garden.
Find Out the Flowers That Start With F here
27. Jasmine Tobacco
Botanical Name: Nicotiana alata
Jasmine tobacco is popular for its long, tubular white flowers. Ideal for a moon garden, this annual can reach up to 5 feet tall.
28. Java Tea
Botanical Name: Orthosiphon aristatus
This herbaceous perennial produces lavender or white tubular blooms. Beyond its aesthetic appeal, this plant is used in herbal teas.
29. Juniper-Leaved Grevillea
Botanical Name: Grevillea juniperina
Native to Australia, this evergreen shrub produces spiky, red or orange flowers. It's a low-maintenance plant perfect for sandy or rocky soils. Furthermore, this shrub is highly attractive to birds.
Read the Flowers That Start With G here