Elevate your garden aesthetics with these stunning Flowers That Start with L. Learn about them in this informative guide!
Are you tired of the same old roses and daisies in your garden? Consider exploring this list of Flowers That Start with the letter L. These blooms can bring aesthetic value and charm to your green space.
Read the Flowers That Start With A here
---
Flowers That Start With L
1. Large Fothergilla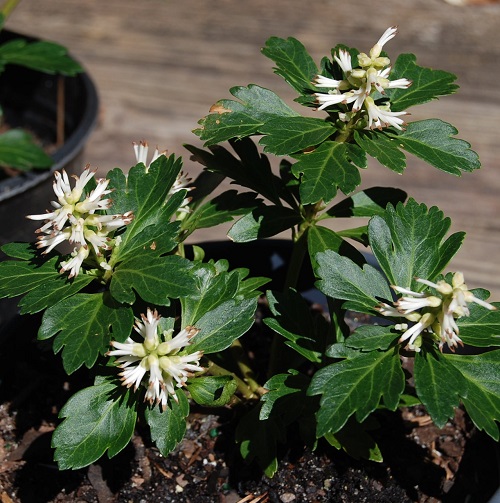 Botanical Name: Fothergilla major
The large fothergilla, known for its fragrant white bottlebrush-like blooms, graces gardens in spring. Its leaves, resembling the oak tree, turn vibrant shades of red and orange in the fall.
2. Large Yellow Foxglove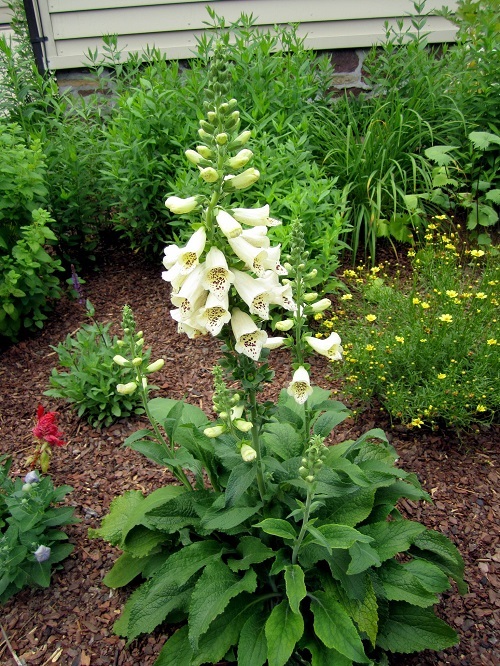 Botanical Name: Digitalis grandiflora
The large yellow foxglove boasts stunning, tubular, pale-yellow blossoms and fine-teethed lance-shaped foliage. This perennial delights with its elegant spires of flowers in mid-to-late summer.
3. Larkspur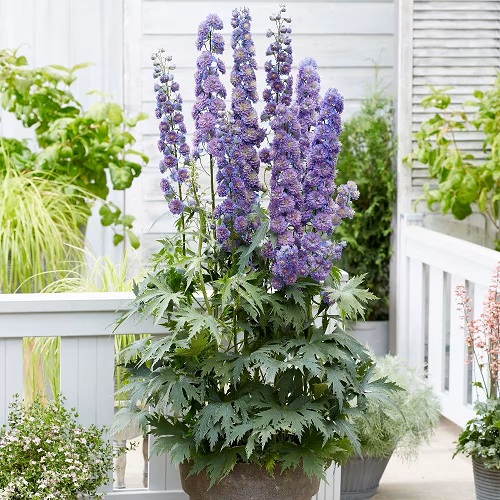 Botanical Name: Delphinium spp.
Larkspur, a garden classic, presents tall spikes of vibrant, spurred blue flowers that start with L. A favorite in cottage gardens, this flowering plant is found on hillsides and meadows.
4. Lavandin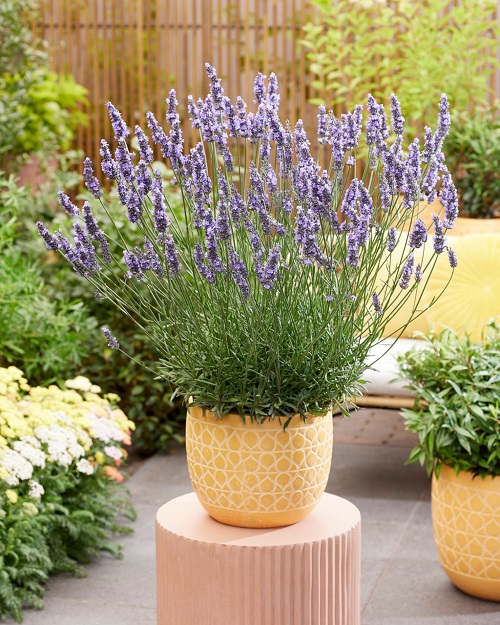 Botanical Name: Lavandula x intermedia
Lavandin features aromatic lavender-purple spikes in summer. Its leaves, petals, and flowering tips are popular ingredients in stews, soups, and salads.
5. Lavatera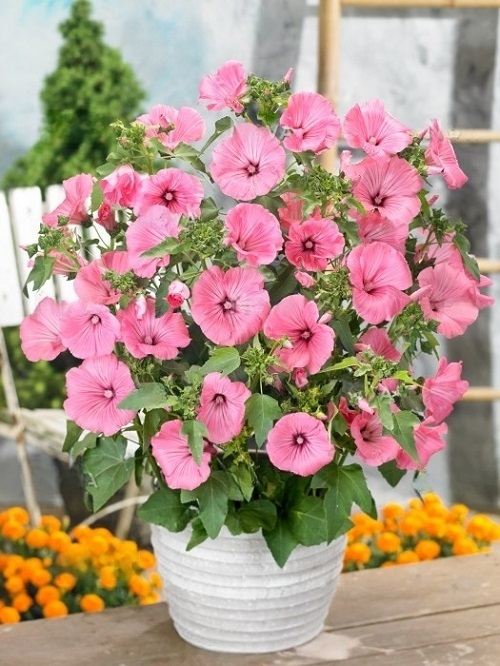 Botanical Name: Lavatera spp.
Lavatera, or Tree Mallow, flaunts vibrant, cup-shaped flowers in shades of pink, white, and purple. It's a hardy annual, perfect for attracting pollinators.
Check Out the Flowers That Start With B here
6. Lady's Bedstraw
Botanical Name: Galium verum
Lady's bedstraw is a perennial herb of meadows, pastures, and coastal areas. It features tiny yellow flowers starting with L and slender, whorled leaves. This plant also has a sweet, hay-like scent.
7. Lavender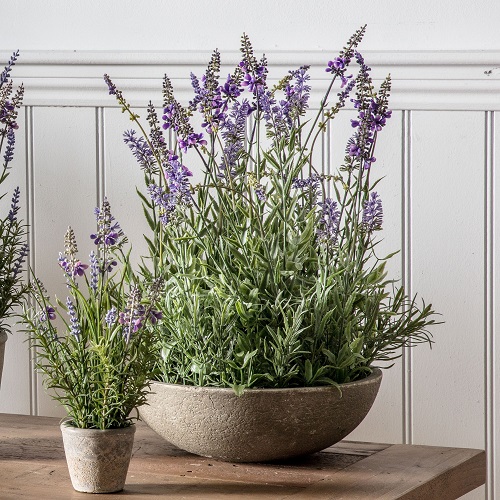 Botanical Name: Lavandula
Lavender, known for its fragrant lavender-purple spikes, is a beloved herb in gardens and aromatherapy. It thrives in well-drained potting medium and sunny spots.
8. Loquat
Botanical Name: Eriobotrya japonica
Loquat is a fruit-bearing tree with small, fragrant white flowers that start with L. Native to China but widely cultivated in many parts of the world, it's well-suited for subtropical climates. This drought-tolerant tree prefers well-drained soil.
9. Lemon Balm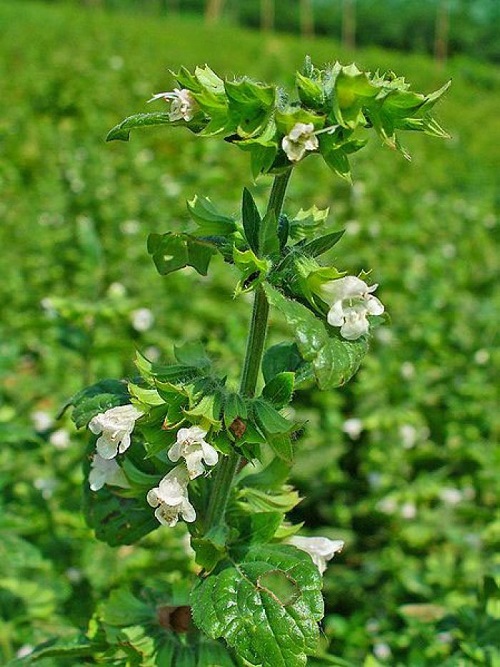 Botanical Name: Melissa officinalis
Lemon balm offers lemon-scented, heart-shaped leaves and tiny white flowers. It's a versatile herb used in teas, culinary dishes, and aromatherapy.
Explore the List of Flowers That Start With C here
10. Lemon Thyme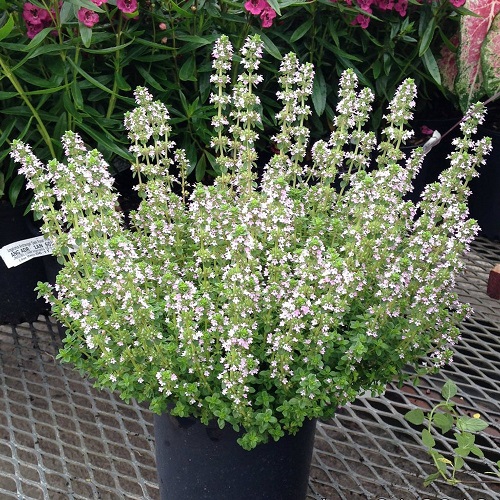 Botanical Name: Thymus citriodorus
Lemon thyme boasts pink tubular flowers and aromatic foliage. With a height of 6-12 inches, this drought-tolerant herb is great for culinary and ornamental purposes.
11. Leontopodium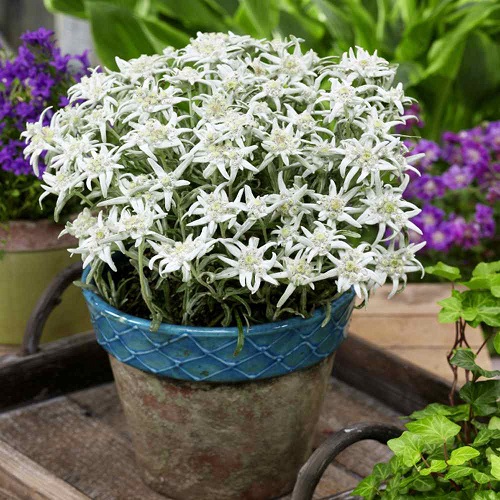 Botanical Name: Leontopodium spp
Leontopodium, known as Edelweiss, is a perennial plant native to Europe and Asia. Known for its woolly, star-shaped white flowers, this plant thrives in rocky, limestone environments.
12. Leopard Plant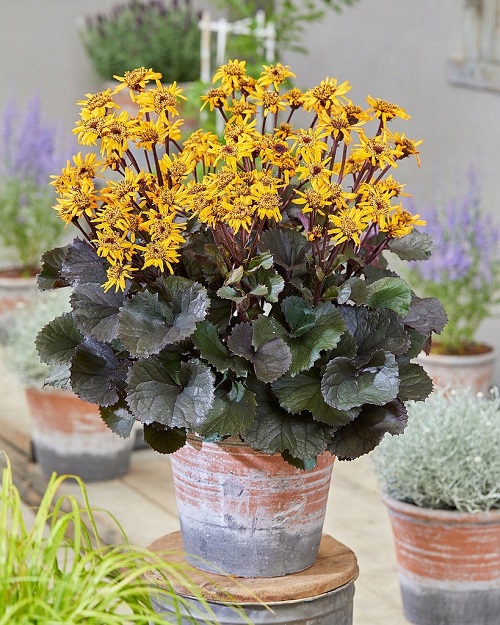 Botanical Name: Ligularia
The leopard plant's bold, textured leaves contrast beautifully with its tall spikes of yellow, daisy-like flowers that start with L. It does best in moist, shaded areas.
13. Leopard's Bane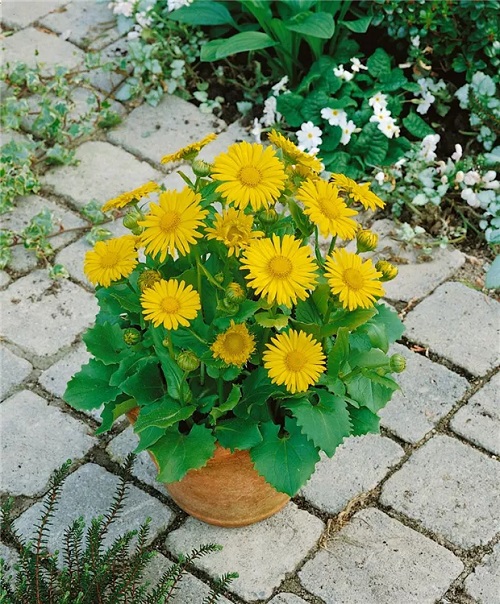 Botanical Name: Doronicum
Leopard's bane brightens gardens with cheery, yellow, daisy-like blooms. It's a perennial that adds a touch of sunshine to shaded spots.
14. Leucadendron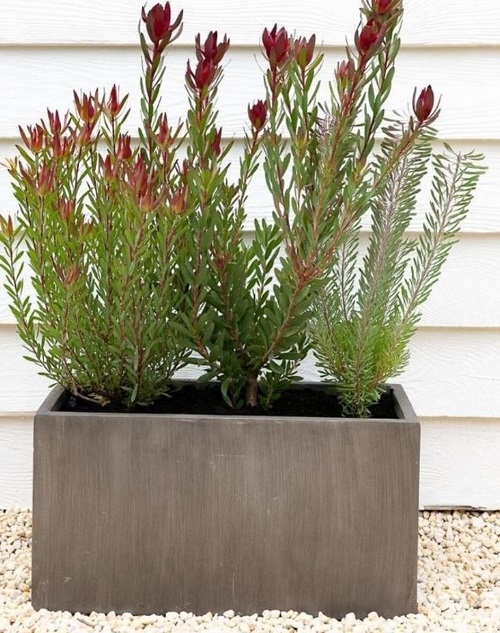 Botanical Name: Leucadendron spp.
Endemic to South Africa, leucadendron showcases colorful bracts that resemble flowers. Available in various hues, its flowers are prized for floral arrangements.
15. Leucojum
Botanical Name: Leucojum spp.
Leucojum, or snowflakes, is a genus of bulbous plants featuring dainty white, nodding bell-shaped flowers that start with L. Plants in this genus love moist, well-drained potting mix and full sun to partial shade for best growth.
Discover the List of Flowers That Start With D here
16. Lewisia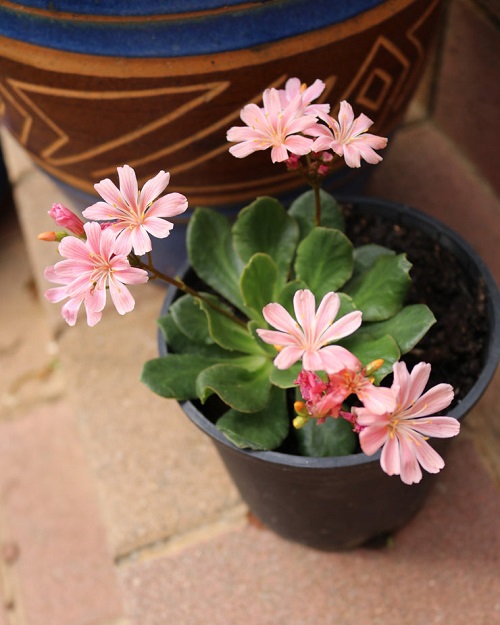 Botanical Name: Lewisia spp.
Lewisia, or Bitterroot, boasts vibrant, star-shaped flowers in shades of pink, red, and white. It's a hardy perennial ideal for rock gardens.
17. Liatris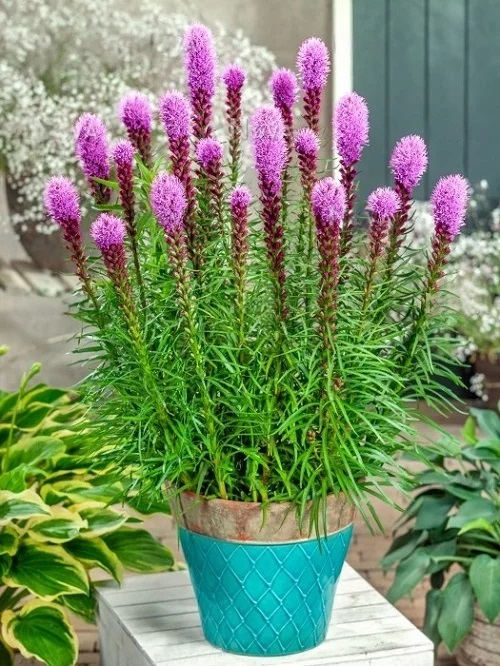 Botanical Name: Liatris spp.
Liatris, or Blazing Star, stands tall with spikes of fluffy, purple flowers. It attracts butterflies and bees in the late summer garden.
18. Licorice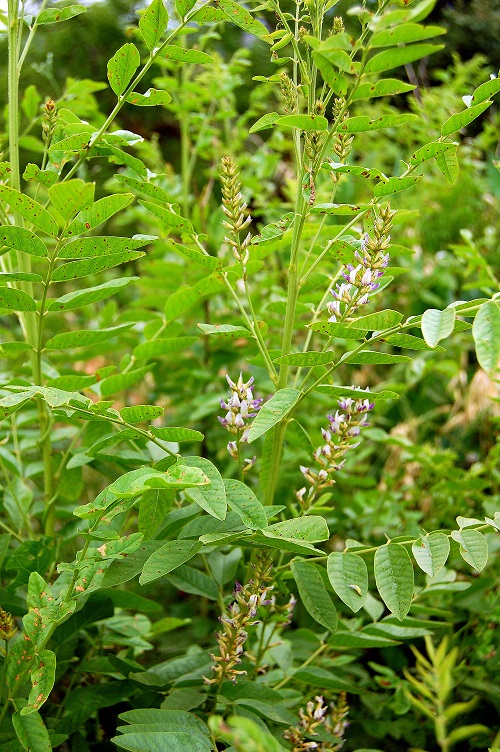 Botanical Name: Glycyrrhiza glabra
Licorice's silver-gray foliage and purple-to-pale, whitish-blue flowers are a sight to behold. Its roots have been used for their sweet flavor and medicinal properties.
19. Lilac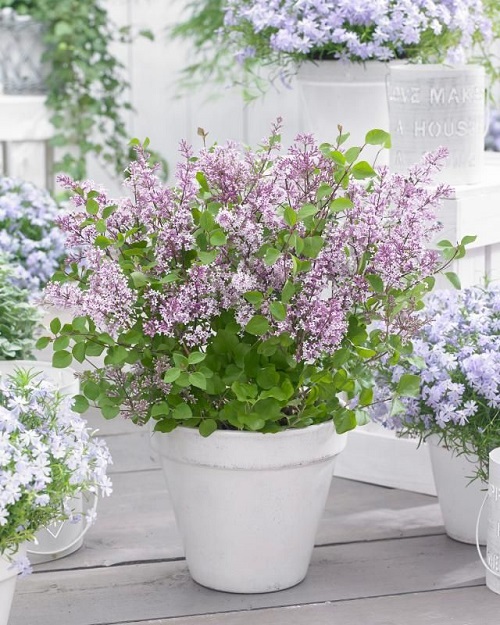 Botanical Name: Syringa spp.
Native to Asia and southeastern Europe, lilac is admired for its fragrant clusters of purple flowers beginning with L. Its blooms attract bees, butterflies, and hummingbirds to the garden.
20. Lily
Botanical Name: Lilium spp.
Lilies, available in numerous varieties, captivates with their large, trumpet-shaped blossoms. They bloom in summer in a kaleidoscope of colors.
Read the Best Flowers That Start With E here
21. Lily of the Valley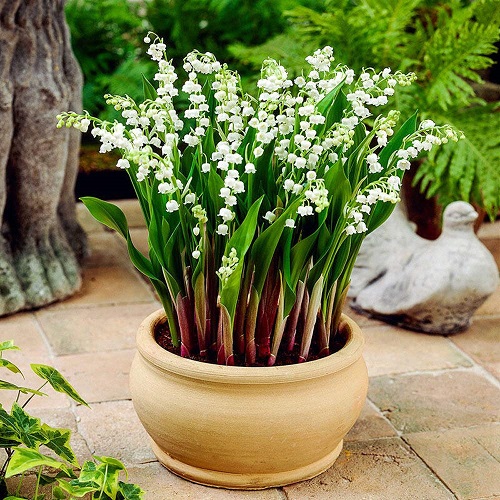 Botanical Name: Convallaria majalis
Lily of the Valley, with dainty, bell-shaped white flowers, is prized for its sweet fragrance. This perennial flowering ground cover thrives in shaded woodland gardens.
22. Leopard Lily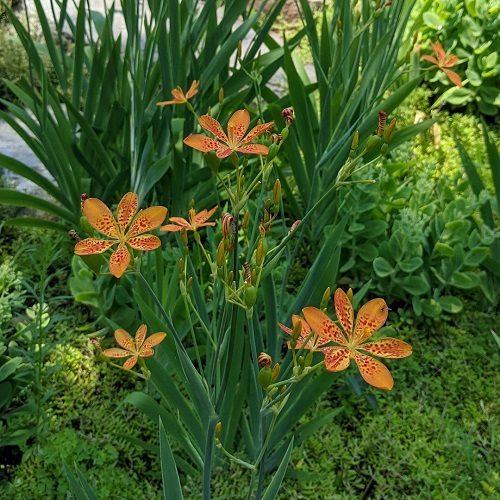 Botanical Name: Lilium pardalinum
Leopard lily boasts striking red-orange blossoms covered with dark spots. This perennial prefers damp, well-drained soil and partial shade.
23. London Pride
Botanical Name: Saxifraga × urbium
London pride is a perennial ground cover with rosettes of fleshy leaves and tiny, star-shaped pinkish-white flowers. It's a popular choice for rock gardens or woodland settings.
24. Lindheimer's Beeblossom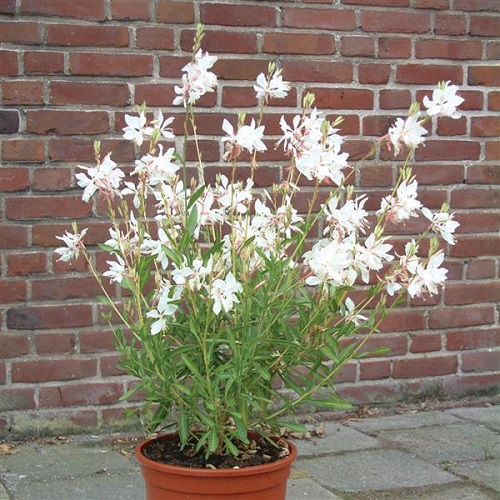 Botanical Name: Gaura lindheimeri
Lindheimer's beeblossom captivates with its airy, butterfly-like pink or white flowers that begin with L on tall, slender stems. It's a drought-tolerant perennial that lures pollinators.
25. Lisianthus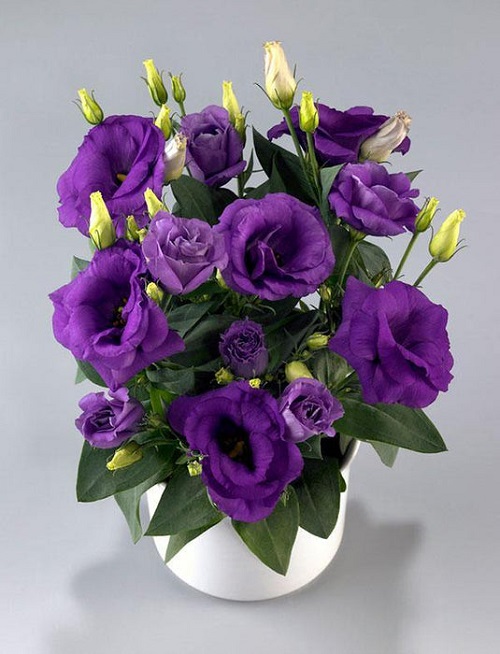 Botanical Name: Eustoma grandiflorum
Lisianthus, also known as Prairie Gentian, boasts rose-like, double-petaled blooms in shades of pink, purple, and white. It's a popular choice for cut flower arrangements.
Find Out the Flowers That Start With E here
26. Labrador Tea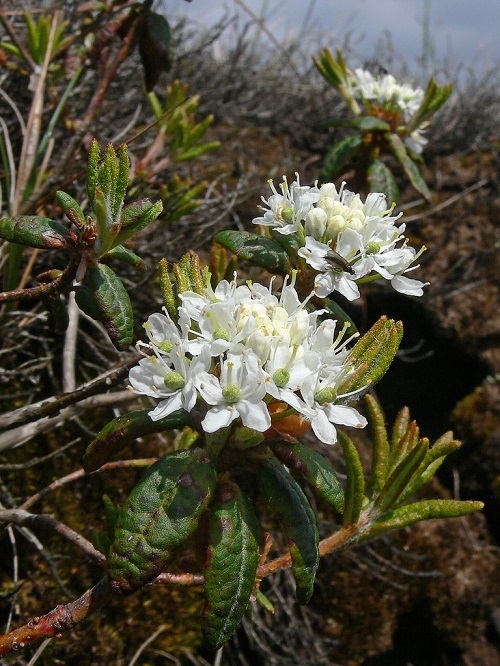 Botanical Name: Rhododendron groenlandicum
Labrador tea, native to the tundra and boreal forests, has clusters of small, white flowers that start with L. Besides attractive blooms, this evergreen plant offers leathery leaves as well. It prefers acidic, well-drained soil and partial shade.
27. Lobelia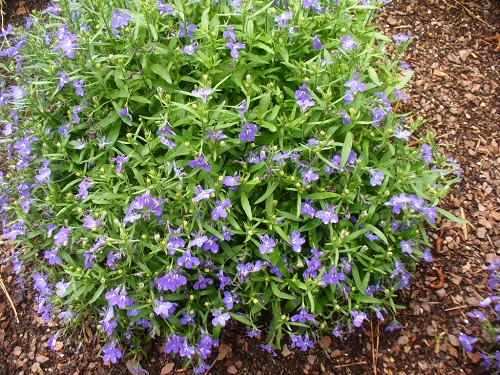 Botanical Name: Lobelia erinus
Lobelia's vibrant spikes of tubular flowers come in shades of white, scarlet, or blue. This annual or perennial adds a burst of color to gardens and containers. However, all parts of this plant are toxic when ingested in large quantities.
28. Lithodora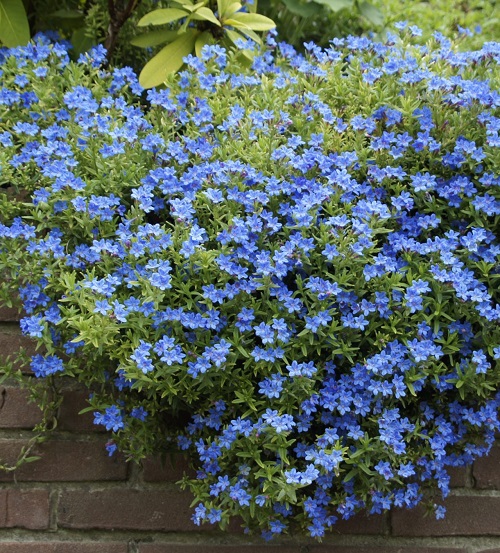 Botanical Name: Lithodora diffusa
Lithodora boasts bright blue, star-shaped flowers in late spring. Its blooms are used to add a pop of color to rock gardens. Give this evergreen ground cover an acidic, well-drained potting mix for prolific growth.
29. Loosestrife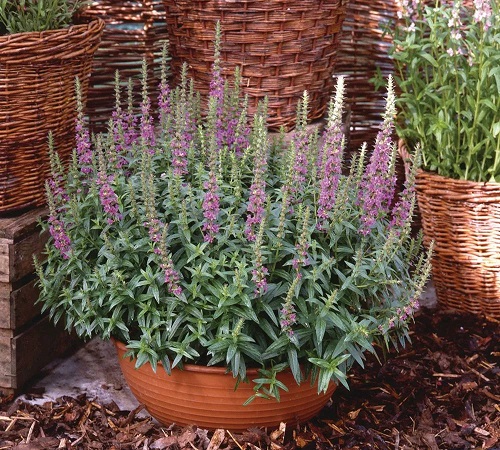 Botanical Name: Lythrum spp.
Loosestrife displays tall spikes of magenta, purple, or pink flowers that start with an L. While some varieties are invasive, others are cultivated for their ornamental beauty.
30. Lotus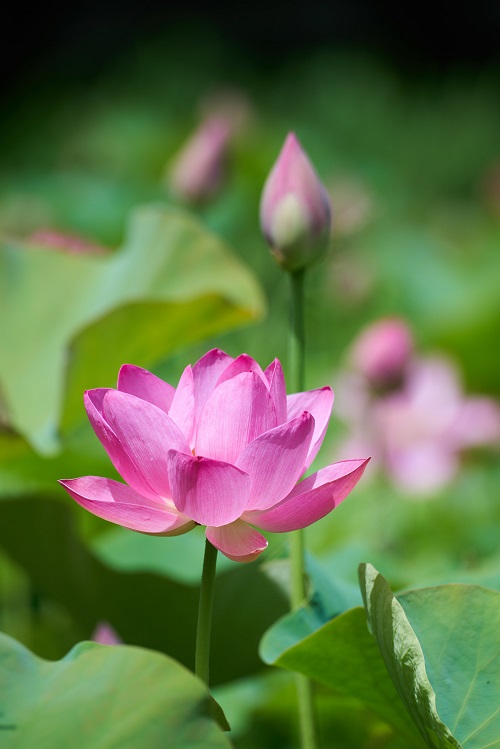 Botanical Name: Nelumbo nucifera
Lotus is an aquatic plant with pink blooms, a golden yellow receptacle, and yellow stamens. Native to Eastern Asia, this plant can grow up to 6 feet from the water's surface.
Find Out the Flowers That Start With F here
31. Love-in-a-Mist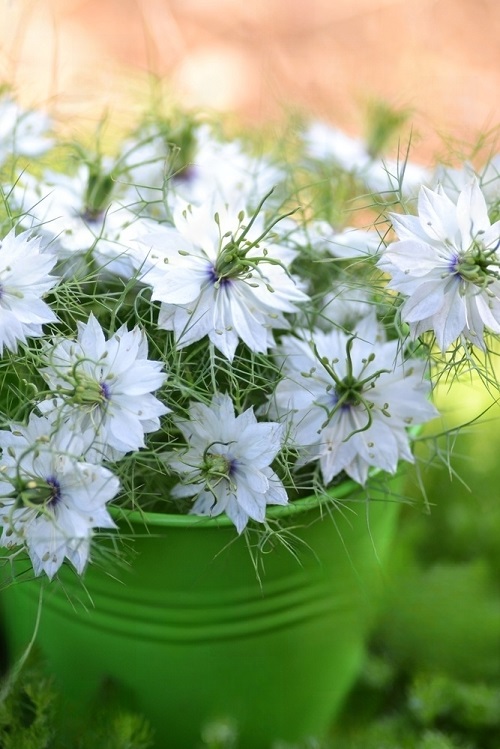 Botanical Name: Nigella damascena
Love-in-a-Mist's feathery sports eye-catching blue, pink, or white flowers that start with L. It's a self-seeding annual that adds allure to cottage gardens.
32. Love Lies Bleeding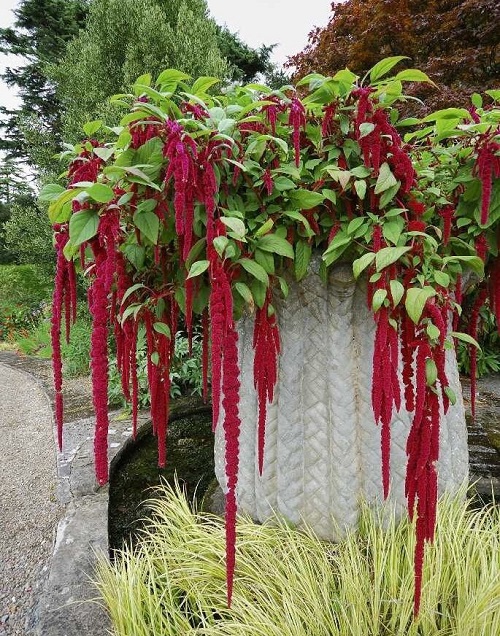 Botanical Name: Amaranthus caudatus
Love Lies Bleeding showcases long, cascading tassels of deep red or purple flowers. This annual plant is known for its dramatic appearance.
33. Lunaria
Botanical Name: Lunaria annua
Lunaria is a herbaceous biennial with pink, white, or purple flowers starting with letter L. It also features showy, flat, papery fruits. This flowering plant adds interest to gardens, especially in the fall.
34. Lungwort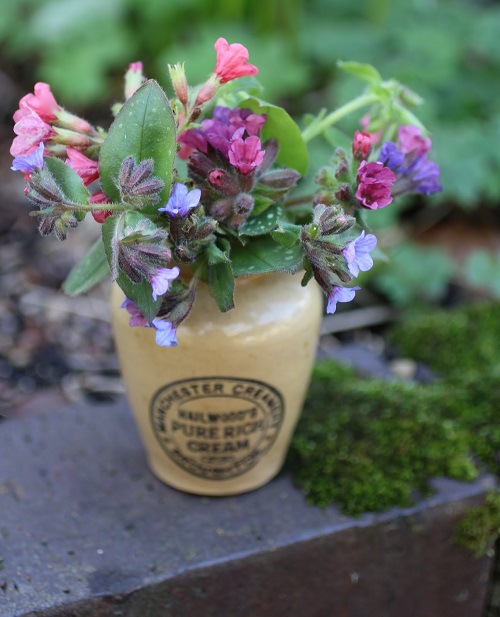 Botanical Name: Pulmonaria officinalis
Lungwort's speckled foliage creates a beautiful backdrop for its flowers, which turn pink to blue as they age. It's a shade-loving perennial groundcover of the Boraginaceae family.
35. Lupine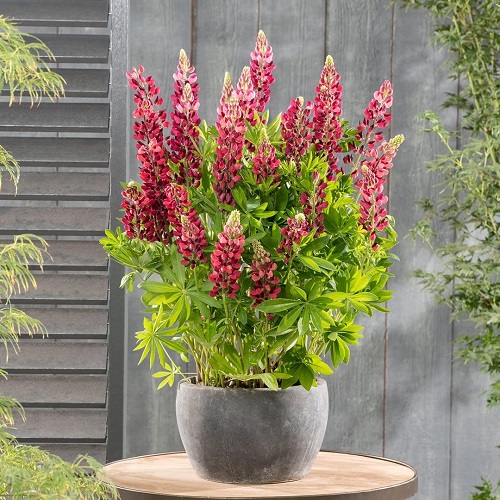 Botanical Name: Lupinus spp.
Lupine produces spiky clusters of pea-like flowers in a wide range of colors. It's a favorite in wildflower meadows and cottage-style gardens.
Read the Flowers That Start With G here
36. Lamb's Ear
Botanical Name: Stachys byzantina
Lamb's ear offers soft, fuzzy, silver-gray leaves and spikes of lavender-colored blooms in late spring. It is a low-maintenance perennial, ideal for borders and gardens due to its tactile leaves.
37. Leatherleaf Mahonia
Botanical Name: Mahonia bealei
The leatherleaf mahonia is an evergreen shrub with spiky, holly-like leaves and yellow, fragrant flowers. Often used as an ornamental specimen, it grows well in partial to full shade spaces.
38. Leeks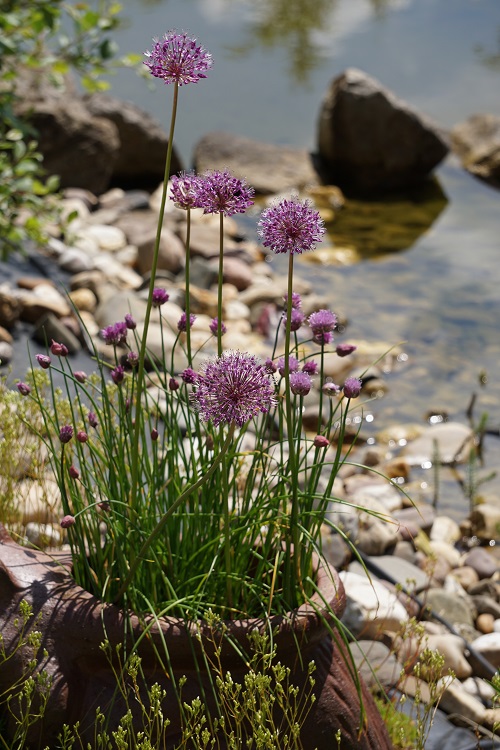 Botanical Name: Allium ampeloprasum
The Leek Flower, also known as the flowering leek, offers unique globe-like clusters of purple flowers. A member of the Allium family, it is as ornamental as it is culinary and grows well in full sun.
39. Lysimachia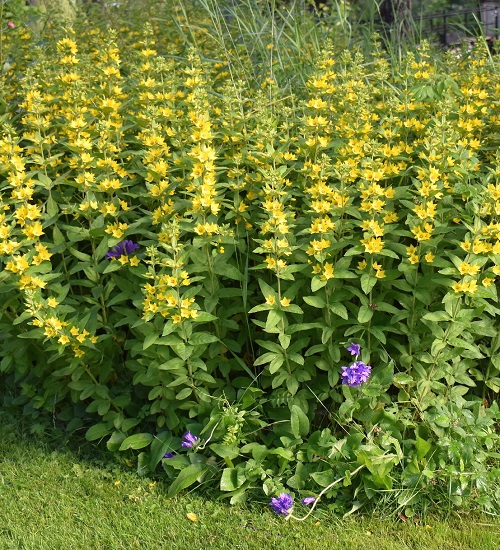 Botanical Name: Lysimachia spp.
Lysimachia, also known as Loosestrife, features bright yellow, star-shaped flowers on creeping stems. It's a ground cover that can add a cheerful touch to any landscape.
40. Lilyturf
Botanical Name: Liriope spp.
Lilyturf, with its grass-like foliage and spikes of purple or white flowers, provides year-round interest in gardens. It's a low-maintenance, clump-forming perennial that loves acidic to neutral, well-drained soil.
41. Lenton Rose
Botanical Name: Helleborus orientalis
Lenton rose is a winter-blooming perennial that offers rose-like flowers in shades ranging from white to purple. Resilient and shade-tolerant, it's a popular choice for woodland gardens and shaded borders.
42. Lance-Leaved Coreopsis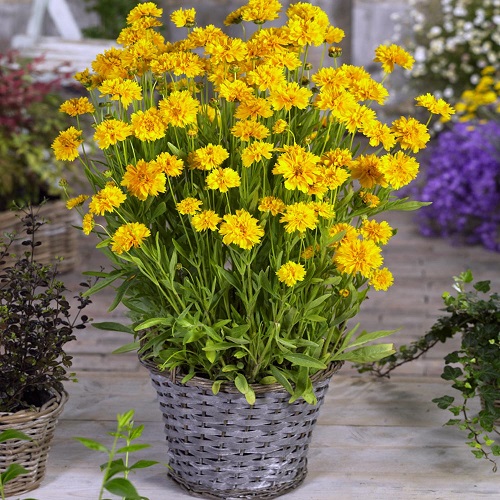 Botanical Name: Coreopsis lanceolata
Lance-leaved coreopsis features cheerful yellow, daisy-like flowers with slender lance-shaped leaves. It's a North American native and a favorite in wildflower gardens.
43. Lantana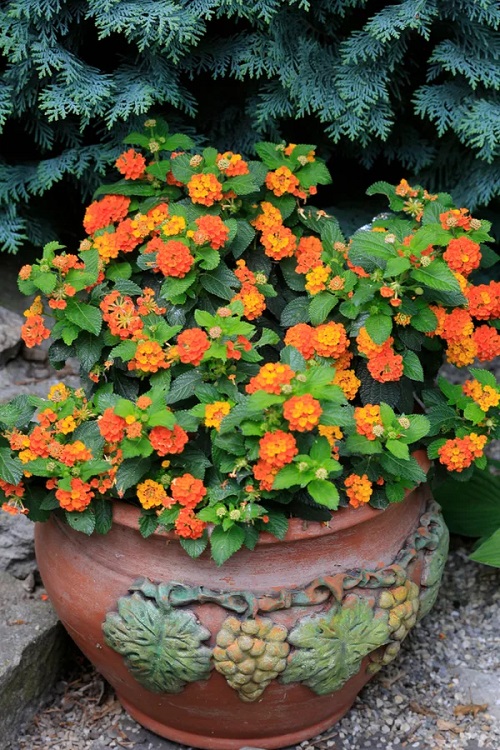 Botanical Name: Lantana camara
Lantana, with its clusters of small, tubular flowers that start with L. It's a popular choice of gardening enthusiasts for butterfly gardens.
Explore the Flowers That Start With H here
44. Ladybells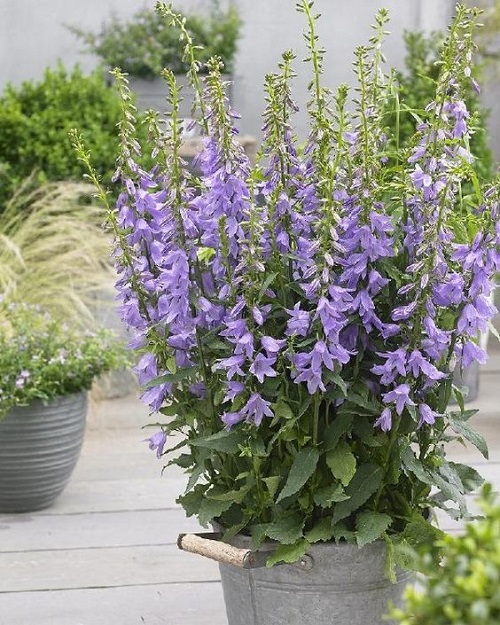 Botanical Name: Adenophora spp.
Ladybells, with their nodding, bell-shaped blue blooms, add elegance to shaded areas. Its flowers that start with L are cherished for their graceful appearance.
45. Lady Finger Cactus
Botanical Name: Mammillaria elongata
Lady finger cactus, named for its slender, cylindrical stems, produces vibrant pink or red flowers. It's a resilient cactus suitable for arid gardens.
46. Lady's Mantle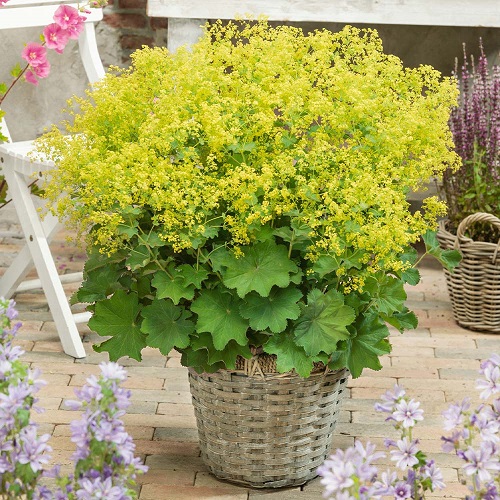 Botanical Name: Alchemilla spp.
Lady's mantle presents clusters of chartreuse, frothy flowers above intricately lobed foliage. This flowering plant is known for its dew-catching leaves.
47. Lady's Slipper Orchid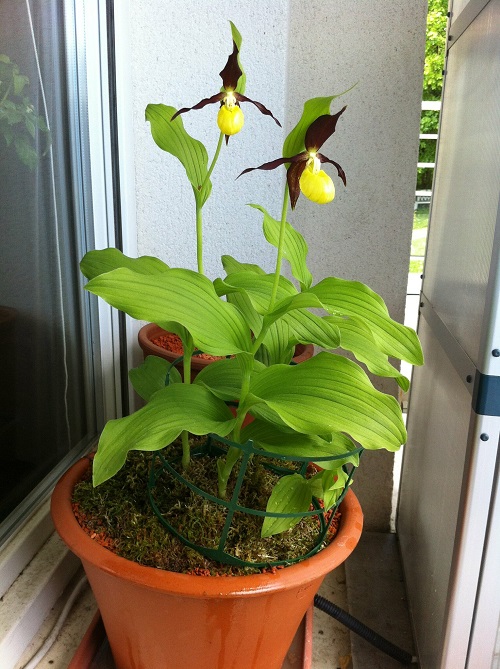 Botanical Name: Cypripedium spp.
Lady's slipper orchid is adored for its intricate, pouch-shaped blooms. Gardeners admire this orchid variety for its quirky appearance.
48. Laurustine
Botanical Name: Viburnum tinus
Indigenous to the Mediterranean areas of Europe and Africa, laurustine beautifies gardens with clusters of tiny white flowers. This drought-tolerant variety also offers dark green foliage.
Discover the Flowers That Start With J here