Looking to add a pop of blue to your landscape? Explore these Ground Cover with Blue Flowers that offer lush foliage and vibrant blooms!
Searching for a vibrant, low-maintenance addition to your garden? Look no further than Ground Cover with Blue Flowers. These plants can jazz up any outdoor space while tackling common gardening challenges like weeds and soil erosion. Read on to find out which varieties would best suit your needs.
Check Out This List of Purple Hibiscus Flowers
---
Ground Cover with Blue Flowers
1. Bugleweed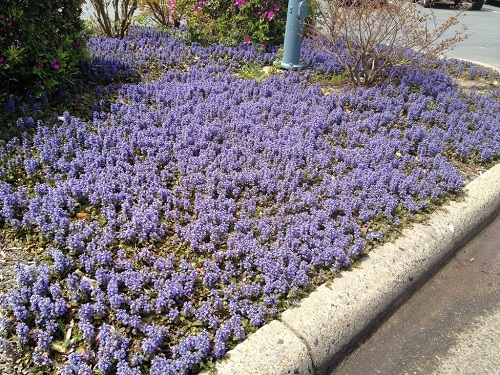 Botanical Name: Ajuga Reptans
Bugleweed is a hardy ground cover that fills empty spaces with small blue-violet flowers in the spring. Its leaves come in various colors, including purple and bronze. Ideal for growing in USDA zones 3-10, this plant admires partial and full shade.
2. Grace Ward Lithodora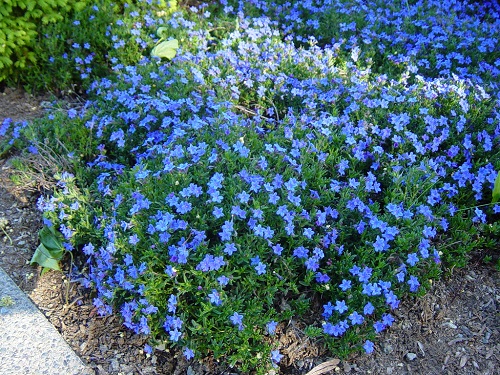 Botanical Name: Lithodora diffusa 'Grace Ward'
Grace ward lithodora is a low-growing, evergreen ground cover with vibrant blue flowers and dark green, lance-shaped leaves. This perennial is well-suited for rock gardens, slopes, and border edges. It thrives in well-drained, acidic soil and prefers full sun to partial shade. 'Grace Ward' blooms in summer, offering a striking contrast against its foliage.
3. Periwinkle
Botanical Name: Vinca Minor
Vinca Minor or Periwinkle features evergreen leaves and small blue flowers in spring. This low-maintenance ground cover is best suited for USDA zones 4-8. Be cautious, as it can become invasive if not regularly managed.
4. Siberian Bugloss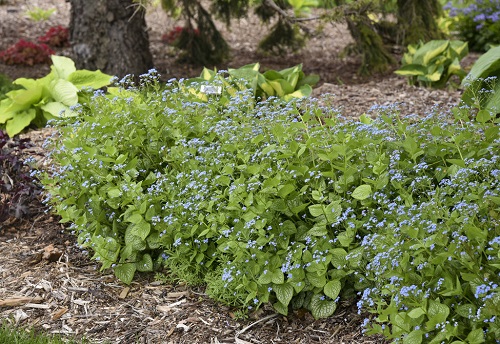 Botanical Name: Brunnera Macrophylla
Siberian Bugloss is a perennial plant prized for its vibrant foliage and delicate blue flowers. This plant offers heart-shaped leaves with striking silver variegation. Brunnera macrophylla is ideal for woodland gardens, shaded borders, and container planting. It thrives in moist, well-drained soil and partial to full shade conditions.
5.  Dalmatian Bellflower
Botanical Name: Campanula Portenschlagiana
Campanula Portenschlagiana is a low-growing perennial ideal for ground cover or cascading over walls and pots. The plant features small, rounded leaves and striking bell-shaped, blue flowers from late spring to early fall. This hardy plant enjoys well-drained soil and full sun to partial shade.
6. Creeping Mazus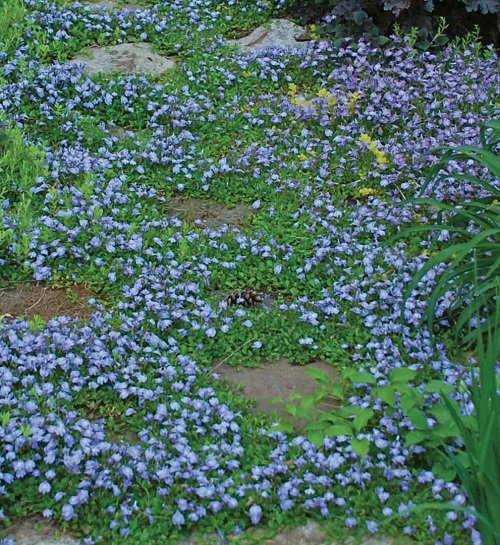 Botanical Name: Mazus Reptans
Creeping Mazus is a low-growing, perennial ground cover plant native to the Himalayas. Reaching a height of just 2 inches, this plant produces vibrant purple-blue tubular flowers from mid-spring through early summer. The bright green foliage creates a dense mat, ideal for rock gardens, borders, or pathways. Mazus reptans grow rapidly in well-drained, moist soil and full sun exposure.
7. Leadwort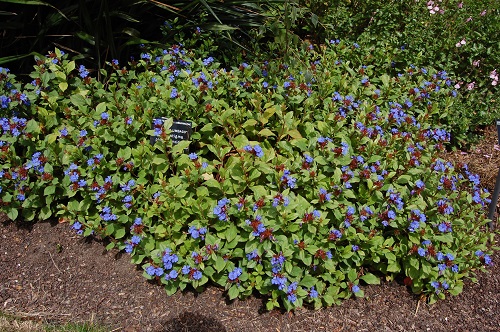 Botanical Name: Ceratostigma plumbaginoides
Leadwort is a low-growing herbaceous perennial ground cover with vibrant blue flowers and bronze-red fall foliage. A native of China, this hardy plant thrives in USDA zones 5-9. It can reach a height of 6-8 inches and requires minimal maintenance. This ground cover is an excellent choice for rock gardens, borders, or slopes.
8. Fan Flower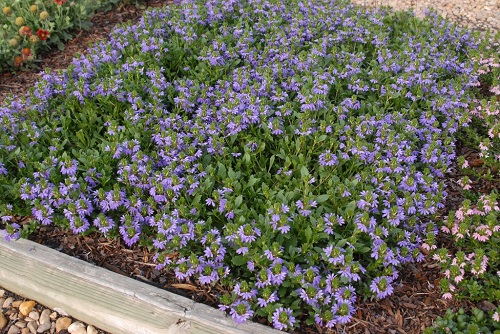 Botanical Name: Scaevola Aemula
Known for its fan-shaped dark blue flowers, this ground cover is native to the arid and semi-arid areas of Australia. The peculiar blooms make this plant a popular pick among gardeners and plant enthusiasts. In addition to its ornamental appeal, Scaevola Aemula is known for attracting beneficial insects like bees and butterflies.
9. Stemless Gentian
Botanical Name: Gentiana Acaulis
Gentiana acaulis is a low-growing alpine perennial endemic to central and southern Europe. It captivates with dark blue, trumpet-shaped blossoms from late spring to early summer. The evergreen leaves create a dense mat, providing year-round ground cover. Gentiana acaulis is a great choice for gardeners looking to add vibrant color and alpine charm to their landscapes.
10. Ground Ivy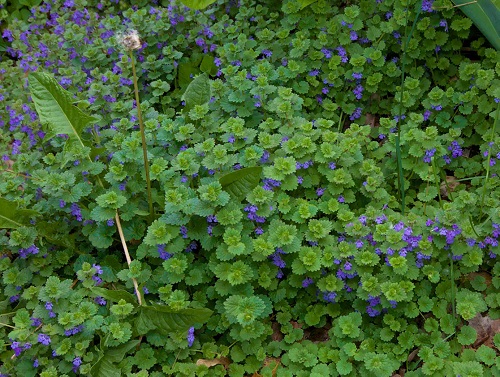 Botanical Name: Glechoma Hederacea
Indigenous to Eurasia, ground ivy, or creeping charlie, is an invasive perennial of the mint family. This ground cover produces scalloped leaves and tubular-shaped, blue-violet flowers in early spring and summer. It's a common sight on roadsides, lawns, shady spots, and thickets. Grow this plant in partial to full shade and moist, loamy soil for prolific blooms.
11. Speedwell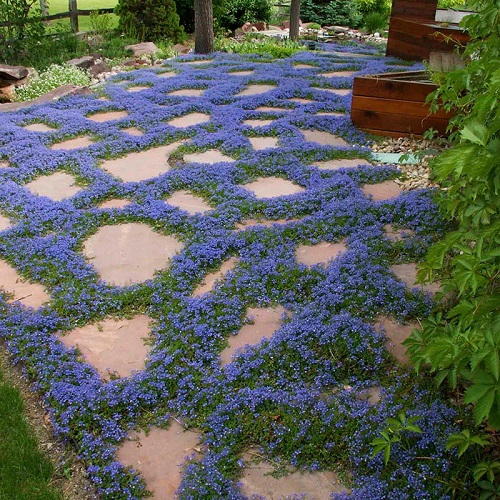 Botanical Name: Veronica Peduncularis
Speedwell, an evergreen perennial, boasting striking blue blooms and alternate leaves. This plant thrives in USDA Zones 5-9 and admires partial to full sun exposure. The creeping habit and quick-spreading nature make it an excellent choice for filling gaps in rock gardens, borders, or pathways. Among these ground cover with blue flowers, the speedwell stands out with its attractive appearance.
12. Blue-Eyed Mary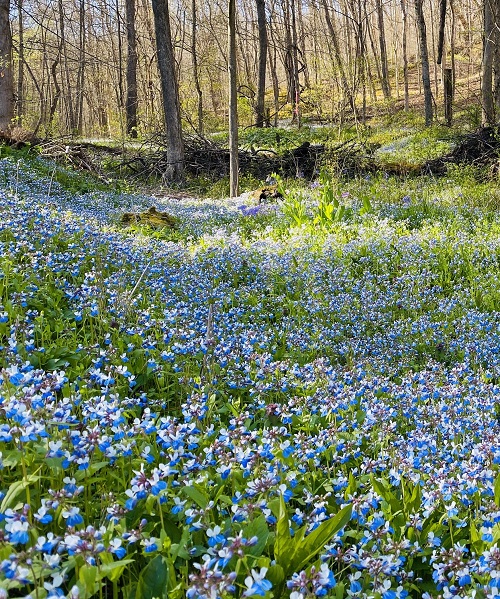 Botanical Name: Omphalodes Verna
Omphalodes Verna is a perennial ground cover that reaches a height of 4-6 inches and spreads about 2-3 ft. wide. It features oval, green leaves and showy blue flowers that bloom in early spring. Ideal for woodland settings or shaded gardens, Omphalodes Verna is easy to care for and fairly drought-tolerant.
13. Forget-Me-Not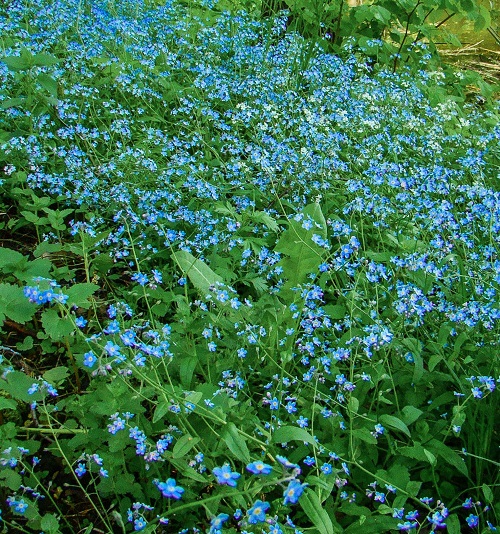 Botanical Name: Myosotis Sylvatica
Forget-Me-Not is a short-lived flowering ground cover native to Madeira and Temp. Eurasia. It adds visual interest to ornamental gardens with five-petaled blue flowers. Known for its hardiness, Myosotis Sylvatica is adaptable to various climatic conditions, including USDA zones 3-8. It attracts butterflies, hummingbirds, and other pollinators.
14. Ground Morning Glory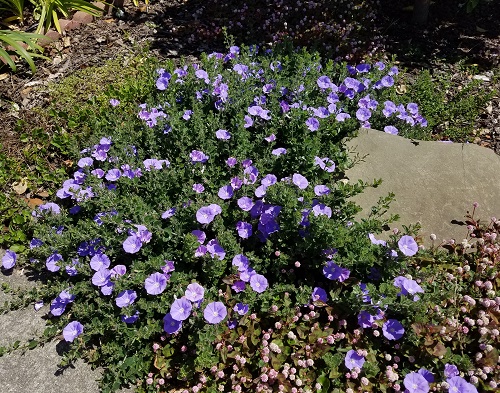 Botanical Name: Convolvulus Sabatius
Belongs to Southern Europe, Convolvulus sabatius is a woody perennial with small, lavender-blue flowers in spring and summer. This plant thrives in sandy or gravelly, well-drained soil and full to partial sun. Its low-maintenance nature makes it an ideal choice for ground cover or container gardening.
15. Blue Star Flower

Botanical Name: Isotoma axillaris
Blue star flower is a heat-loving perennial plant of Australia. It bears striking blue star-shaped flowers and elongated, pinnatisect leaves. This plant enjoys soil with good drainage and full sun to partial shade. It's a popular choice for gardeners looking for aesthetic appeal in their garden or yard.
16. Blue Daze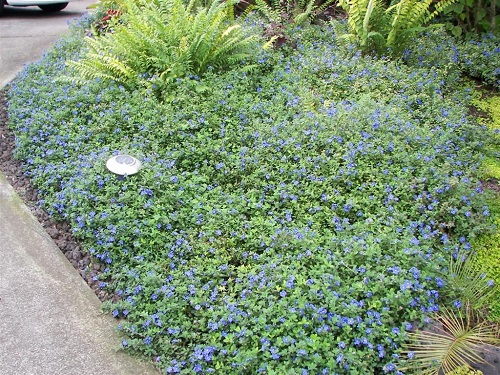 Botanical Name: Evolvulus Glomeratus
Evolvulus glomeratus is a low-growing, tender perennial plant native to South America. It captivates with small, ovate leaves and blue flowers that bloom from late spring through summer. This drought-tolerant species is great for novice gardeners because of its low-maintenance nature. It's a popular choice for borders, rock gardens, and hanging baskets.
Look At These Beautiful Orange Flowering Plants
17. Veronica Waterperry Blue

Botanical Name: Veronica 'Waterperry Blue'
Veronica waterperry blue is a ground cover variety that sports clusters of dainty blue-lavender blossoms and ovate foliage. It's well-suited for edge walkways and rock gardens. This creeping perennial is hardy in USDA zones 4-8.
18. Blue-Eyed Grass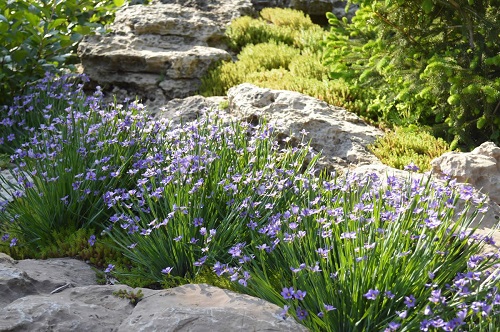 Botanical Name: Sisyrinchium angustifolium
Endemic to North America, blue-eyed grass is a perennial ground cover with blue flowers and upright, sword-shaped foliage. Despite the grass-like appearance, it's a member of the iris family. This low-growing plant does best in full sun to partial shade and well-drained soil. It's an excellent choice for rock gardens, meadows, and the front of perennial borders.
19. Heavenly Blue
Botanical Name: Lithodora diffusa 'Heavenly Blue'
'Heavenly Blue' is a popular ground cover plant with vivid blue flowers. This species blooms from late spring to summer, filling the landscape with a carpet of dazzling blue hues. It's ideal to bring some aesthetic appeal to rock gardens, borders, and slopes. For optimal growth, plant it in full sun to partial shade.
20. Creeping Phlox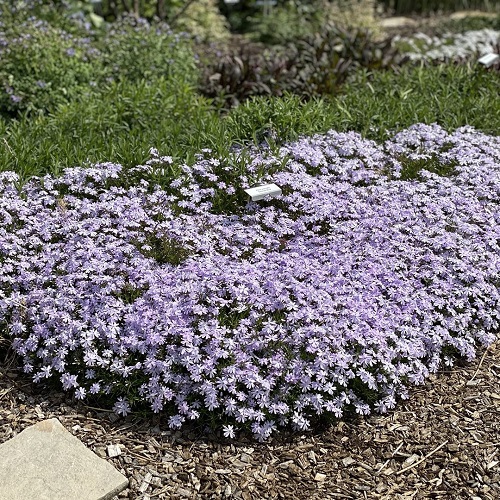 Botanical Name: Phlox subulata
Phlox subulata, or Creeping Phlox, is a herbaceous perennial ground cover valued for vibrant spring blooms and low-maintenance nature. This evergreen plant features small, needle-like leaves and star-shaped flowers in blue, pink, purple, and white hues. Ideal for rock gardens, borders, and containers, Phlox subulata thrives in well-drained soil and full to partial sun.
Here are the Flowers that Mean New Beginnings