Revamp your firearms storage and organization with these exceptional Gun Room Ideas. Read on to know more!
Are you looking for innovative ways to store and display your firearms? This guide has numerous Gun Room Ideas to suit every style and need.
Here are Some Clever Ammo Storage Ideas
---
Gun Room Ideas
1. Pegboard Wall Organizer
Want a customizable and adjustable wall organizer for guns and rifles? Install a galvanized steel pegboard rack. It's a versatile option that lets you organize firearms and other accessories in the gun room quite easily.
2. Display Cabinet Makeover
Rather than discarding your old wooden cabinet, transform it into a stylish and secure storage solution for guns, ammo, and rifles. You can customize the interior with LED lights, foam inserts, or racks.
3. Gun Safe Room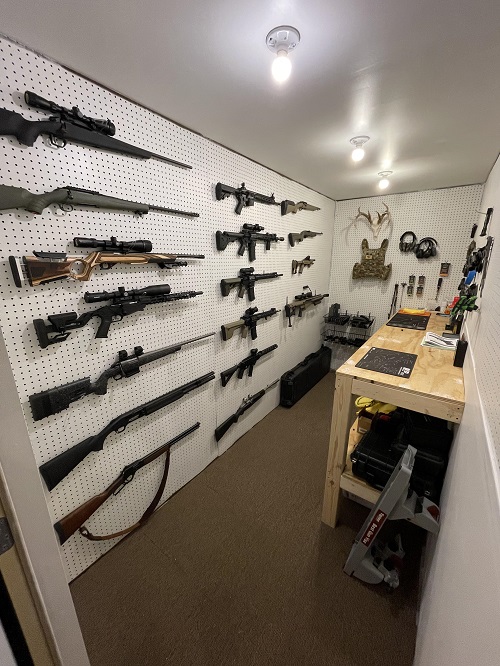 Convert a small walk-in closet into a gun-safe room with a solid door and multiple locks for added security. You can line its walls with a pegboard for organizing firearms and other related accessories.
4. Pallet Wall Gun Rack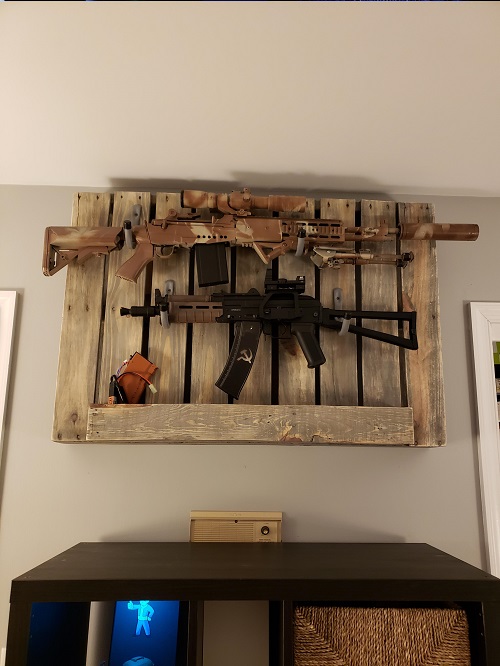 Made from an old wooden pallet, this inexpensive wall-mounted gun rack lets you showcase firearms in an aesthetically pleasing manner. It's an excellent way to recycle materials while adding character and rustic appeal to firearms storage.
5. DIY Gun Cabinet
A custom firearm display cabinet either with a classic wood finish or a modern look, is the best addition to any gun room. Don't forget to add locking mechanisms and custom compartments for a functional and secure firearm-displaying station.
6. PVC Pipe Gun Rest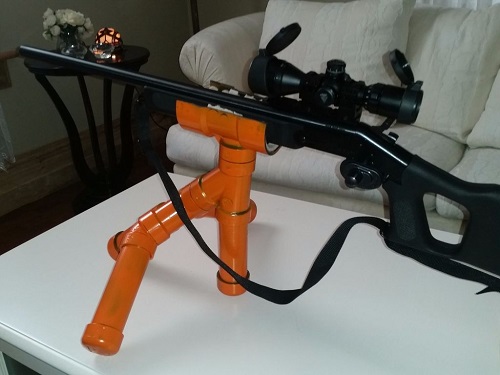 Learn how to recreate this low-cost gun display station using PVC pipes in this step-by-step tutorial. You can customize this gun rest as per the shape and size of firearms, making it a versatile addition to the gun room.
7. Sliding Mirror Door
Does your gun room have a built-in cabinet? If yes, then use a sliding mirror door to conceal the cabinet. This setup not only hides the firearms but also enhances the aesthetic appeal.
8. Metal Grid Wall Panel

Consider a metal grid wall panel to create a modern and efficient firearm storage solution in your gun room. This panel lets you add hooks and shelves to accommodate various gun sizes and accessories.
9. Try Standalone Gun Rack
Do you want a firearm organizer that can be easily moved from one place to another in the gun room? Then a standalone gun rack with wheels is an excellent option. It offers flexibility and convenience in firearms organization.
10. Revolving Gun Rack DIY
Watch this video tutorial to build a revolving gun rack using pine OSB board, wood-cutting tool, and flute-up spiral carbide. This gun rack organizes firearms along with providing easy accessibility.
11. Spice Rack Turned Gun Holder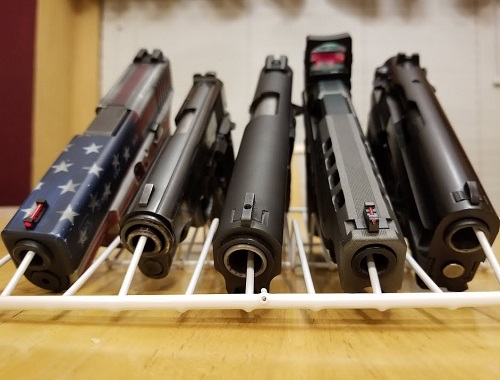 Learn how to turn a dollar store spice rack into a thrifty run holder in this detailed YouTube video tutorial. This is a brilliant beginner and budget-friendly project.
12. Gun Room Island
A central island equipped with lockable drawers is great for firearms storage purposes. Plus, this furniture also doubles up as a workbench for cleaning and assembly.
13. Shadow Box Gun Display
Create a shadow box display for your most prized guns. This display not only protects your guns but also presents them in an elegant and visually appealing way. That's why a shadow box gun display is a perfect addition to any gun room.
14. Vinyl Slatwall Panels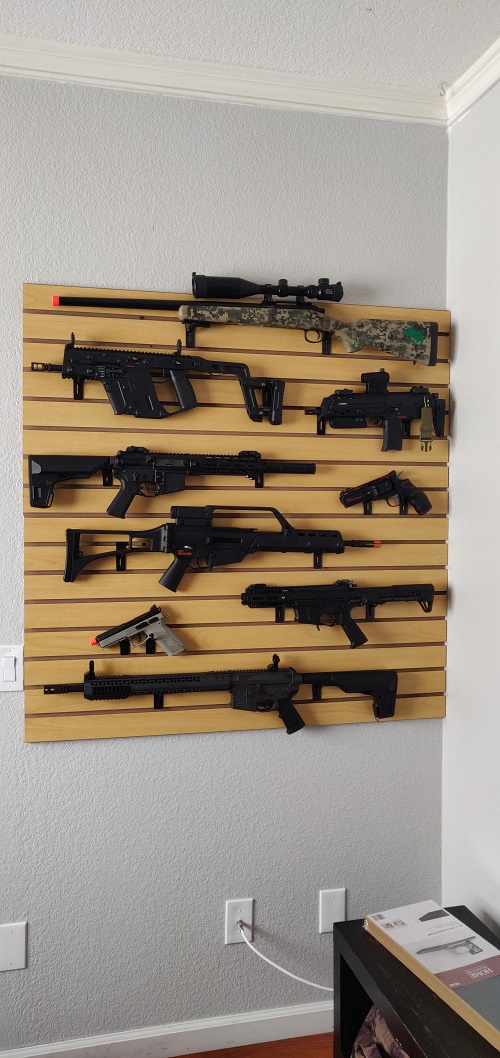 Consider installing vinyl slatwall panels for a versatile and durable gun storage solution. These panels can be customized with various accessories for a flexible and space-efficient firearms organizer.
Read the Best DIY Gun Rack Plans here