From rustic to modern, these creative DIY Kitchen Sign Ideas are perfect for every cooking space! Start crafting now!
Whether you're an experienced DIYer or just starting out, there's no better way to add some personality to your kitchen than with handmade signs. Find out some amazing DIY Kitchen Sign Ideas ranging from simple quotes to more intricate designs below.
Check out the best kitchen wall decor ideas here
---
DIY Kitchen Sign Ideas
1. DIY Funny Kitchen Sign with Free Printable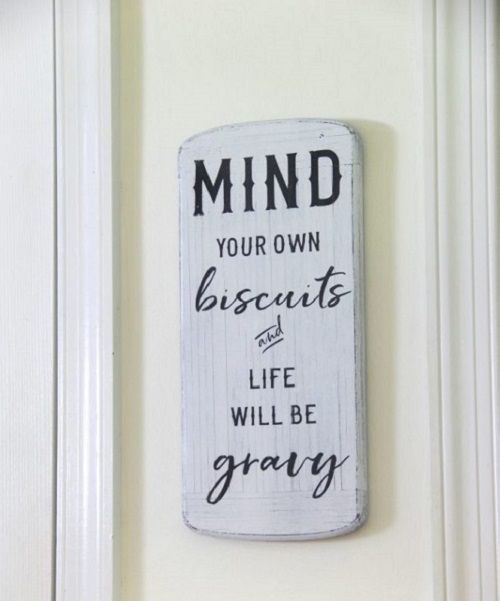 Here's how to make a funny kitchen sign using a wooden board, vinyl letters, transfer paper, and spray paint.
2. Shiplap-Styled Farmhouse Bakery Kitchen Sign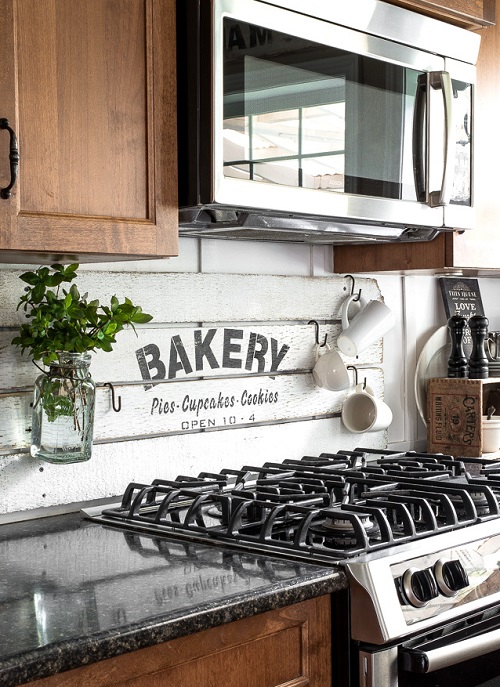 This cute bakery sign is so easy to make, thanks to a few scrap wood planks and a bakery stencil. It's one of the best DIY kitchen sign ideas.
3. DIY Kitchen Wall Signs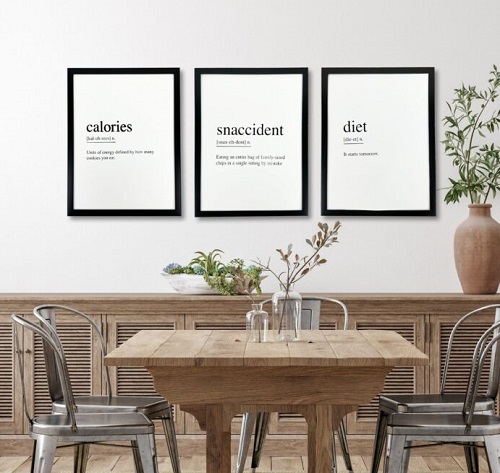 Add some fun to the wall with these quirky kitchen signs. It's an excellent beginner-friendly project.
4. Antiqued Kitchen Sign with Hooks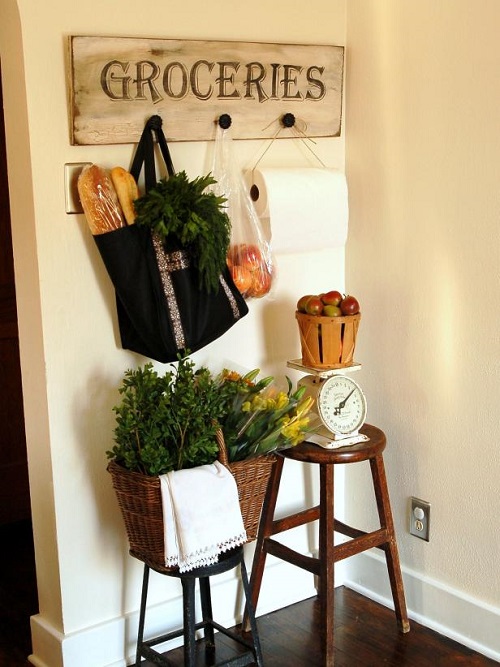 Turn plywood, paint, and vintage knobs into a rustic sign that's a practical and eye-catching accessory.
5. DIY Farmhouse Style Bakery Sign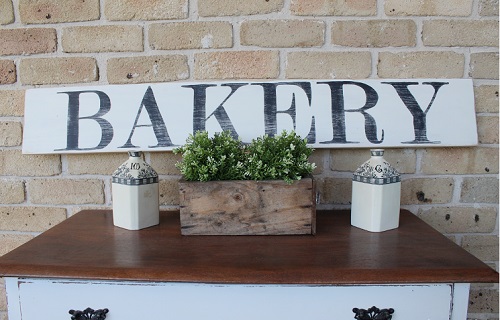 Create a lovely farmhouse-style bakery sign for your kitchen using a strip of wood, paint, and a touch of creativity.
6. Metal Industrial Kitchen Sign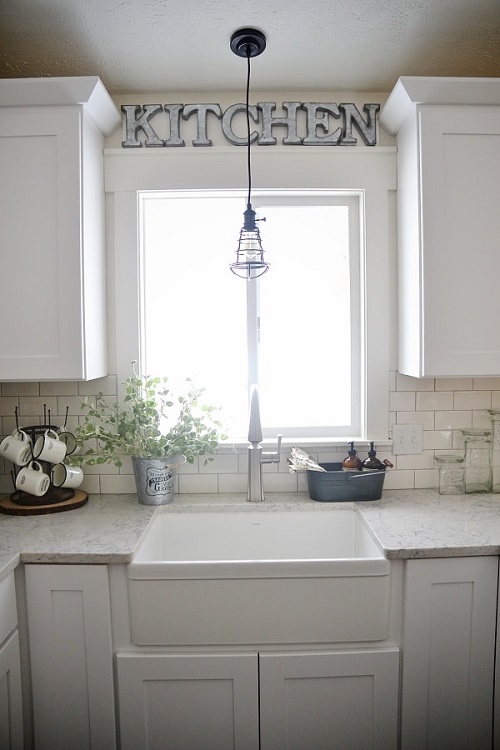 Build this industrial-styled metal sign and impress your guests with your DIYing skills. Get the details here.
7. Kitchen Food Signs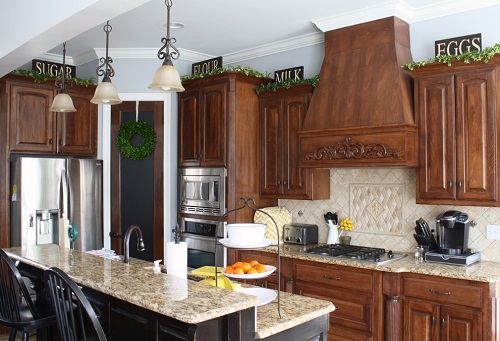 Amp up your bland kitchen decor with these amazing wooden signs. Perfect for those who love a bit of DIY.
8. Vintage Kitchen Sign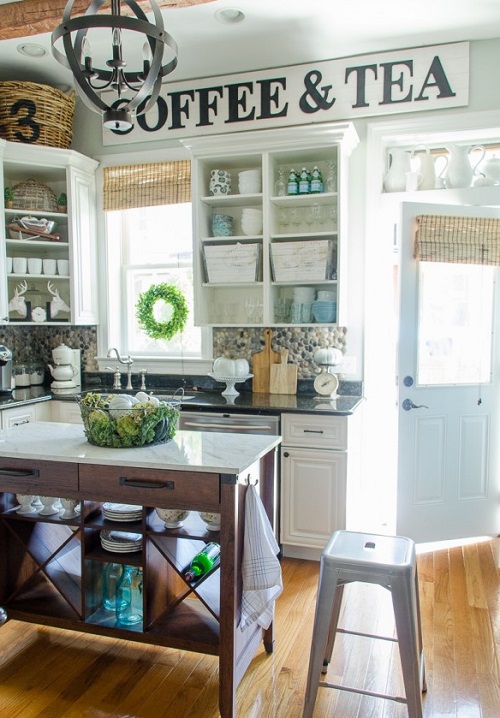 Learn the easiest way to make a vintage kitchen sign using groove panel boards, craft letters, spray paint, and picture hangers.
9. Distressed Galvanized Market Sign DIY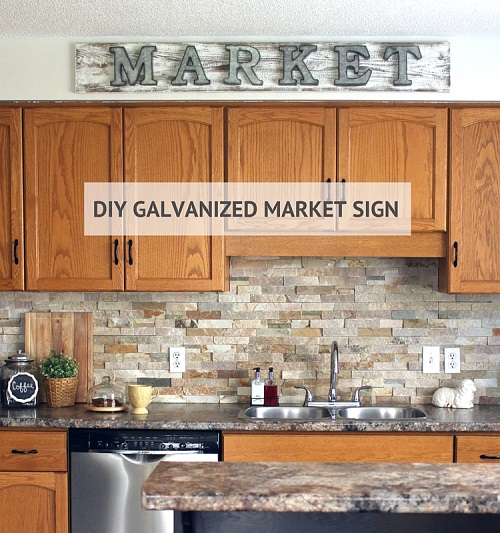 Add a touch of rustic charm to your kitchen with this galvanized 'Market' sign. Easy to make and perfect for a farmhouse-style kitchen.
10. 'Au Petit Marche' Kitchen Sign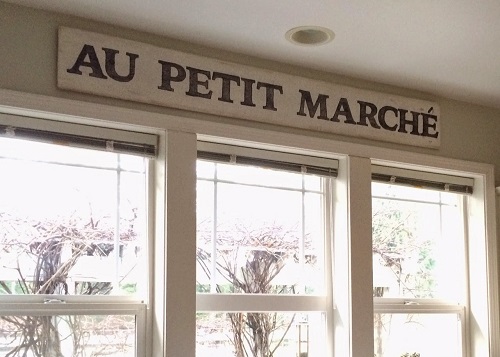 Make this French-inspired sign and give your cooking space the much-needed focal point.
11. Mason Jar Pallet Artwork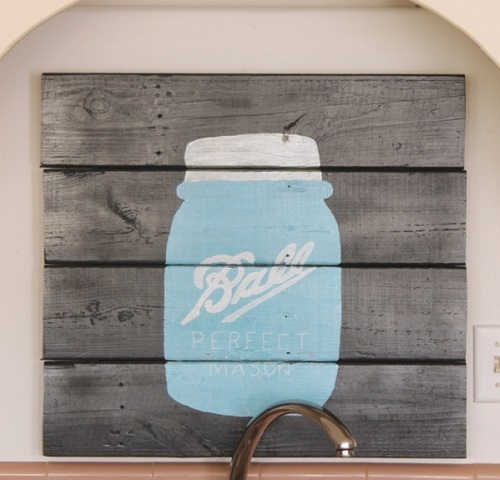 Prettify your monotonous kitchen walls with this eye-catching mason jar pallet artwork. Read more here.
12. "Sweet Tea Served Here" Sign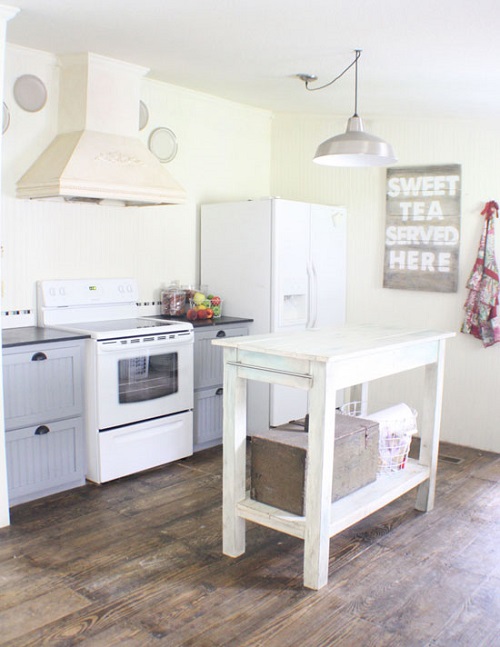 This handmade distressed-looking sign is a great addition to any cooking room. Make one using this tutorial.
13. Reclaimed Wood Coffee Sign and Mug Hanger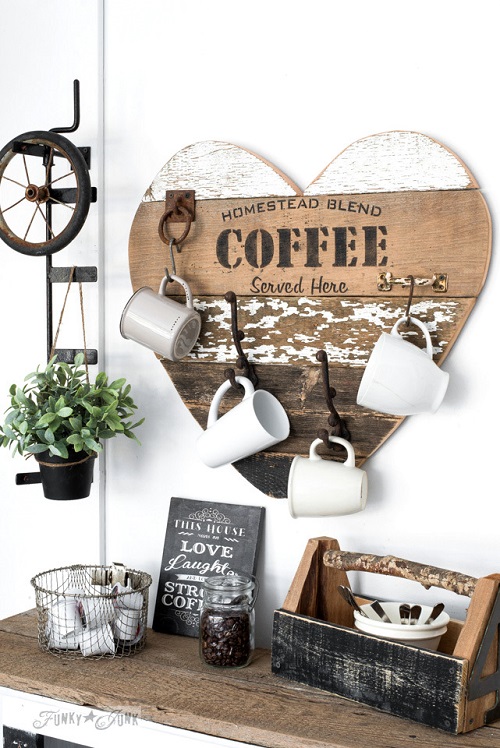 Follow this tutorial to create an eye-grabbing, reclaimed wood sign that also doubles up as a mug holder. It's one of the amazing DIY kitchen sign ideas.
14. Scrap Wood Kitchen Sign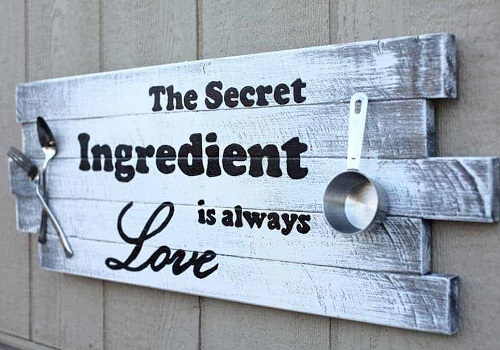 If you're looking for inexpensive artwork for your kitchen, then this easy DIY project is for you!
15. Repurposed Pizza Board Kitchen Sign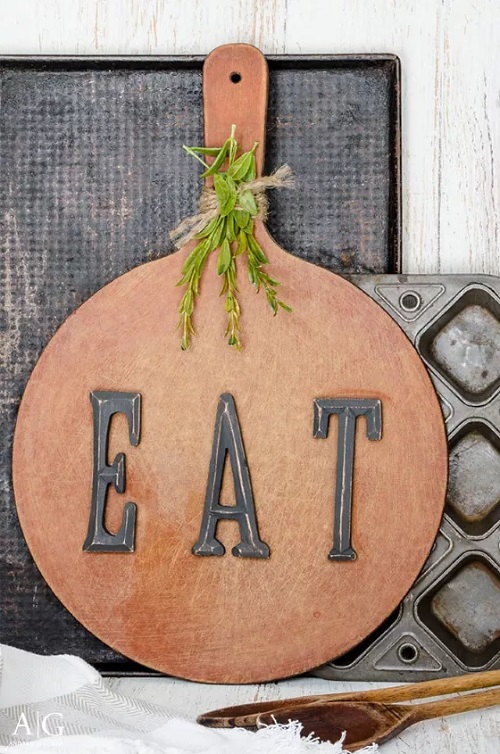 Transform an old pizza board into a fantastic display item for your kitchen using this idea.
16. DIY Easy Metal Sign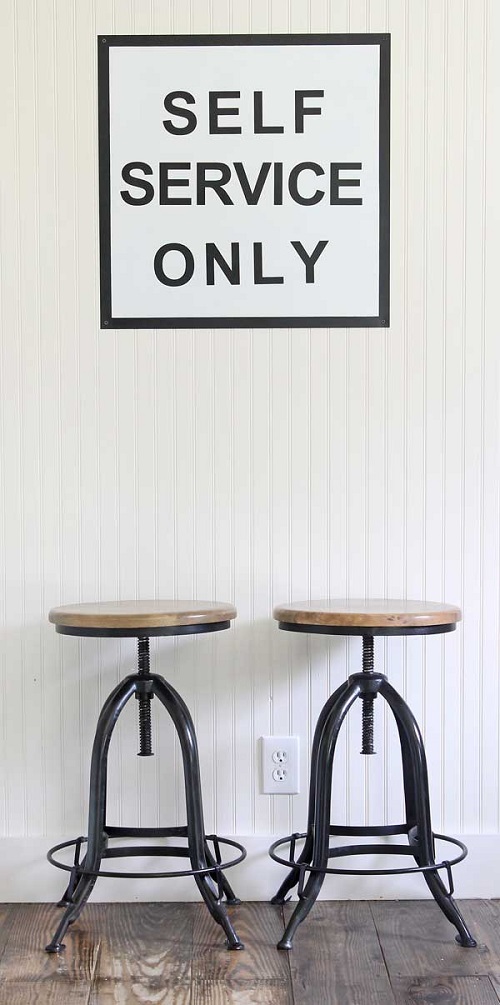 Bring some character and style to your cooking space with this easy metal sign. Hop to this article for more info.
17. DIY Light-up Café Sign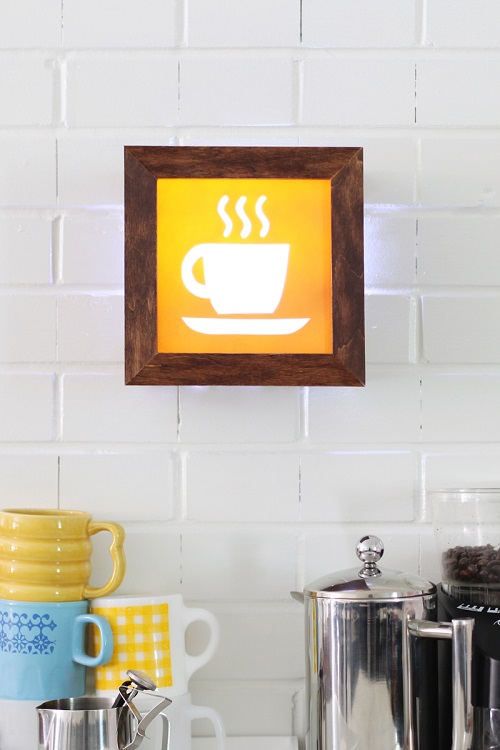 This light-up shadow box café sign can be built in a single afternoon. It's one of the excellent DIY kitchen sign ideas.
18. Giant Wooden "Eat" Kitchen Sign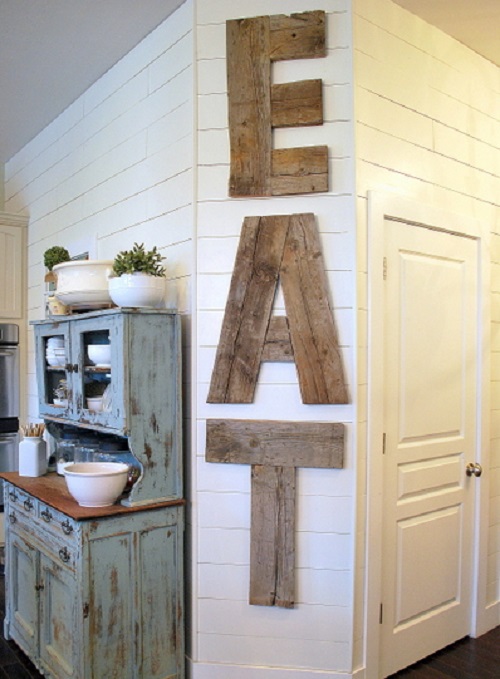 Made from old lumber, drill, handsaw, metal braces, and wood aging solution, this large sign is best for a farmhouse-style kitchen.
19. Coffee Bar Sign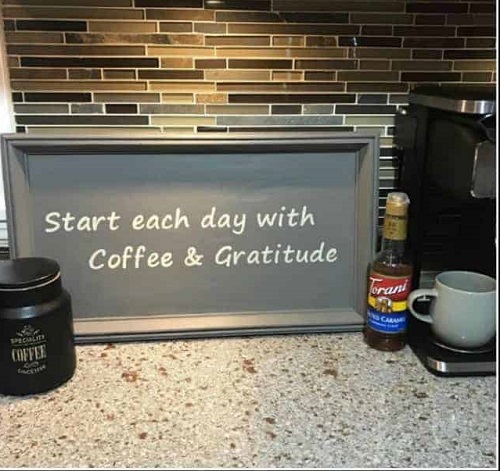 Do you have a coffee-themed kitchen decor? If yes, this coffee bar sign is what you need to make this weekend.
20. DIY Coffee Cup Shaped Sign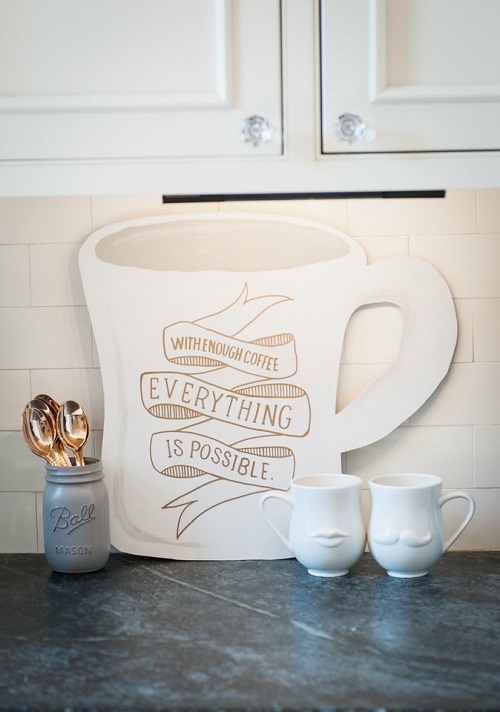 A customized, coffee-cup-shaped sign, perfect for decorating and personalizing a coffee-themed kitchen. Read more here.
21. Stenciled Window Screen Sign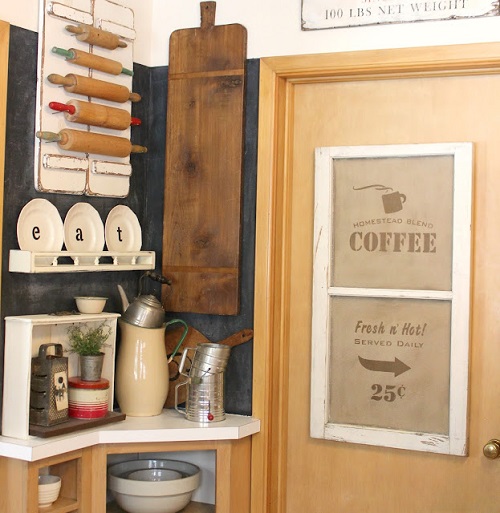 In this tutorial, the DIYer converts an old window screen into chic wall art with stencils and chalk paint.
22. White and Black Beans Coffee Sign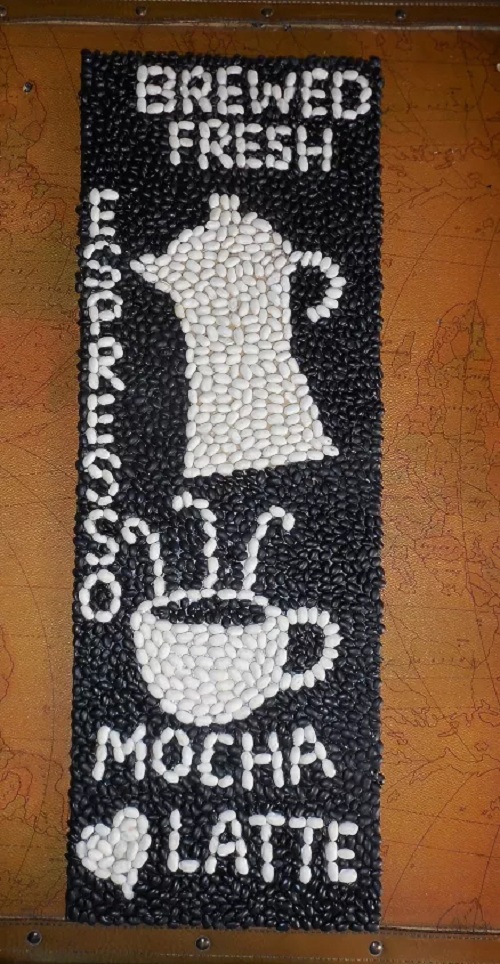 Made from black and white coffee beans, this peculiar sign creates a sight to behold.
Here are the best blue kitchen cabinet ideas