Looking for some amazing Orchid Arrangements Ideas? Check out these easy-to-create floral setups that will attract a lot of eyeballs!
Tired of the traditional potted orchids on a window sill? These Orchid Arrangements push the boundaries of what you can do with these vibrant blooms. Learn how to incorporate these versatile blooms into your home decor below.
Here are the Amazing Orchid Planter Ideas
---
Orchid Arrangements
1. Floating Orchids
Give your space a breathtaking focal point with this amazing orchid arrangement. To recreate this setup, place orchid blooms in a small glass bowl filled with water. This arrangement creates a serene setting, perfect for spa-like atmospheres, bathrooms, or dining tables.
2. DIY Hanging Orchid Planter
Want a unique orchid arrangement in your living room? Grab a metal garden sphere, Spanish moss, orchids, and soil to create a beautiful display. This easy project can be done in under an hour.
3. Orchid Wreath
To recreate this amazing front door decor piece, you only need a willow wreath, orchids, and leaves. Among the orchid arrangements, this wreath is an ideal choice for seasonal décor or special events like weddings or garden parties.
4. Orchid Pots Staircase Arrangement
Transform unused steps or a staircase into a visually stunning floral showcase with potted orchids. Take this orchid arrangement to another level by adorning the orchid pots with string lights, small sculptures, or stones.
5. Mug Orchids Display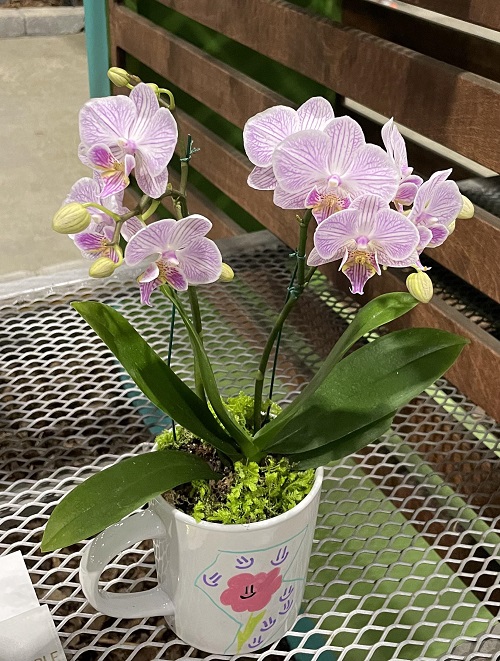 Planting orchids in a mug is a great way to add a touch of nature to less-spacious homes. This amazing orchid arrangement adds personality to the kitchen, office desk, or windowsill. Besides a conversation-starting decor piece, it's also perfect for gifting purposes.
6. Orchid Ladder Arrangement
Instead of tossing your old wooden ladder in the trash, use it to showcase your showy potted orchids. This clever upcycling idea adds vertical interest to any home or office space.
7. Orchid Garland
String orchid blooms together to make a wonderful garland. It's a versatile décor piece for tables, fireplaces, and walls. Since orchids come in numerous colors and varieties, you can customize the garland to match any theme or home interior.
8. Potted Orchid Nightstand Display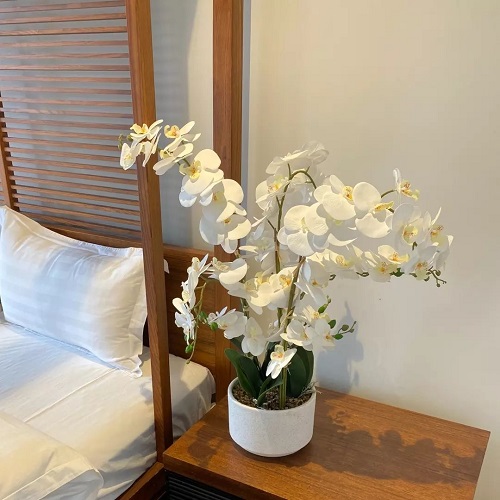 Amp up your bedroom's aesthetic by featuring a potted orchid on the nightstand. Besides visually appealing, orchids have air-purifying qualities, making them an ideal choice for bedrooms. Additionally, orchid's low-maintenance nature makes it ideal for beginner gardeners.
9. Wall-mounted Orchid Decor

Mount orchids on the wall using wooden plaques. This not only adds a dynamic visual element to any room but also saves valuable floor space. You can use a variety of wood types for the plaques—oak, cedar, or even reclaimed barn wood.
10. Basket of Blooms
Fill a woven basket with a variety of orchids for a lush, vibrant display. Place it on a coffee table or hang it from the door to bring a burst of nature into your space. Use different orchid varieties to match seasonal themes or personal aesthetic preferences.
11. Candles & Orchids
Surround a bunch of orchids with scented candles to elevate the ambiance of any table setting. This combination makes for an attractive centerpiece during special events and everyday meals.
12. Orchids Desk Arrangement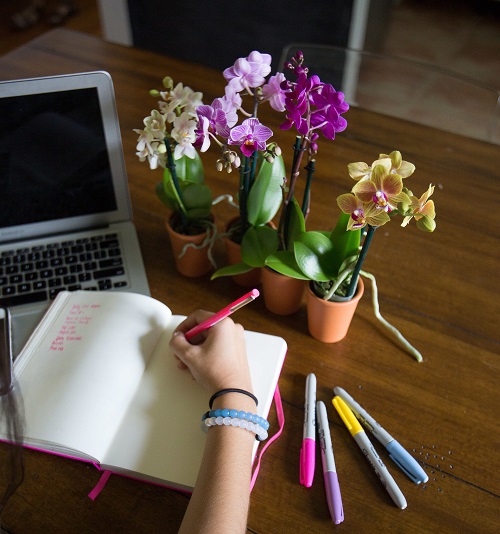 Spruce up the look and feel of your monotonous office desk with potted orchids. This setup not only improves aesthetics but also boosts mood and productivity during working hours.
13. Potted Orchid Mantel Display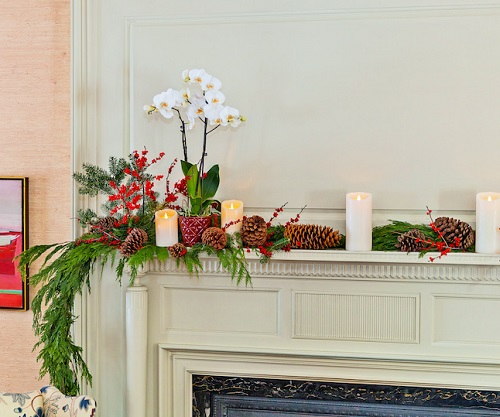 Dress up your fireplace mantel with a potted orchid to create a vibrant, living focal point. Elevate this orchid arrangement by adding pinecones, scented candles, and evergreen garland.
14. Orchid Terrarium
Learn how to make an orchid terrarium using a large glass container, gravel, soil, stones, fern, moss, and orchids in this tutorial. You can place it on the mantel, coffee table, nightstand, or porch table for an amazing display.
15. Orchid Birdcage Display
Looking for a peculiar shelf decor for your living space? This birdcage orchid arrangement is for you. It's ideal for indoor gardens, living rooms, or even outdoor patios.
Read the Best White Flower Arrangements