Add charm to your garden with 'Plants that Start with C.' This article offers diverse options for all garden types. Find your favorites now!
If you're looking for a creative twist in your garden or home, focusing on "Plants that Start with C" can provide just that. From the colorful camellia to the fragrant carnation, this article has something for every taste and setting.
Discover Plants That Start With A here
---
Plants That Start With C
1. Calendula
Botanical Name: Calendula officinalis
Calendula is a flowering plant known for its vibrant yellow and orange flowers. It's widely used for its medicinal properties and adds color to gardens.
2. Calla Lily
Botanical Name: Zantedeschia aethiopica
Among the elegant Plants that start with C, calla lily displays funnel-shaped white flowers. It's used in bouquets and floral arrangements for special occasions.
3. Common Camellia
Botanical Name: Camellia japonica
Camellia is an evergreen shrub with glossy leaves and large, rose-like flowers in various shades of pink, red, and white. They're popular in gardens for their striking appearance.
4. Cyclamen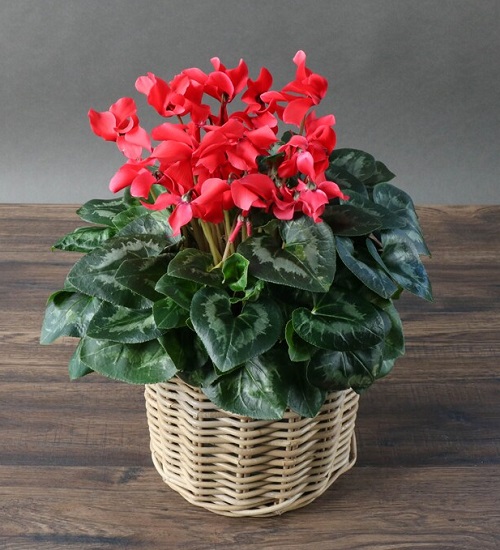 Botanical Name: Cyclamen persicum
Cyclamen is a perennial plant that boasts heart-shaped leaves and upswept pink, white, or red flowers. It adds charm to any setting with its colorful blooms and patterned foliage.
5. Canna
Botanical Name: Canna indica
Canna Lily is a tropical plant with large, colorful flowers and bold foliage. Like other Plants that start with C, it can be a stunning focal point in gardens and landscaping.
6. Cape Daisy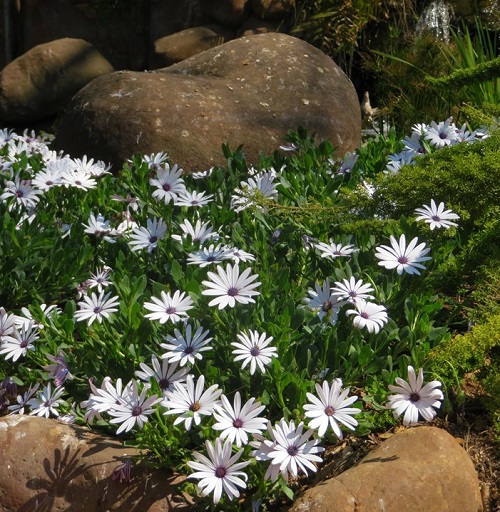 Botanical Name: Osteospermum spp.
Cape daisy, among the native South African plants that start with C, is a versatile perennial boasting daisy-like flowers in various colors.
7. Coral Aloe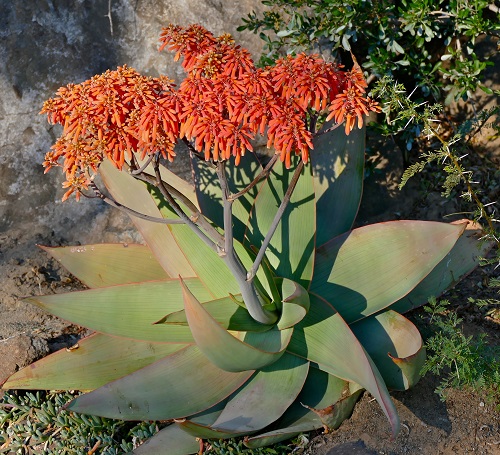 Botanical Name: Aloe striata
Coral Aloe is a striking succulent with wide, flat leaves and coral-colored flowers. It's perfect for xeriscaping or as a stunning container plant.
8. Chrysanthemum
Botanical Name: Chrysanthemum spp.
Chrysanthemum is a perennial plant featuring vibrant and large blooms. Popular in both gardens and bouquets, it symbolizes joy and beauty.
9. Chamomile
Botanical Name: Matricaria chamomilla
Chamomile is an annual herb known for its calming properties. Its daisy-like flowers are commonly used to make herbal teas.
10. Chives
Botanical Name: Allium schoenoprasum
Chives are perennial herbs with a mild onion flavor, used extensively in culinary applications for their thin, hollow leaves.
11. Coleus
Botanical Name: Plectranthus scutellarioides
Coleus is a tropical plant boasting vibrant, multicolored leaves. This botanical specimen grows mainly for its decorative foliage rather than flowers.
12. Coral Bells
Botanical Name: Heuchera spp.
Coral Bells is a perennial with unique and colorful foliage. The bell-shaped flowers and attractive leaves provide multi-season interest in gardens.
13. Coreopsis
Botanical Name: Coreopsis grandiflora
Coreopsis is a bright and cheerful perennial plant with golden-yellow flowers. It's drought-tolerant and a popular choice for low-maintenance gardens.
14. Cornflower
Botanical Name: Centaurea cyanus
Cornflower is an annual plant with striking blue flowers. Historically, it grew as a weed in cornfields, hence the common name.
15. Cosmos
Botanical Name: Cosmos bipinnatus
Cosmos is an annual plant with delicate, daisy-like flowers in pink, red, and white shades. It's an excellent way to add a splash of color to gardens.
16. Crocus
Botanical Name: Crocus sativus
Crocus is a bulbous perennial featuring vibrant purple flowers. The saffron variety is famously used to produce the valuable spice saffron.
17. Candytuft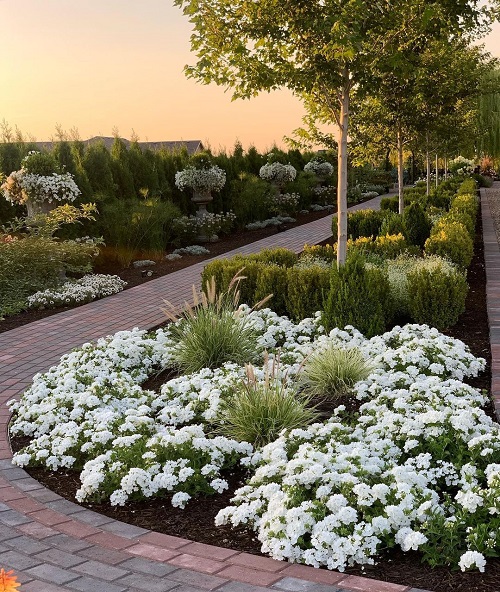 Botanical Name: Iberis sempervirens
Candytuft is a perennial plant that produces clusters of small, pure white flowers. This makes it one of the preferred Plants that start with C for hedges and ground cover.
18. Cymbidium Orchid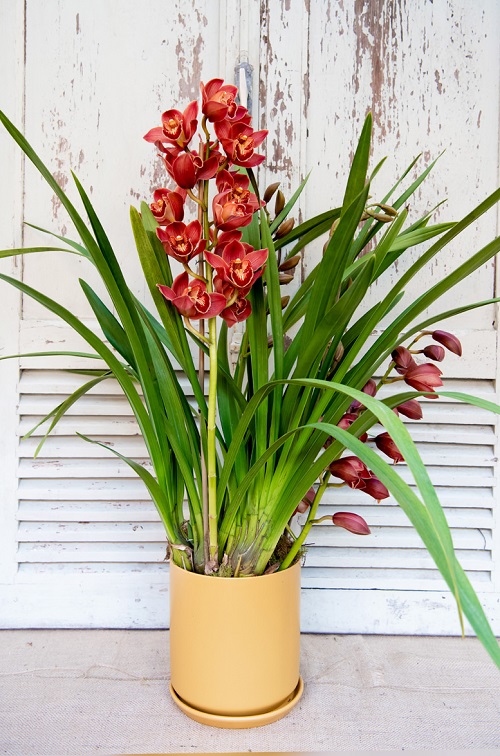 Botanical Name: Cymbidium spp.
Cymbidium orchid is an elegant, long-lasting flower often used in floral arrangements. It's appreciated for its graceful appearance and wide range of colors.
19. Cypress Vine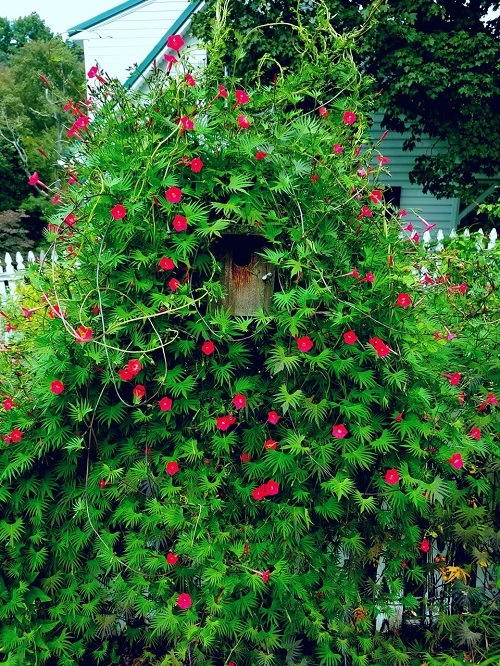 Botanical Name: Ipomoea quamoclit
Cypress Vine is a fast-growing climber with delicate, fern-like leaves and bright red, star-shaped flowers. It's often grown on trellises and fences.
20. Canterbury Bells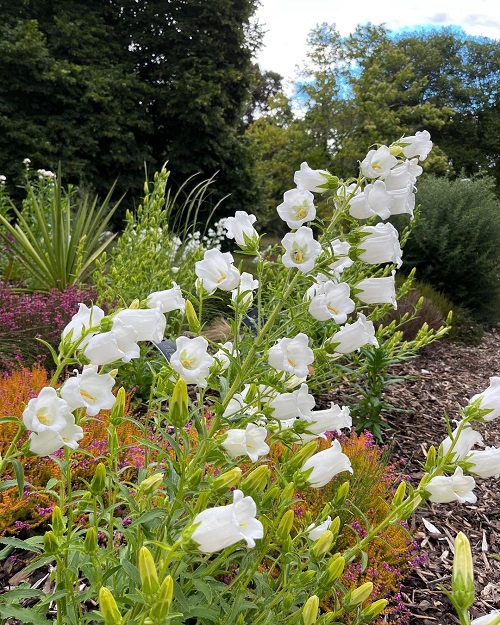 Botanical Name: Campanula medium
Canterbury Bells is a biennial plant admired for its large, bell-shaped blooms in shades of blue, pink, white, or purple. It can add a touch of classic elegance to gardens and mixed borders.
21. Creeping Jenny
Botanical Name: Lysimachia nummularia
Creeping Jenny is a low-growing, spreading perennial with round, golden-green leaves and yellow flowers. It's a top choice as ground cover or to add color to hanging baskets.
22. Cardinal Flower
Botanical Name: Lobelia cardinalis
The Cardinal flower is a perennial with vivid red flowers that attract hummingbirds. This plant thrives in wet conditions, making it suitable for waterside planting and rain gardens.
23. Columbine
Botanical Name: Aquilegia
Columbine is a perennial plant with unique, spurred flowers in various colors. It brings an interesting texture and delicate beauty from woodland to rock gardens.
24. Clematis
Botanical Name: Clematis
Clematis is a climbing vine with large, showy flowers. Its stunning appearance can enhance arbors, trellises, or fences, making it a garden favorite.
25. Coneflower
Botanical Name: Echinacea
Coneflower, or Purple Coneflower, is a perennial plant with daisy-like flowers. It attracts butterflies and is useful for its medicinal properties.
26. Cranesbill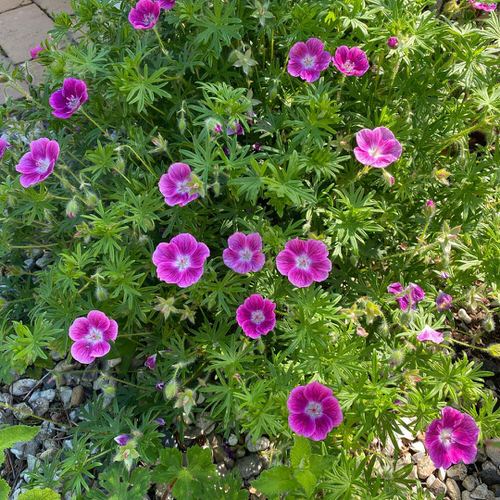 Botanical Name: Geranium
Cranesbill is a perennial geranium in a wide range of flower colors. A versatile, low-maintenance plant thrives in various garden settings, from borders to rockeries.
27. Cockscomb
Botanical Name: Celosia cristata
Cockscomb is an annual plant with unique, crested flower heads that resemble a rooster's comb. Available in red, yellow, orange, and pink, it adds a tropical flair to any garden setting.
28. Coral Vine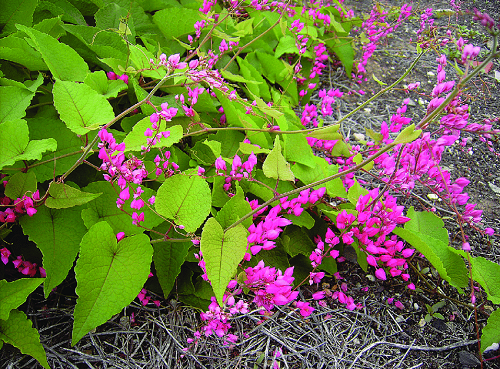 Botanical Name: Antigonon leptopus
Coral Vine is a vigorous climbing vine with heart-shaped leaves and clusters of pink or white flowers. It adds a splash of color to tropical gardens and pairs well with other vibrant plants.
29. Coralberry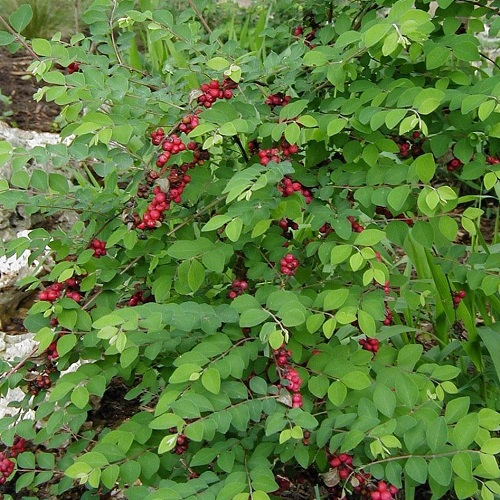 Botanical Name: Symphoricarpos orbiculatus
Coralberry is a deciduous shrub with pinkish or coral-colored berries that stay through winter. Its persistent berries add color to winter landscapes and are adaptable to various soil types.
30. Castor Bean Plant
Botanical Name: Ricinus communis
Castor bean is a popular botanical specimen among the Plants that start with C, featuring large, dramatic leaves and spiky seed pods.
31. Croton
Botanical Name: Codiaeum variegatum
Croton is a tropical plant appreciated for its bold, variegated foliage. With colors like red, yellow, orange, and green, it's a striking addition to interiors as a houseplant.
32. Cape Primrose
Botanical Name: Streptocarpus
Cape Primrose is a houseplant with velvety leaves and trumpet-shaped flowers. Keep this plant in indirect light with moist soil. It adds elegance to indoor settings with its colorful shades.
33. Coral Honeysuckle
Botanical Name: Lonicera sempervirens
Coral Honeysuckle is a twining vine with tubular, coral-red, or orange flowers. Native to the southeastern United States, it's a nectar source for hummingbirds.
34. China Aster
Botanical Name: Callistephus chinensis
China Aster is an annual plant with large, showy flowers in various colors. A garden favorite, it's perfect for adding bursts of color in summer gardens and can be used as a cutting flower.
35. Carnation
Botanical Name: Dianthus caryophyllus
Carnation is a well-known cut flower that offers fragrant, ruffled blossoms in red, pink, yellow, and white hues. It's a notable mention in the list of Plants that start with C.
36. Chocolate Cosmos
Botanical Name: Cosmos atrosanguineus
Chocolate Cosmos is a perennial plant with velvety, dark red to brown flowers. Its unique chocolate scent adds an unusual sensory delight to gardens and bouquets.
37. Chenille Plant

Botanical Name: Acalypha hispida
The chenille plant, or Red-Hot Cat Tail, is known for vibrant fuzzy flowers. It's a lively addition to indoor spaces or warm outdoor areas, bringing color and texture.
38. Creeping Phlox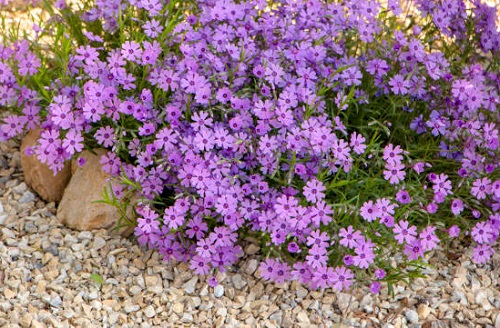 Botanical Name: Phlox stolonifera
Creeping phlox is a perennial ground cover with needle-like leaves and small, star-shaped flowers. From rock gardens to borders, it offers a carpet of color in spring.
39. Christmas Cactus

Botanical Name: Schlumbergera
Christmas Cactus blooms around the holiday season, producing vibrant tubular flowers. It's a favored houseplant for adding seasonal cheer with its captivating appearance.
40. Copper Plant
Botanical Name: Acalypha wilkesiana
Copper plant is a tropical shrub with stunning foliage in various shades. As one of the vibrant Plants that start with C, its colorful leaves create a visual feast in landscapes and container gardens.
Read Plants That Start With B here