Revamp your garden with these fascinating Plants That Start with H. From tropical wonders to hardy perennials, this article has got them all!
Looking for something new to spice up your garden or indoor plant collection? Plants That Start with the Letter H offer a wide range of options to consider. Whether looking for perennial blooms or annual show-stoppers, plants in this category won't disappoint.
Discover Plants that Start With G here
---
Plants That Start with H
1. Hosta
Botanical Name: Hosta spp.
Hostas are prized for their lush foliage, which ranges from deep green to variegated patterns. These low-maintenance perennials can grow into large clumps over time, perfect for shady areas.
2. Hortensia
Botanical Name: Hydrangea macrophylla
Another excellent addition to the list of flowering plants that start with H is Hortensia. These plants enjoy partial sun and well-drained soil. Their bloom colors can change depending on the soil's acidity.
3. Hawaiian Hibiscus
Botanical Name: Hibiscus rosa-sinensis
A tropical marvel, this hibiscus variety produces striking, large flowers that are a popular ingredient in teas and medicinal practices. It requires ample sunlight and prefers humid climates.
4. Hellebore
Botanical Name: Helleborus spp.
When considering winter-blooming green plants that start with H, Hellebores are a standout option. These plants display intricate flowers and are resilient enough to withstand frost and shade.
5. Heliotrope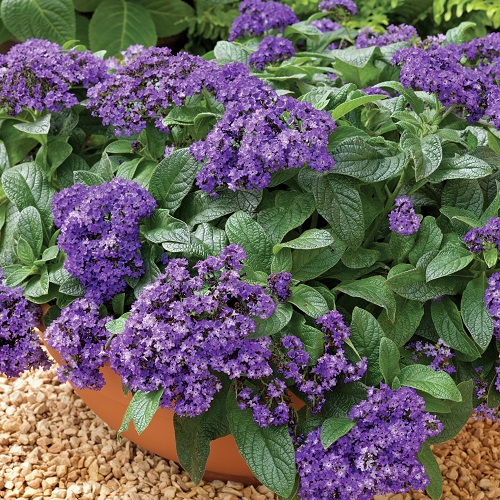 Botanical Name: Heliotropium arborescens
Adored for their vanilla-like scent, heliotrope plants bear deep purple or white flowers. They are sun-loving plants often used in containers or hanging baskets.
6. Heather
Botanical Name: Calluna vulgaris
An evergreen ground cover, heather plants produce tiny blooms and are well-suited for rock gardens or as border plants. They prefer acidic, well-drained soils.
7. Heuchera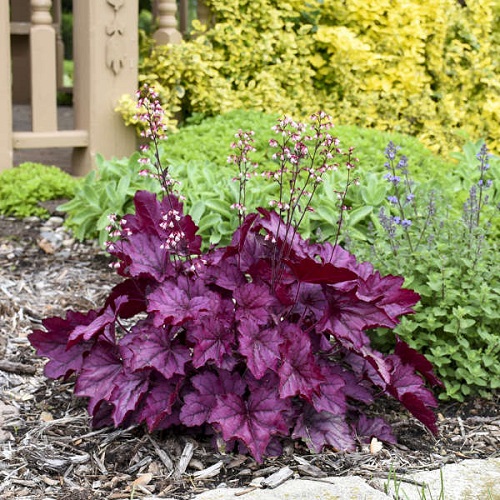 Botanical Name: Heuchera spp.
Heuchera plants boast vibrant leaf colors like purple, bronze, and silver. Commonly known as Coral Bells, they add rich hues to any shaded garden area.
8. Hollyhock
Botanical Name: Alcea rosea
Tower-like in appearance, hollyhocks produce large, colorful blooms on tall spikes. They are biennials that thrive in full sun and make excellent background plants.
Read the Plants that Start With F here
9. Henbit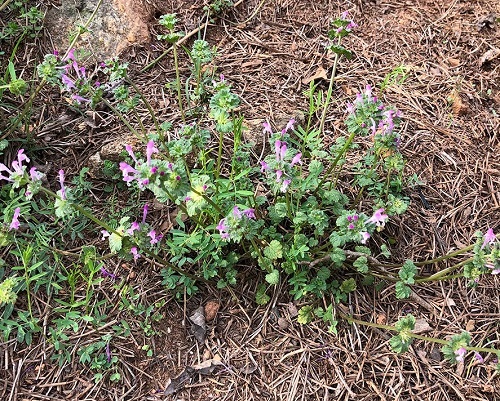 Botanical Name: Lamium amplexicaule
Henbit is considered a weed, but it's still among the plants that start with H that can be useful in your garden. It attracts pollinators early in the season.
10. Honeysuckle
Botanical Name: Lonicera spp.
If you're looking for fragrant plants that start with H, Honeysuckle is an excellent choice. These vines produce trumpet-shaped flowers and thrive best in sunny locations.
11. Horsetail
Botanical Name: Equisetum spp.
Horsetail plants resemble miniature bamboo stalks and have a prehistoric lineage. They are used for erosion control and can thrive in wet conditions.
12. Horsemint
Botanical Name: Monarda punctata
Commonly found in North America, Horsemint produces spotted, pink flowers and has aromatic leaves. It serves as both an ornamental and medicinal plant.
13. Hummingbird Sage
Botanical Name: Salvia spathacea
For those who want plants that start with H, Hummingbird Sage is an excellent choice with bright red, tubular blooms. This California native prefers shaded or partially shaded areas.
14. Hakone Grass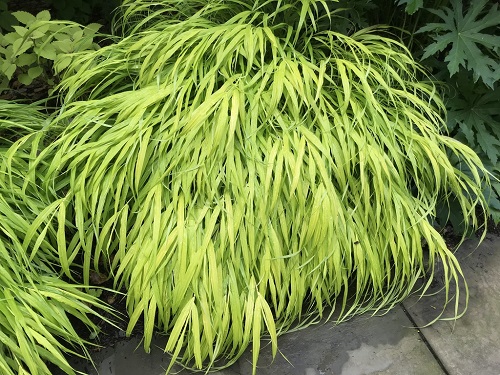 Botanical Name: Hakonechloa macra
Native to Japan, this ornamental grass offers elegant, cascading leaves. It's a versatile option for both container gardening and landscape beds.
15. Hyacinth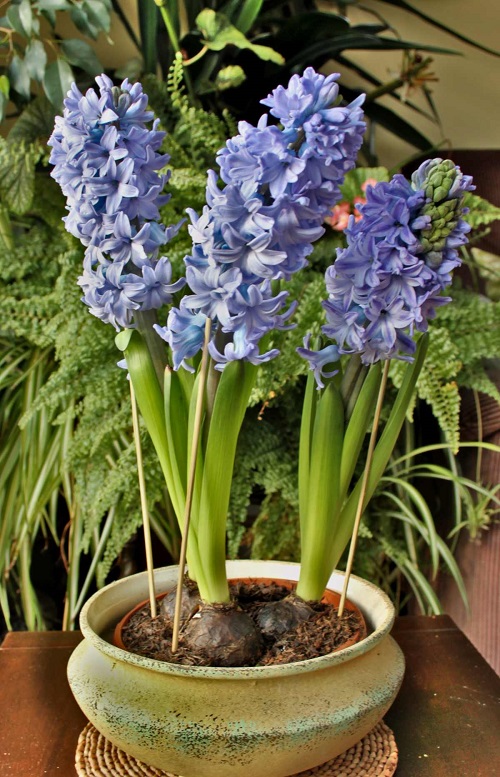 Botanical Name: Hyacinthus orientalis
A quintessential spring bloomer, hyacinths are noted for their intense fragrance and spike-like flower clusters. They prefer well-drained soil and partial sun.
16. Hibbertia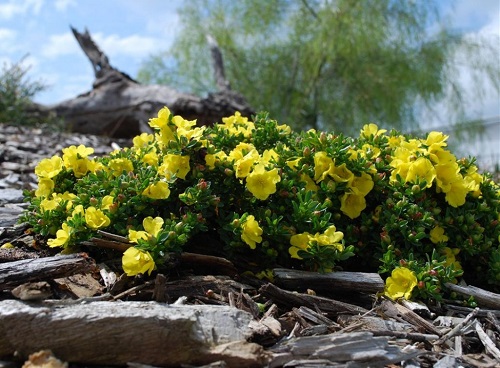 Botanical Name: Hibbertia spp.
These Australian natives offer bright yellow flowers and are usually ground-covering. Hibbertia plants are extremely drought-tolerant and thrive in poor soils.
Check Out the Plants that Start With E here
17. Herb Robert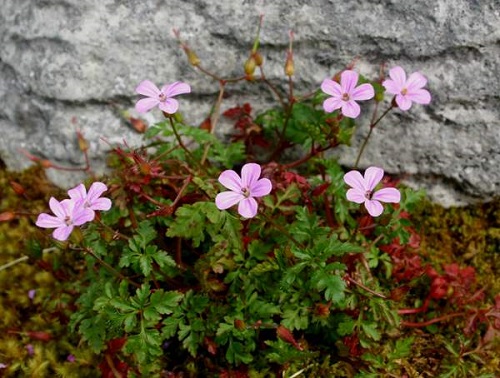 Botanical Name: Geranium robertianum
A woodland perennial, Herb Robert has pink flowers and fern-like leaves. It is often used in herbal medicine and as a ground cover in shaded areas.
18. Helen's Flower
Botanical Name: Helenium autumnale
If late summer blooms interest you, add Helen's Flower to your collection of plants that start with H. They enjoy full sun and are resistant to most pests and diseases.
19. Hot Lips Sage
Botanical Name: Salvia microphylla 'Hot Lips'
Characterized by its striking red and white flowers, Hot Lips Sage is a sun-loving perennial that attracts pollinators and offers aromatic foliage.
20. Hawkweed
Botanical Name: Hieracium spp.
Hawkweed plants are often weeds but are valued for their dandelion-like flowers. They adapt well to poor soils and are known to propagate quickly.
21. Honeywort
Botanical Name: Cerinthe major
Honeywort plants bear distinctive bluish-purple bracts and yellow tubular flowers. They are self-seeding annuals that attract both bees and hummingbirds.
22. Himalayan Blue Poppy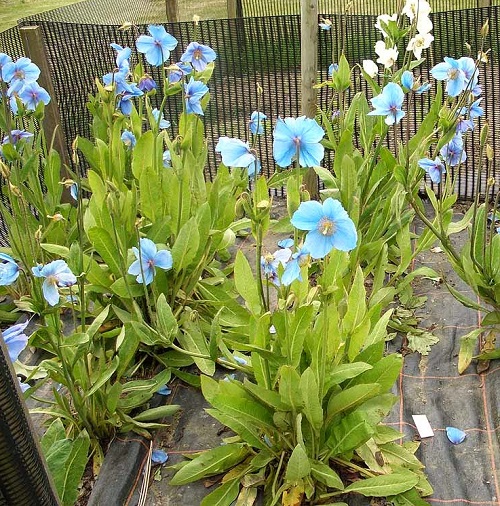 Botanical Name: Meconopsis betonicifolia
A perennial with striking blue flowers, the Himalayan Blue Poppy requires moist, well-drained soil and cool temperatures.
23. Honesty
Botanical Name: Lunaria annua
Honesty is valued for its seed pods that resemble coins. This biennial produces purple or white flowers in the spring.
24. Hepatica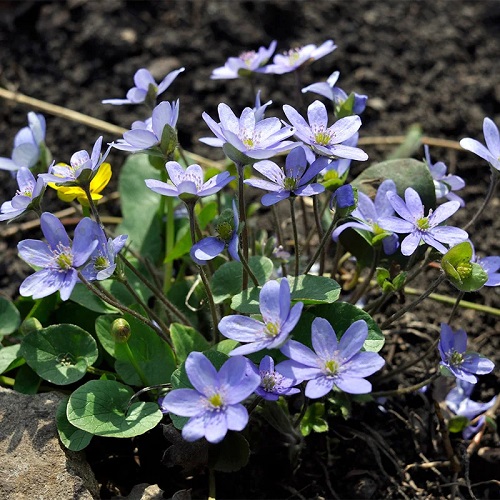 Botanical Name: Hepatica spp.
Hepatica plants are woodland perennials that bloom early in the spring. Their flowers range from white to pink to blue and are often used in woodland garden settings.
Find the Plants that Start With D here
25. Hogwort
Botanical Name: Croton capitatus
Often found in fields and along roadsides, Hogwort is a sun-loving annual with clustered yellow flowers. It's commonly used for erosion control.
26. Heartleaf Philodendron
Botanical Name: Philodendron hederaceum
A notable mention in the list of indoor plants that start with H, this philodendron variety features heart-shaped leaves. It's low-maintenance, requiring moderate light and water.
27. Holly Fern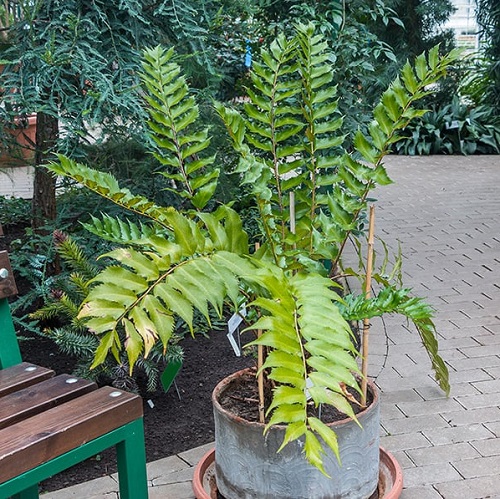 Botanical Name: Cyrtomium falcatum
Known for its leathery fronds that resemble holly leaves, the Holly Fern is an evergreen variety that thrives in shady, humid conditions, making it ideal for indoor plantings.
28. Hens and Chicks
Botanical Name: Sempervivum tectorum
Hens and chicks or Houseleeks are succulent perennials forming rosettes of fleshy leaves. Extremely drought-tolerant, they are ideal for xeriscaping and rock gardens.
Read the Plants that Start With C here
29. Honey Bush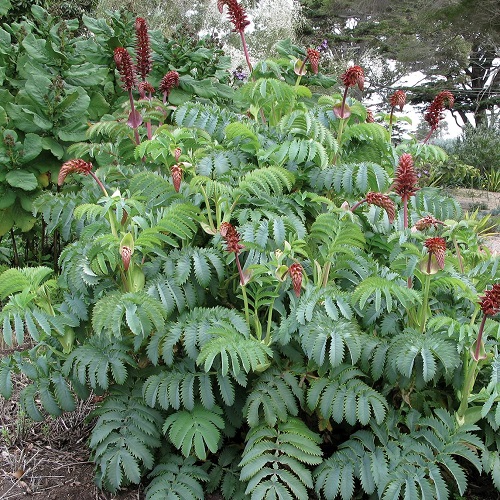 Botanical Name: Melianthus major
Native to South Africa, Honey Bush has exotic, serrated foliage and produces dark red flowers. It is drought-tolerant and can adapt to poor soil conditions.
30. Hedge Bindweed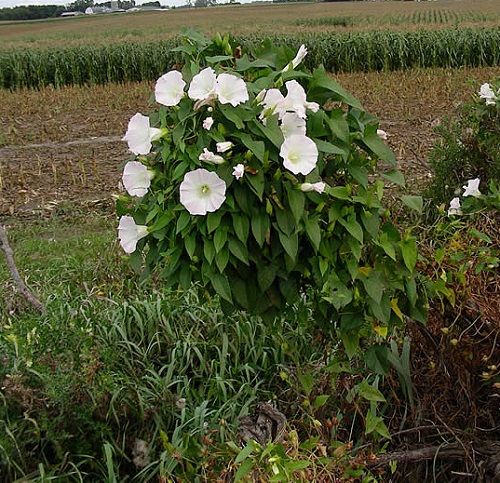 Botanical Name: Calystegia sepium
A vigorous climbing vine, Hedge Bindweed can be invasive but is admired for its trumpet-shaped white flowers. Effective in erosion control, it prefers sunny locations.
31. Hairy Canary Clover
Botanical Name: Dorycnium hirsutum
This perennial herb offers fine, hairy leaves and small white to pink flowers. It is native to the Mediterranean and thrives in poor, well-drained soils.
32. Hairy Bittercress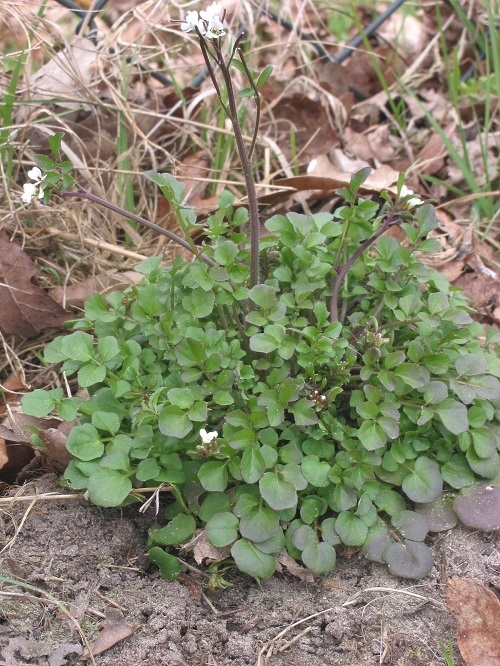 Botanical Name: Cardamine hirsuta
Often categorized as a weed, Hairy Bittercress is an annual plant with small white flowers. It grows in disturbed soils and is commonly found in gardens and lawns.
33. Hyacinth Bean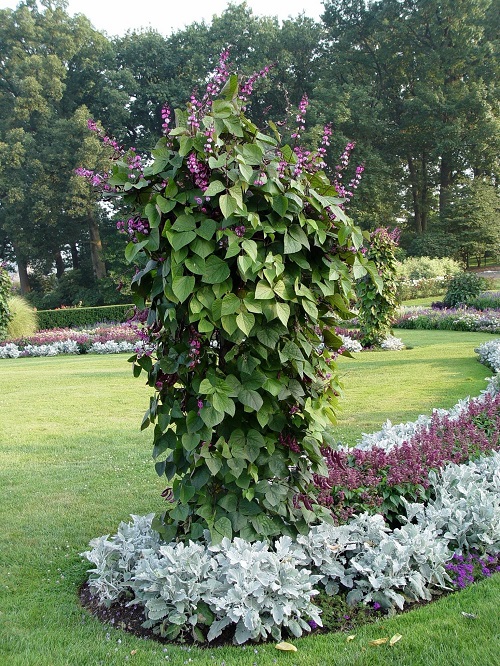 Botanical Name: Lablab purpureus
An annual vine, Hyacinth Bean, produces purple flowers and dark purple pods. It requires full sun and is often grown on trellises or fences.
34. Horse Herb
Botanical Name: Calyptocarpus vialis
Native to the Southern United States, Horse Herb is a low-growing perennial with small yellow flowers. It is often used as a lawn substitute in low-traffic areas.
35. Hyssop
Botanical Name: Hyssopus officinalis
An aromatic herb, Hyssop has medicinal and culinary applications. It produces spikes of blue or purple flowers and thrives in well-drained soil.
Explore the Plants that Start With B here