Looking for some pretty and stylish beanies? These Strawberry Beanie Crochet Patterns will help you create a unique and cozy accessory!
Besides keeping your head and ears snug, these Strawberry Beanie Crochet Patterns add a touch of whimsy to any winter wardrobe collection. Whether you're a seasoned crocheter or just starting out, we have patterns for all skill levels.
Here are the free moss stitch crochet tutorial patterns
---
Strawberry Beanie Crochet Patterns
1. Sweet Strawberry Hat for Kids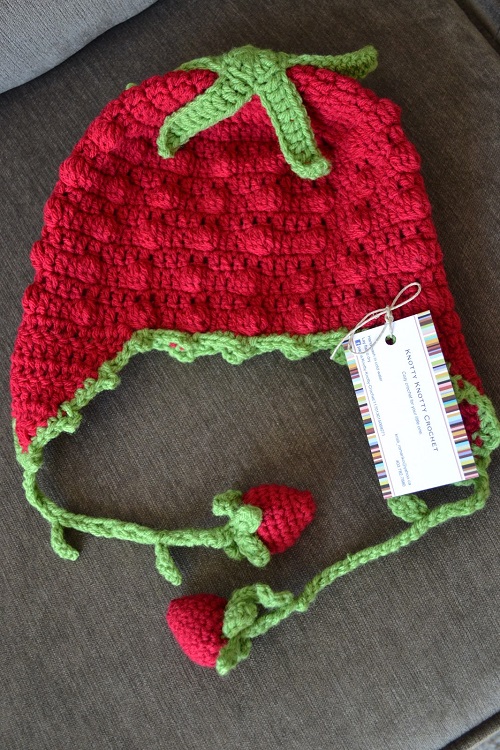 The combination of green and red makes this winter accessory more interesting. Head on to this article to master the art of crocheting a beanie.
Supplies
Hook Size: H hook
Worsted Weight Yarn in Red and Green
Needle
2. Strawberry Beanie Hat Crochet Pattern

Here's how to crochet an eye-catching strawberry-inspired beanie hat with a few simple stitches. It will pair well with any outfit you wear.
Supplies
Yarn (Red and Green)
Small amount of white (or black) yarn for the seeds
Size H crochet hook
Tapestry Needle
3. Cute Strawberry Slouchy Beanie Crochet Pattern
A perfect winter accessory, this strawberry-themed beanie will attract a lot of compliments. You will definitely enjoy flaunting this amazing hat. Get the free pattern from Stitch Aster.
Supplies
6.00 mm/J hook
Yarn
Needle
Scissors
4. Free Strawberry Beanie Pattern

If you're after a classic strawberry design for your beanie, why not attempt this pattern? Craft one using this detailed tutorial.
Supplies
Hooks: 5.5 mm, 4.5 mm, and 5 mm
Light Worsted Yarn
5. Newborn Strawberry Hat Pattern
This strawberry crochet hat is perfect for newborns and easy to make. You can modify this pattern as needed. It's one of the best strawberry beanie crochet patterns.
Supplies
Worsted Weight Yarn in strawberry colors (pink or red, plus some green and a scrap of white)
5.5 mm crochet hook
Yarn Needle
6. Dotted Strawberry Hat Crochet Pattern
This sweetest little crochet hat makes a perfect Christmas gift. It's a beginner-friendly crochet project.
Supplies
Worsted Weight Yarn
Crochet hook size 3.5 mm
Sewing Yarn Needle
Removable Stitch Markers
7. Stylish Strawberry Beanie and Mittens

Are you looking to add some sweet style to your winter wardrobe? Check out this crochet pattern for a strawberry beanie.
Supplies
4 mm Hook
5 mm Hook
5.5 mm Hook
Worsted Yarn in red and green
Beads (Optional)
Pom-pom (Optional)
Yarn needle
Stitch markers
Scissors
Tape measure
Pins
8. Adorable Strawberry Slouchy Hat Crochet Pattern
Sweeten up your accessories with this adorable and easy-to-make slouchy beanie. The tall stitches make it breathable and great for summertime.
Supplies
Medium Weight Yarn
Size H/8 (5.0 MM) Crochet Hook
Yarn Needle
Scissors
9. Bitty Berry Strawberry Preemie Beanie
Grab a crochet hook, tapestry needle, and yarn to crochet a tiny strawberry-inspired preemie beanie. The free pattern is here.
Supplies
Light/DK Yarn – 1 skein of each red, green and white
3.5 mm Crochet Hook
Tapestry Needle
10. Strawberry Shortcake Crochet Hat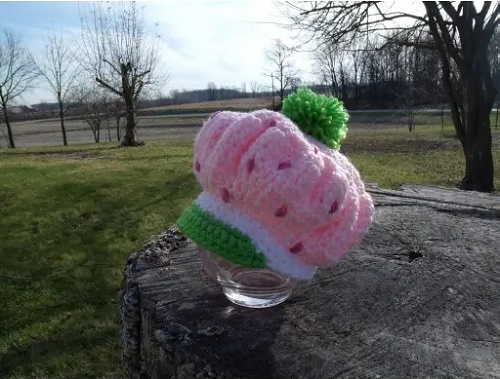 Enhance your style with this strawberry shortcake crochet hat. This eye-grabbing accessory goes quite well with every attire. Learn how to make one for yourself in this detailed tutorial.
Supplies
Crochet hook H or I
Tapestry needle
Yarn (Baby Pink, White, Spring Green, and Lt. Raspberry)
11. Free Baby Strawberry Hat Crochet Pattern
Your little one will look absolutely adorable in this cute strawberry beanie. Go through this step-by-step article for the list of supplies and instructions.
Supplies
Rowan, Pure Wool 4ply, 1 x 50g/160m ball of each:
Avocado (419)
Kiss (436) Rowan
Pure Wool DK 1 x 50g/125m ball of Gilt (032)
A 3.5mm crochet hook
A 4.5mm crochet hook
---
Strawberry Beanie Crochet Patterns: Important Points to Remember
When crocheting a strawberry beanie or hat, here are some key points to remember:
Yarn Selection: Select the appropriate yarn for your project. For a strawberry-inspired design, opt for red yarn for the main body and green yarn for the leaves.
Stitch Techniques: Familiarize yourself with the required crochet stitches and techniques mentioned in the pattern. Pay attention to any special stitches or stitch combinations mentioned in the pattern.
Embellishments: If the pattern includes embellishments such as a strawberry stem or leaves, carefully follow the instructions provided. Use additional colors of yarn or embroidery thread to create these details and secure them firmly to the beanie or hat.
Safety Considerations: If the beanie or hat is intended for a baby or young child, avoid buttons or beads that could pose a choking hazard.
Washing and Care: Different yarns have specific washing instructions. Ensure you are familiar with the care requirements of the chosen yarn to maintain the beanie or hat's appearance.
Experiment with Texture: If you want to add more visual interest to your beanie, consider using different crochet stitch patterns. This creates texture and depth, enhancing the overall appearance of the finished piece.
Finishing Touches: Once your beanie or hat is complete, give it a final inspection. Check for any loose ends, uneven stitches, or areas that require additional stitching or adjustments.
---
Frequently Asked Questions (FAQs)
1. How Long Does it Take to Crochet a Beanie?
The time it takes to crochet a beanie varies greatly depending on the crocheter's skill level, the pattern used, the yarn thickness, and the size of the hook. For beginners, it may take anywhere from 4-6 hours spread over a couple of days. Intermediate crocheters might complete the same beanie in 2-4 hours, while experts could do it in under 2 hours. This is just a rough estimate, as everyone works at a different pace. Remember, crochet is a leisure activity; it's important to enjoy the process, not just rush to the finish.
2. How Long Should a Crochet Beanie Be?
The length of a crochet beanie depends on the wearer's preference and the style of the beanie. However, a common guideline is that a beanie should cover the ears for warmth.
3. How Much Yarn to Crochet a Beanie?
The amount of yarn required to crochet a beanie can vary depending on several factors, such as the pattern used, the yarn weight, and the size of the finished beanie. It's also important to consider if your pattern includes additional details like a pom-pom or a more intricate stitch, as this could require extra yarn.
Find out the cute and easy things to crochet here