Make your garden stand out in the neighborhood with this mesmerizing collection of Succulents With Purple Flowers!
Amidst the vast array of succulents, there are some unique species that stand out for their water-storing capabilities and for their vivid blooms. Succulents with Purple Flowers offer a delightful combination of hardiness and beauty, adding a touch of color to any space they grace.
Check Out Beautiful Succulents With Pink Flowers here
---
Succulents With Purple Flowers
1. Strawberry Hedgehog Cactus
Botanical Name: Echinocereus engelmannii
This desert gem showcases spiky stems adorned with splendid purple-ish flowers, adding a burst of color to arid landscapes. It thrives in well-draining soil, requiring minimal water to flourish.
2. Black Bells
Botanical Name: Stapelia leendertziae
Exotic and intriguing, its fleshy long stems give rise to striking star-shaped blooms with dark, velvety petals. This eye-catching specimen prefers a gritty, well-draining mix and a sunny spot for prolific growth.
3. Powder Puff Cactus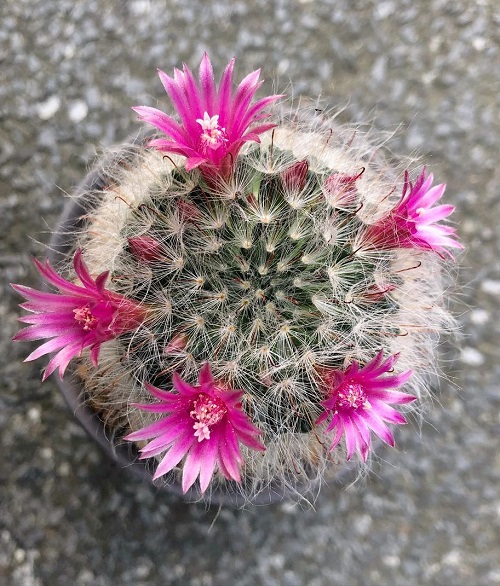 Botanical Name: Mammillaria bocasana
Delicate yet hardy, this succulent sports fuzzy spines and rewards with bright pink-purple blooms resembling miniature powder puffs. Keep this cactus where it gets ample direct sunlight.
Read the Beautiful Cactii With White Flowers here
4. Moss Rose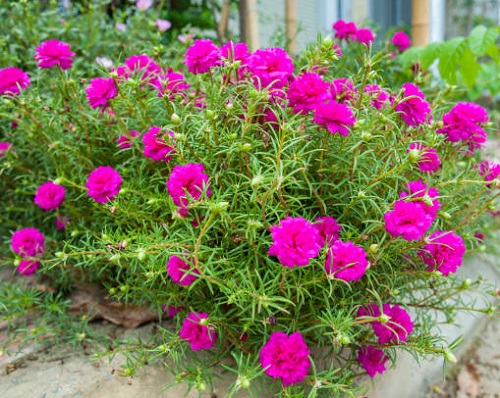 Botanical Name: Portulaca grandiflora
This low-growing succulent offers vibrant purple blooms. Moss rose blooms abundantly throughout the warm summer months.
5. Rose Cactus
Botanical Name: Pereskia grandifolia
This leafy cactus is adorned with deep green foliage and delicate, fragrant light purple blooms. Rose cactus is a drought-tolerant succulent that admires full sun to part shade and a well-drained potting medium.
6. Christmas Cactus
Botanical Name: Schlumbergera russelliana
Native to coastal mountains in SE Brazil, the segmented stems of Christmas cactus bear enchanting purple-hued blooms. This plant loves bright sunlight but hates overwatering.
7. Beavertail Prickly Pear
Botanical Name: Opuntia basilaris
Featuring beaver tails resembling fleshy pads, this cactus presents eye-catching rose-purple blossoms atop its flat stems. Flourishing in sandy soil and full sunlight, it's an excellent choice for xeriscaping.
8. Azure Stonecrop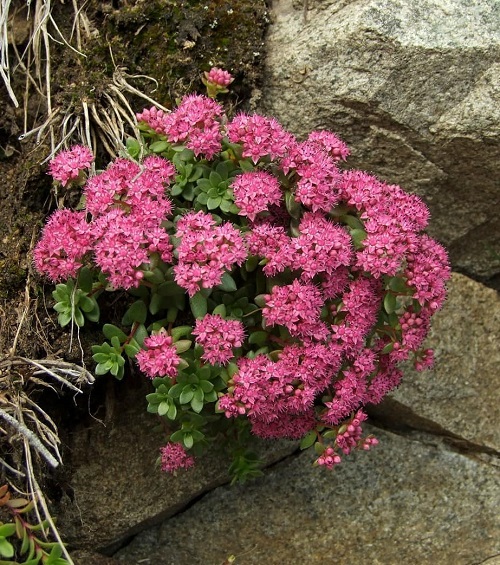 Botanical Name: Hylotelephium cyaneum
Graceful blue-green foliage contrasts with clusters of deep purple flowers, creating a picturesque scene. Ideal for rock gardens and container gardening, it prefers sunny spots and minimal watering.
9. Evergreen Orpine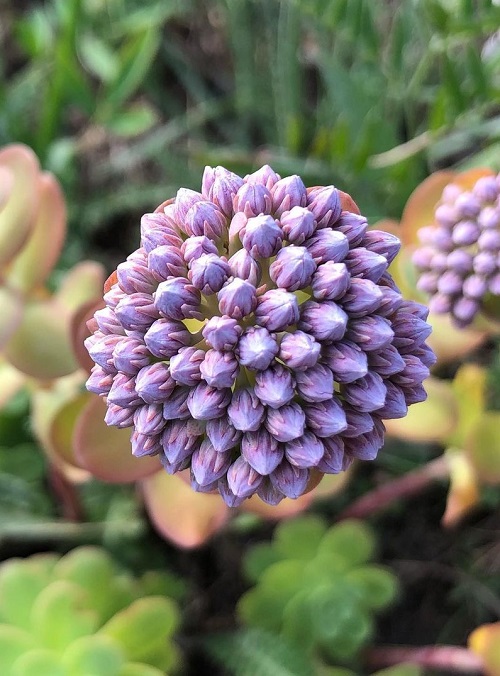 Botanical Name: Hylotelephium anacampseros
With its clusters of star-shaped purple-covered powdery bloom, this succulent adds charm to gardens. This herbaceous perennial also offers bluish-green to grayish-green foliage.
10. Redmaids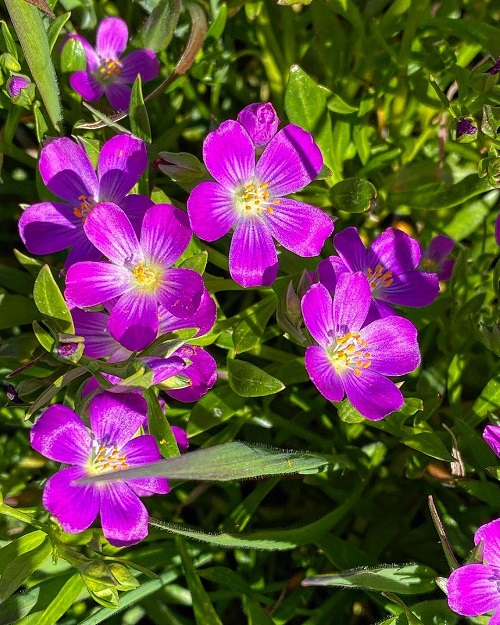 Botanical Name: Calandrinia grandiflora
Native to Chile, this purple flowering plant blooms for a single day. This striking succulent is resilient to pests and diseases.
11. Ice Plant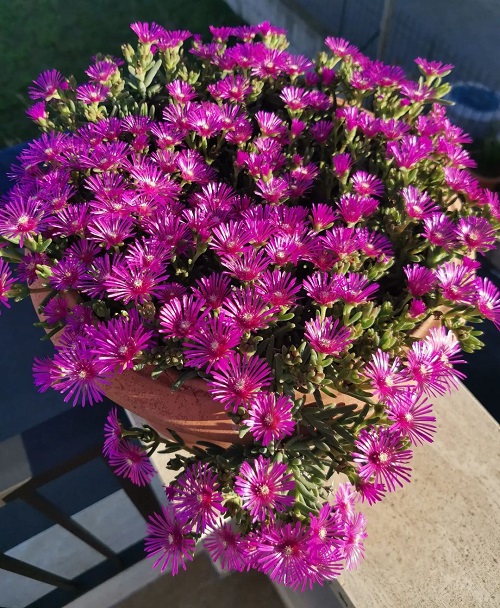 Botanical Name: Delosperma cooperi
Amp up the wow factor of your living space by introducing this ground-hugging succulent featuring deep purple blooms. It admires dry, sandy soil and full sunlight for optimal growth.
12. Kalanchoe
Botanical Name: Kalanchoe blossfeldiana
This versatile succulent boasts clusters of showy purple flowers that brighten up indoor spaces. It's popular among gardeners for its low-maintenance nature and vibrant blooms.
13. Purple Heart Plant
Botanical Name: Tradescantia pallida
Highlighted by the violet-purple leafage and tiny purple flowers, this ground cover succulent adds a touch of elegance to hanging displays. This succulent can grow indoors or in interiorscapes.
Check Out Stunning Weeds With Purple Flowers here
14. Sulcorebutia Cactus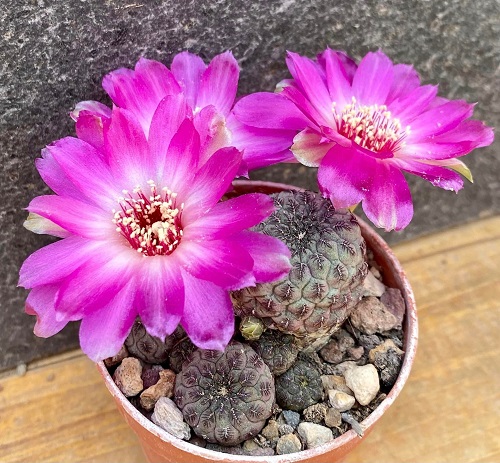 Botanical Name: Sulcorebutia albissima
This petite cactus variety flaunts yellow, pink, and purple colored flowers with spiky stems. It's one of the most eye-catching green succulents with purple flowers on this list.
15. Dark Purple Caralluma
Botanical Name:Caralluma stalagmifera
Unusual and captivating, the dark purple blooms of this cactus are a sight to behold. This succulent appreciates well-draining soil and occasional water to thrive in outdoor settings.
16. Purple Torch

Botanical Name: Englemanns Hedgehog Cactus
Succulent bearing purple-to-magenta blooms with spiky cylindrical stems create a mesmerizing visual spectacle. A sunny location and well-drained soil are vital for this succulent.
17. Old Lady Cactus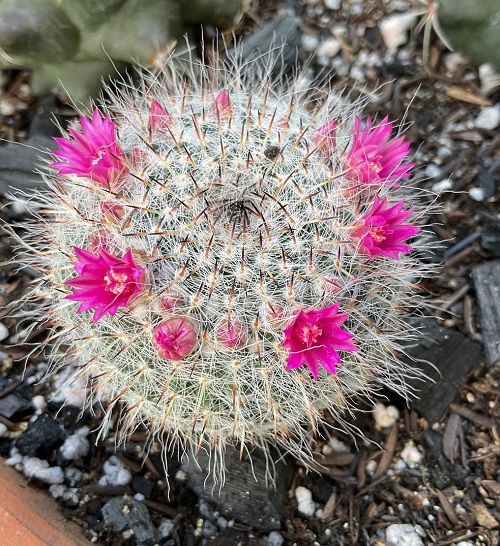 Botanical Name: Mammillaria hahniana
Adorned with purple flowers, this hairy cactus variety, native to central Mexico, is an interesting addition to a succulent collection. This succulent can grow up to 10 inches in length.
18. Sedum 'Purple Emperor'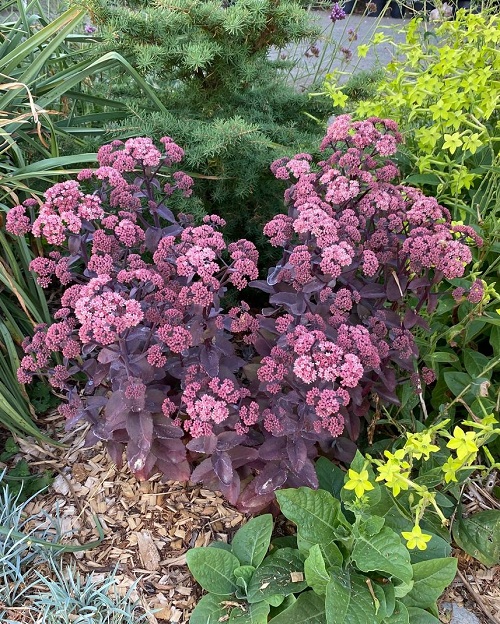 Botanical Name: Sedum telephium 'Purple Emperor'
Admired by plant enthusiasts for its showy pinkish-purple flowers, the sedum 'Purple Emperor' is a must-have. Its flowers attract pollinators and can be used as floral arrangements.
19. Rock Purslane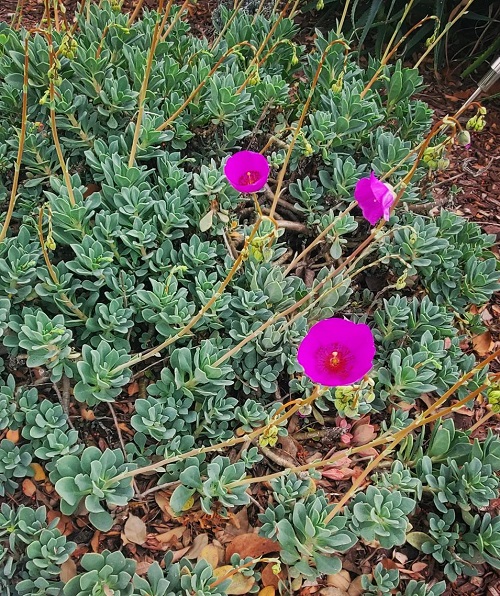 Botanical Name: Cistanthe grandiflora
The rock purslane graces gardens with clusters of magenta to purple blossoms. Its vibrant flowers pop against the green leaves, creating an interesting display. Like other succulents with purple flowers, it loves full sunlight.
Find Out the Captivating Red And Black Flowers here