Elevate the décor with these Sunflowers and Roses Ideas. Whether it's a wedding, party, or dinner, these arrangements are the best!
Sunflowers and roses seem like an unlikely duo, but when put together, they can create breathtaking arrangements. If you're on a budget, you'll love these Sunflowers and Roses Ideas that are stunning and cost-effective.
Explore the Captivating Poinsettia Arrangements Ideas here
---
Sunflowers and Roses Ideas
1. Rustic Mason Jar Arrangement
Combine mini sunflowers and small red roses in a mason jar for a rustic vibe. Add a jute ribbon for the finishing touch. It adds a country flair to any setting, particularly suitable for farmhouse or barn weddings. The mason jar's transparent glass beautifully showcases the vibrant colors of the sunflowers and roses.
2. Yellow Roses and Sunflowers Wicker Wall Art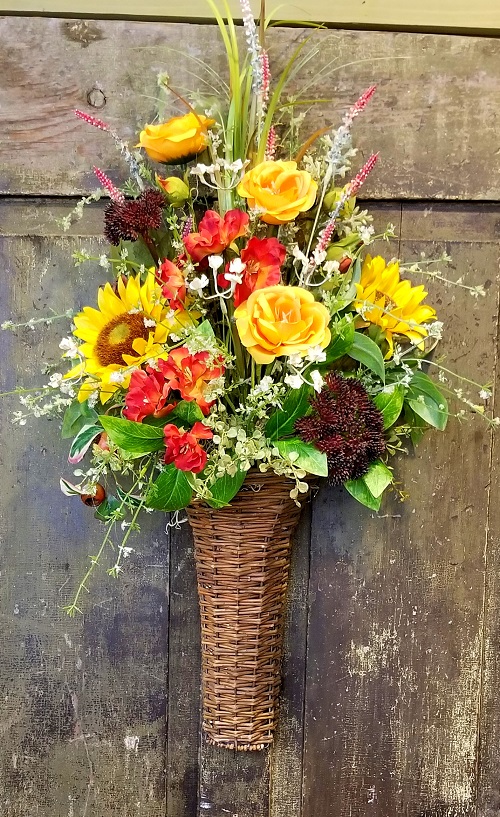 Arrange sunflowers and roses in a wicker basket and hang it on the wall. This wall art adds a touch of natural beauty to any home decor. Among these sunflowers and roses ideas, this one can attract a lot of eyeballs.
3. Floral Wreath
Create a wreath with vibrant sunflowers, roses, and pinecones. This budget-friendly setup is ideal for autumn decor. The grapevine base offers a natural, rustic look, and the pinecones add a touch of the autumn wilderness. For added effect, you could weave in fairy lights to make the wreath sparkle in the evening.
4. Floating Blossoms
Fill a shallow bowl with water and float sunflower heads and rose petals. This gives an aromatic and visually appealing tabletop display. Elevate this arrangement by adding a few drops of essential oils or rose-scented water. The floating blooms provide a multidimensional aesthetic that will captivate guests at dinners or weddings.
5. Wooden Crate Sunflower and Rose Centerpiece

Fill a rustic wooden crate with sunflowers and roses. This makes for a hearty centerpiece or garden display. To enhance the rustic charm, you can distress the wooden crate or paint it in a complementary color. This decor piece is versatile among these sunflowers and roses ideas that suit indoor and outdoor settings.
6. Woven Basket Red Roses and Sunflower Arrangement
You only need a woven basket, sunflowers, roses, and greeneries to recreate this eye-catching arrangement. You can set it on a dining table or a mantel for a captivating look. Consider lining the basket with moss for added texture and a lush appearance. This arrangement radiates a homely yet elegant vibe that works well in traditional and contemporary spaces.
7. Rose Crown with Sunflower Accent
Make a flower crown using miniature roses and small sunflower buds. It's an inexpensive and easy-to-make headpiece for special occasions. This crown can also be used for bridesmaids or flower girls, giving a thematic coherence to wedding attire. The sunflower buds offer a lively pop of color against the miniature roses, making the crown visually stimulating.
8. Teacup Pine Roses and Sunflowers Display
Use a vintage teacup to hold cut sunflowers, roses, and other blooms. It serve as whimsical centerpieces or gifts. This arrangement fits especially well in tea parties, bridal showers, or vintage-themed events. Among the sunflowers and roses ideas, this arrangement stands out.
9. Floral Table Runner
Make your dining table the center of attraction by adorning the runner with beautiful roses and sunflowers. You can also add greeneries to amp up the wow factor of this arrangement.
10. Floral Lantern
If you have unused or vintage lanterns, place sunflowers and roses inside to create a focal point-worthy decoration. This arrangement brings a unique charm to indoor and outdoor settings. Whether placed along walkways or as a centerpiece, these lantern arrangements offer a warm, inviting ambiance.
11. Pedestal Bowl Floral Display
Use a metal pedestal bowl with intricate detailing to showcase striking sunflowers, roses, greeneries, and orchids. This will add a touch of sophistication to the arrangement, making it suitable for formal events and upscale gatherings.
12. Sunflower and Red Rose Bouquet Favor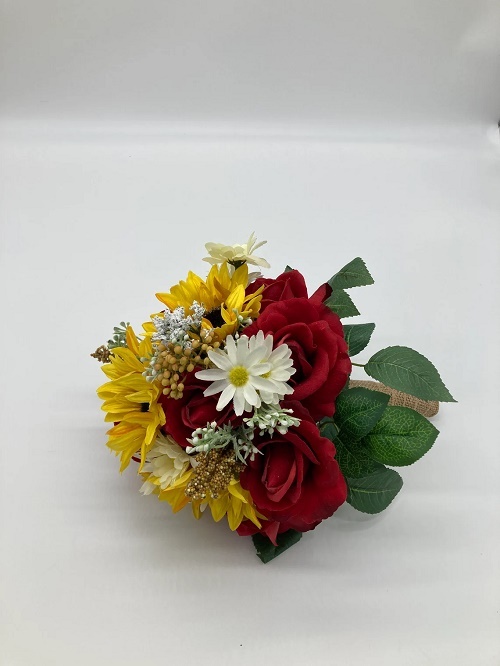 Create mini bouquets with sunflowers, roses, and tulips. Wrap in a red ribbon and give as favors. Personalize these favors by adding a handwritten thank-you note or a small tag. Mini bouquet favors are not only a charming keepsake but also a way to express gratitude to guests.
13. Sunflowers and Roses Vase Display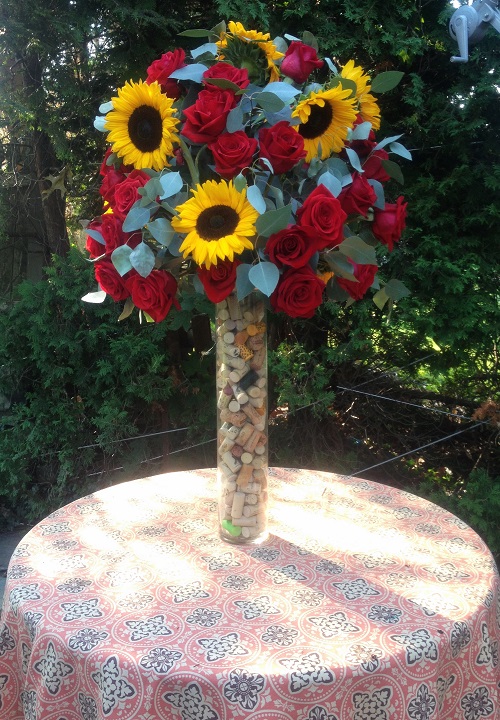 Fill a tall glass vase with wine corks to display your favorite sunflowers and roses on a coffee table. This setup is ideal for parties and everyday decor. Read more about this amazing rose and sunflower arrangement here.
14. Sunflowers and Roses Vase Arrangement
Take a white ceramic vase and place large sunflowers around the edges. Fill the center with delicate white roses. Consider using varying sizes of sunflowers for added visual interest. This arrangement is perfect for weddings and formal events without breaking the bank.
15. Floral Chandelier
Attach sunflowers and roses to hula hoops and suspend them from the ceiling. This budget-friendly chandelier adds drama to any room. Consider adding fairy lights to the chandelier for added charm. This floral chandelier brings an ethereal touch to weddings and garden parties.
16. Burlap Covered Floral Bouquet
Wrap a bunch of sunflowers and roses tightly with burlap. This no-fuss bouquet is perfect for casual settings. The burlap keeps the bouquet secure and adds a rustic charm, perfect for outdoor events or boho-chic weddings.
17. Glass Cloche Beauty
Place a sunflower and white rose under a glass cloche with attractive foliage for a fantastic display. To make it even more eye-catching, you can use colored or textured cloches. This arrangement is an excellent focal point for any home decor.
18. Birdcage Charm
Place sunflowers and roses inside an open birdcage for a quirky, eye-catching display. You can also drape fairy lights inside the birdcage for a whimsical touch. This birdcage decor is a unique arrangement in this list of sunflowers and roses ideas.
19. Roses and Sunflower Cake Decorating Idea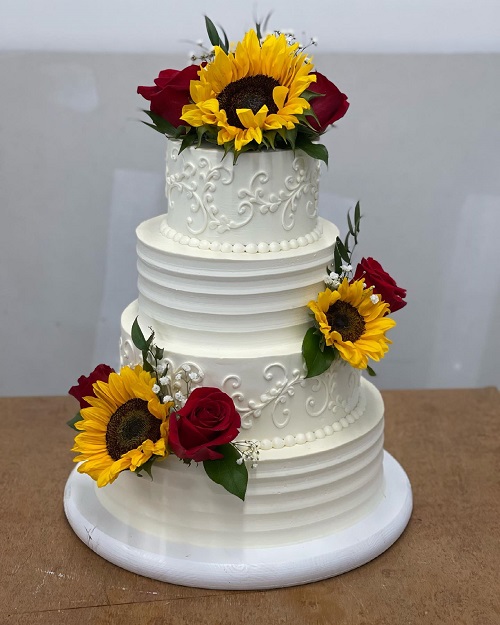 Looking for an easy, affordable way to make any cake look expensive? Simply top off the cake with sunflowers and roses. These toppers not only enhance the cake's aesthetics but also tie in the floral theme of the decorations.
Check Out the Stunning Pink and White Roses Varieties here