New to gardening? Start with this list of notable Trees that Start with N and refine your knowledge of the botanical world!
Looking for peculiar botanical specimens that can add drama and character to your landscape? Take inspiration from this curated list of Trees that Start with N.
Read this List of Trees that Begins with A
---
Trees That Start with N
1. Norway Maple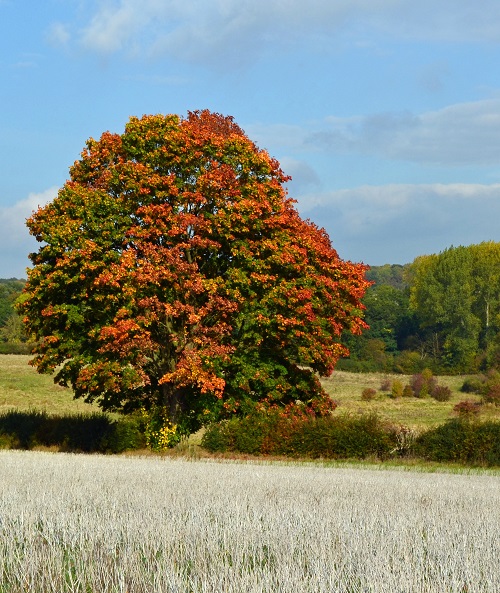 Botanical Name: Acer platanoides
The Norway maple features 5-lobed foliage that turns yellow in fall and greenish-yellow flowers in spring. This tree can grow up to 40 to 50 feet with a rounded crown.
2. Nootka Cypress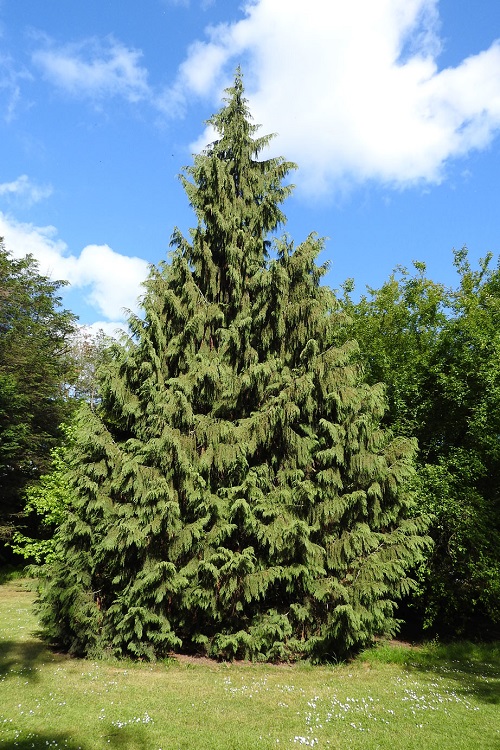 Botanical Name: Cupressus nootkatensis
Nootka Cypress, or Alaska Cedar, is an evergreen tree that attracts eyes with dark bluish or grayish-green foliage and yellow blooms. This botanical gem thrives in moist soil with good drainage.
3. Nettle Tree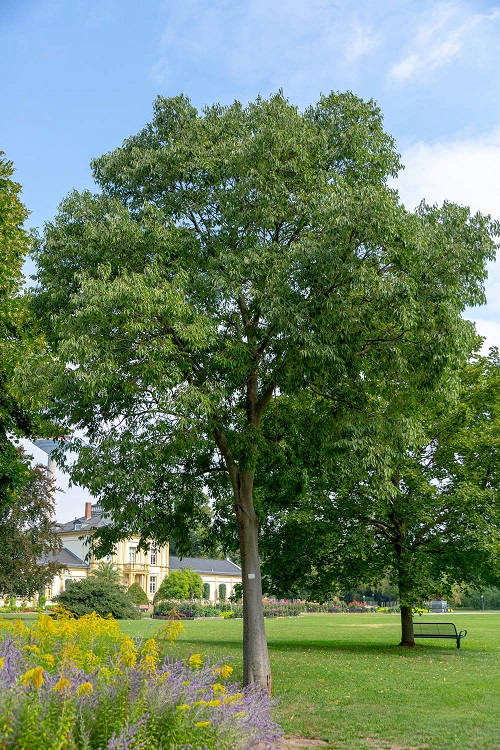 Botanical Name: Celtis australis
Nettle tree boasts a rounded canopy and serrated leaves that turn to golden hues in fall. This species can adapt to urban environments and different soil types.
4. Nectarine Tree
Botanical Name: Prunus persica var. nucipersica
The nectarine tree is cultivated globally for its smooth-skinned, juicy, sweet fruits. This botanical wonder can reach heights up to 15 feet in favorable conditions.
5. Nikau Palm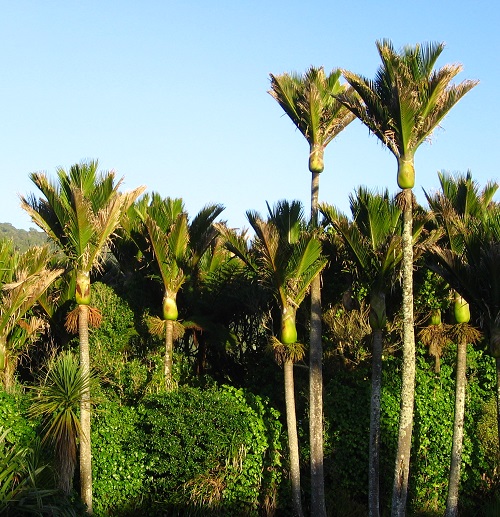 Botanical Name: Rhopalostylis sapida
Featuring a slender trunk topped with a crown of fronds, the nikau palm is a sight to behold. It produces clusters of fleshy edible berries.
Here are the Trees that Start with B
6. Nutmeg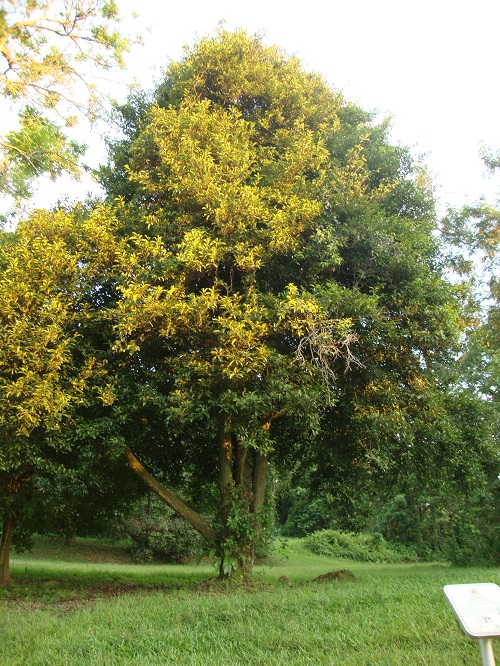 Botanical Name: Myristica fragrans
An evergreen tree of Indonesia, nutmeg produces leathery leaves and creamy white to pale yellow blooms. It's valued for brown seeds from which nutmeg spice is produced.
7. Norfolk Island Pine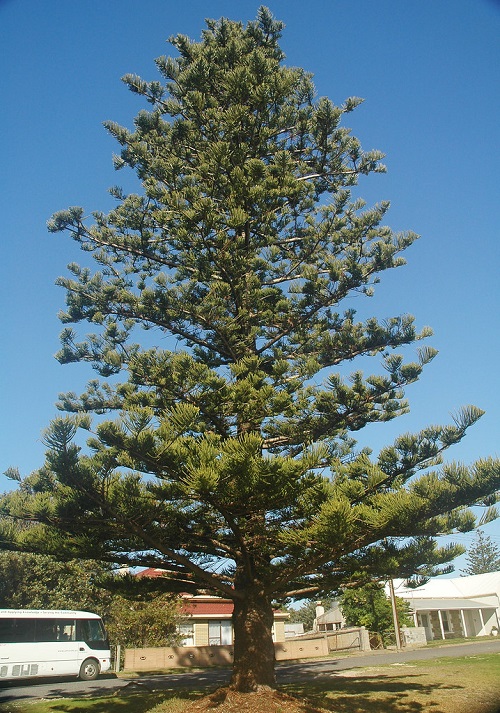 Botanical Name: Araucaria heterophylla
Native to Norfolk Island in the Pacific Ocean, this pine variety features a pyramidal shape with symmetrical branches. This species can grow up to 60-100 feet but can reach the heights of 200 feet in its native habitat.
8. Northern Catalpa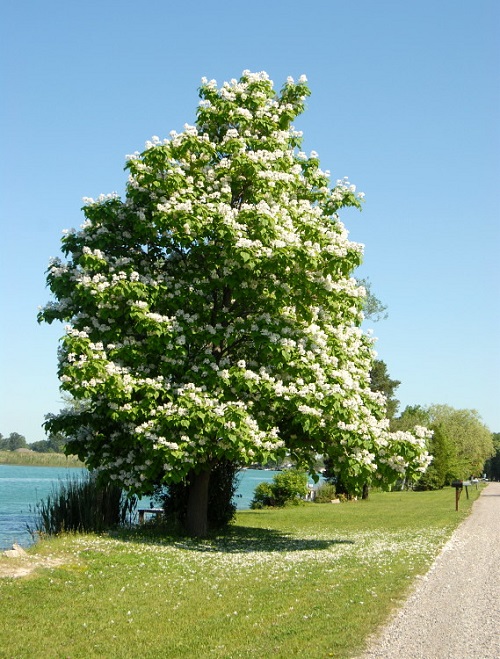 Botanical Name: Catalpa speciosa
Adorned with large, heart-shaped leaves, the Northern Catalpa is a visually appealing, medium to large-sized deciduous tree. It enhances the landscape's visual appeal with white blooms in late spring to early summer.
9. Nance Tree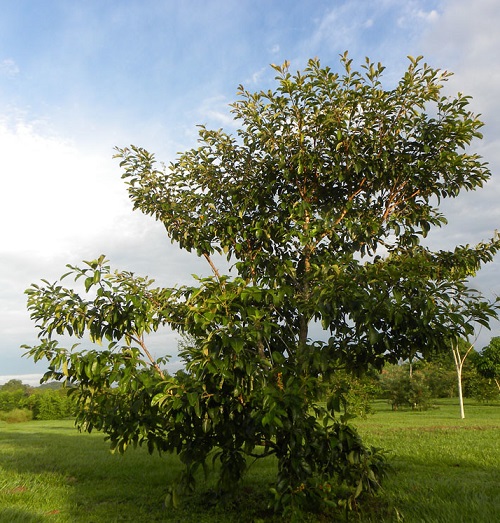 Botanical Name: Byrsonima crassifolia
The nance tree, endemic to tropical America, is famous for its tiny, yellow, sweet fruits. This drought-tolerant variety is a member of the Malpighiaceae family.
10. New Mexico Locust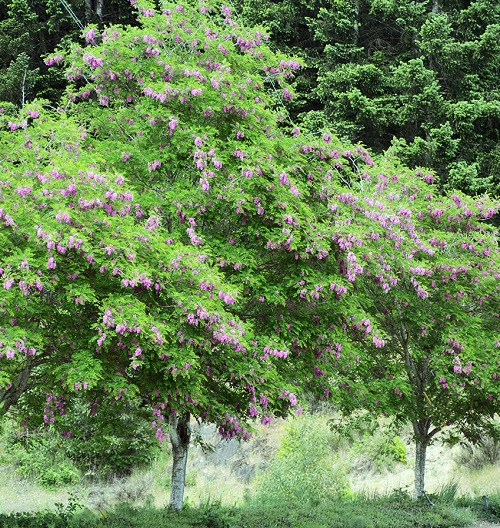 Botanical Name: Robinia neomexicana
The New Mexico Locust is a common sight in the southwestern United States. It draws eyeballs with its pale rose-to-white pea-like blossoms and alternate, pinnately compound leafage.
Explore the Trees that Begins with C here
11. Nandi Flame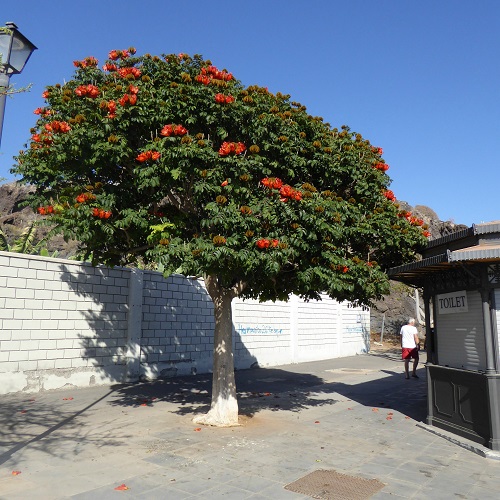 Botanical Name: Spathodea campanulata
Spathodea campanulata delights onlookers with its vibrant orange-red flowers. It's often used as an ornamental tree in various landscapes. Nandi flame can thrive well in various soil types and climatic conditions.
12. Natal Mahogany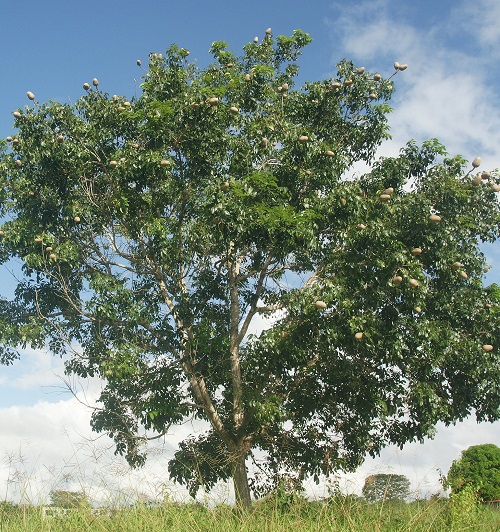 Botanical Name: Trichilia emetica
The Natal Mahogany tree displays glossy, evergreen leaves and fragrant blossoms that are known to attract bees, birds, and other pollinators.
13. Northern White Cedar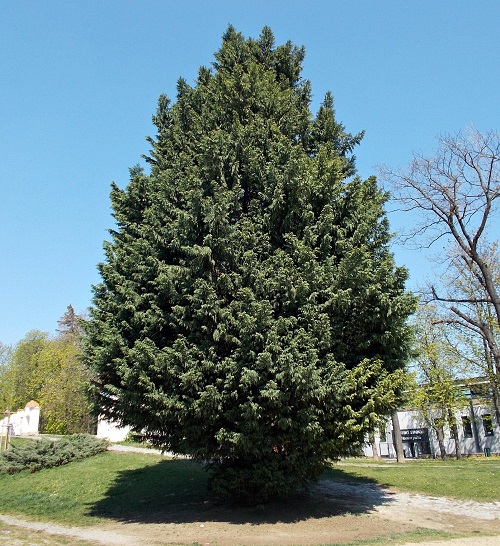 Botanical Name: Thuja occidentalis
A popular option for privacy hedges, the Northern White Cedar is a woody, evergreen tree with scale-like foliage. The essential oil of this plant is used in the manufacturing of cleaners, insecticides, soaps, and hair care items.
14. Northern Red Oak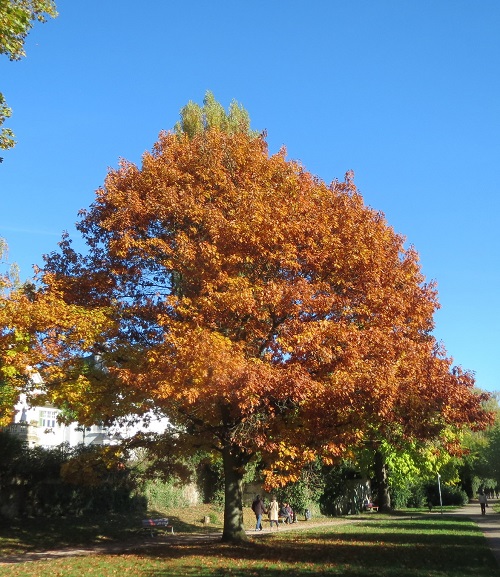 Botanical Name: Quercus rubra
Northern Red Oak sports eye-grabbing reddish brown foliage in fall. This moderate to fast-growing, deciduous tree can become 50 to 75 feet tall with rounded crown.
15. Nyala Tree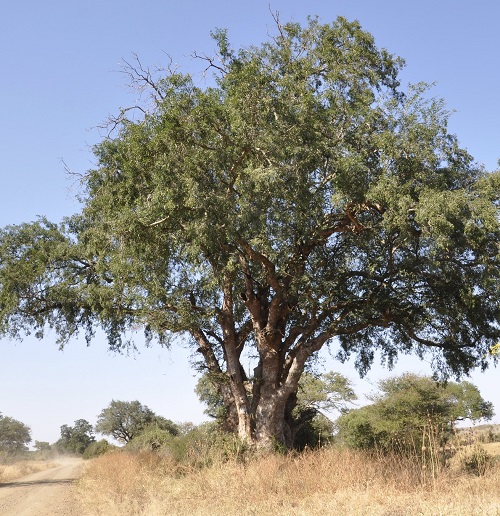 Botanical Name: Xanthocercis zambesiaca
Endemic to Southern Africa, Xanthocercis zambesiaca is found along riverbanks and woodland areas. It produces beautiful, fragrant white blooms among the trees that start with N.
16. New England Blackbutt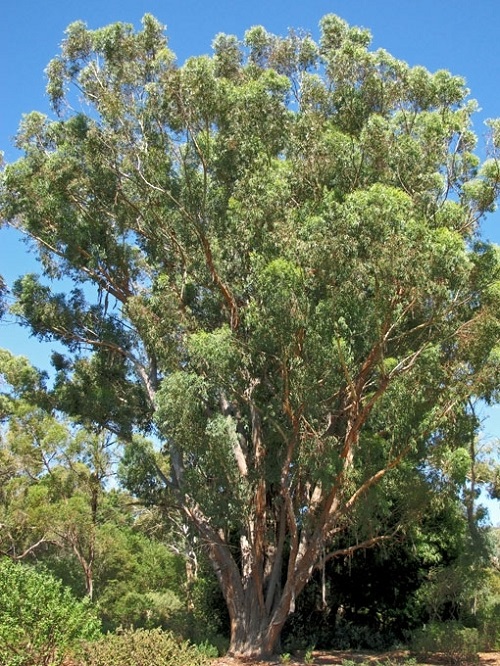 Botanical Name: Eucalyptus campanulata
This Australian native tree flourishes in the coastal regions of New South Wales and southern Queensland. It's a vital source of hardwood timber in Australia.
Here's the List of Trees that Start with the Letter D
17. Nyssa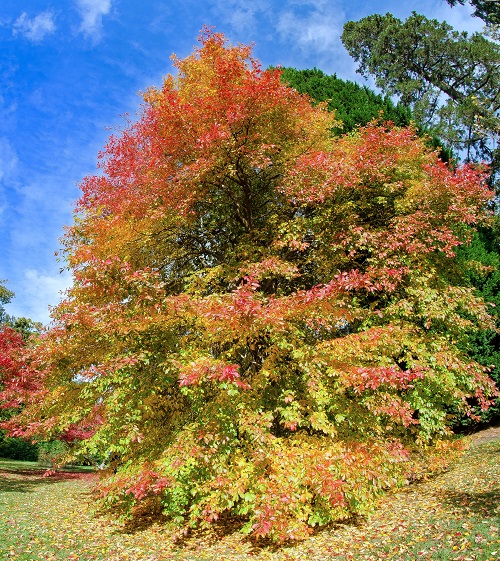 Botanical Name:  Nyssa sylvatica
Nyssa sylvatica bears vibrant fall foliage and small, berry-like fruits. It's a visual treat for onlookers and a prominent food source for wildlife.
18. Naseberry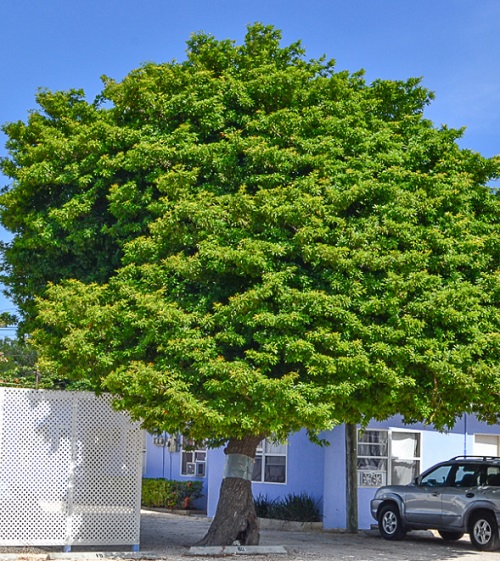 Botanical Name: Manilkara zapota
Indigenous to Mexico and Central America, Manilkara Zapota produces sweet, juicy brown fruits, dark glossy foliage, and cream-hued flowers. This tree can tolerate a variety of poor soils but admires well-drained soil.
19. Norway Spruce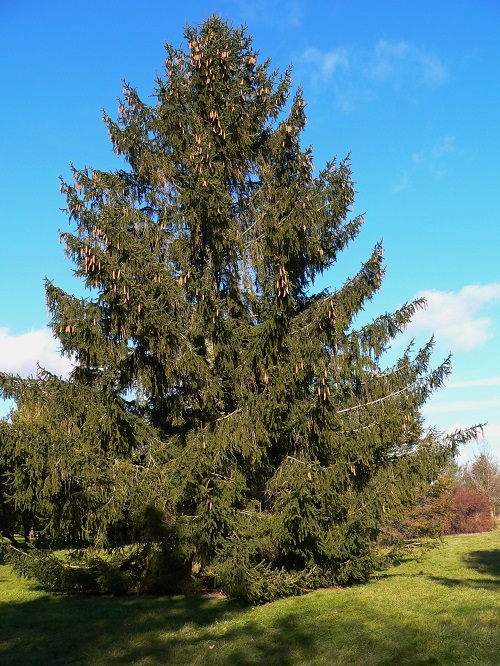 Botanical Name: Picea abies
Norway Spruce, a popular choice as a Christmas tree, stands out with dense foliage and a height of 80 to 100 feet. Native to Europe, this species belongs to the pine family.
20. Northern Hackberry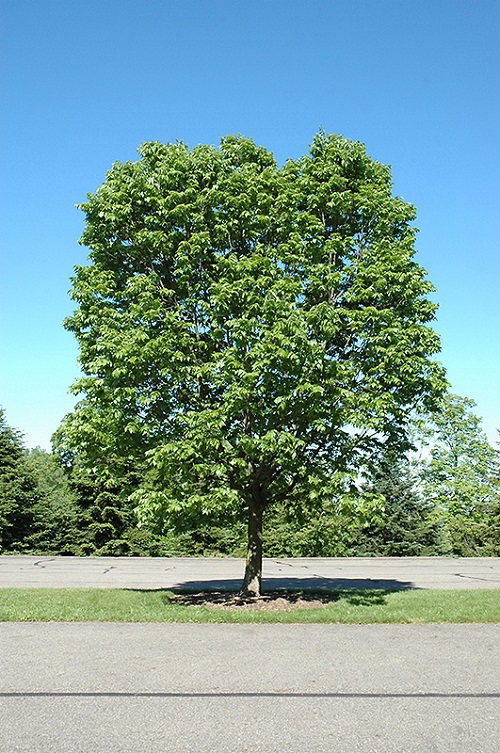 Botanical Name: Celtis occidentalis
The Northern Hackberry is a hardy, shade-providing tree that can reach 40-60 feet. It produces berries, an important food source for many birds and small mammals.
21. Néré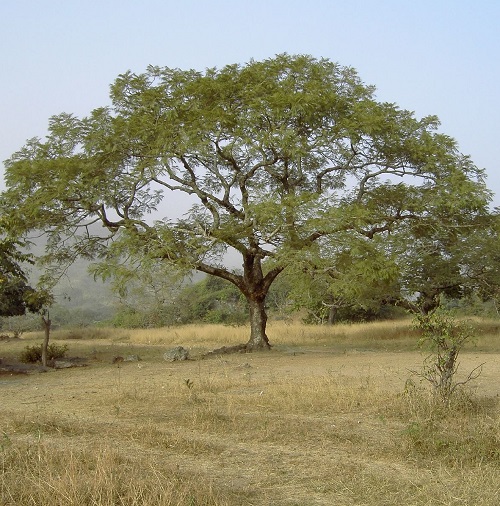 Botanical Name: Parkia biglobosa
Indigenous to Africa, Parkia biglobosa is a member of the Fabaceae family. It boasts pods that contain sweet pulp and seeds.
22. Narrowleaf Cottonwood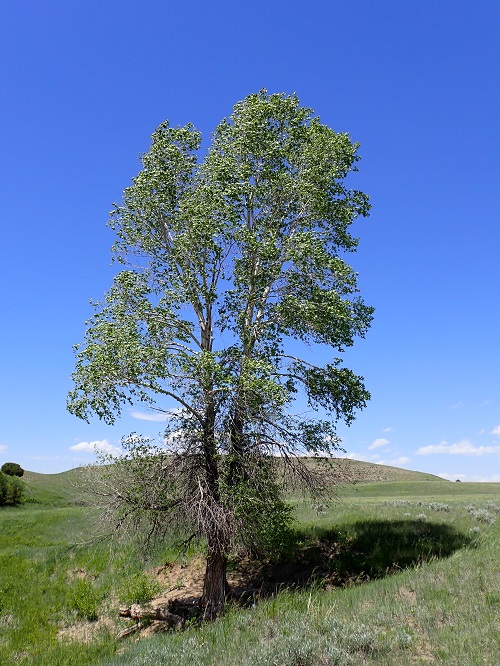 Botanical Name: Populus angustifolia
The Narrowleaf Cottonwood is a deciduous botanical specimen with long, narrow foliage. It's well-suited for riparian areas, providing habitat to wildlife.
23. Nuttall Oak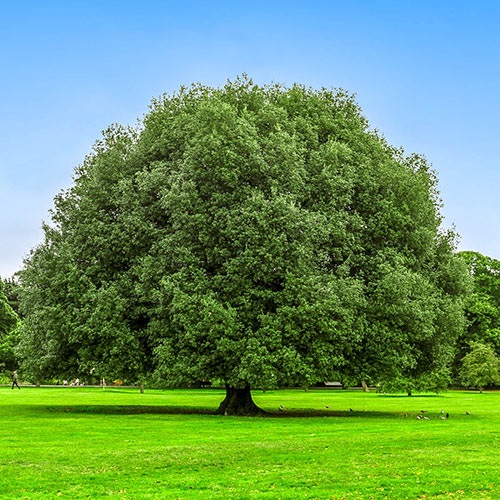 Botanical Name: Quercus texana
Nuttall Oak, also known as the Red Oak, bears acorns and red-orange fall and winter foliage. It's an excellent shade tree because of its huge round canopy.
Discover the Trees that Start with E here
24. Nutmeg Hickory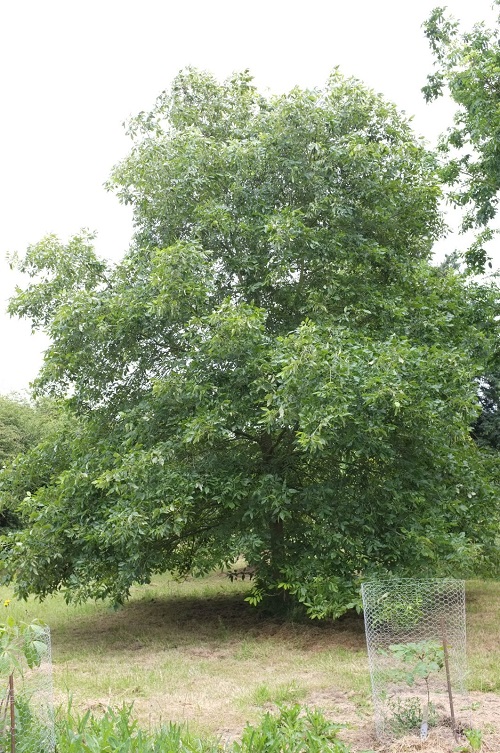 Botanical Name: Carya myristiciformis
Native to the Southern United States, nutmeg hickory produces nuts with a rough shell and a nutmeg-like flavor. It's a slow-growing deciduous tree with compound leaves.
25. Nepalese Alder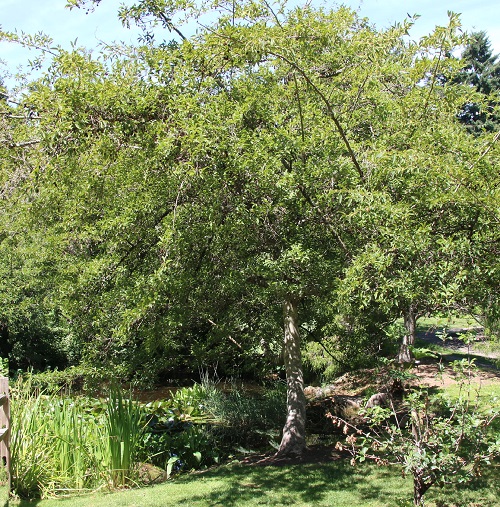 Botanical Name: Alnus nepalensis
Alnus nepalensis is a deciduous tree with serrated leaves and catkins. This tree is used for firewood, making charcoal, and erosion control.
26. Noni Tree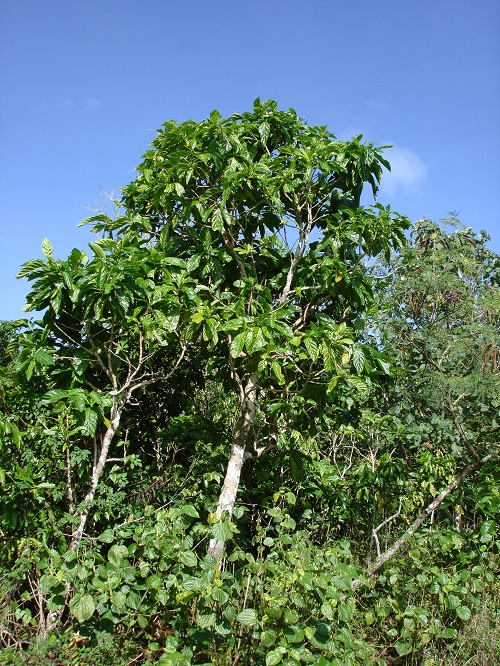 Botanical Name: Morinda citrifolia
Morinda citrifolia is indigenous to Southeast Asia and the Pacific islands. Its fruit has been utilized in traditional medicine. This tree tolerates poor soil conditions and thrives in tropical climates.
27. New Zealand Christmas Tree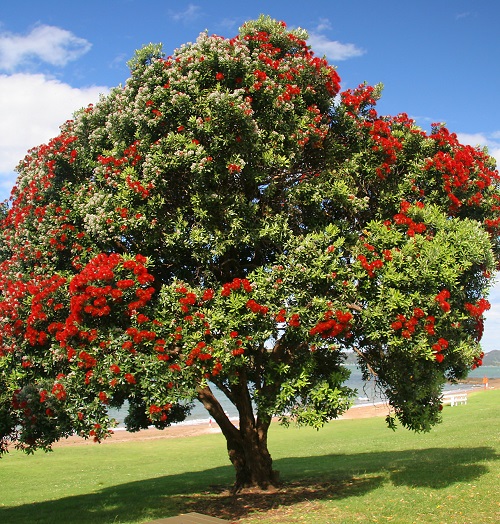 Botanical Name: Metrosideros excelsa
The New Zealand Christmas Tree, or Pohutukawa, produces vibrant red flowers and glossy dark green foliage. It does best in full sun to partial shade and neutral to slightly alkaline soil.
28. Noble Fir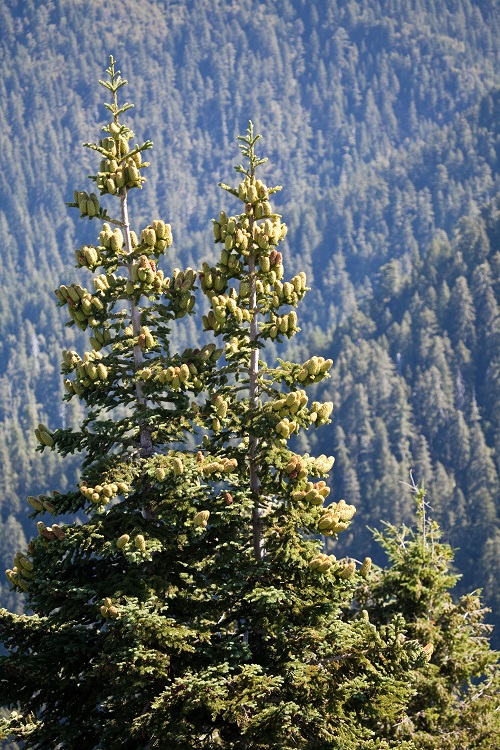 Botanical Name: Abies procera
The Noble Fir, with its majestic spire-like form and fragrant needles, is a favorite choice for Christmas trees. Its sturdy branches and rich green color make it a cherished holiday symbol.
29. North Indian Rosewood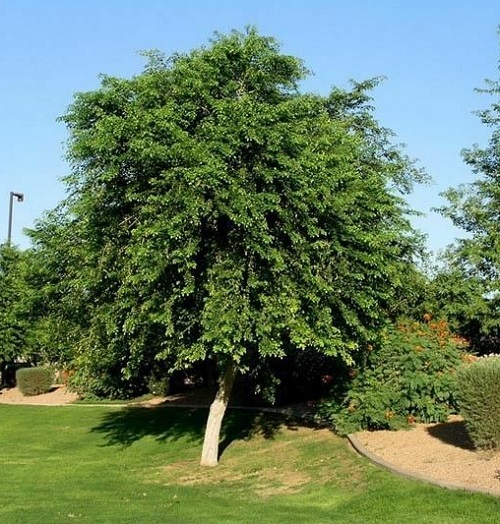 Botanical Name: Dalbergia sissoo
A deciduous tree of the Indian subcontinent, this botanical gem is renowned for its durable, strong wood. It also elevates the visual appeal of landscapes with its light gray to creamy bark and leathery leaves.
30. Nikko Fir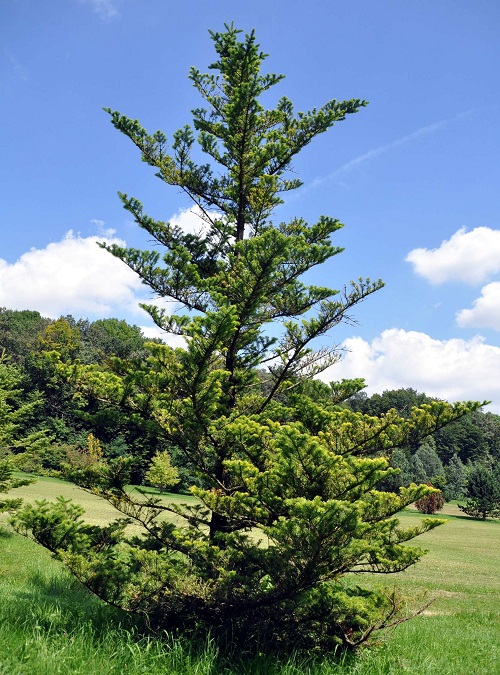 Botanical Name: Abies homolepis
Native to the mountains of Japan, the Nikko Fir displays needle-like leaves and rounded cones. This evergreen is adored for its compact growth habit, thus suitable for smaller gardens.
Check Out the Trees that Start with F here
31. Naked Coral Tree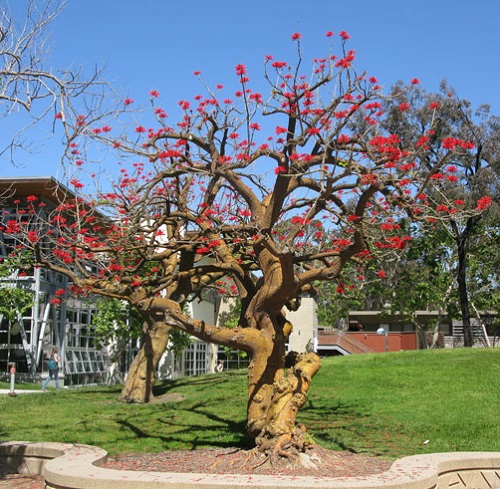 Botanical Name: Erythrina coralloides
The Naked Coral Tree is known for its spiky branches and striking red flowers. Among the trees that start with N, it thrives in arid climates.
32. Norfolk Island Hibiscus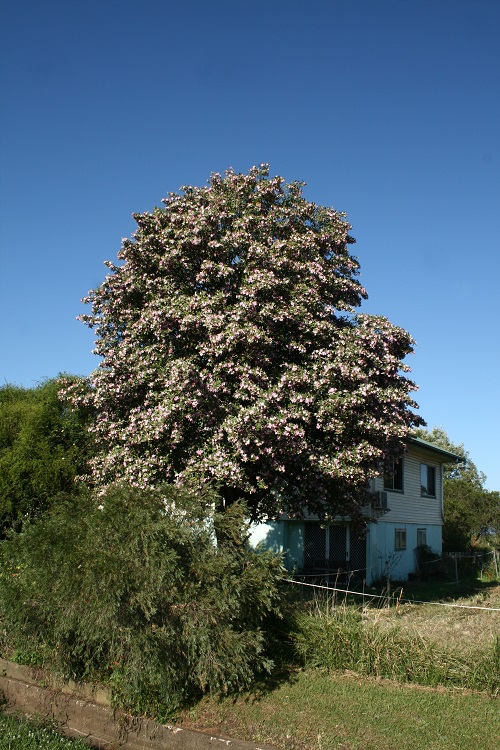 Botanical Name: Lagunaria patersonia
The Norfolk Island Hibiscus bears pink to lavender flowers and silvery foliage. This tree is best to add a tropical touch to landscapes and gardens.
33. Newport Flowering Plum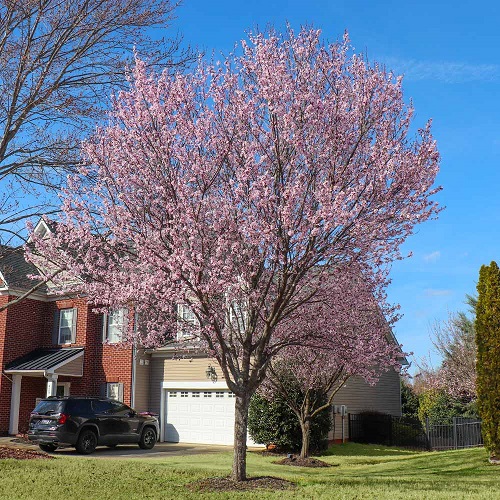 Botanical Name: Prunus cerasifera 'Newport'
The Newport flowering plum is a deciduous tree with purple leaves and fragrant white flowers. This tree is popular as a decorative tree in various landscapes.
34. Narrowleaf Paperbark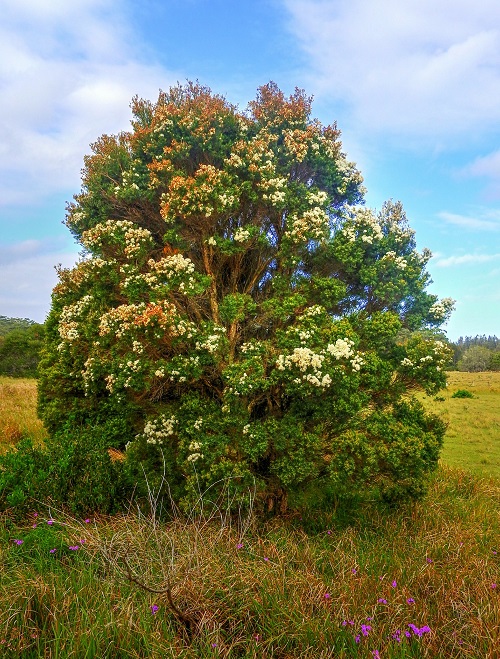 Botanical Name: Melaleuca alternifolia
The Narrowleaf Paperbark is a small evergreen tree with peeling bark, white flowers, and fragrant foliage. It's cultivated widely for tea tree oil, a popular ingredient in various healthcare products.
35. Niaouli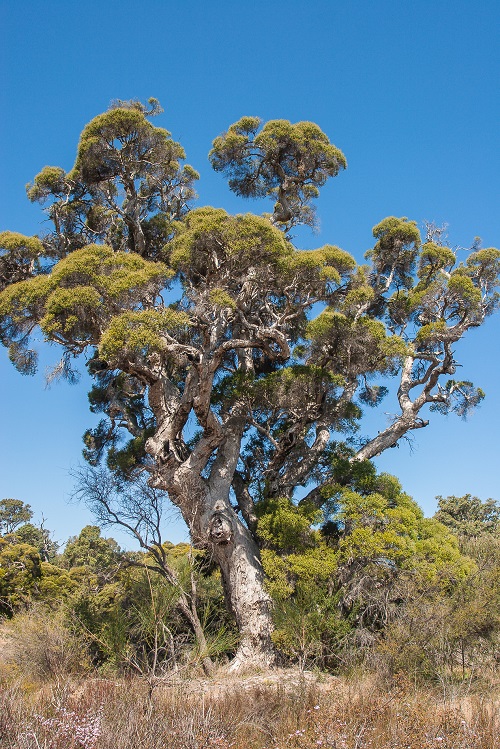 Botanical Name: Melaleuca quinquenervia
The Niaouli Tree, native to Australia, sports slender, aromatic leaves and papery bark. This tree is prized for its medicinal properties and as a source of essential oils.
36. Narrow-leaved Ash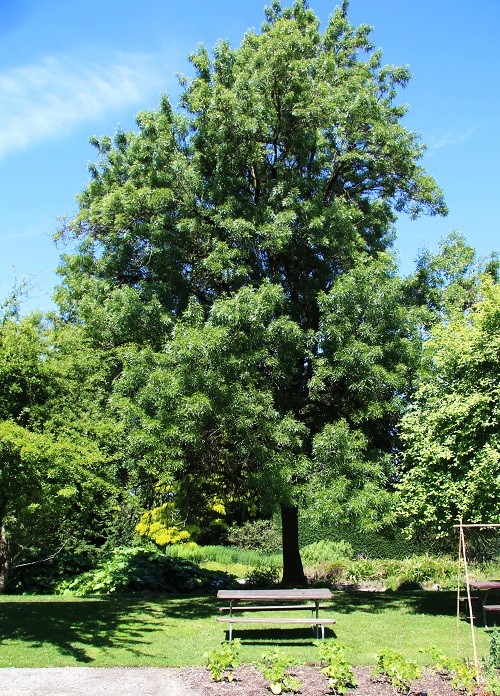 Botanical Name: Fraxinus angustifolia
The Narrow-leaves ash is a deciduous tree known for its slender, lance-shaped leaves and distinctive winged seeds. It adds grace to urban landscapes with its towering height.
37. Netleaf Hackberry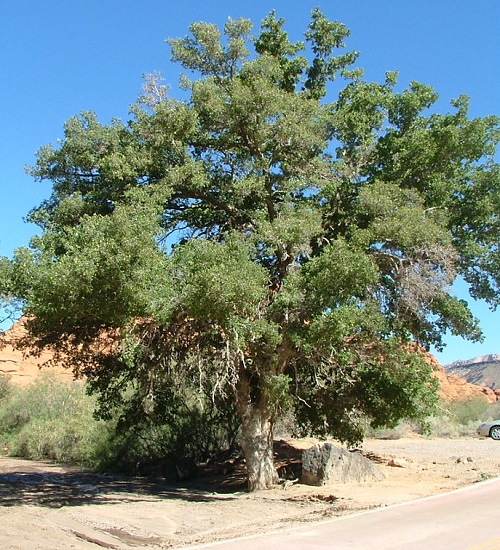 Botanical Name: Celtis laevigata var. reticulata
The Netleaf Hackberry is a drought-tolerant deciduous tree boasting rough, gray bark and small, orange fruits. A common sight in dry areas, this tree adds interest to gardens.
38. Northern Pitch Pine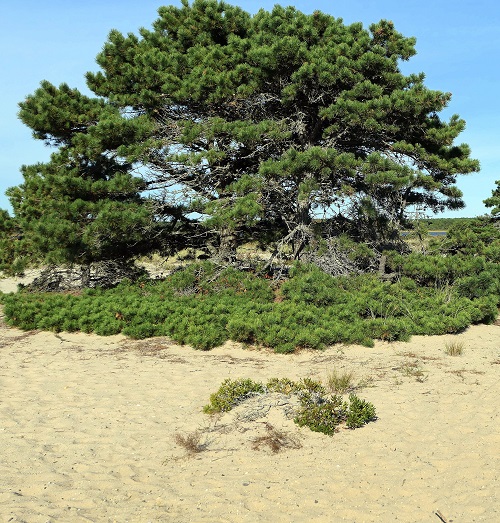 Botanical Name: Pinus rigida
Grown at the heights of mountainous regions in North Carolina, Pinus rigida has thick, gnarled, and dark green needles. This species does best in full sunlight and moist, well-drained soil.
Read Trees that Start with G