Spice up your space with the timeless beauty of White Flower Arrangements. These easy ideas will brighten your home and occasions!
From birthdays and weddings to casual get-togethers and corporate events, White Flower Arrangements never go out of style. Their timeless appeal makes them a go-to option for any occasion.
Here are the Stunning Plants With Clusters of Tiny White Flowers
---
White Flower Arrangements
1. Mason Jar and Daisies Arrangement
Mason jars adorned with white daisies offer a rustic yet chic appeal. Choose small to medium-sized daisies and arrange them in a transparent or colored mason jar. Place the jar on a wooden table or window sill to enhance the visual appeal. This arrangement requires minimal effort and is cost-effective.
2. White Roses in a Fishbowl
Give your living space a chic focal point by placing white roses in a fishbowl. Add pebbles or colored glass beads at the bottom to complement the overall setup. It's an excellent addition to white flower arrangements.
3. Baby's Breath Wine Bottle Display
Take empty wine bottles and sprigs of Baby's Breath to create a captivating table centerpiece. Consider painting the wine bottles in pastel colors or wrapping them in twine or ribbon for added charm.
4. Stunning Carnation Arrangement
Looking for a last-minute table decor idea? Look no further. Take a bunch of white carnations and a round or square vase. This arrangement is not only pocket-friendly but also quick to assemble. You can place a few green fern leaves among the carnations to make the arrangement pop.
5. Floating Gardenias
For an elegant yet simple decor, adorn a glass bowl with white gardenias. Their unique shape and intoxicating fragrance make them an instant hit. Place the bowl on the mantel or the coffee table as a centerpiece for an elevated look.
6. White Tulip in Milk Bottle
A glass milk bottle with a white tulip creates a unique and eye-catching focal point for any room. You can place this decor piece on kitchen counters, coffee tables, or office desks. The white tulip and milk bottle combo suits modern and traditional interiors.
7. Lily of the Valley Teacup Display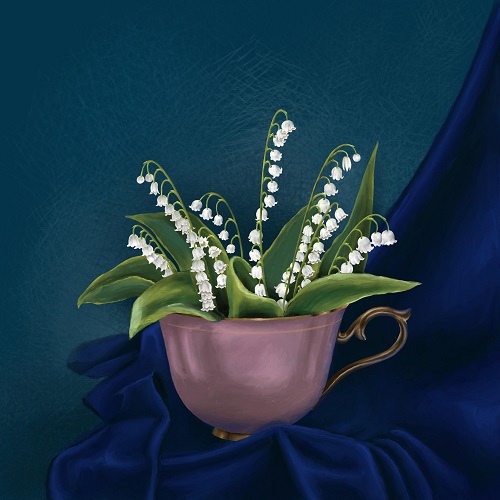 Fill vintage teacups with lily of the valley blooms for an arrangement that's quaint yet elegant. Keep the teacup on a mirrored or lacy surface to elevate the setup. It's perfect for a traditional living room setting, bridal showers, or small gatherings.
8. Chrysanthemum Bowl Display
Place chrysanthemum blooms in a low, wide bowl to take your home decor to a whole new level. You can arrange the bowl on the dining or a coffee table. Incorporating small pebbles or colored glass adds a bit of flair to this simple arrangement.
9. Hydrangea Wicker Basket Arrangement
Give your bland living space a countryside feel with a basket full of white hydrangeas. This idea is perfect for kitchen islands or outdoor patios. To enhance this setup, consider adding some green foliage or twigs to the baskets. This blends well with rustic or vintage decor themes.
10. Peony Vase Display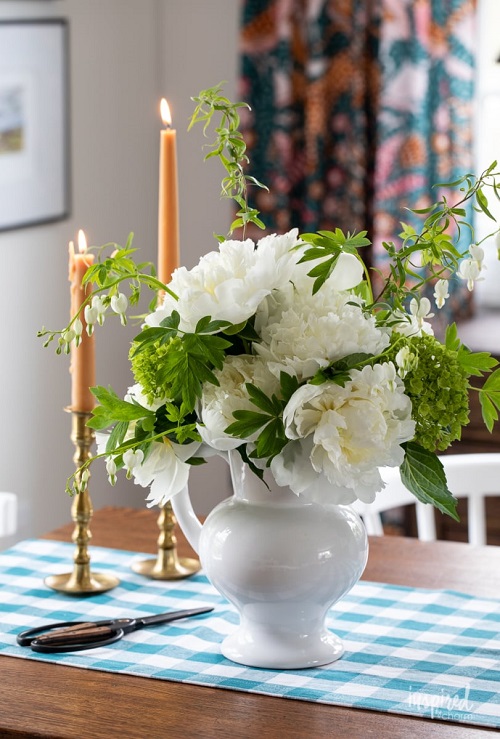 A ceramic vase with peonies can significantly enhance the visual appeal of formal and casual settings. Among the white flower arrangements, this timeless display is perfect for entryways, dining tables, or bedside stands.
11. Succulent & White Flower Combo
Combine succulents with white flowers in a quirky bowl to make a subtle yet impactful style statement. Perfect for both indoor and outdoor settings, this low-maintenance arrangement fits well into a variety of decor schemes.
12. Potted White Kalanchoe
A potted white kalanchoe is an easy, long-lasting decor option. Its delicate white flowers add a pop of freshness that can last for weeks with minimal care. You can place the pot on a decorative saucer for a polished look. This setup is ideal for office desks or windowsills.
13. Paperwhite Narcissus Display
Grab paperwhite narcissus, a glass jar, pebbles, and water to recreate this eye-catching decoration. Personalize this arrangement by placing scented candles around the jar. It also doubles up as a thoughtful gift or event favor.
14. Snowdrops Ceramic Pot Arrangement

Plant snowdrops in small ceramic pots for a charming, seasonal arrangement. Perfect for winter décor, their delicate appearance will brighten up any space. This white flower arrangement is suited for a holiday table setting or mantle.
15. Plumeria Bowl Display
Take freshly cut plumeria flowers and let them float in a shallow, water-filled bowl. This decoration idea adds a touch of the tropics to any home and workspace. Small floating candles can make this simple arrangement even more enchanting.
16. Camellia Glass Vase Centerpiece
Create a stunning centerpiece by placing white camellias in a crystal or glass vase. Add some green foliage for contrast. This white flower arrangement offers beauty and sophistication, suitable for special occasions. For added pizzazz, position the vase on a mirrored tray and surround it with tea lights.
17. White Flowers in a Wooden Planter Box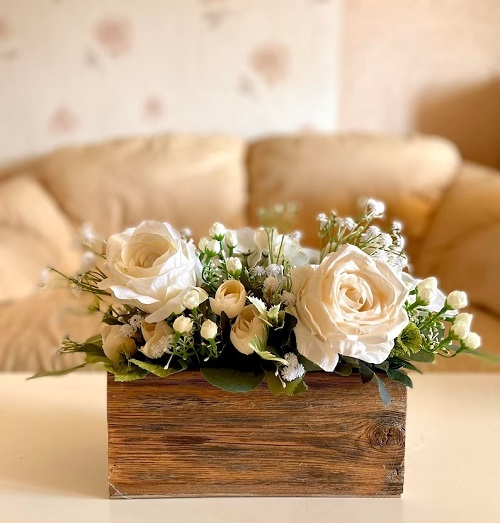 Brighten up your living space by adorning your coffee table with a wooden planter box featuring stunning white flowers. This eye-catching display is perfect for adding a touch of nature indoors.
Read the Beautiful Cactus with White Flowers here