From Helianthus 'Coconut Ice' to 'Vanilla Ice,' these White Sunflowers varieties will help you pick the perfect bloom for any setting!
Transform your garden into a peaceful sanctuary with these White Sunflowers varieties. These elegant blooms offer a more subdued yet stunning alternative to their yellow counterparts. Read on to discover some of the most sought-after sunflower types below.
Check Out Eye-Catching Sunflowers and Roses Ideas
---
Best White Sunflowers
1. Moonshadow
Botanical Name: Helianthus 'Moonshadow'
Helianthus 'Moonshadow' features attractive creamy white blooms with dark centers. Ideal for cut flower arrangements and garden borders, this sunflower can grow up to 5-7 feet. 'Moonshadow' admires well-drained soil, full sun, moderate water, and minimal care. It's an excellent option for gardeners seeking to diversify their sunflower collection.
2. White Nite
Botanical Name: Helianthus 'White Nite'
Helianthus 'White Nite' is a captivating sunflower cultivar boasting creamy white petals surrounding a dark brown center. This sunflower species with striking blooms and 5-6 feet height adds a touch of elegance to the garden. It's ideal for a focal point or backdrop in garden beds. With moderate water requirements and resistance to most common pests, this sunflower is a favorite among novice and pro gardeners.
3. White Lite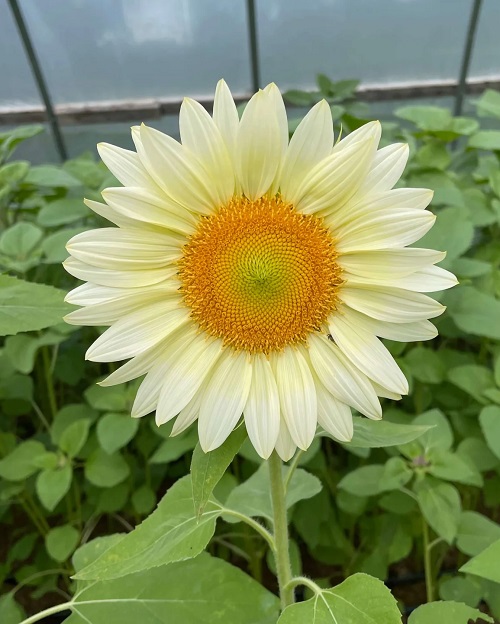 Botanical Name: Helianthus 'White Lite'
Featuring stunning off-white petals and a contrasting dark center, Helianthus 'White Lite' is a sight to behold. This variety is popular among gardeners and floral designers looking for a unique sunflower cultivar. It grows to a moderate height of around 4-6 feet, making it suitable for small gardens and larger landscapes. The 'White Lite' sunflower thrives in full sunlight and well-drained soil.
4. Coconut Ice Sunflower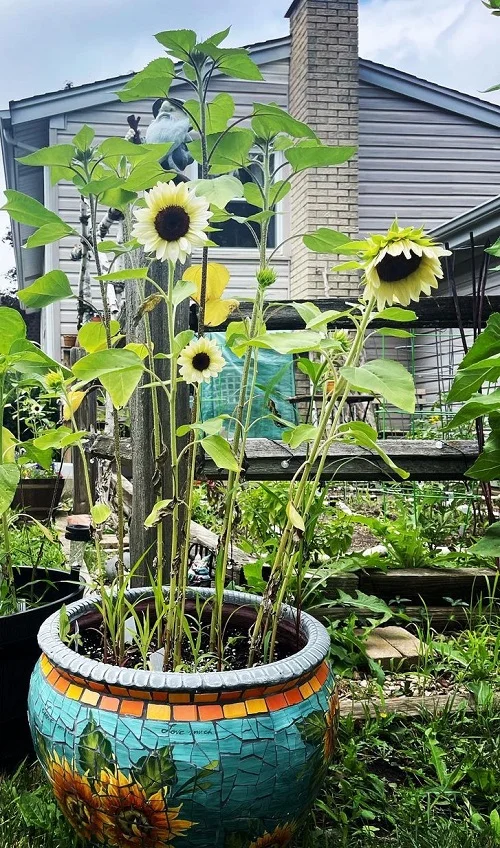 Botanical Name: Helianthus 'Coconut Ice'
Helianthus 'Coconut Ice' stands out with its creamy-white blooms and vibrant green foliage. Reaching heights between 4 to 5 feet, this annual plant is an excellent option for borders, focal points, or cut arrangements. It's a fantastic choice for adding texture and dimension to flower beds and borders.  Ensure well-draining soil and full sunlight to enjoy its blooms' throughout the growing season. Not just aesthetically pleasing, 'Coconut Ice' attracts a range of bees and butterflies.
5. Italian White
Botanical Name: Helianthus 'Italian White'
Elevate the visual appeal of your monotonous garden with this sunflower species boasting almost-white blooms. This variety can grow 4 to 5 feet, thus a versatile choice for garden backdrops and mid-border placements. 'Italian white' is a great option for those who want to draw bees and butterflies to the garden.
6. Vanilla Ice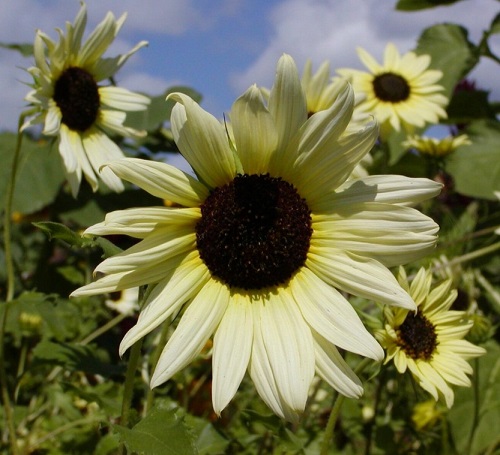 Botanical Name: Helianthus 'Vanilla Ice'
Helianthus 'Vanilla Ice' is a distinct sunflower variety that showcases creamy-white petals with a yellowish base and dark center. Admired for its delicate appearance, its flowers measure about 3 to 4 inches in diameter. This plant loves full sunlight and a well-drained potting mix but hates overwatering.
Check Out Herbs With White Flowers here